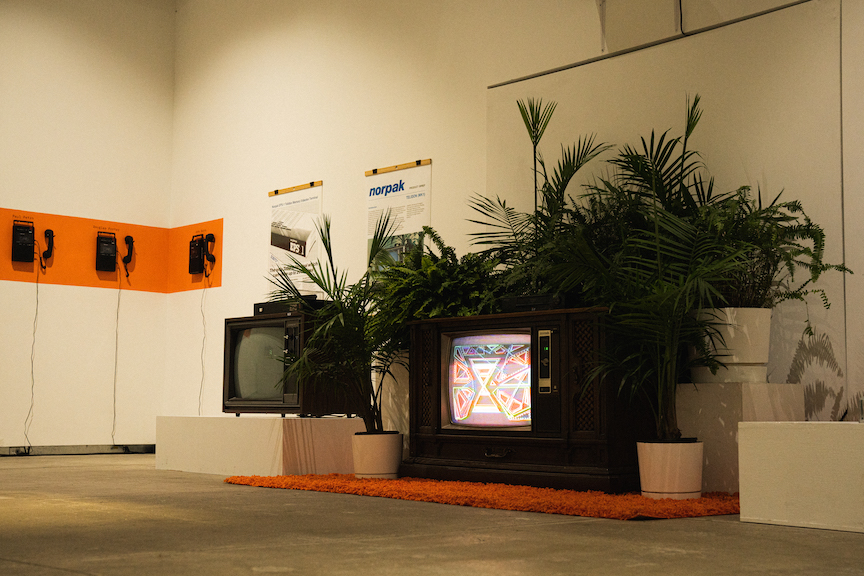 InterAccess, Toronto
September 6–October 21, 2023
Pulsing, psychedelic abstractions by Andrew Owens play incongruously across a vintage console TV whose baroque dimensions evoke a bygone image of domesticity, complete with potted ferns and orange shag carpeting. This opening curatorial gesture is a potent condensation of the disruptive ambitions shared by artists who worked with the short-lived but visionary networked computer graphics system at the heart of Remember Tomorrow: A Telidon Story. Developed by the Canadian government from 1978 to 1985, Telidon offered a tantalizing foretaste of the World Wide Web, which would cannibalize some of its code. Although Canada's Department of Communications may have envisioned Telidon primarily as a home banking solution that would let consumers shop and do business from the comfort of their living rooms, artists were determined to scramble this market-driven logic.
Telidon's vanguard technology served as the initial nucleus around which the future InterAccess would coalesce as Toronto Community Videotex (TCV) in 1983. The organization's titular nod to the now-obsolete videotex format signalled the participatory aims of the artist-run centre, which it carries forward to this day. Videotex is an umbrella term for systems—such as Telidon—that facilitated two-way interaction using a combination of telephone lines and video monitors. Although this interactivity could be limited to end users' ability to click through menus of prepackaged content, more radically, users could also use modems to generate and share their own data—including custom graphics. In the case of Telidon, a decoder engineered by the Nepean-based company Norpak could instantly transform any conventional TV set into a network interface.