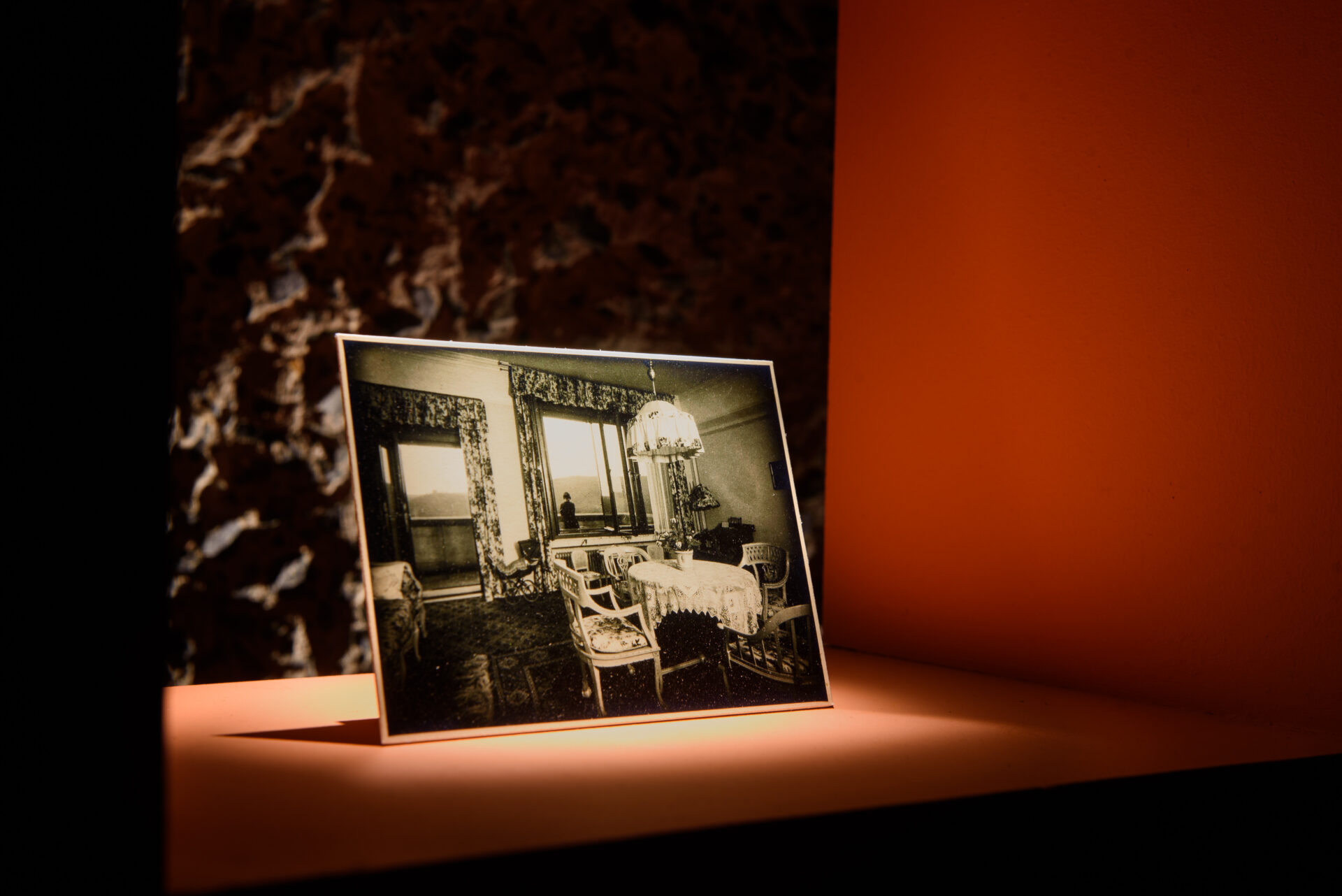 The Curve, Barbican Centre, London, UK
January 31–April 7, 2019
Inside the Curve, another curve: the wall bulges, convex, pushes us outward, squeezes our narrowing trajectory. The wall imposes upon us and alters our elliptical route. We walk along it; we walk and walk, and at various turns, things reveal themselves. In a small spotlit alcove, a black and white photo shows a sumptuously furnished domestic space. A door is open, leading to a balcony that overlooks hills that glow in the distance. Through the window, we see a small dark figure — slender: a woman? — with their back turned to us. This is the home that Daria Martin's paternal grandmother, Susi Stiassni, was forced to flee as a teenager, to escape the Nazi invasion of Brno in 1938.
In the three-part installation Tonight the World (2019), this is where we find ourselves: with Susi, inside her childhood house, sometimes inside her mind. But where, exactly, this is, and what exactly is happening, is never entirely clear. Following the wall, further into the space, a large window is cut out of the curved expanse, through which we can see a wide grid of 265 typed papers fixed to the wall. Some of the texts are annotated, while others have rhizomatic sketches drawn alongside in the margins. Here and there, the papers are studded with brightly coloured Post-it Notes. This is an environment of esoteric, evocative signs and symbols. We can see, but we cannot touch. We can look, but we cannot read. We get closer, but we are still far away. It feels like we might be in a dream. Because we are. It's just someone else's.
Martin has been working with her grandmother's "dream diaries" for almost a decade, using them to generate scripts for films that often mirror the uncanny or arcane structure of their somnambulant narrative content. The diaries have their roots in Jungian analysis, which Susi undertook for decades as an adult, as she grappled with her past and present as an exiled Jew. Martin describes her personal affinity with them as "deposited representations," "psychic images that are unconsciously passed on through generations, impressed unknowingly through repeated relations." In the installation's titular film Tonight the World, which loops a sequence of five narratives drawn from Susi's diaries, the dreams are hers, but they also become Martin's as the artist brings them to vivid, moving life on screen. In a gesture alluding to the notion of matrilineage, and perhaps to the power of intergenerational trauma, Susi and the figures of her dreams are played by four actresses, of varying ages, who interchange roles from dream to dream. Each vignette is haunted by a sense of anxiety and fear — someone or something is lost, threatened, anxious or afraid.
Another screen-based work bookends the exhibition: a video game entitled Refuge (2019), which allows the viewer to explore a digital reconstruction of Susi's childhood home and some of its archival contents. Alongside Martin's rich and moving films, this is a novel eidetic mode of bringing memory to life that not only imparts its vision, but incorporates each who bears witness — a ricochet, mise en abyme of memory and dreams as they unfurl into a multi-perspectival present.