Dreamland : l'épormyable et pharaminoise machinerie du monde
Théâtre Périscope, Québec
Du 20 septembre au 8 octobre 2016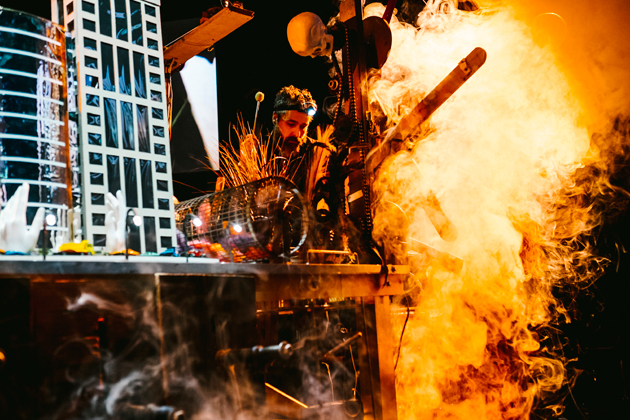 Théâtre Périscope, Québec
Du 20 septembre au 8 octobre 2016
[In French]

Le monde est une maquette. Il est né en 1904 et s'appelle Dreamland. Le centre de la salle est occupé par un paysage de bidules tel un panorama invraisemblable et pourtant si familier. Des centaines de robots, de petits modules animés, de lumières, de figurines, de voitures, d'instruments de musique harnachés dans des machines à pistons qui font du bruit, se déplacent, roulent en boucle, se vidéographient elles-mêmes. Ce salmigondis empêtré dans ses fils est bien le monde, puisqu'ici s'interpénètrent tous les instruments des désirs, toutes les volutes du rêve. Ça grince, ça lance des boules, ça croque des fruits, ça émet des sifflements, ça gargouille.
La dramaturgie est simple : en sol d'Amérique, le pays du spectacle total avale tous les humains et réduit leur karma en un dispositif de plaisir. Autour de la salle, des comédiens-performeurs-musiciens-techniciens-de-scène-animateurs-de-bidules-inventeurs-de-tournis exécutent leurs performances avec des instruments bidouillés et des accessoires parfois inquiétants. Certains contrôlent les captations audio et vidéo, utilisent les inputs pour composer les harmonies de l'éclatement des neurones et amplifient ainsi le monstre hybride pour le projeter sur des écrans géants de part et d'autre de la salle. Images en direct, générées par des machines célibataires qui créent leurs propres ombres chinoises, ces machines qui activent leurs caméras, enchantent le monde par des facéties et des culbutes orchestrées, tout en mouvement continu en axe vertical ou horizontal, en pirouette, en tubulure, en mécano…
À travers cette fantasmagorie hallucinée, un couple « pénètre » dans la maquette et s'en sert comme tremplin pour tomber en amour. Leur chant amoureux, qui ne répète que des conventions sans grande profondeur, est savoureux comme cet hommage à la beauté du soleil, que la fille continuera de louer, même si le garçon lui révèle que ce n'est qu'un spot de théâtre. Ils entreprennent alors de traverser Dreamland en voiture, un film capté en direct déroulant les noms des rues qu'ils traversent, accompagnés par une chanson inspirée de Woody Guthrie, From Dreamland to Vegas, un titre qui nous emmène beaucoup plus loin. Comme si le dispositif central était les États-Unis, comme si les États-Unis n'étaient qu'un immense parc d'attraction dans lequel se noie l'humanité. Dès le lendemain de l'incendie qui détruisit complètement Dreamland, les propriétaires invitèrent le public à venir visiter les ruines au coût de 10 ¢. The show must go on.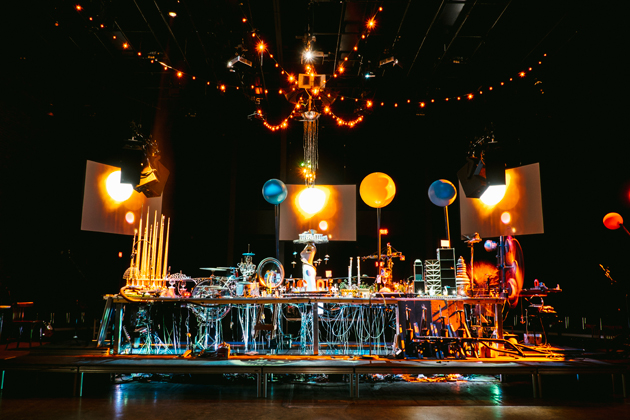 De Notre Coney Island, première mouture présentée au Mois Multi 2014, au Dreamland actuel, le spectacle multidisciplinaire s'est bonifié à tout point de vue. Les douze tableaux ouvrent des brèches dans le quotidien, amplifient la symbolique de cette architecture de l'amusement, d'un entertainmentqualifié qui vient combler le vide ambiant. Car ici l'amour et le rêve américain se confondent en une conspiration de plaisir à petit prix. Le temps est plus comprimé. La machine se dévoile progressivement, maintenant la tension entre le familier et l'expectative.
Les spectateurs sont libres de déambuler dans la salle, d'approcher les performeurs ou la scénographie centrale, de commander un verre au bar, ou simplement de s'asseoir sur les quelques chaises disponibles. On peut changer de point de vue, parler avec son voisin, admirer en gros plan les merveilles technologiques enchevêtrées comme autant de ramifications de nos désirs usuels. Il est possible d'en explorer la genèse : sur la table du régisseur-auteur-narrateur se trouvent une vingtaine de volumes, références utiles pour apprécier cette jouissive performance collective. Ici les mécaniques du mystère sont toutes révélées et pourtant elles gardent encore leur pouvoir d'attraction. Car « le monde restera toujours la maquette du monde. »
Création et production : Théâtre Rude Ingénierie.
Avec : Josiane Bernier, Bruno Bouchard, Philippe Lessard Drolet, Danya Ortmann, Fabien Piché et Pascal Robitaille. Environnement sonore : Frédéric Auger. Vidéo Alexandre Bertier et Olivier Bolduc-Coutu. Éclairage : Kevin Dubois. Conception de la machine : Théâtre Rude Ingénierie avec Vano Hotton pour les miniatures.