Tom of Finland
Highway Patrol, Greasy Rider, and Other Selected Works
David Kordansky Gallery, New York
January 13–February 25, 2023
David Kordansky Gallery, New York
January 13–February 25, 2023
We're in the decade of Tom of Finland. From the major 2015 exhibition at Artists Space in New York City to Dome Karukoski's 2017 biopic Tom of Finland, the legendary erotica artist has enjoyed renewed visibility and critical appraisal. A new exhibition at David Kordansky Gallery in New York asserts his central role as a forebear to twentieth-century queer visual cultures. Situating his work in a longer genealogy of vernacular queer comics and graphic novels, the show proposes to illuminate "the formal development of Tom's figurative iconography firsthand."
The stars of the show are two graphic narratives that feature Tom's recurring character Kake: Highway Patrol (1980), which depicts a biker and two police officers knocking leather boots together, and Greasy Rider (1978), an equestrian-themed romp. In order to demonstrate how Tom drafted his erotic utopias, the show is bookended by a series of preparatory sketches and by reference collages that allude to the underground and mass-cultural sources of his visual language.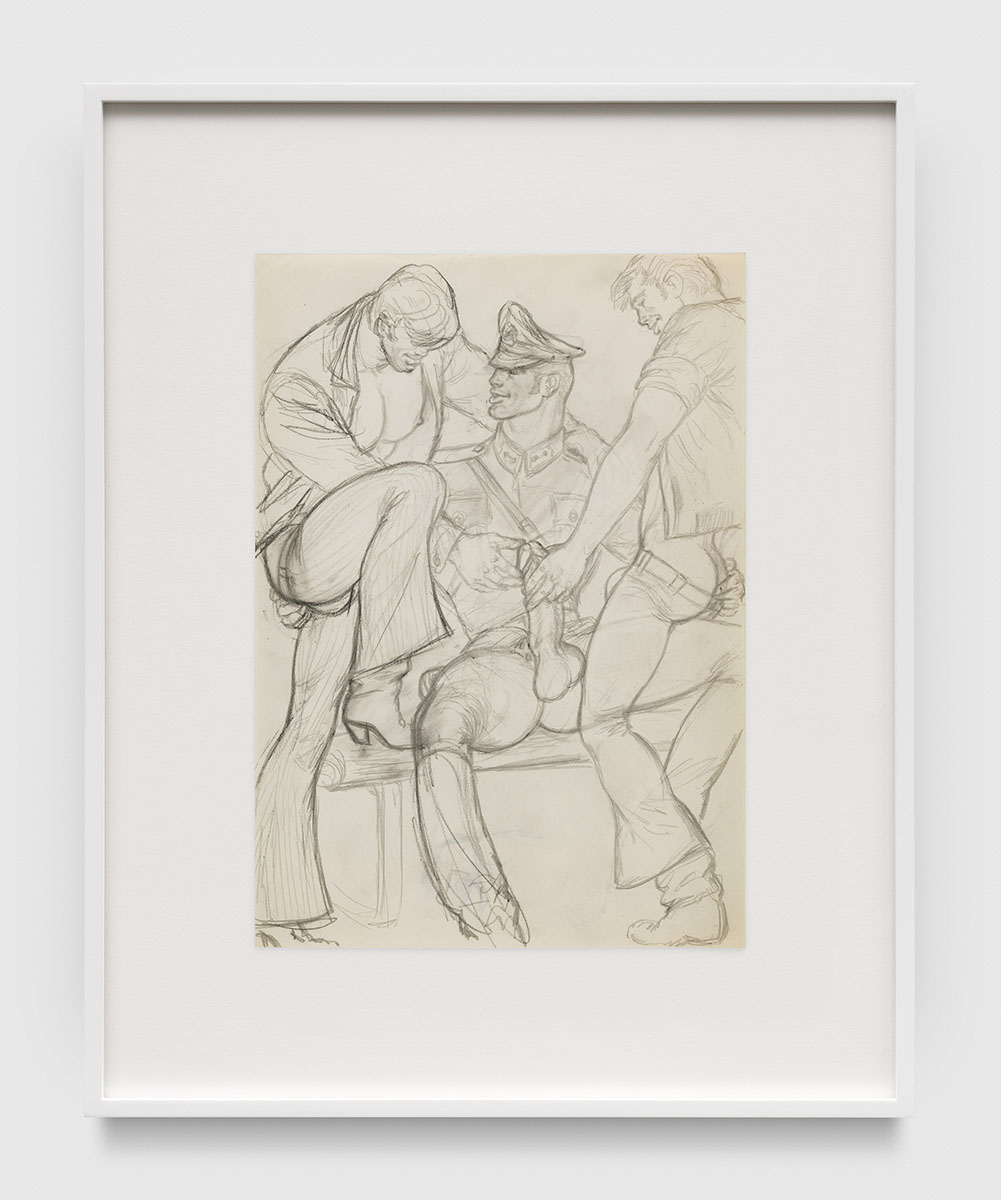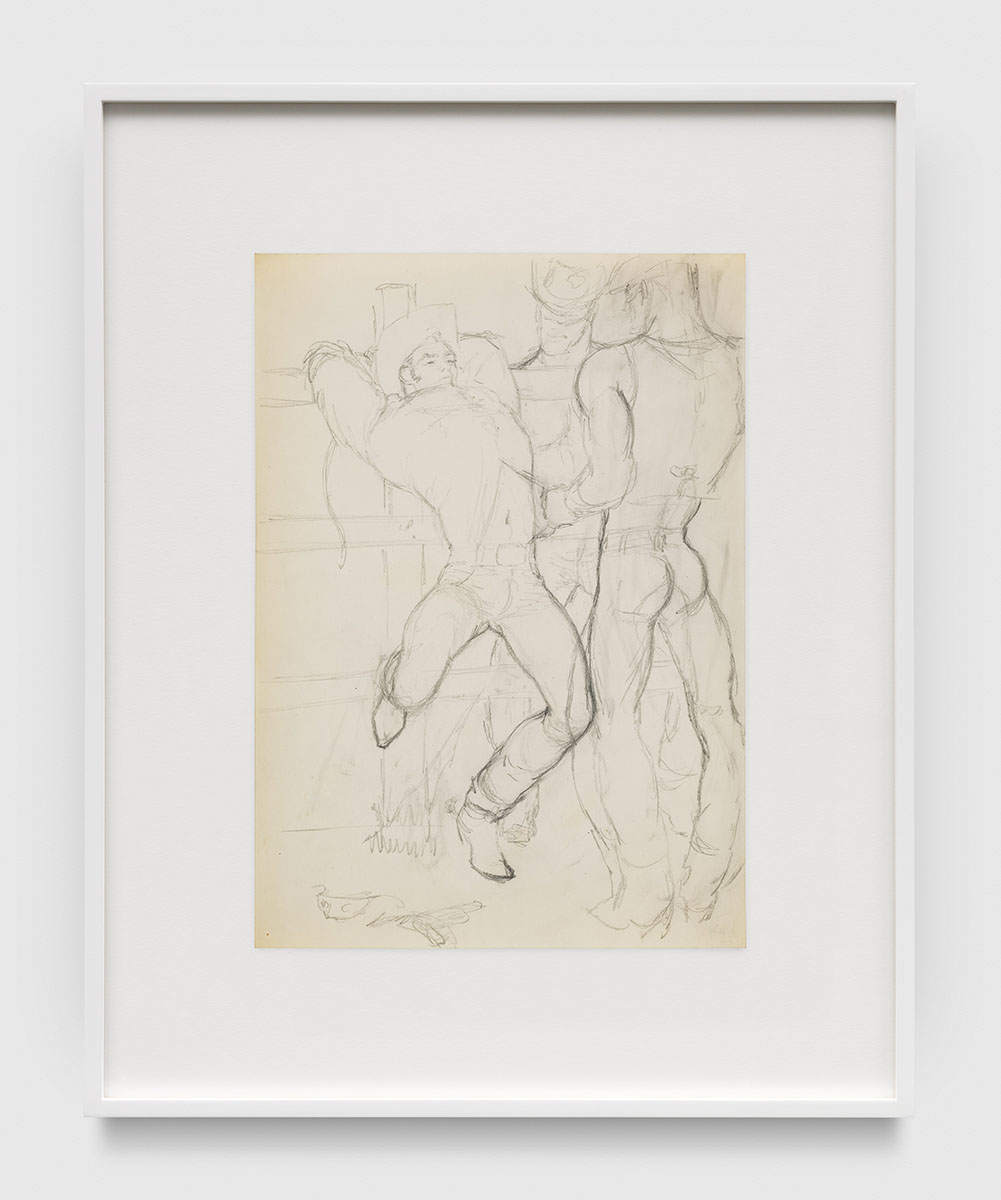 Seeing Tom's original drawings always impresses, as his sumptuous figures nearly glow off the page. Soft gradations of graphite delicately shape the curvature of their forms; inky leather gleams in his confidently rendered pen drawings. Each of these images is a product of meticulous care, and in the most transfixing ones his microscopic attention captures some of the mysteries of desire. One transfixing image features a man gazing upon another man's pectoral muscle, its form so exaggerated that it appears nearly spherical. His eyes, glazed over, are reverential yet curiously unfocused. Is he staring at his lover's nipple or at some realm beyond it? Some of Tom's most interesting work alludes to this depersonalized dimension of sexuality, in which the fantasy seems to supersede the object of desire itself.
Most instructive here are the handful of collages that Tom used as reference material. These assemblages are composed of series of images cut and pasted from various kinds of media: magazine advertisements, photographs, and more. Chiseled faces grin from remarkably similar angles in one collage, while motorcyclists careen down another. Stressing function over form through their hasty compositions, the collages collate visual artefacts from the worlds of mass culture and the gay underground that Tom translated to his forms.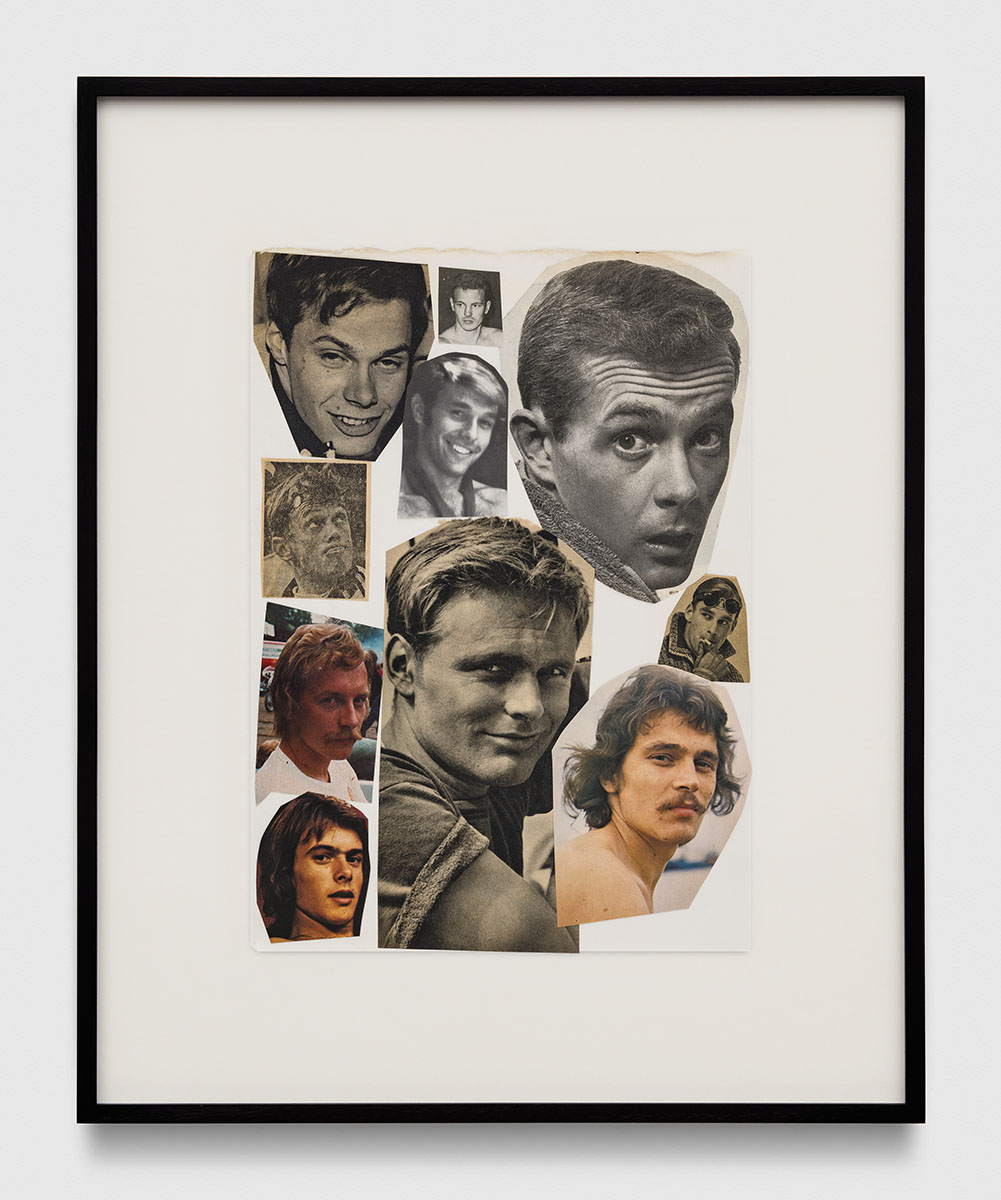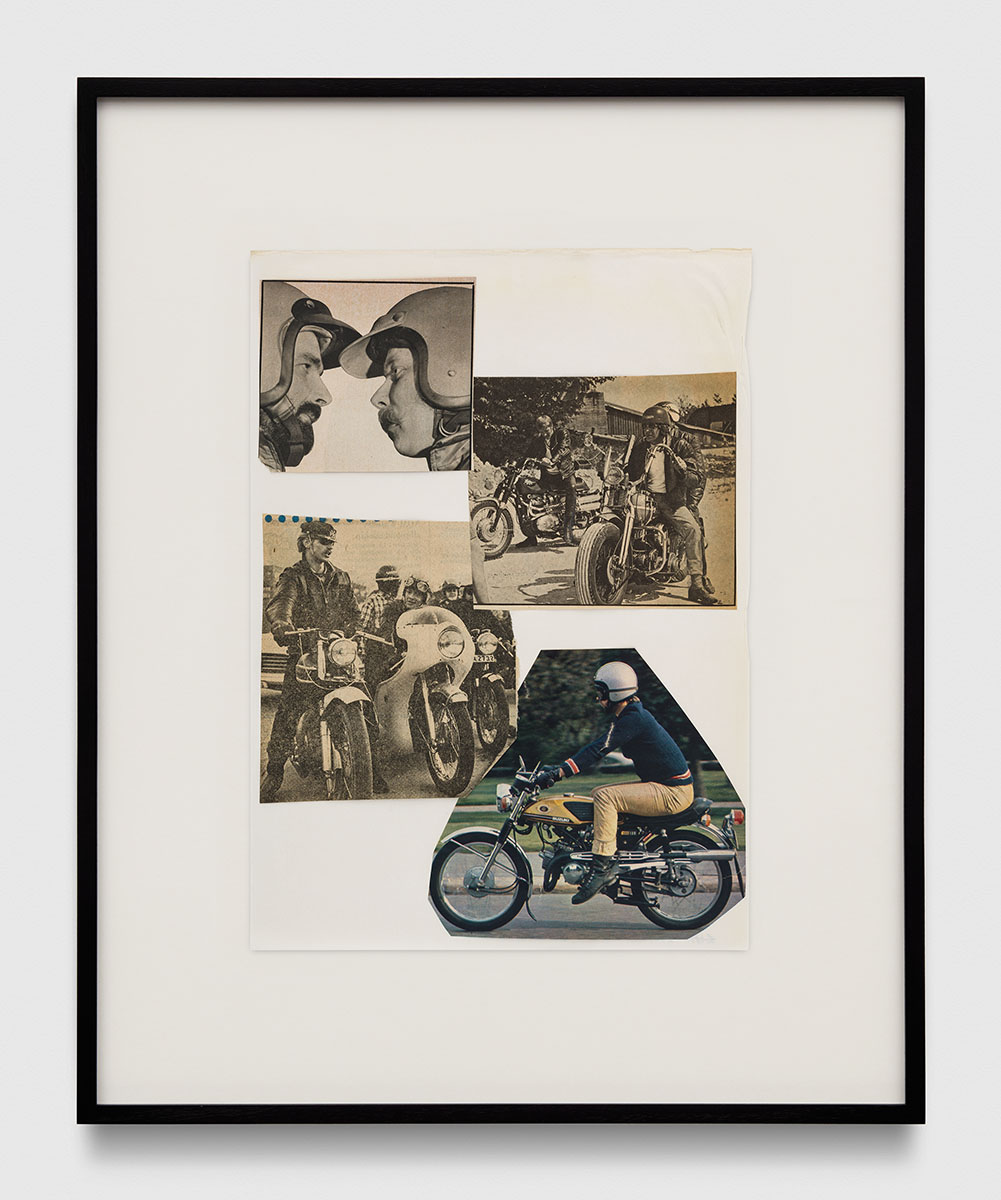 These collages see Tom working out the visual grammar of his art. Although the collage form has traditionally been celebrated for its capacity for surprising juxtaposition, these pieces instead strike me as improvised taxonomies of recurring tropes and archetypes. Repetition and not difference anchors them, and the patterns that they assemble are startlingly extensive. As the show's text suggests, these repeated aesthetic instances are ultimately sedimented into the distinct types that populate his works––namely, Tom's kinds of guys.
You might find these types of guy in your local leather bar, in your queer comics, or in the porn that you consume. Tom made figures such as the sailor, the cop, and the biker iconic mainstays of gay visual culture and queer erotic imaginaries. Far from peripheral curiosities, then, these collages underline a vital social consequence of his work: the consolidation of particular types in gay male visual culture, past and present.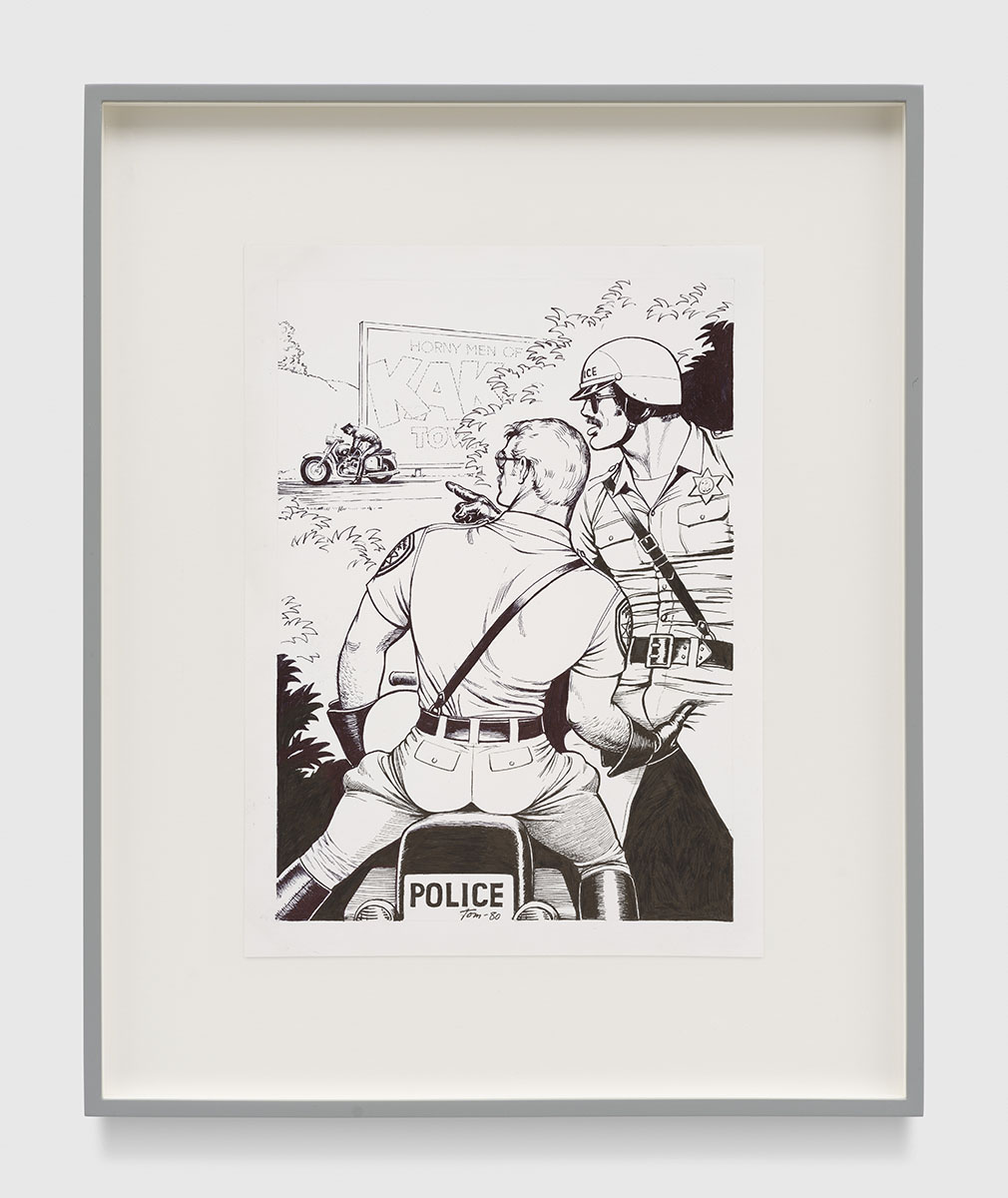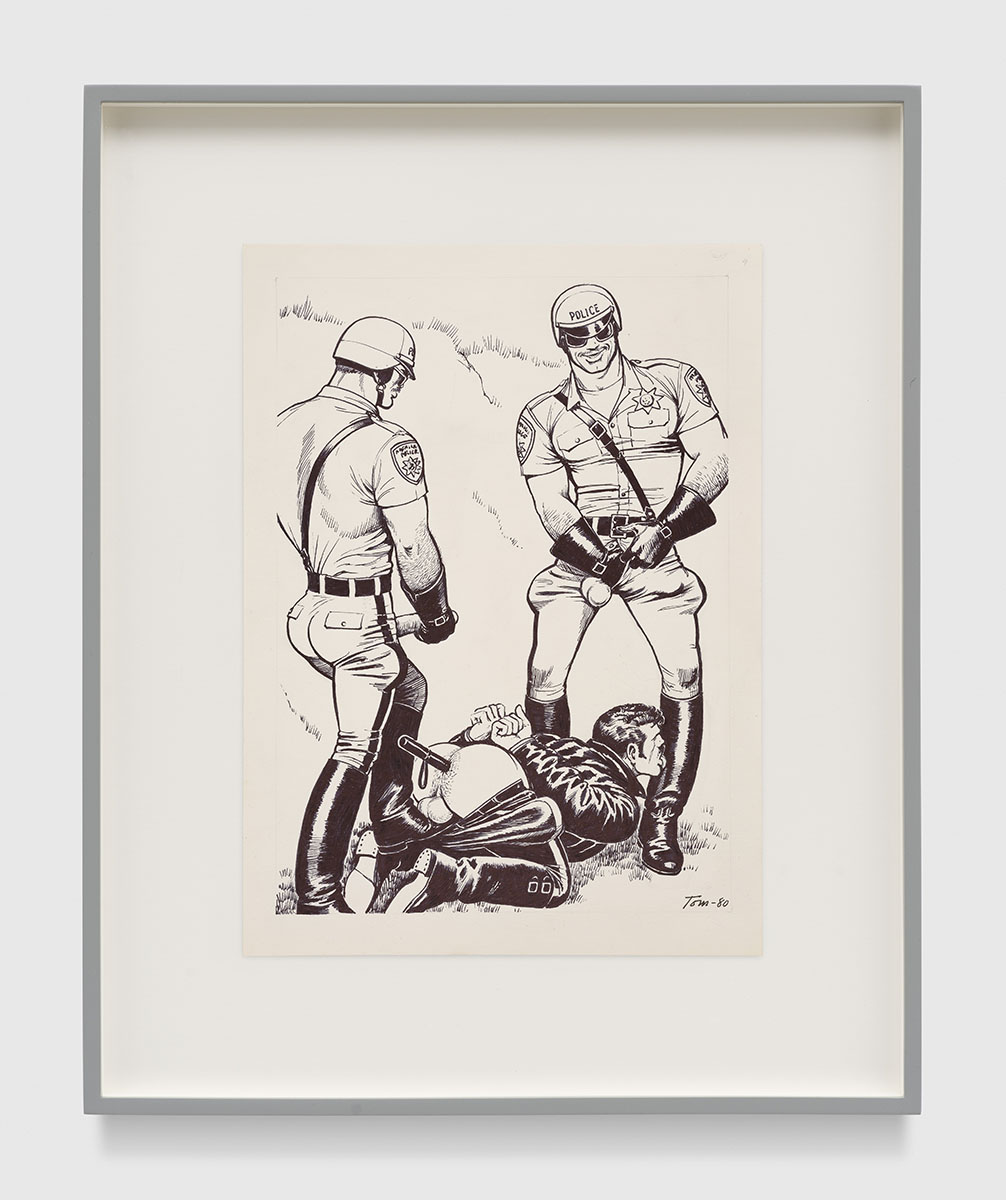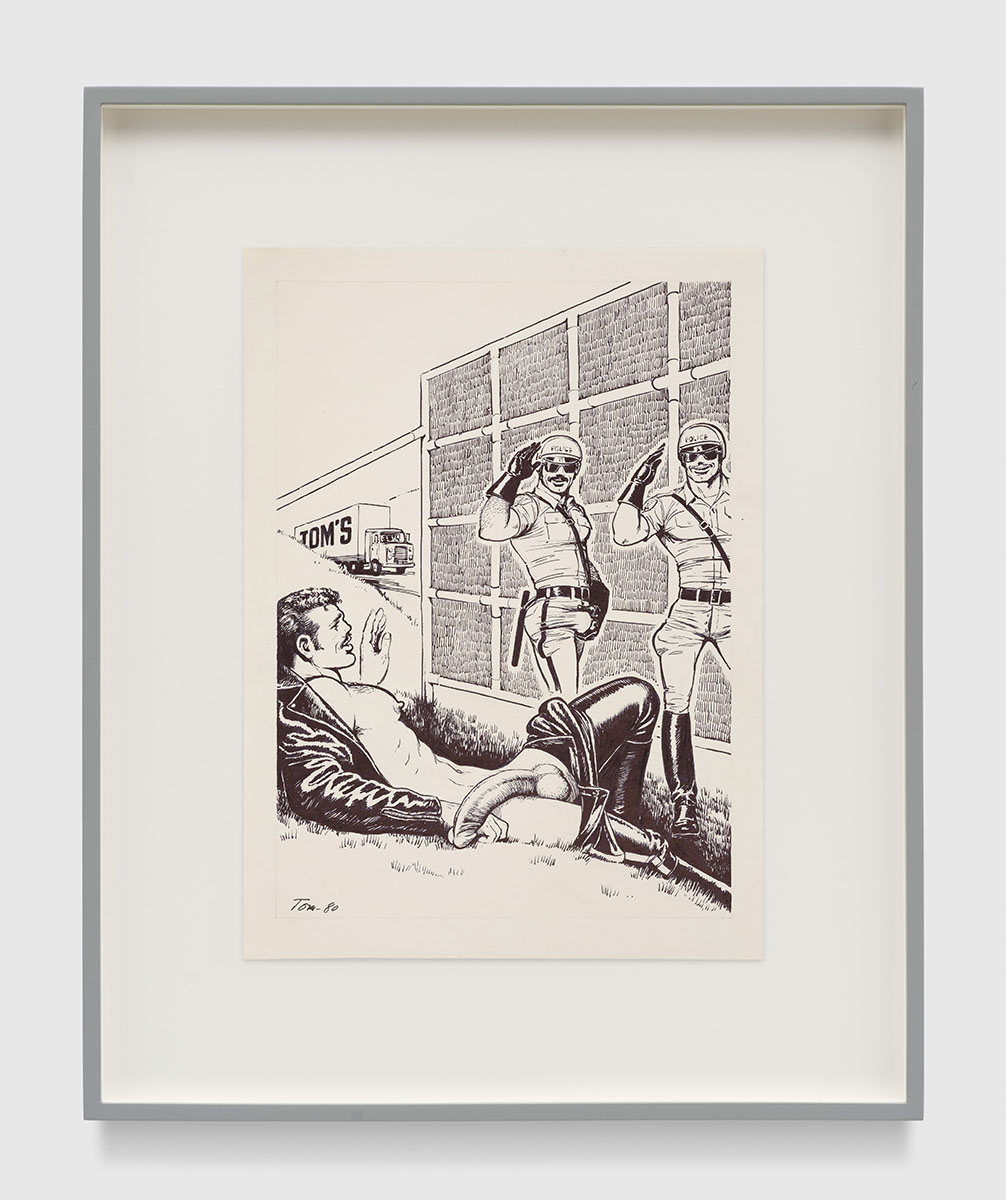 Paradoxically, this insistent physical sameness of Tom's figures contributes to the malleability of social hierarchies in their universe. Social roles in this body of work appear less fixed than they are in reality: they may be outfits that we can temporarily don and switch out at will. No wonder, then, that the cops of Highway Patrol are nearly indistinguishable from the biker. Tops become bottoms in the space of a turned page, and ever more creative configurations for pleasure proliferate in these pieces. This tendency has given some critical appraisals of Tom's work a utopian bent.
Yet some of these claims for utopia strike me as too easy. The introductory wall text ambitiously announces that Tom's work "continues to influence real-world queer liberation movements for its more holistic and inherent understanding of––and equitable access to––pleasure." One may ponder whose pleasure Tom's work has secured. It seems naïve not to acknowledge the deleterious effect that his type and its dominance in queer sexual and visual cultures has had on those who can't fit the mould of the leather jacket. Because of its ambivalent afterlives, critics would do well to approach this archive outside of the simplified dichotomy of utopian redemption or condemnation for its representational gaps.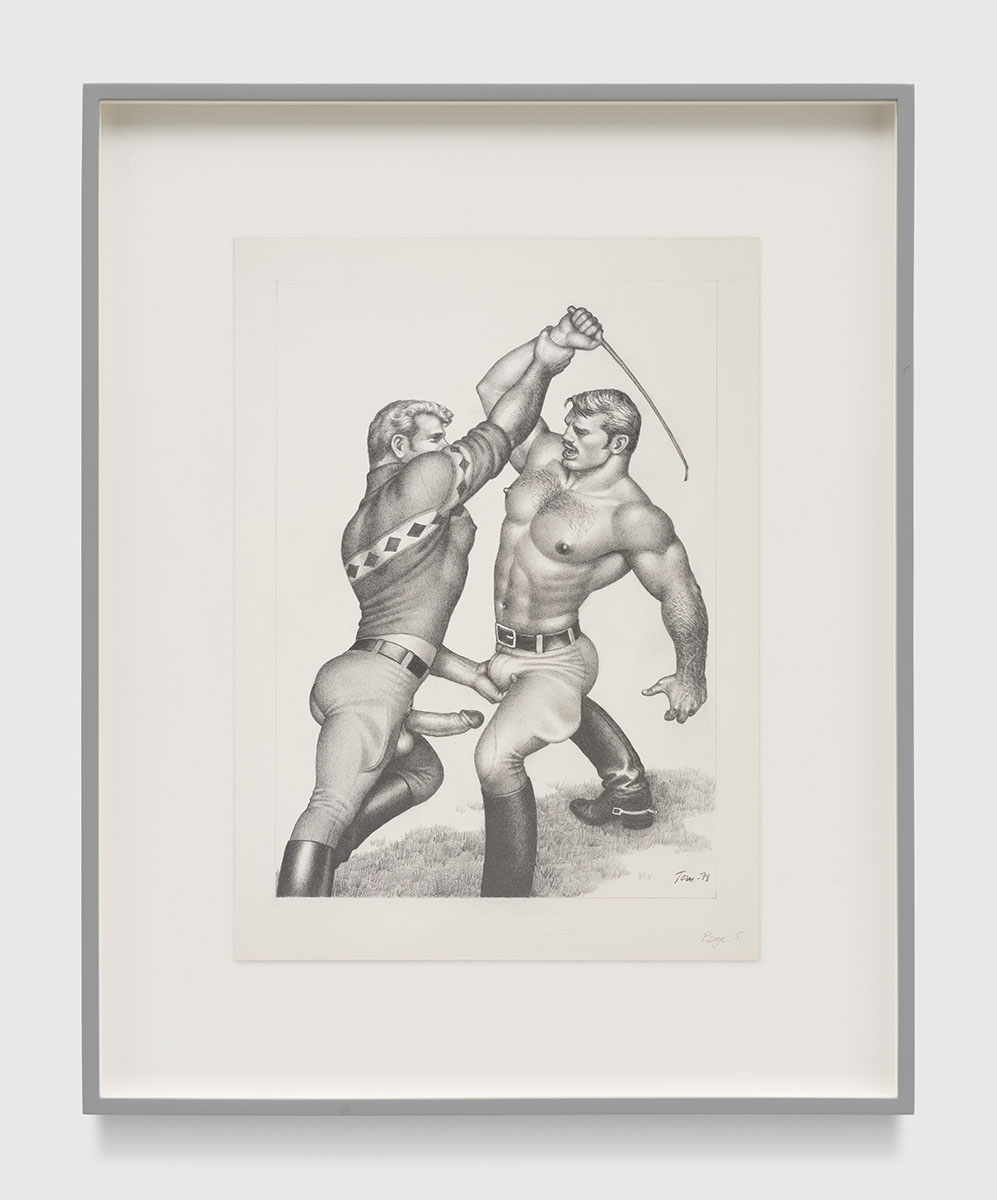 Given the exhibition's aim to bridge Tom's work to queer movements, it also could have offered more context for how readers encountered Kake. Might we have seen a physical copy of Highway Patrol? The consecration of the individual pages of Tom's graphic narratives as proper art objects can perform important rehabilitative work. But it also obscures the ways in which these works actually circulated among reading publics––among a community primed by the physique magazines of the early and mid-twentieth century that, as scholar Christopher Nealon has compellingly argued, portrayed a vision of gay male life that departed from the melancholic moulds provided by the homophile movement.1 1 - Christopher Nealon, Foundlings: Lesbian and Gay Historical Emotion Before Stonewall (Durham, NC: Duke University Press, 2001), 99–103. The works are almost more remarkable as quotidian (if not clandestine) print media passed around among friends and lovers than as art objects venerated in the gallery space for their formal elements.
There's another image that Tom drew, not featured in this show, that depicts one of his guys driving the planet Earth down onto his exaggerated cock. It's an apt visual metaphor for the state of queer cultures after Tom, and it points to an alternative enduring legacy of his work. As far as our aesthetic moulds go, it's Tom's world, and, for better or for worse, we're still living in it.