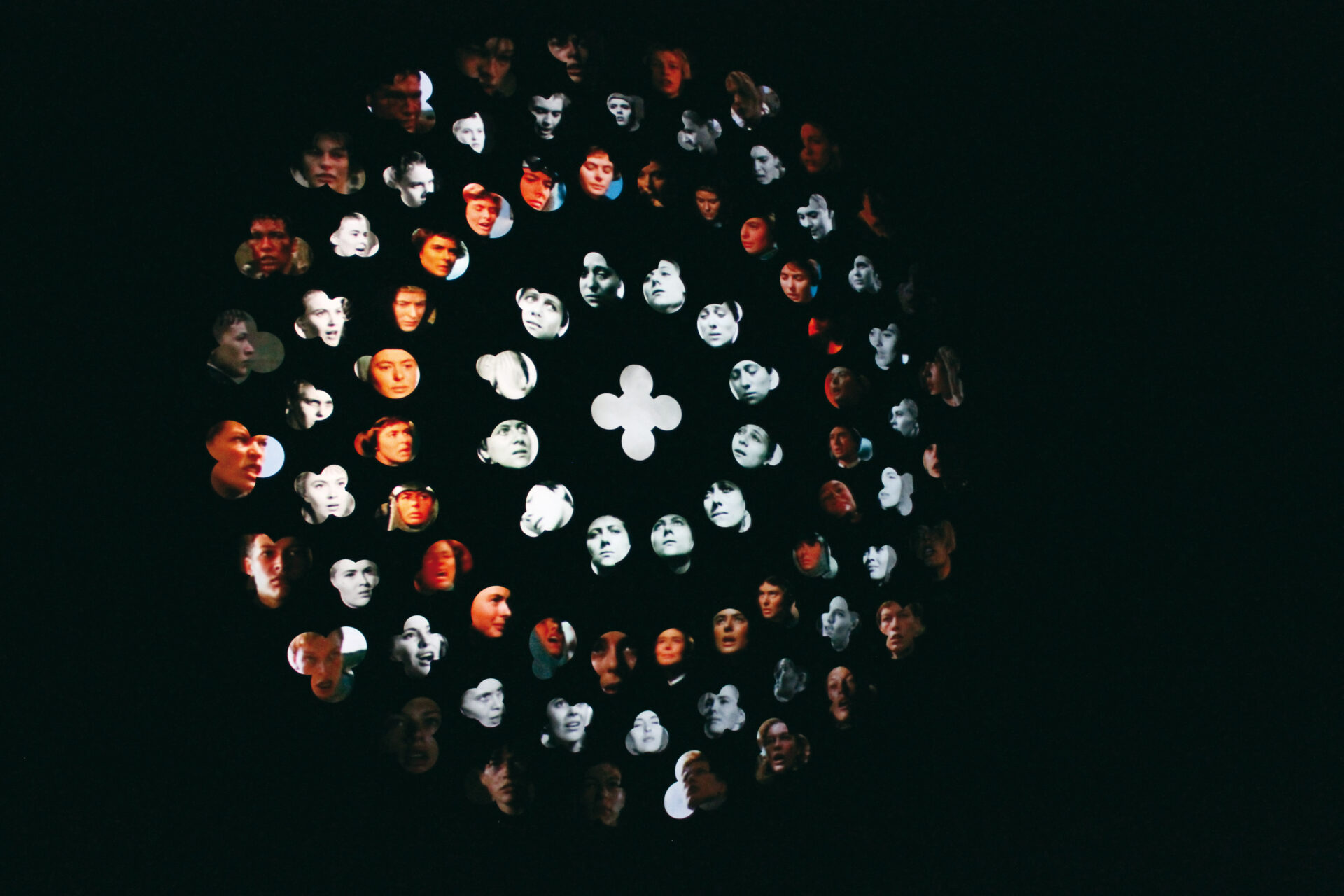 Museum of Contemporary Canadian Art, Toronto
February 4 — April 1, 2012
I enter Tasman Richardson's corridor of dissolving static and projection. After turning a corner the narrow walls drop away into an open yet still blackened room and I am struck. Filling the opposite wall a rosette window drawn with light — so defined it seems carved out of the darkness — blazes in Gothic splendour. Its trefoils frame footage of actresses playing Joan of Arc, their faces contorted in expressions of defiance. Slightly disoriented from the shifting light levels, the projection seems an apparition — a vision. Vacillating between these moments of revelation and dissolution Necropolis becomes a pilgrimage, its works the saintly relics.
The sense of mindful journeying experienced throughout Necropolis, a solo exhibition of Richardson's video work at the Museum of Contemporary Canadian Art (MOCCA), pervades its design. Consisting of a narrow one-way path punctuated by six immersive installations, visitors travel up ramps and around corners, through slender halls and mirrored chambers. A sense of purpose compels our walking. Curator Rhonda Corvese describes Necropolis's "superstructure" as a mapping that "channels visitors through stages of erosion, narcissism, acceleration, idolatry, self-doubt, and oblivion." Memorial, the Joan of Arc rosette window, functions as idolatry within this list — a fleetingly climactic experience of divination before we enter our dénouement.
The exhibition's closing work, Pan, achieves the final stage of oblivion. Here, fictions of science replace fictions of saints. A converging tunnel with backlit projections on either side, Pan engulfs visitors with clips from three overlaid films: 2001: A Space Odyssey, Altered States, and Enter the Void. The overlapping of these films produces a seemingly incomprehensible phantasm of space and infinity that registers somewhere between the psychedelic and the terrible. Pan thus retells our earlier moments of religious awe. Through science fiction we are offered a heaven for the twenty-first century.
The intense darkness and sensorial appeal of Necropolis echo MOCCA's earlier David Hoffos exhibit, Scenes from the House Dream, with some important emotive differences. While Hoffos's darkness evoked eerie suburban scenes and disarming quietude, Richardson's darkness points to the overwhelming expanse of outer space and exploration. Still, each mines our responses to darkness and the equal measures of hope and fear that these responses contain.
Corvese suggests that Richardson's work explores the "nature of video and its strong affiliations with death culture." The video clips are parsed from films that plumb the realms of disaster and oblivion, and the dark enclosure of the gallery evokes a catacomb. Yet, like the medieval pilgrimages the exhibition harkens to, it goes beyond demise into its obverse: salvation. Throughout our entire time spent tracing Necropolis's recesses we are quite literally walking towards the light at the end of the tunnel. The works, in their revelatory flashes, pierce through the darkness and hint of some expansive, otherworldly experience. We taste death and redemption in the same breath.