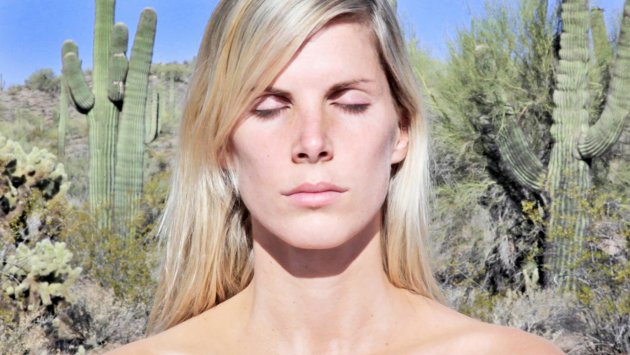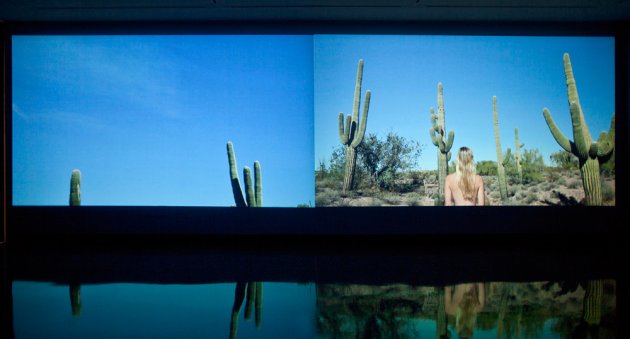 Traversing two landscapes, Julie Gemuend's performance-based video Imprint (2014) merges the corporeal and the topographical. The video diptych offers a series of meditative images of the Sonoran Desert, a vast terrain covering 280,000 square kilometres that include Arizona, California, and Sonora, Mexico. Employing the figure as a speculative tool, Gemuend unpacks concepts of 'self' and 'place' by allowing the desert to imprint onto her nude body. Closely framed by the camera, she exposes her faintly reddened midriff or a single knee speckled with small indents. These close-ups are paired with images of the instigators of these markings — rocks, twigs, shrubbery. In other frames the self/other relationship seems to be more harmonious. In one such moment, the artist simply reaches her outstretched hand into a dried, dense bush, while in another she positions herself beside a towering cactus, allowing it to visually bisect her body.
Throughout the video there appears a restrained symmetry that poetically links the two images; a spider-web strung between a tree's tendrils is coupled with a mass of blond hair draped over a single branch. One of the more compelling of these pairings reveals the tops of cacti, up against a mostly clear sky. The one disruption in this blue canvas is a wisp of cloud, set in slow motion by a faint wind. On the opposite screen the artist analogously stands in a forest of cacti, her back to the camera. The wind is active here too, blowing her hair, sweeping it across her body. Folded into this synchronous space, flora and fauna are seceded from pure biology and schematized instead as seductive patterns — as shifting geometrics.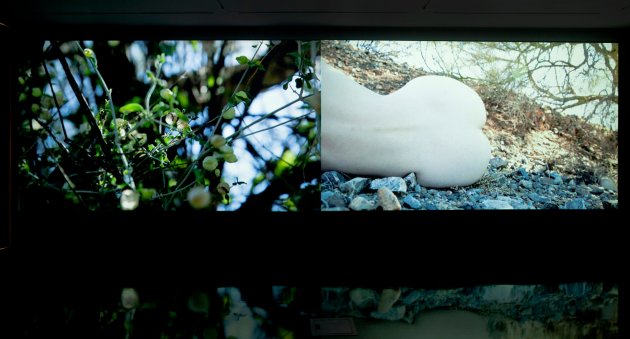 The desert is a particularly problematic construct and reality. The atmosphere revokes moisture as sunlight clings feverishly to matter, and as Gemuend notes of the Arizona Uplands, delivers temperatures strong enough to ensure camera equipment is unworkable before midday. This extreme climate and landscape elicits a visceral response to the artist's body situated between the varied vegetation. The desert as construct is similarly unrelenting, and is often codified as antagonist to the notions of oasis and Eden or to pursuits of gardenly respite. Gemuend seems to rectify the solemnity of isolation associated with the most reductive of desert archetypes with a kind of playfulness. She gestures towards this playfulness by waving what appear to be large palm fronds or by somewhat strangely hugging an atrophied tree stump.
Gemuend positions herself between the real and the imagined of place. While several images evoke the oneiric, others indicate a precise geo-spatial reference. There is an ease within which Imprint stages these divergent planes of the existent and the imagined in a delicate imbrication. This allows us to move effortlessly between the two and to feel contented in not needing to separate reverie from reality.


This article also appears in the issue 83 - Religions
Discover