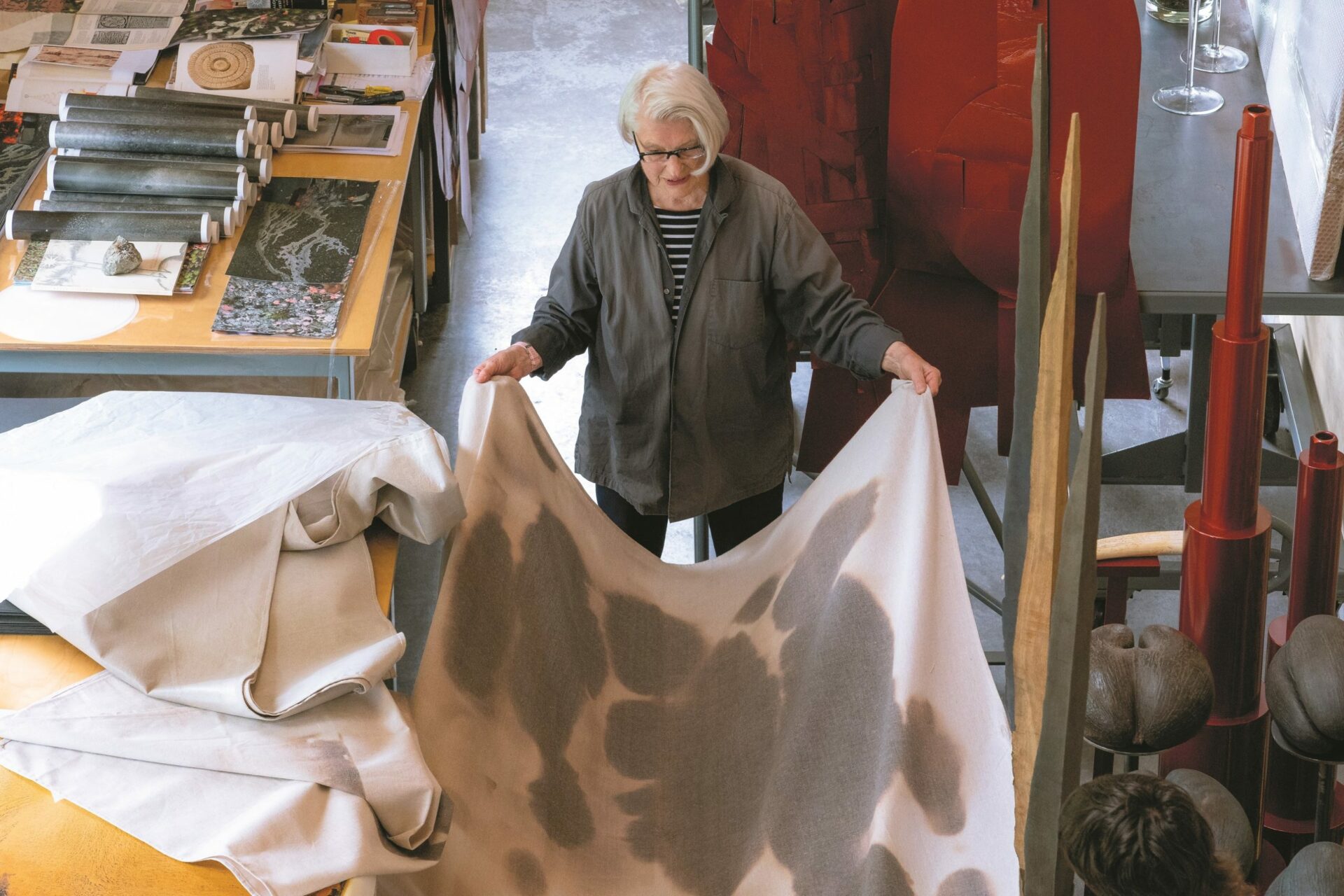 I first met with Irene F. Whittome on June 5, 2021, at her home in the Eastern Townships. I found myself in the company of a plain-spoken artist with both feet on the ground, calm and confident, in full control of her faculties. As I naturally associated the materials in her works with her approach, I was inspired to read The Care Manifesto, written by The Care Collective and published during the COVID-19 pandemic. The worldview propounded in the book is based on an ethics of care that, in the authors' view, should orient major political and personal decisions instead of a search for profit, competition, and individual advancement.1 1  -  Care Collective, The Care Manifesto: the Politics of Interdependence (Verso: New York, 2020). I discovered a broader definition of care, encompassing not only medicine, support activities, and education, but all the actions and decisions that foster and enhance life—including, ultimately, protection of the environment. With all of these ideas and my conversation with Whittome in mind, I assessed an art career that has explored, sequentially and simultaneously, the museum as an institution and the issues related to collection and conservation, the subject of fertility in relation to creativity, and the theme of spirituality. Over the last ten years, it seems, Whittome has turned toward nature to honour the transformative force of life.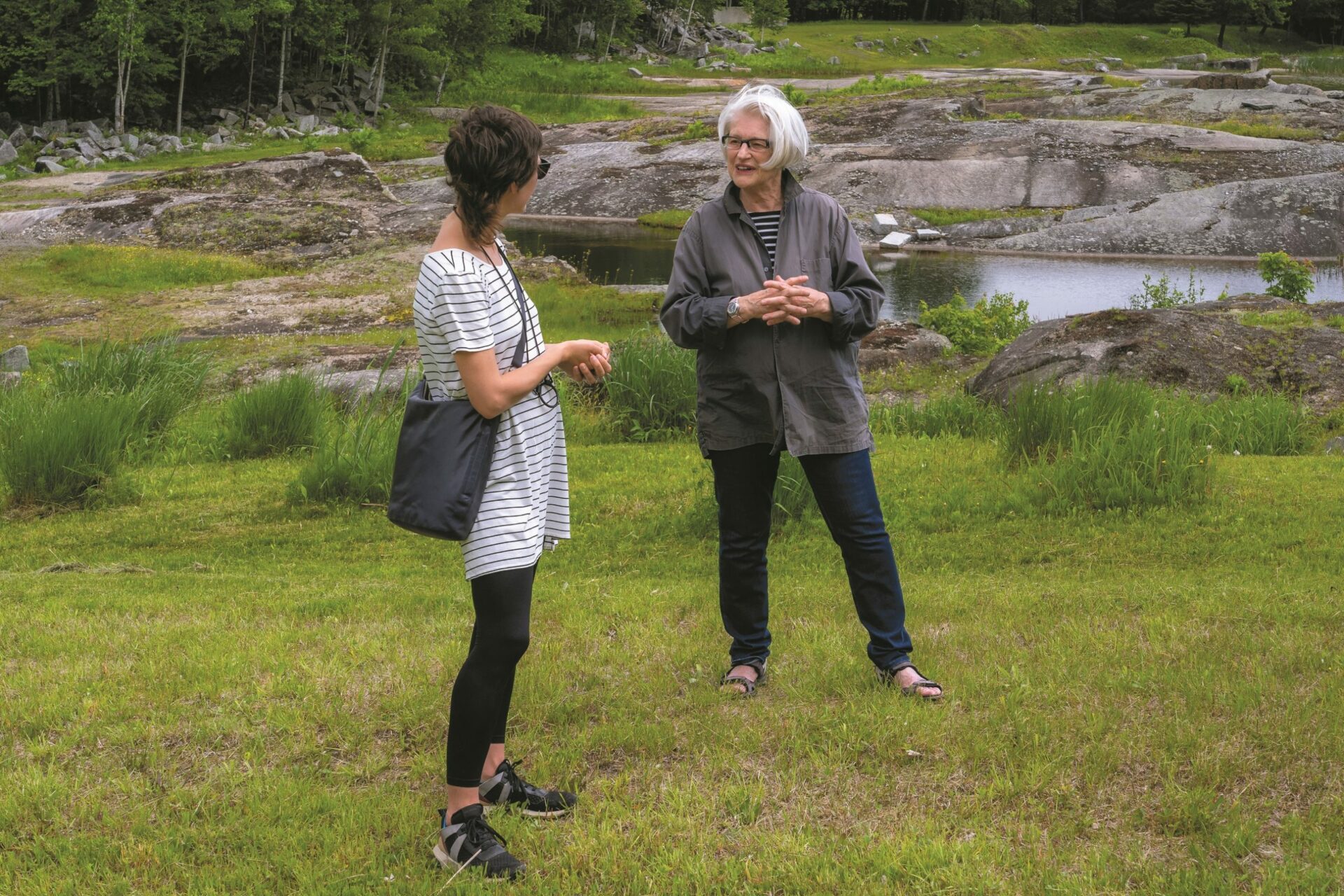 The piece that piqued my curiosity and made me want to find out more about this aspect of Whittome's work was shown to me in 2019 by François Babineau during a visit to Galerie Simon Blais. It consists of a series of photographs, laid out in grids, documenting an action organized on Whittome's land on May 30, 2009. As her production was divided between a barn in Stanstead and her loft studio in Montréal, Whittome decided to burn the matrices and remaining components of many of the works she had produced in the 1970s and 1980s, including elements made of wood and cardboard covered with encaustic assembled for Vancouver (1975–80), an installation reconfigured many times depending on the venues where the exhibition Irene Whittome 1975–1980 was shown—whence the presence in the flames of shipping crates that still protected different pieces. Stimulated by this visual narrative and having in mind the site of the studio and the visual signs of the world of care that I detected everywhere in the works that I already knew, I traced back the thread of her artistic trajectory in light of this key performance.


The museum—its tools, systems, and operations—has been key to Whittome's approach since the 1970s, as evinced by her The White Museum installations and their various iterations (1975, 1976), Le musée des traces (1989), Le musée noir (1992), and the various boxes and showcases that are little curiosity cabinets. These works are characterized by activities associated with classification and identification, a concern with conservation, and a strategy of accumulation. In light of Whittome's constant dialogue with the institution of the museum throughout her career, the act of destruction by fire seems contradictory, refuting the desire to protect objects that had been conveyed by putting them in boxes. Aesthetically, although the principle of the grid is reminiscent of an inventory, these images contrasted with what I anticipated from this approach.
In an essay on Whittome's practice, Johanne Lamoureux distinguishes two types of artistic interaction with the museum as an institution: institutional critique and in situ approach, which is not confined to the museum but might target its spaces.2 2 - Johanne Lamoureux, Irene F. Whittome. Bio-Fictions, (Musée du Québec: Québec, 2000), 17. At first glance, the burning of the works seemed to me to underline the paradox of the museum's mandate, and thus to be in dialogue with institutional critique. How can ever-larger collections be acquired and conserved without having adequate financial and spatial resources? Before being a challenge for the museum, the issue of conservation of artworks is the responsibility of the artist, who has limited means. Whittome's bonfire may have been an ironic response to this state of affairs, but her artistic register, in my view, evokes solemnity more than satire.


Whittome's interest in the museum no doubt arises less from articulating a critique than from exercising her imagination. Galleries, tools, and strategies are transformed into playgrounds and reinterpreted in creative installations, to tell stories that have more to do with personal mythologies than with a dry institutionalized narrative.3 3 - Anne Bénichou, Irene F. Whittome. Paperworks III, (Galerie Simon Blais: Montréal, 2005). Thus, she tends to think in terms of the in situ approach: she treats the museum as a complex site to occupy, like other spaces that have been available during her career—including her studio on Rue Saint-Alexandre, in Montréal, where a series of filmed performances took place (1980–82), and the former public school that became the P.S. 1 exhibition centre in New York, for which she created the installation Model One-Work at School/Classroom 208 (1979). More recently, a disused granite quarry, which became her living space and the site of her final work, has channelled this impulse in her work. Whittome moved to Ogden in 2007; she had acquired the land in 2003 and relocated her studio there in 2005. Since then, organizing this place, based in particular on the desire to reveal its uniqueness and memory—which requires the attentive listening and observation appropriate for in situ creation—has been part of her daily life. Overall, the property acts as a crucible for bringing together the principles that have motivated a life unconditionally devoted to the pursuit of a career in art, which became her true vocation when she was seventeen.
Seen from this angle, the fire at the quarry, which lasted a full day, is coherent with Whittome's approach, as she was able to stamp it with her presence. Destructive and purifying, this iconoclastic gesture—an unproductive and spectacular conflagration that erased the fruits of many years of labour—was experienced as a joyous liberation rather than as a sacrifice, offering her, at age sixty-seven, a tabula rasa – a symbolic blank page. Nine burial mounds for the ashes and debris were made at the site of the fire, encircling the spot and serving as memory markers. Creating a landscape without making invasive modifications, the work has evolved through the seasons and the weather. This interest in what Jacqueline Fry calls "provisional states" was manifested early in Whittome's career.4 4 - Jacqueline Fry, Irene Whittome. 1975-1980, (Musée des beaux-arts de Montréal: Montréal, 1980), 5.. From one installation to the next, she constantly reused elements, changing and rearranging them, keeping them alive by endowing them with a history that inscribed them in a long-term project. Change, the ephemeral—basic elements of life—were also embodied in the action of burning through traces formed of wax flows, which were etched into the soil and evaporated over a two-year period. Elsewhere on the land, granite blocks testify to the site's past, suggesting a timespan surpassing that of human life. The lichen clinging to the rocks and regrowing season after season bring up the idea of resiliency—as does the fire, one of the consequences of which is to regenerate soil.
Destruction and rebirth: two opposed states that combine to evoke a process of sublimation. This idea returns often as a leitmotif in Whittome's words, as she identifies it as one of the keys to her artistic process. She has never feared destruction, the first stage of sublimation, whose outcome is a state that replaces—and thus eliminates—the former. The courage to let go of material things that slow us down responds to the desire to place ourselves in a situation of availability and receptiveness. Of course, an important part of Whittome's earlier production remains, but by making this definitive gesture, she lightened her load by affirming the end of one cycle to open herself up to other paths.
The activities associated with preservation bring up issues of attention, solicitude, and devotion (all of which come wrapped in the word "care"), which are glimpsed in the background of Whittome's practice without her explicitly stating them. Her use of needles, safety pins, pieces of gauze, phials, bandages, and wrappings—and, recently, iodine, a common antiseptic—are signs of a formal vocabulary that bring disciplines associated with the protection and preservation of life together with that of conservation in museums. Questions of identity and fecundity have also been woven into her approach over more than fifty years—as evidenced in the paintings in the Bestiaire corpus (1963), the drawings in the Creativity-Fertility series (1985), the digital prints titled Conjunctio (1999), and the installations incorporating ostrich eggs. A spiritual dimension can also be discerned in the use of symbols such as the turtle, the cross, and the stupa. She renews herself in the meditative ambience of certain installations that use light and a tension between concealment and revelation to maintain a sense of mystery. Fire—ceremonial, funerary, as an offering—unfailingly brings to mind the ritualistic and sacred nature of this work.


By making this former granite quarry her final work, Whittome has extended to her entire field the principles that have always been at the core of her approach in order to further harmonize with the natural world, recognizing that human beings are only its guardian. The landscape is transitory, never fixed. It demands constant care, a devotion that forces us to reconcile with the rhythm of fragile, ephemeral life. Perhaps this is why, when I met Whittome, I felt that I was in the presence of a tranquil force who rose as peacefully yet resolutely as the monolith erected on her land. Her possible alter ego, this stone, marked with gashes that are wounds linked to its extraction, has found a home here. Moving to a remote location, embracing solitude, and dedicating herself to the slow observation of phenomena that she records in photographs—which have become important in her creative process—are choices that became clear at the culmination of a career marked by spirituality and fascination with time passing. Whether inscribed in a patina, underlined by accumulation, represented by a succession of repetitions and differences, or organized in a grid, time, as experienced through memory, is addressed in multiple ways through her works.
Having settled in Ogden, Whittome celebrates the interconnections of the living as a force on which all fulfilment depends. Combining the principles of care and environmental imperatives by being attentive to this keyword, she is in tune with the challenges of the present time. She thus reconnects with a tendency that was there even in 1968, when she returned from a five-year educational stay in Paris; then, fascinated by the culture of waste in North America, she gave a second life to objects that had been thrown away. Photographs of the floor of her studio complement the work du feu, du lichen, et du plancher de l'atelier (2009–21). Strangely evoking both a microcosm and a macrocosm in motion, these abstract images, allied with those from nature and from the performance of the flames, put the finishing touches on the inscription of the studio in a whole the cycle of which encompasses her life and work, which are inextricably combined.
Translated from the French by Käthe Roth