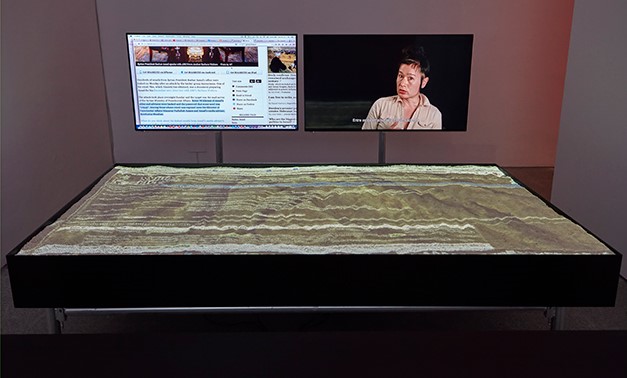 In the twenty-first century, imagining the future often invokes a fear in humans predicated on its uncertainty. Endless attempts to predict what will happen focus on historical patterns that give some insight into looming possibilities, but realities of the past become insignificant when uncertainty is integral to rapidly changing societies. The future arrives faster every day, and predicting it never gets easier because it does not exist until it has unfolded into the present. According to Barbara Adams and Chris Grove, seeing this impending time as a hypothetical, "disembedded realm"5 5 - Barbara Adam and Chris Groves, Future Matters: Action, Knowledge, Ethics, (Boston: BRILL, 2007), 1–77. allows for less restricted conceptualizations. Instead of seeing the future as something that is predetermined, it can be seen as an extension of the present that exists only when action is taken to create it. The time we call the present becomes the future, unfolding through living 6 6 - Ibid.. Though predicting approaching time in this fluid way can be chaotic, doing so allows accelerated adaption and understanding. Hito Steyerl recognizes this present future in This Is The Future, an exhibition which ran at the Art Gallery of Ontario from October 2019 to February 2020. With this show Steyerl focuses on contemporary issues explored through video technology, education, and the built environment and uses both historic and futuristic imagery to better inform the audiences' understanding of the present. In this way, she equips her audience to take whatever the future offers, even if it is unexpected, and prepares them to create their own depictions of prospective time through lived experience. The exhibition interrogates economic systems, including art institutions; criticizes industrial production; and questions societal developments that concern ethics. Steyerl does not necessarily make any predictions or depictions of the future, but she does depict a futuristic present that was once science-fiction, non-existent then carved out by human and earthly forces. She brings time together fluidly, showing previous and subsequent effects on the present, and with the title of the show states that we are no longer waiting for the future, we are living it.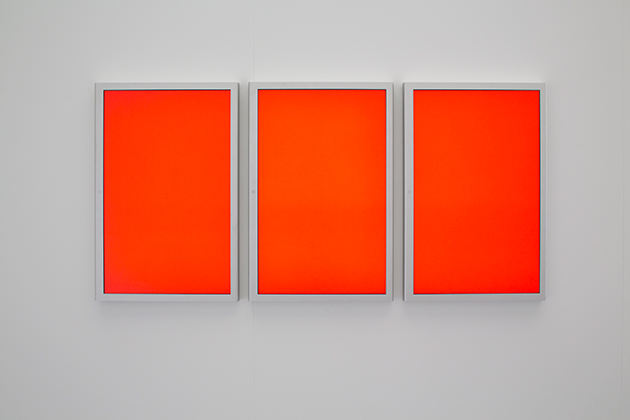 Inspired by the past, Steyerl created Red Alert (2007) to offer a logical conclusion to contemporary documentary filmmaking. She calls for the category to be redefined in a significant way and envisions a documentary film that involves any chronicling of information even at the most basic level. Three vertically mounted flat screen monitors refer to Alexander Rodchenko's The Death of Painting (1921), which questioned painting's function in fine art, and proposed the death of the medium at a time when advancement and growth in the art form felt futile7 7 - MOMA Interactive Exhibitions, "The Death of Painting," The Museum of Modern Art, New York. 1998, https://www.moma.org/interactives/exhibitions/1998/rodchenko/texts/death….. Steyerl uses this notion to strip documentary film to its most simple structure. Each monitor plays a video of the colour that was used by United States Homeland Security, following 9/11 to communicate the highest threat level8 8 - Hito Steyerl, "Red Alert: Artist Talk," Henie Onstad Art Centre, Sandvika, Norway, June 30, 2010, https://www.youtube.com/watch?v=ILgZEHKNcc4.. This simple but thorough representation of a colour symbolizes a tragic time in history that unfolded for those living it, and while it is abstracted from traditional documentary film, Steyerl works within the category's parameters to produce something completely new.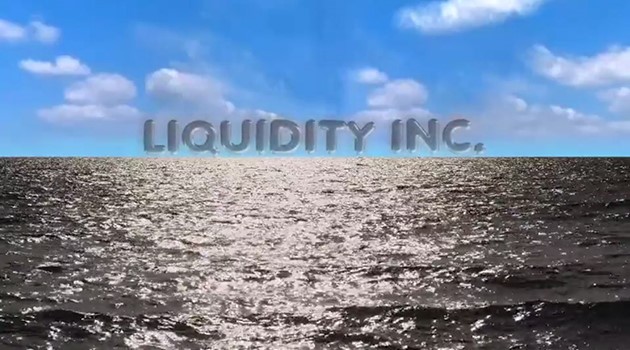 Liquidity Inc. (2014) also focuses on the need to reimagine basic principles of art and life. Here, the documentary features water as the main subject, and its existence within a fictional post-economic crash. The built environment consists of a large sloped wall covered in cushions that allows the audience to sit comfortably while they are bombarded with digital imagery of water, waves, and extreme weather, accompanied by language associated with liquidity. There is a focus on the need to be fluid as a human, adapting as the future arrives. Furthermore, the installation describes the circulation of images, data, information, and water not only as resources, but also as fundamental elements that all flow through earthly beings. The video resembles a training tool, and presents basic but important information in a very familiar way. Though the video format and seating area make this a comfortable scenario, the information that Steyerl conveys forces the audience to see things as common as water in a different, more overpowering way. Every choice made in this installation allows the viewers to conceptualize their own knowledge in alternate ways, while preparing them to adapt to volatile futures as effortlessly as water.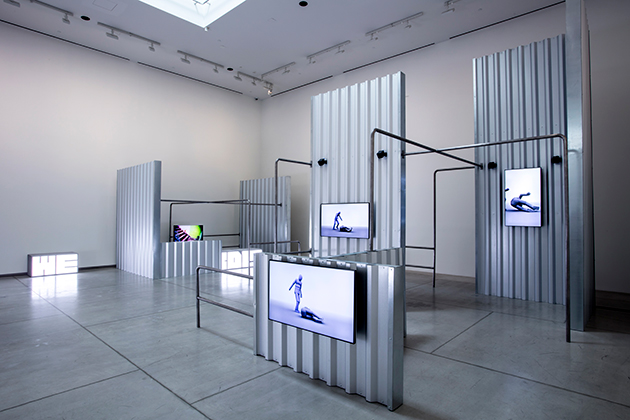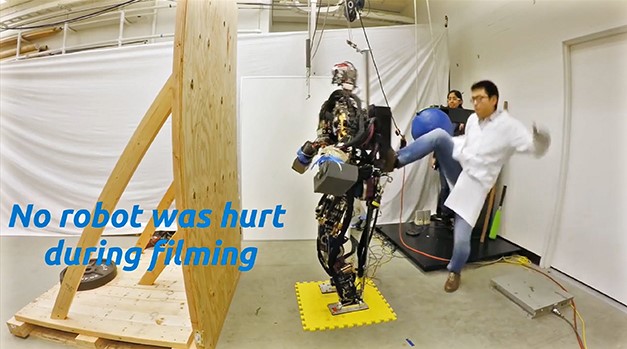 The installation Hell Yeah We Fuck Die (2016) also utilizes a built environment, but this time the audience is not permitted to sit comfortably and watch. In this artwork the architecture is reminiscent of a parkour course, a sport with military origins, with importance placed on the speed at which one moves through the obstacles. The artwork's title is spelled out in cement block letters that, along with large walls, become the obstacles. The title is drawn from the most commonly used words in song titles on the Billboard music charts from 2010–20149 9 - "Hell yeah, Hito Steyerl is here!" AGO Insider, October 22, 2019, https://ago.ca/agoinsider/hell-yeah-hito-steyerl-here., and documents a time period and its vulgarity. Mounted on the walls are monitors playing videos from robotics labs, where they test the reaction of human-like robots subjected to acts of violence and abuse. Tucked away in the back corner of the installation is a small monitor connected to a few sets of headphones. This element of the artwork is called Robots Today (2016) and shows footage from the Kurdish town of Cizre on the Syrian border, an almost deserted area, devastated by war. While the videos of robots are displayed openly and depict a more distant ethical dilemma, Robots Today allows for a solitary viewing that concerns a more present reality. Steyerl tests the boundaries of empathy by creating a space that embodies earthly obstacles that must be overcome, and by embedding truth in fiction; she places two very different videos in the same space, and makes the audience question why their empathy towards something that is not alive, experiencing violence, is similar to their feelings about real human suffering. This thought-provoking installation combines architectural and video compositions to create a whirlpool of earthly obstacles and visual deception.
In all of her artworks Steyerl is imaginative with her use of space, video, and sound. In this exhibition, she effectively expands general understanding of video and documentary, transforms an exhibition space into an empathy training obstacle course, and demands more from the institutions that surround her. The future that she engages with flows through the present, and calls upon those who see the exhibition to take an active position, questioning the traditions and arbitrary rules that stifle revolutionary change within systems. Though time continues to progress at an increased rate, Steyerl arms her audience with tools for understanding the future, and shows them that time is fluid and is theirs to create. She uses historical reference as a small tool for conceiving the future, but her focus is overwhelmingly present. Through this Steyerl confidently defines the future in the now.