A symbol of the struggle for human rights, renowned artist, architect, and activist Ai Weiwei (b. Beijing, 1957) has become a global figure despite being forbidden to travel outside China. In May 2012 he was one of three dissidents awarded the New York-based Human Rights Foundation's inaugural Václav Havel Prize for Creative Dissent, and in October his first survey exhibition in the U.S., According to What?, opened at the Smithsonian's Hirshhorn Museum in Washington, D.C. Ai did not attend the opening, however; his passport has been held by Chinese authorities since his detainment in April 2011 and subsequent year-long house arrest on allegations of tax evasion.
In China, the charge of economic crime is the choice pretext of the state to pre-empt accusations of human rights violations. Ai's incarceration is widely known to be related to his many previous run-ins with state security over his outspoken criticism, both online and off, of government corruption and China's suppression of freedom of expression. As Michael Wines of The New York Times put it: "Ai Weiwei is perhaps China's most famous living artist and its most vociferous domestic critic, titles of a sort this committed iconoclast disdains."1 1 - Michael Wines, "China's Impolitic Artist, Still Waiting to Be Silenced," New York Times, 27 November 2009, www.nytimes.com/2009/11/28/world/asia/28weiwei.html? pagewanted=all&_r=0. "Maybe I'm just an undercover artist in the disguise of a dissident" the contrary artist has said, "I couldn't care less about the implications."2 2 - Kerry Broucher, "Reconsidering Reality: An Interview with Ai Weiwei," According to What?, ed. Mami Kataoka, exhibition catalogue (New York and London: Hirshhorn Museum and Sculpture Garden, the Mori Art Museum and DelMonico Books, 2012), 39. If there were an artiste indigné célèbre," Ai would be the man of the hour.
Ai's high profile has often detracted from a deeper understanding of his art and activism as implicitly linked to the phenomenon of social media in the digital age. Ai has embraced the Internet and social media as expressive platforms in both his art practice and political activism, and has been writing about judicial procedures and state affairs on his personal blog since 2005.
The unprecedented participation of 1,001 Chinese citizens from different backgrounds and regions of China, who travelled (fully subsidized) to Kassel, Germany, for documenta 12 (2007) as part of Ai's ongoing Fairytale Project, came about through an open invitation published on his blog. As the Chinese consultant to the Swiss architectural firm Herzog & de Meuron for the design of the Bird's Nest stadium for the 2008 Olympics, Ai was catapulted into the international spotlight and placed under closer scrutiny by the authorities when he openly denigrated the games as state propaganda machinery and stated publicly that he regretted participating in the project.
Ai continued denouncing state corruption upon discovering that among the dead of the more than eighty-six thousand people killed during the Sichuan Earthquake on May 12, 2008, were over five thousand schoolchildren buried alive in their classrooms because of "tofu-dreg schoolhouses" — the poorly constructed buildings indicating corruption and negligence. The Chinese government's lack of accountability and its refusal to disclose the death tolls or the students' identities fuelled Ai to collaborate with grassroots activists and volunteers in a citizens' investigation to research and post the names of the perished on his blog, the online platform for the campaign. Remarkably, the blog was left alone for four months but the quake's first anniversary in 2009 saw Ai's blog entries systematically censored and deleted by the Public Security Bureau. This however has not deterred the efforts of Ai and his collaborators to gain the most basic level of respect for the deceased. "The most fundamental worth and civil right of any person is their right to their name."3 3 - Ai Weiwei, Ai Weiwei's Blog: Writings, Interviews, and Digital Rants, 2006-2009, ed. and trans. by Lee Ambrozy (Cambridge, MA: The MIT Press, 2011), 211.
As the list of student earthquake victims grew on the wall of his Beijing studio, Ai became a committed political microblogger, made documentaries, was featured in Alison Klayman's Ai Weiwei: Never Sorry (2012), and created multiple pieces to commemorate and bring awareness to the school disaster. Cong (2008 – 2011), for instance, featured the list of ­victims' names and one hundred and twenty-three framed letters received from various regional ministries refusing to disclose information on the case. For Munich's Haus der Kunst façade installation Remembering (2009) and the green and gray Snake Ceiling (2009), Ai used hundreds of children's backpacks to recall the student victims who were left behind, while his floor installation, Straight (2008 – 2012), which premiered at the Hirshhorn Museum, simply delivered thirty-eight tons of forcibly straightened steel rebar recovered from the earthquake site.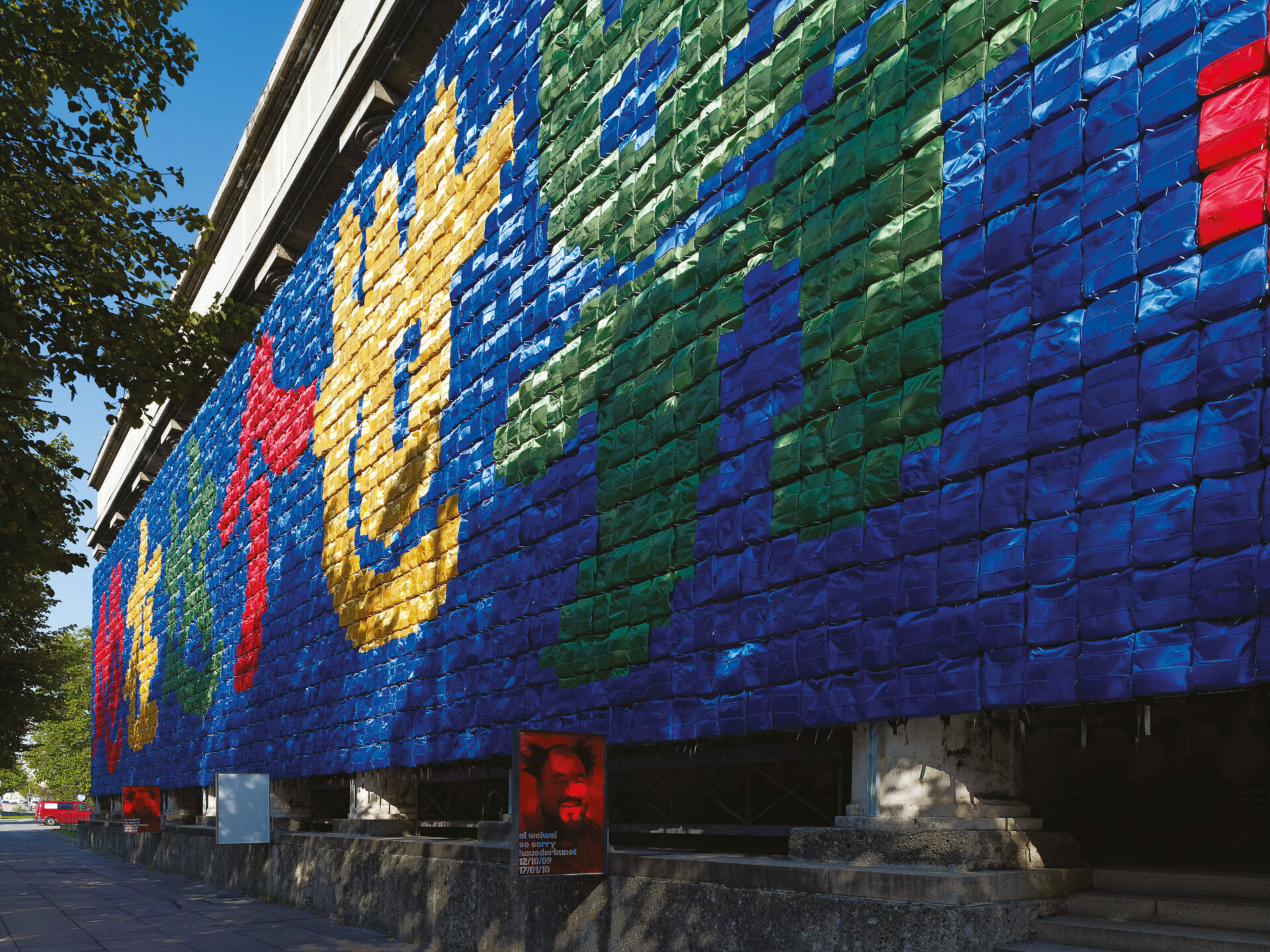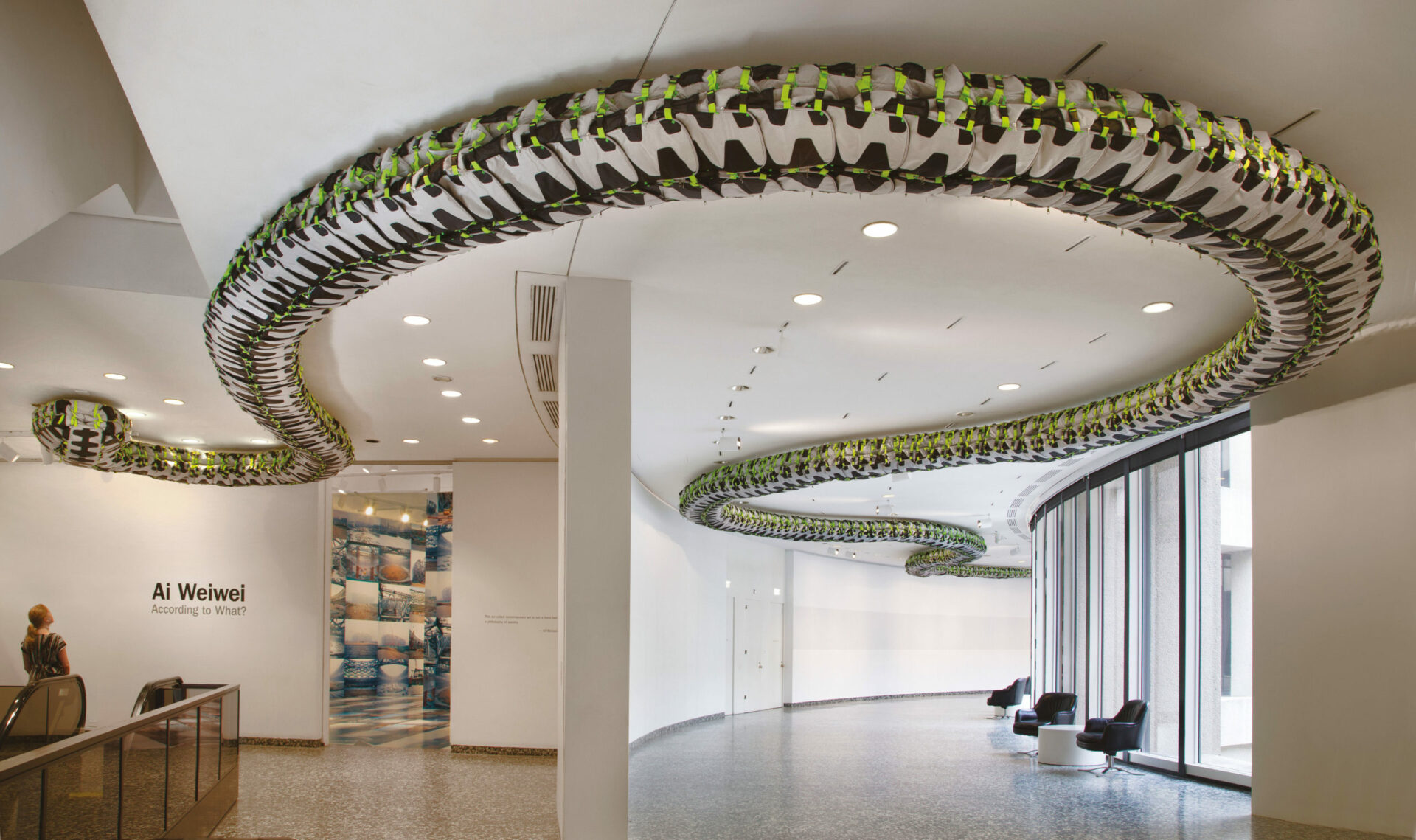 With the citizens' investigation continuing, Ai was detained by police at Beijing Capital International Airport en route to Hong Kong on April 3, 2011, without being officially charged. He was held in solitary confinement in a secret location for eighty-one days and interrogated approximately fifty times. His forced disappearance led to an international outcry with leading global art institutions campaigning through some of the largest online museum communities in the world: London's Tate Modern installed a huge sign saying, "Release Ai Weiwei," and New York's Guggenheim amassed one hundred and forty thousand signatures on its "Free Ai Weiwei" petition, further reinforced by canvas bags bearing the same message at the 2011 Venice Biennale. Ai was eventually released from house arrest on June 22, 2011, but due to the ongoing investigations against him, remained under semi-house arrest with heavy police surveillance and was forbidden to leave Beijing until June 2012.
Yet even before his year-long "soft detention", Ai created the white marble sculpture, Surveillance Camera (2010), and Marble Arm (2007) — the latter akin to his photographic series "flipping the bird" at major landmarks including Tiananmen Square and the White House. In April 2012, on the anniversary of his arrest, he streamed his own self-surveillance reality TV from his weiweicam.com website in an absurd act of "sousveillance" à la Steve Mann;4 4 - Steve Mann, "'Sousveillance': inverse surveillance in multimedia imaging," Proceedings of the 12th annual Association for Computing Machinery (ACM) international conference on Multimedia, New York, 2004, 620–27. unsurprisingly it was shut down two days later. Admittedly violating the conditions of his release, Ai continues to tweet, give interviews, and cultivate relations with the press.
He has contributed commentaries to The Guardian and CNN, and guest edited a bilingual "Made in China" issue of the UK current affairs and politics magazine New Statesman. Produced in an unprecedented PDF format and uploaded to file-sharing sites to circumvent China's "Great Firewall," the October 19–25, 2012, issue contains essays about Tibet, the persecution of human rights activists, self-censorship, and the pejoratively named "50 Cent Party," an army of online commentators paid by the Chinese government to derail netizen debate. There are also interviews, including one with Ai's protégé, artist Zhao Zhao (b. Xinjiang, 1982). His assistant for seven years, Zhao has filmed many of Ai's politically sensitive documentaries since 2004, including Lao Ma Ti Hua (Disturbing the Peace), which documents Ai's assault by local police in Chengdu on August 12, 2009, when he was in the provincial capital to testify at the trial of civil rights advocate Tan Zuoren in connection with the Sichuan Incident.
Zhao recently made headlines as potentially the next generation's Ai Weiwei when a large shipment of his work bound for what would have been an important major solo exhibition for the emerging artist at Chambers Fine Arts in New York, was confiscated by customs officers at the northern port of Tianjin. Among the seized cargo was Zhao's Officer (2011), a larger-than-life-sized statue with the artist's features, which Zhao constructed as a shattered ruin. Unlike some of Zhao's previous works (he whittled a piece of Qing Dynasty wood swiped from Ai's 2005 installation Fragments into thirty-two pieces for Toothpicks in 2007), Officer is not a readymade: it was produced in collaboration with craftsmen whose skills hark back to the Han Dynasty (206 BC–220 AD) in the quarries at Quyang, a county southwest of Beijing famous for manufacturing China's sculpture exports.
Zhao's practice is easily read through similar concerns as his mentor in regard to China's growing phenomenon of shanzhai culture (the circulation of everything from cell phones to artworks which are fakes or imitations of the original). For instance, Ai's first major public sculpture, Circle of Animals/Zodiac Heads (2010), refers not only to the looting by French and British troops in 1860 of the Qing Dynasty original sculptures in Yuanmingyuan, the eighteenth-century imperial garden retreat outside Beijing (known today as the Old Summer Palace), but also to the recent controversy surrounding the repatriation of Chinese relics by international auction houses.5 5 - On November 3, 2012, English auction house Bonhams called off its auction of two cultural relics belonging to the Yuanmingyuan, setting a precedent for foreign auction houses cancelling their auction of Chinese cultural relics. Lu Qianwen, "Lost But Not Forgotten," Global Times, 8 November 2012, http://www.globaltimes.cn/content/743198.shtml.
While Ai's Zodiac Heads has been on a worldwide tour since 2010, Zhao's rather innocuous (were it not for the officer's badge number corresponding to the date on which Ai was arrested in 2011) Officer could not make it out of China. Nor will the artist get it back. Even if Zhao could pay the hefty fine — the equivalent of about CDN$50,000 — levied on him (as was the case with Ai, the expected charge is tax fraud), he would only be allowed to view it one last time before it would be destroyed and then he would receive the bill for its destruction.6 6 - Ulrike Knöfel, "China Cracks Down on Ai Wei Wei Protege Zhao Zhao," Der Spiegel, Online International, 8 August 2012, http://www.spiegel.de/international/world/in-china-artists-like-zhao-zhao-face-political-oppression-a-851403.html.
It is important to note that while perhaps the most well-known dissident in international art circles, Ai was not the only one unjustly arrested, detained, or forced to disappear in early 2011, a time which witnessed China's harshest crackdown on Internet activists and high-profile political bloggers in years. In the wake of the uprising and protests in the Middle East, the state's swift actions were prompted by an online appeal for a "Jasmine Revolution" in China. Inspired by the revolts in Tunisia, the pro-democracy announcement, first posted on February 19, 2011, called for flash-mob demonstrations in over a dozen Chinese cities at designated "slow strolling" locations. Like the Arab Spring of 2011, much organization by pro-democracy activists depended on access to the Internet to evade the state's strict control of censorship, at least to a point. Over two hundred mainland democracy activists were held under house arrest, at least twenty-six imprisoned, numerous Internet accounts closed and blogs swiftly shut down.7 7 - Beijing (AsiaNews/Agencies), "More than 200 arrests to quell the "jasmine revolution" in China." AsiaNews.it, 2 April 2011, http://www.asianews.it/news-en/More-than-200-arrests-to-quell-the-jasmine-revolution-in-China-21187.html
Ai, apparently, was not connected to the Jasmine Revolution but he continues to be harassed not only for his day-to-day human rights activism enabled by Web 2.0, but also because of the competition between the branding of the artist as superstar and his highly political art. His detractors criticize him for being a clown, a fake (his new work is usually made by others), a careerist, an opportunist, and a troublemaker who distorts China's subtleties with wide support from overseas, and question whether his art can stand alone when separated from his celebrity activism. Ai is not unaware that his brand of political provocation drives up the prices of his artworks. The Tate recently purchased Sunflower Seeds, comprising some eight million hand-painted pieces, for US$782,000. There were initially a hundred million "seeds" carpeting a thousand square metres of the museum's Turbine Hall, many of which were simply either taken or crushed underfoot by visitors who were encouraged to walk on the installation until it was cordoned off over health issues about ceramic dust.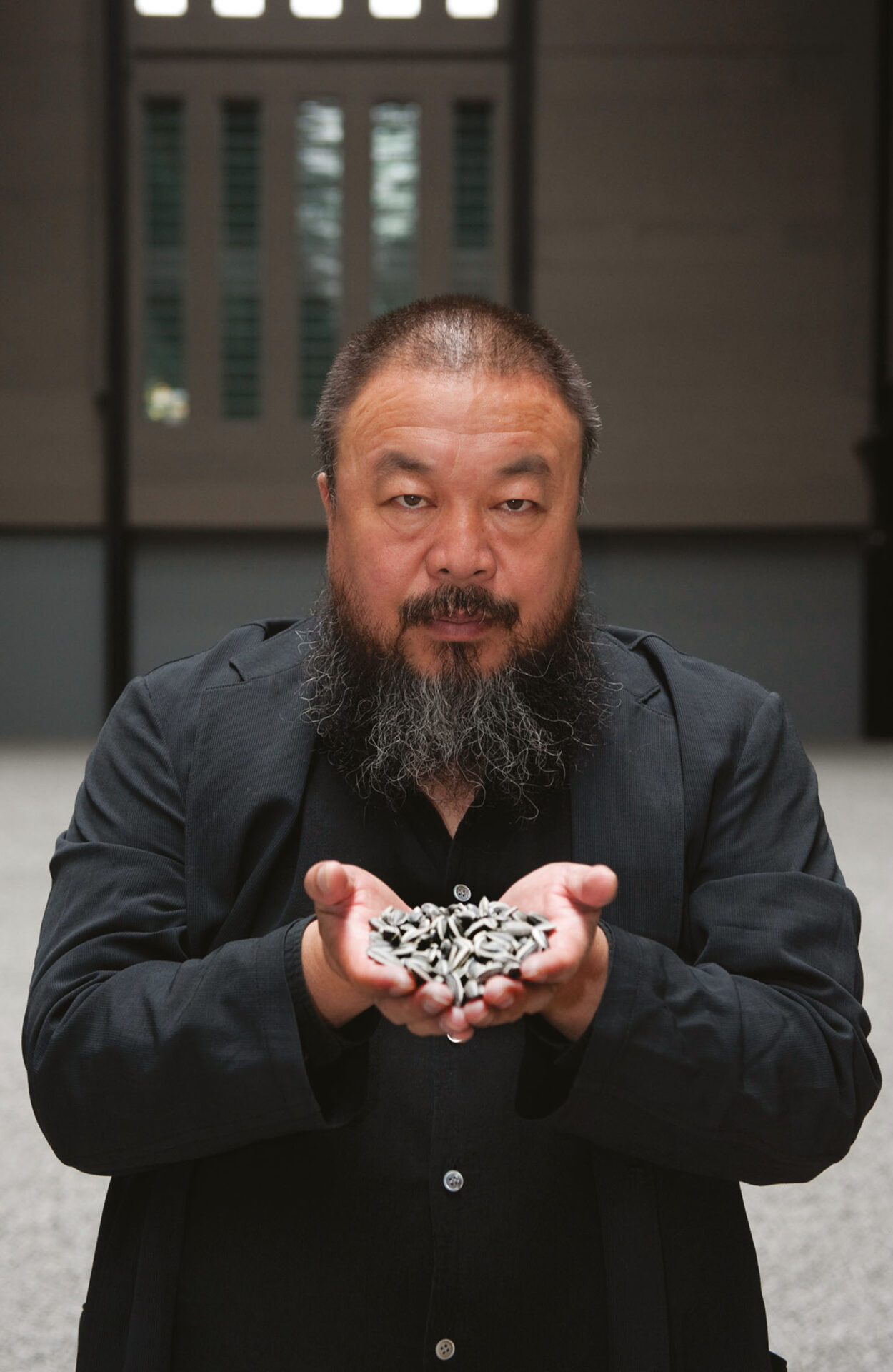 What is, therefore, an important factor in appreciating the intuitiveness of Ai's artwork in recent years and its relationship to his defiant acts of political indignation, is the recognition of its keen attentiveness to and effective incorporation of the Internet's potential as a platform for social change. Since 2008 Ai has achieved this primarily through the phenomenon of the Internet meme with image-based posts or intentional misspellings, making it difficult for the authorities to censor. Ai's sprawling floor installation of three thousand two hundred porcelain crabs, He Xie (2010), for example, is not only a stab at Internet censorship — the words for "river crab" (he xie) are homonymous with "harmony" and a popular oblique euphemism for censorship in China — but also a reference to the circumstances of Ai's "celebration" of the State's demolition of his newly built studio in Shanghai, which took two years to design and build, by serving his guests ten thousand river crabs (Shanghai's seasonal delicacy) as a symbol of their support for political activism.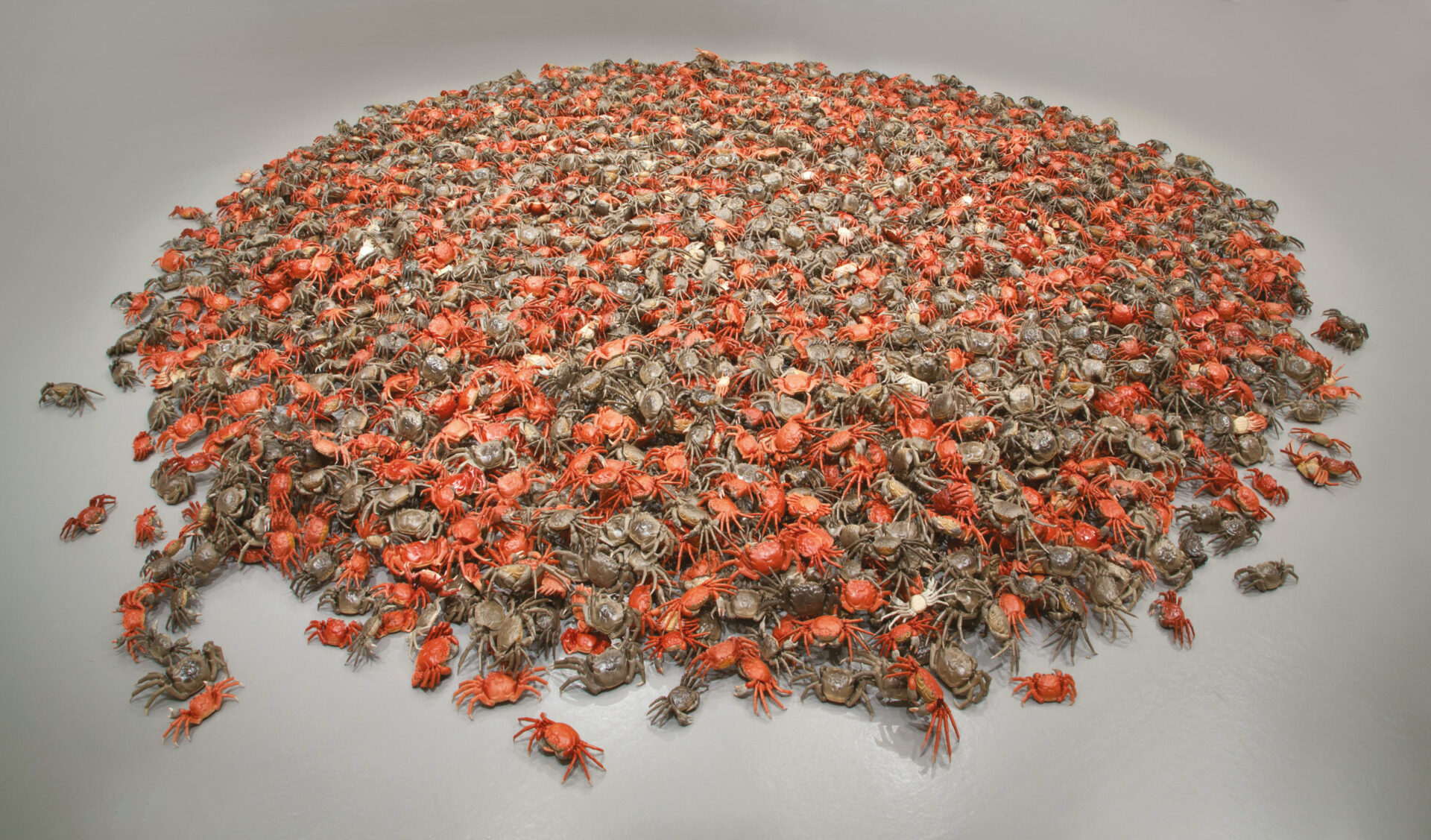 Attesting to his tenacious sense of humour despite the circumstances is his recent, not unrelated antic to date, the YouTube release on October 24, 2012, of his parody of South Korean rapper Psy's worldwide music hit Gangnam Style. (Gangnam is one of Seoul's most affluent districts, which Psy makes a sly dig at as well.) Within the confines of the courtyard of his Beijing studio (in contrast to Psy's glitzy megamall backdrop), Ai, along with his colleagues, does the signature horse-riding dance wearing a bright pink t-shirt, black blazer, and sunglasses, the last of which he loses at one point, though he promptly spins a pair of handcuffs in their place. Notably, Ai's roughly four-minute version of the year's most remixable meme is titled Grass Mud Horse Style in reference to a children's song about a mythical alpaca-looking animal's victorious competition over the evil River Crab for a patch of fertile grass. Since 2009 the imaginary animal in Grass Mud Horse, whose name is also used to refer to Chinese Internet censors, has been one of the more popular "homonym animals," not in the least because its pronunciation is much ruder (cao ni ma said with a different tonal inflectioncould sound like "go f**k your mother"). The meme went viral online and off until authorities caught on and all "sensitive" search terms — referring to everything from t-shirts to plush toys — were censored or "harmonized." Psy's Gangnam Style'srecord-breaking number of eleven million plus views on average per day since its release in mid-July 2012, in contrast to the authorities' immediate blockage of Ai's video across multiple Chinese online media platforms seems only to underscore the State's anxiety over the power of participatory media when harnessed to political action.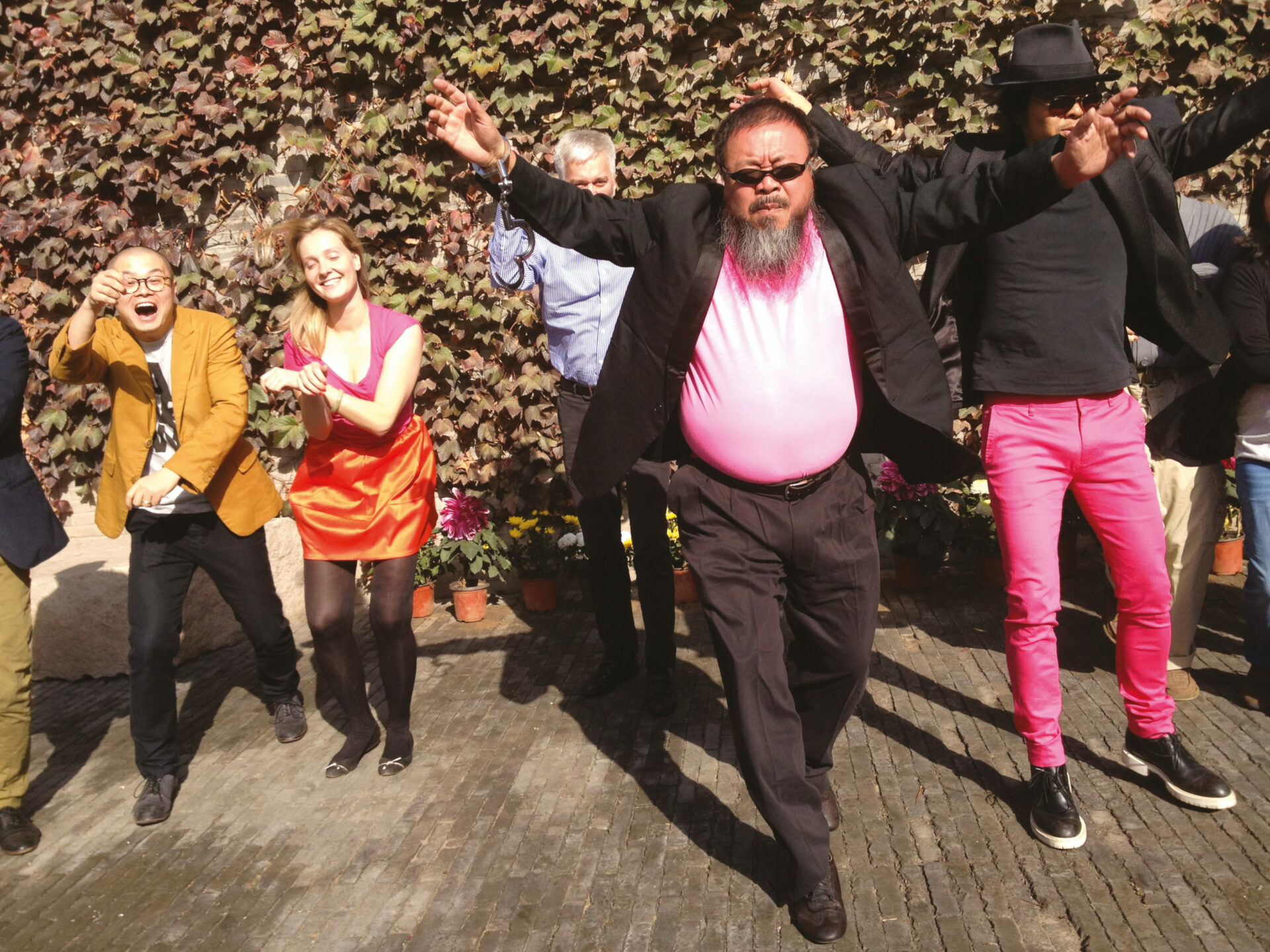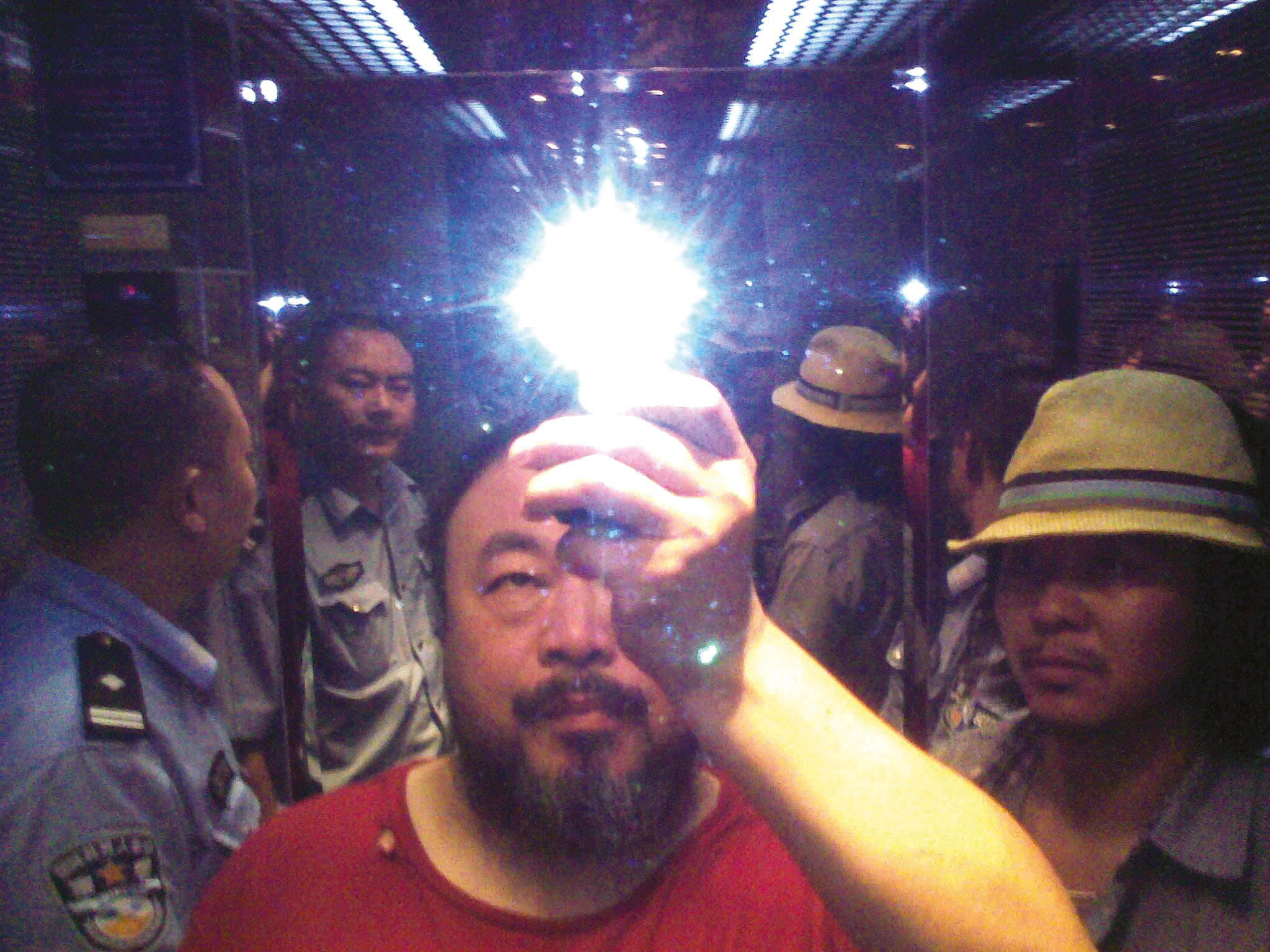 In October, New Statesman revealed that Ai, believing that as a medium Twitter has a limited shelf life despite his one hundred and seventy thousand followers, "has promised to stop tweeting by the end of 2013, worried that he is repeating himself."8 8 - Sophie Elmhirst, "Ai Weiwei: 'If Someone Is Not Free, I Am Not Free," New Statesman, 11 October 2012, www.newstatesman.com/media/media/2012/10/ai-weiwei-if-someone-not-free-i-am-not-free. The momentum of the Chinese Internet meme saw Ai using Grass Mud Horsein previous videos and works such as a particularly obscene self-portrait, Grass Mud Horse Blocking the Centre (2011), of Ai leaping in the air with a stuffed alpaca-type plush toy covering his genitals. This may be so, but in the unknowable future, the spirit of critical creative dissent in the struggle for human rights that Ai and others like him have tapped into for online activism will remain a political tour de force.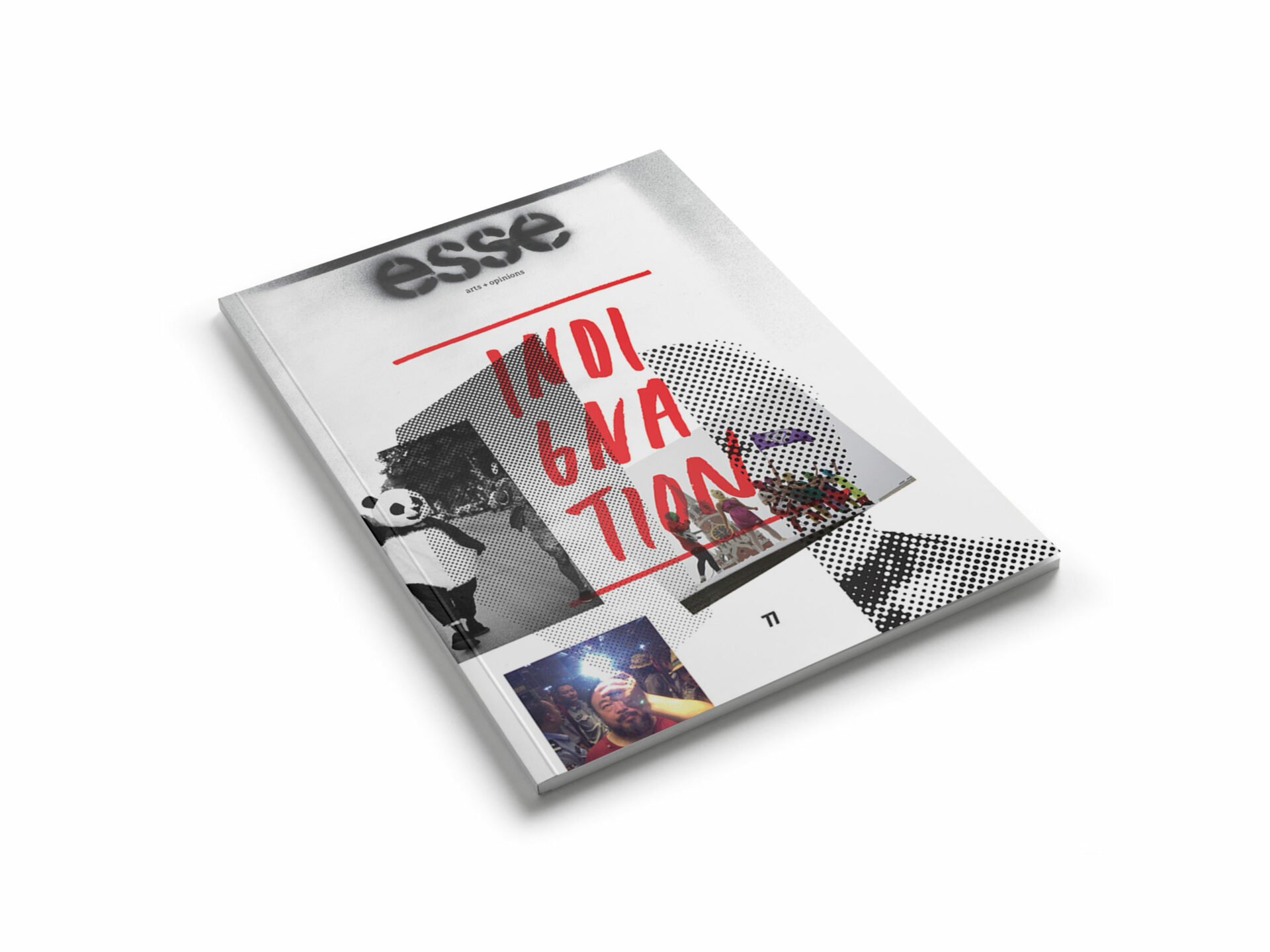 This article also appears in the issue 77 - Indignation
Discover