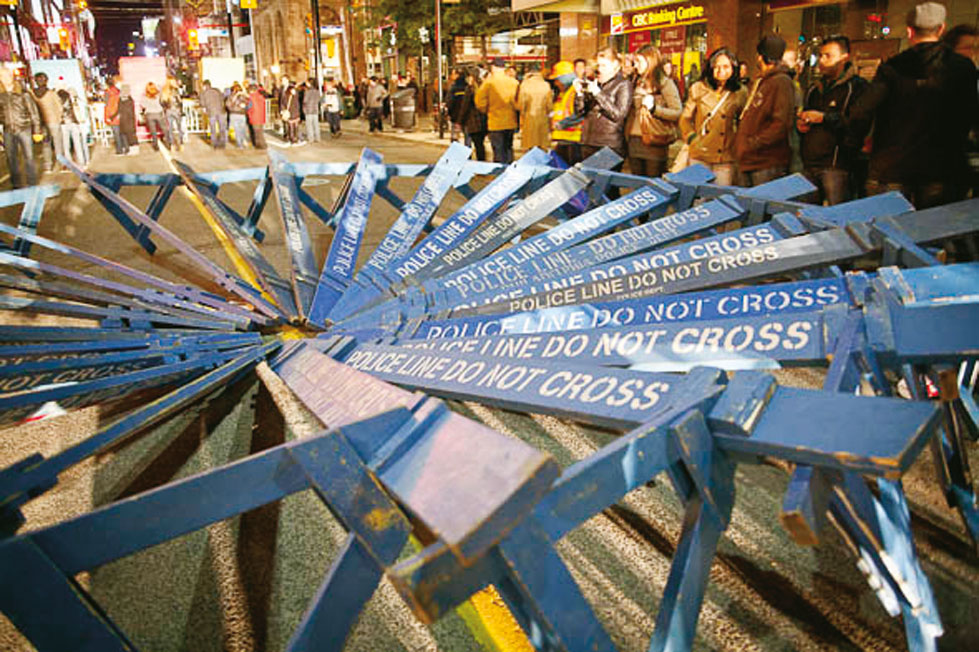 Provocatively titled You had to go looking for it, curator Nicholas Brown's exhibition for this year's Nuit Blanche transformed the spectacle and crowds that are symptomatic of the festival into a commentary on the physical and psychic effects of corporate capitalism. Located in the city's downtown financial district, the exhibition manipulated imagery from the 2010 G20 protests that took place in that neighbourhood into new scenarios where the implications of public space, political demonstration, and surveillance could be examined. 
Several of the works took a playful approach to manipulating the pub-lic space around the financial centre, such as Curtis Grahauer's I just know that something good is going to happen (all works 2011), which transformed an alleyway into a corridor of simulated rain, lights, and fog. Not only did the work replicate a Hollywood film shoot that offered passersby the prom-ise of glimpsing an exciting scene, but, as viewers gleefully sped through it under the protection of umbrellas, it also worked as a meteorological taunt, daring the weather not to cooperate with the outdoor event. Nearby, Jeremy Jansen and Niall McLelland's installation Barricades reconfigured the materials typically used to block off streets, such as caution tape, road barriers, and large sheets of plywood hoarding, into captivating minimalist sculptures. Much like Grahauer's piece, Barricades suggested preparations for the "real event" that was yet to come and questioned the threshold at which peaceful public assembly becomes civil unrest.
The standout intervention in the exhibition was Iain Forsyth and Jane Pollard's SOON, a monumental installation in Commerce Court, a large courtyard wedged between high-rise office buildings. SOON offered the viewer an immersive experience that began before the courtyard was even in view. A soundtrack of hovering helicopters and deep mechanical humming, composed by the electronic musician Scanner, emanated from the hidden space and created a deep sense of unease. Like the crescendo that accompanies a suspenseful scene in a horror film, the soundscape created a mood of rising tension that was palpable. (In fact, the sound-track was carefully designed by the consulting group Arup to incorporate infrasound, a low frequency sound that resonates with its surrounding surfaces and is said to trigger physical and emotional responses in the listener.) In the courtyard itself, wandering spotlights and artificial fog being blown around by the brisk fall wind suggested a post-apocalyptic atmosphere of surveillance. The unnerving feeling of being watched by unseen eyes was amplified by the behaviour of two human-operated spotlights, which tracked the movements of individual spectators with an insidious persistence. Through their spectacular manipulation of the space, Forsyth and Pollard's work created an unworldly environment that was nonetheless eerily familiar: a kind of visual speculative fiction about the future of public space.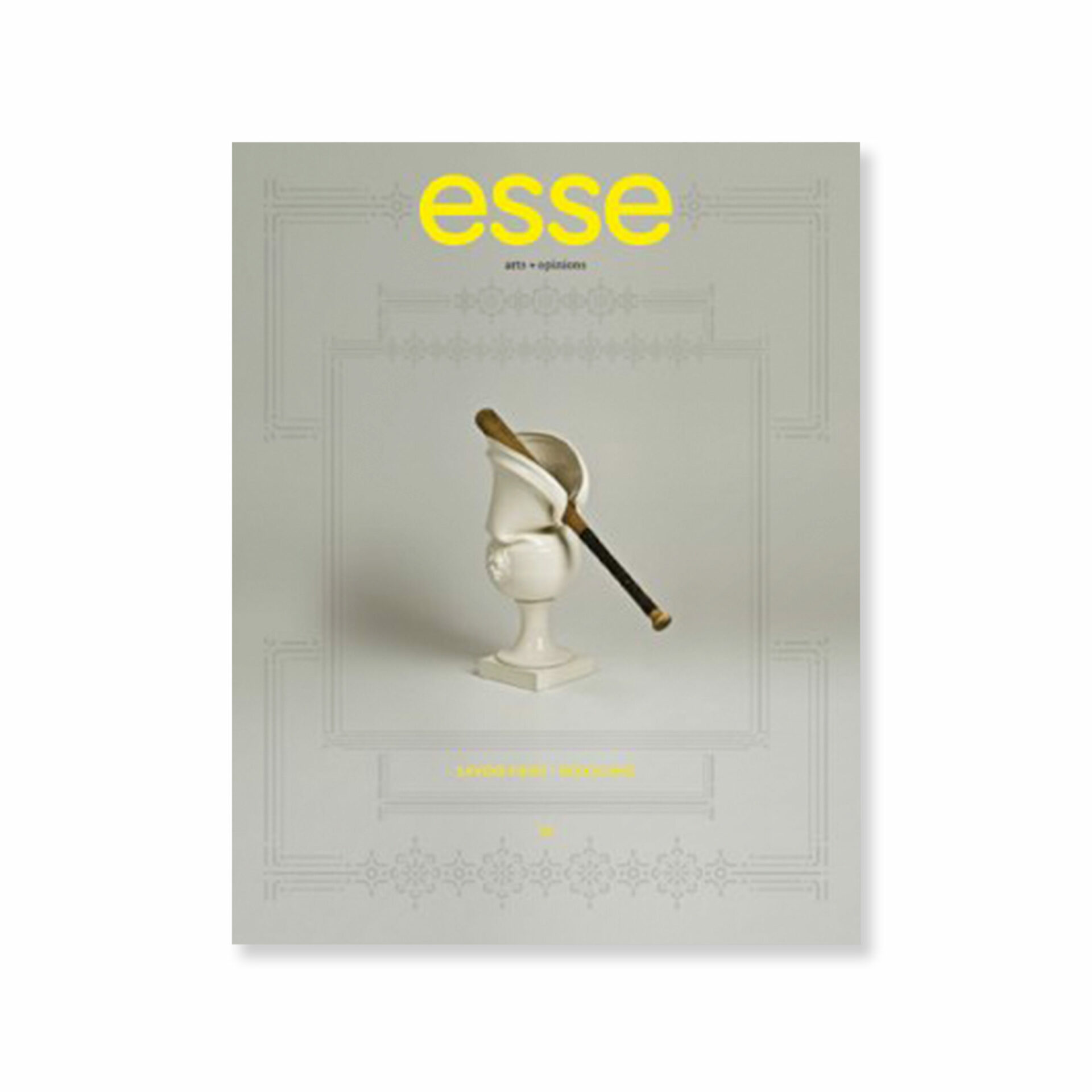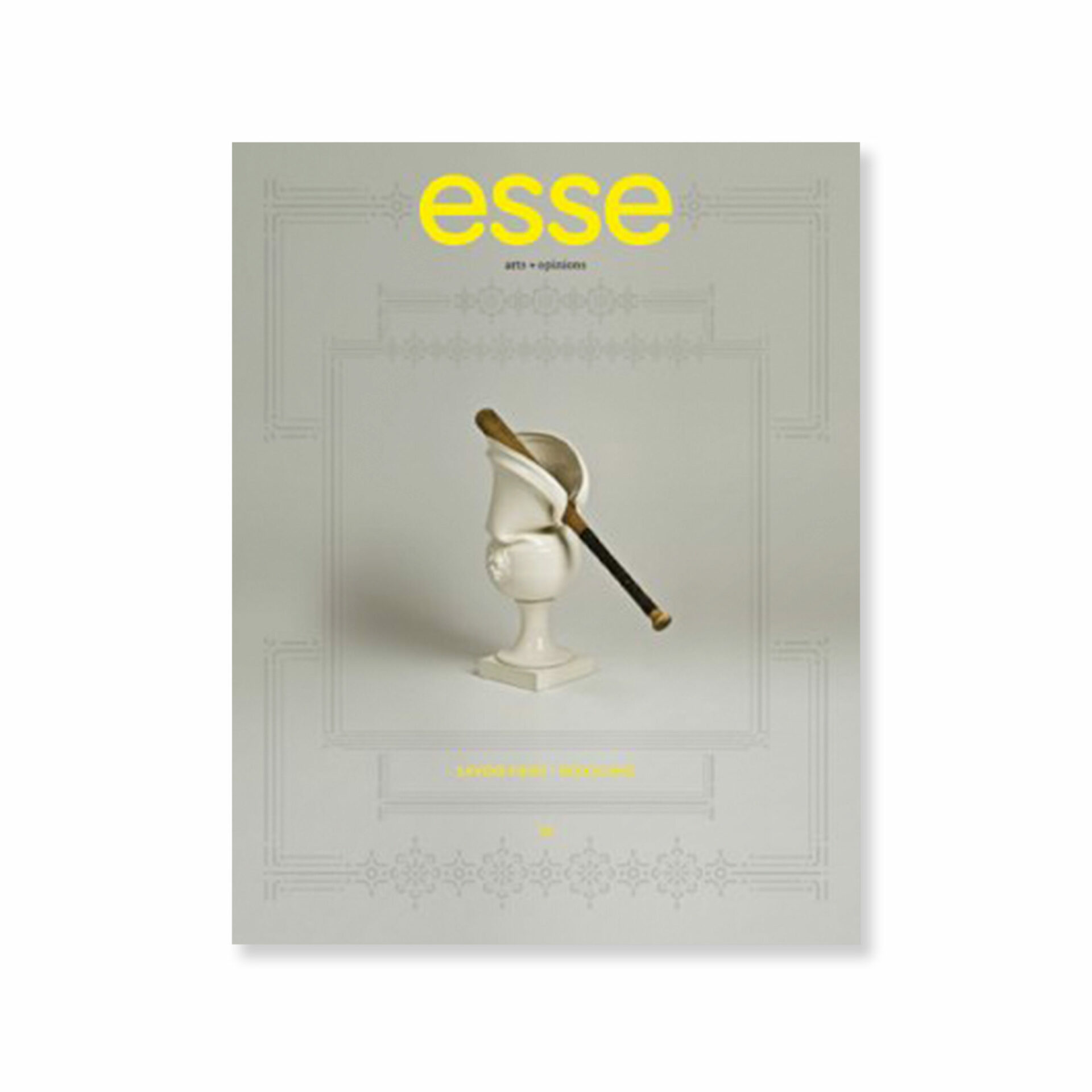 This article also appears in the issue 74 - Reskilling
Discover