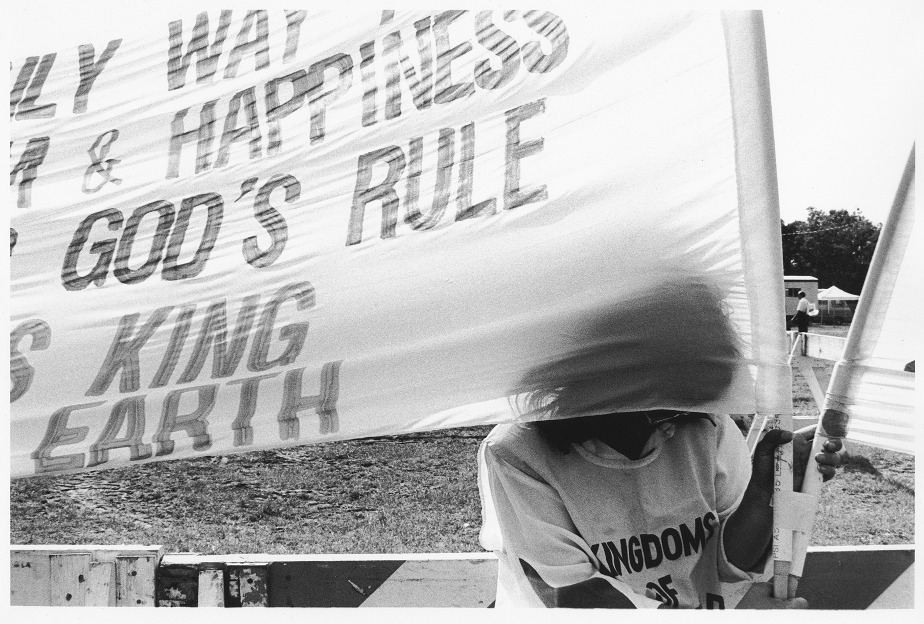 Parc Offsite, Montréal December 12, 2020–March 13, 2021
Six months after Montréal's initial COVID-19 lockdown, the city welcomed a new gallery and residency space ideally suited to the isolation of this moment. Parc Offsite, founded and operated by curator Eli Kerr, is a modestly scaled space across two floors of what was once a Mile End apartment. The gallery's aim is to create impactful and intimate experiences with art for audiences of one to two people at a time. The space opened in September 2020 with a presentation of works by Abbas Akhavan. With its sophomore show, American Pictures, Parc Offsite is again dedicating its space to the work of one artist, this time the curator's father, Richard Kerr.
Richard Kerr is a Montréal-based visual artist, filmmaker, and professor of experimental film at Concordia University. An important figure in the history of Canadian experimental cinema, Kerr has produced a body of work spanning over thirty years and the gamut of image-based media. Though celluloid has consistently been integral to his practice, its employment has ranged over the years, from being intermittently projected on-screen to statically mounted against backlit lightboxes. The shifting applications of film in Kerr's work track the material's declining value in the motion picture industry. The home of Hollywood, America, and this Canadian artist's enduring fascination with the country, are the subject of American Pictures.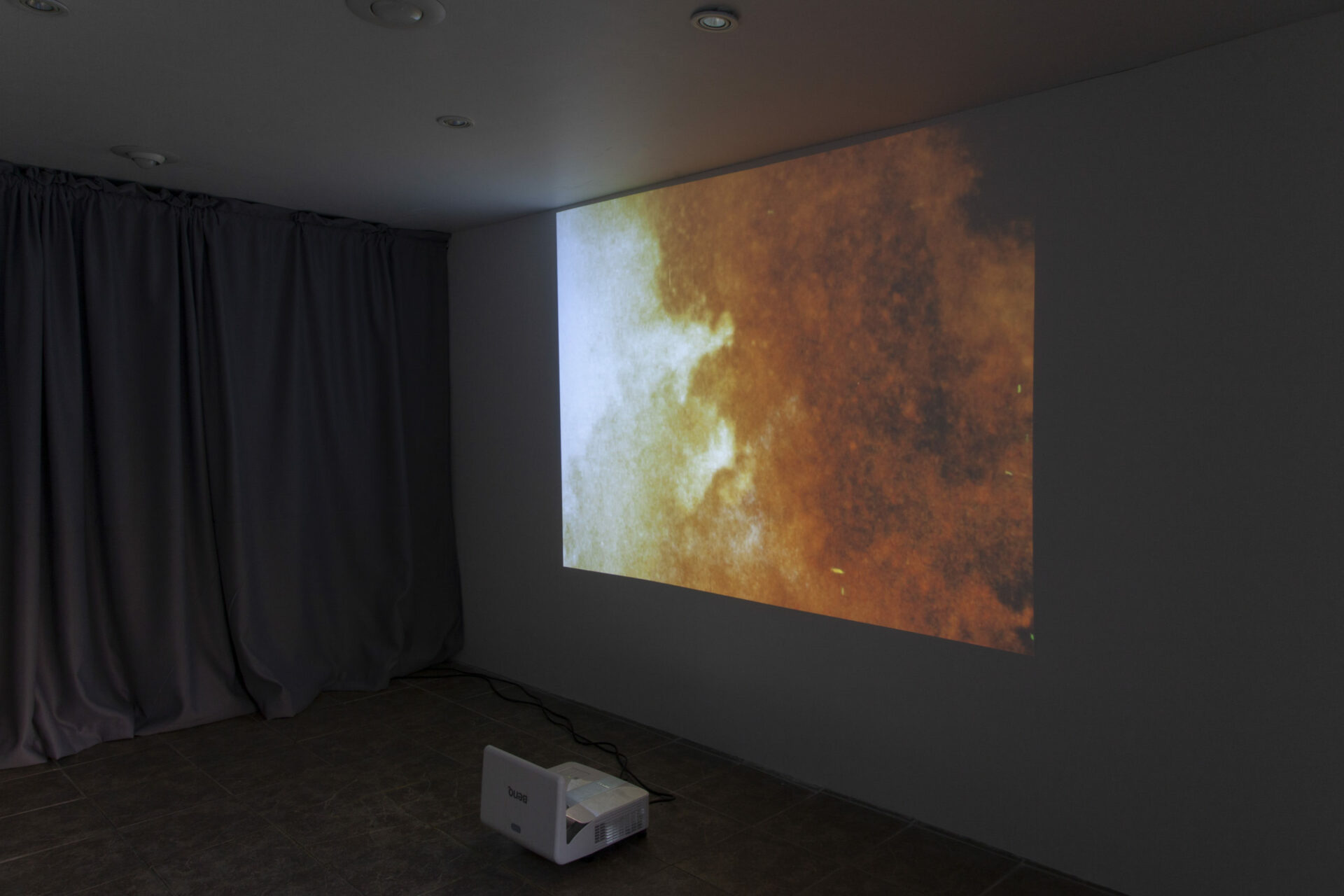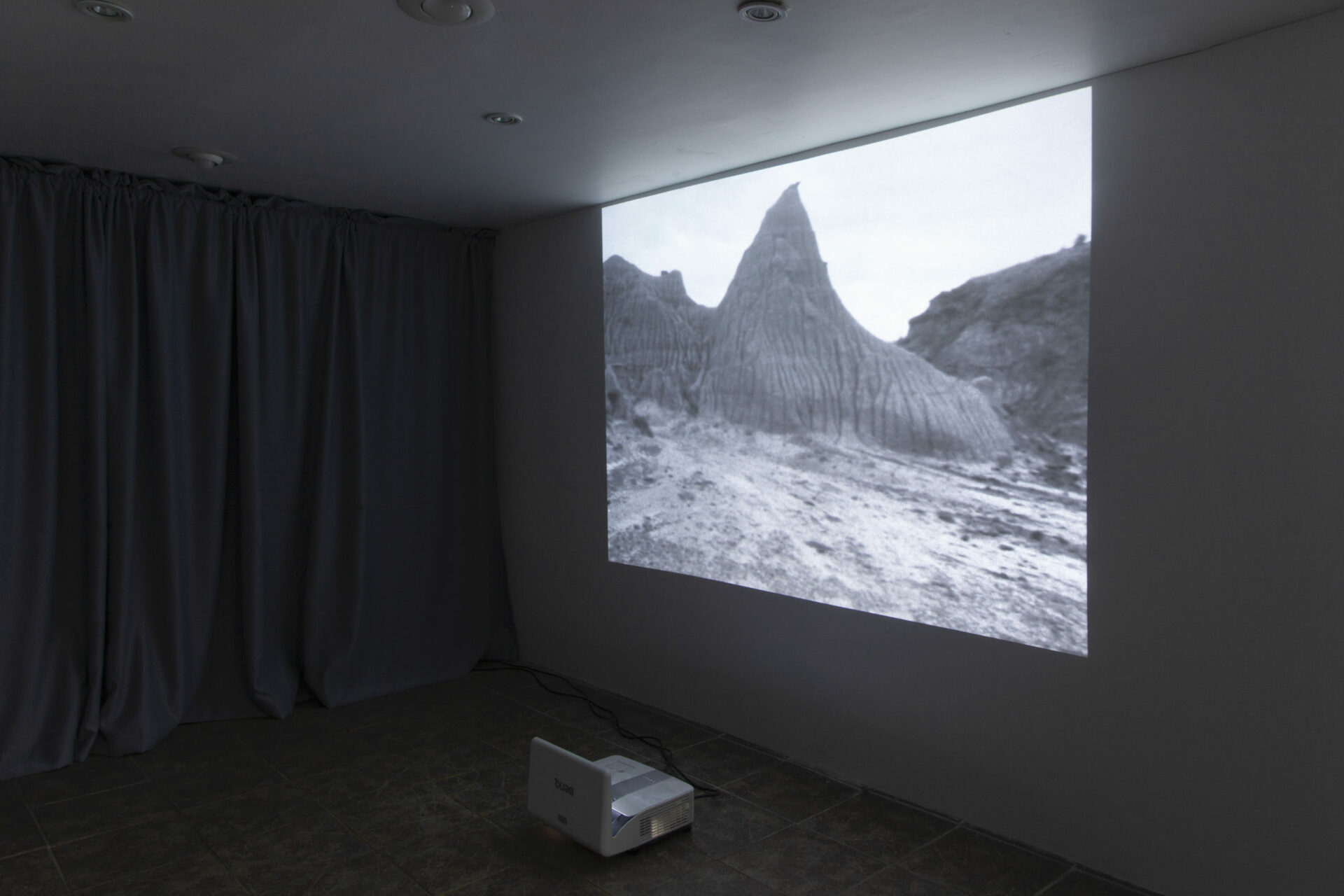 The top floor of Parc Offsite presents seven selections from a 1996 series of collages, comprising photographs taken by Kerr of an American flag that he encountered in Europe while touring his films, The Last Days of Contrition (1988) and Cruel Rhythm (1991). In these collage works, segments of his photographs are cut up, repeated, and gridded to dizzying, kaleidoscopic effect. Some of the resulting images evoke patriotic pinwheels. Though ostensibly made from the same photographs, there are striking variations in colour across and within the collages, perhaps the result of the initial lab work or subsequent hand-colouring. The images (of approximately 4 x 6") are arranged in horizontal sequences of four to six panels that recall strips of VistaVision, the film format introduced by Paramount Pictures in direct response to the rising threat of television.
These collages are being exhibited for the first time as part of American Pictures. Says curator Eli Kerr: "I've always found these flags interesting in how they anticipate Richard's ['Motion Picture] Weavings' through their construction, and in how they are situated between his move from analogue filmmaking towards working with film as a material for artworks." The Motion Picture Weavings is a series Kerr began in the 1990s in which salvaged celluloid of various gauges is woven and mounted in backlit lightboxes, finding a new use for what has become a legacy format. The project is on indefinite hiatus as Kerr has run out of materials that interest him. A variation on the weavings, titled To Our Last Art of Amerique (2020), is displayed in Parc Offsite's window, substituting woven strips with frames embedded in tiled 35mm slides.
The exhibition includes three films, The Last Days of Contrition, Cruel Rhythm, and The Willing Voyeur (1996). Though each has elements of play in its construction, the films engage with abject American subjects: gun violence, militarism, collective paranoia and anxiety, and the ways in which they all are imprinted on the landscape. These films convey what curator Shanay Jhaveri identifies in the introduction of his book America: Films from Elsewhere as an America that persists and seems inescapable. "Its films, its deserts, its cities, its celebrity, its artists, poets, and musicians, its avarice, and its violence are the conduits for [non-American] filmmakers to 'enter the fiction of America, enter America as fiction.'"