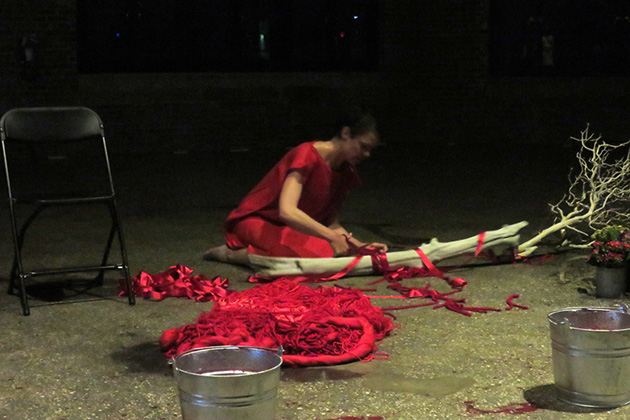 Performance Art Festival NYC, Knockdown Center, New York
May 17-25, 2018
The success and legacy of a performance festival is often determined by the dedication and persistence of its organizers. Regularly running with limited financial resources, in borrowed or rented spaces, and through the generosity of volunteers, these events have a certain spark to them as DIY planning and aesthetics merge with the effervescence of performance art. Now in its eighth year, ITINERANT, an annual Performance Art Festival in New York City is no exception to the rule. Curated by Hector Canonge, an interdisciplinary artist who initiated the project in 2010, the roving festival moves across all five boroughs with the intention of bringing engaging and provocative work to a wide audience over a two-week period (May 17–May 25, 2018). With an opening exhibition, performances, video screenings, and a symposium, this year's event featured almost fifty emerging and established local national, and international artists in ten different locations. True to performance art's original ethos, ITINERANT has throughout its history provided audiences with the opportunity to witness a wide variety of experimental works by individuals and collectives committed to the expansion of artistic boundaries and aesthetics.
This year's iteration of the festival, much in line with the current political economy and social climate in the U.S. and abroad, looked to explore and propose new alternatives to binary constructions surrounding gender, nationality, identity, religion, and/or ideological structures. These themes, broad yet critical, were all present during the closing even hosted at the Knockdown Center, in Queens. The program, composed of five performances, each approximately twenty minutes in length, highlighted the successful presentation model that Canonge has reproduced over the years.
Opening with Four Quarterts for the End of Time, a meditative sound collaboration between Steven Pestana (Colombia) and Sophia Sobers (U.S.), the small yet involved audience fell into the looping and distorted rhythms of Sobers' violin. As Sobers repetitively played into four distinct microphones before Pestana shifted the sound's origin using pedals and a mixer, the sonic intimacy of the work drew the audience into the dedicated performance space—a difficult task considering the expansive and cavernous nature of Knockdown's main hall. The work was then followed by a collaborative movement-based piece by Angeli (U.S.) and Sindy Butz (Germany), two artists whose somatic practices focus on embodied research as it relates to psychic currents, memory, and human or nonhuman forms. Joined through their braided hair and guiding each other's movement in what appeared to be both semi-choreographed and improvisational gestures, A Body of Source extended the duality of the first performance by exploring the relationship between disparate bodies via kinesthetic properties.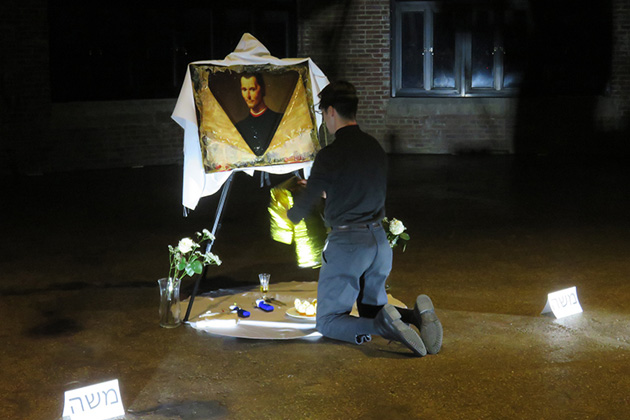 Following these two performances, Carl Lawrence's (U.S.) more theatrical aaaa (ab initio) introduced elements of wry humor, irreverence, and play into what had up until then felt like a sober evening. While the work could have used more time to develop, an adverse effect of the festival format that seeks to regroup multiple artists into one sitting, the careful visual composition, selection of materials, and overall energy and conviction were compelling. Shortly thereafter, Concha Vidal's (Spain) The weight of my blood provided a powerful look at the complex and fraught relationships between the performer and her family. Effectively imagistic, the piece employed ritualistic structures and symbolic objects in order to exorcise the artist of her past while affirming and celebrating her chosen career and life as a performance artist. Vidal's passion and raw energy officially capped the program, a celebration of the vitality that has fueled ITINERANT throughout the years.
Unbeknownst to the audience, and not listed in the official program, Canonge himself performed a final act with a collaborator to end the evening. Slowly unfolding a long cotton bandage before wrapping up their entire heads and meeting in a blind embrace, the performance appropriately gave the festival's impresario an opportunity to feature his own work. Acknowledging his presence at both ends of ITINERANT's spectrum, as organizer and/or creator, Canonge embodied the qualities that sustain the festival format as an important incubator for past, present, and future performance practices.