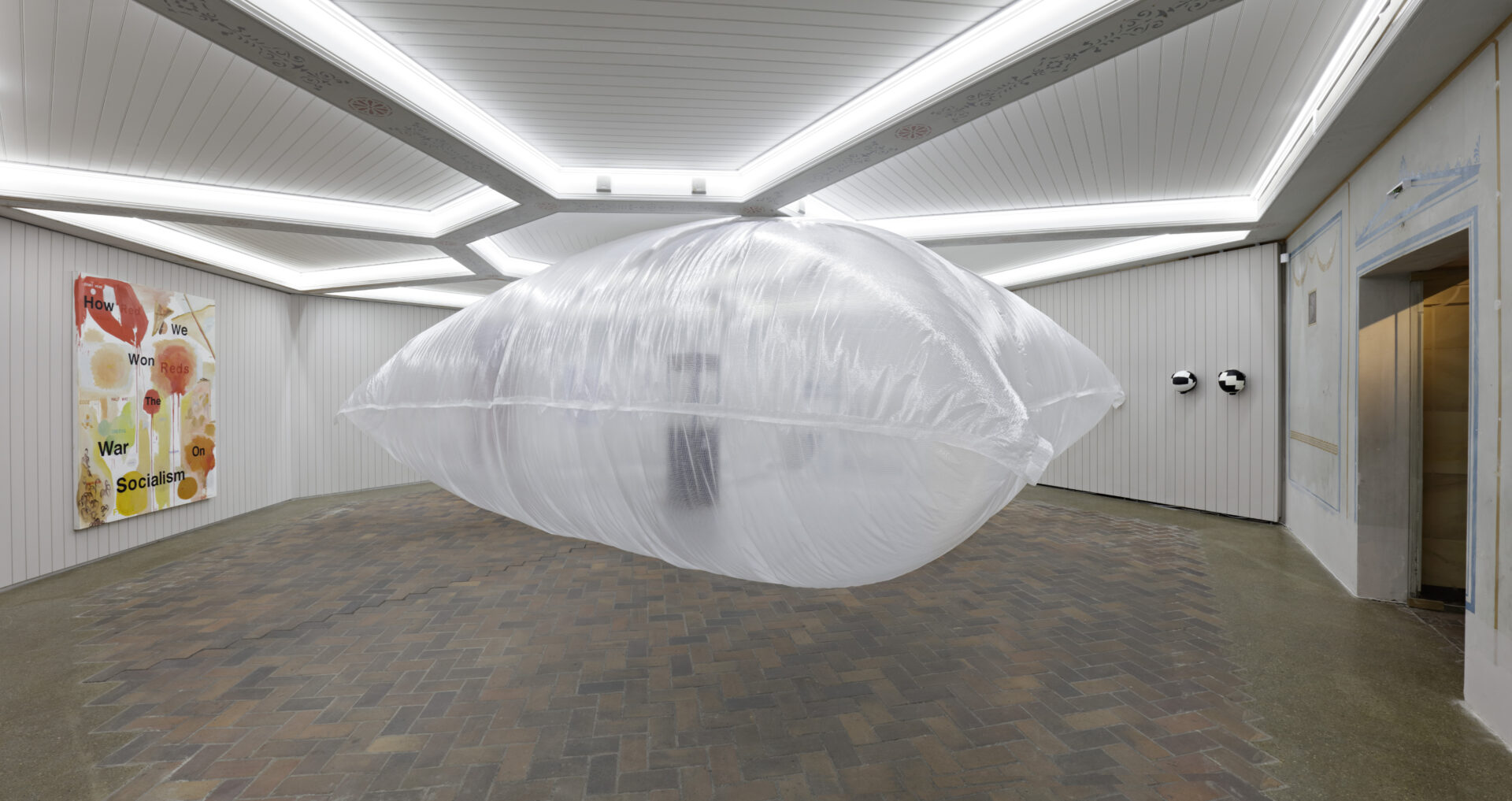 Schinkel Pavillon, Berlin
September 8–December 21, 2018
In blockchain technology, proof of work (PoW) is the original algorithmic calculation used to perform a group of transactions, producing new blocks in the chain and moving information while also encrypting it. It is this system of mathematical verification of information that eliminates the need for trust-based exchanges. Proof of Work is also the title of an exhibition curated by Simon Denny for the Schinkel Pavillon. The exhibition highlights the variety of productions and considerations around what the blockchain is and its significance for artists and cultural producers in terms of distribution, economics, and computation. Proof of Work presents a wide array of forms: media-based, installation, and video, but also more traditional mediums such as painting and drawing The artists brought together address what this new technological paradigm means for cultural production in the twenty-first century.
The exhibition occupies the entire ground floor of the Schinkel Pavillon, in a space that was previously used as a restaurant during the GDR era. Upon entering the main room, the viewer encounters a large inflated balloon that takes over the central space of the gallery, obscuring its architecture. Titled Tropical Mining Station (2017), this large bubble-capsule, created by the architecture office FOAM, is inflated with the warm air produced by an adjacent computer engaged in mining cryptocurrency on a blockchain platform. This highlights the outstanding amount of energy required to sustain this technology—an aspect that many people critique. The visitor has access to the centre of this bubble via a slit in the plastic structure. Inside, a jukebox titled Chaos Machine (created by Distributed Gallery in 2018) burns banknotes while converting the energy generated through combustion into a cryptocurrency that can only be used to purchase a song on that very machine. The installation is meant to highlight how the blockchain will eventually make paper money obsolete. However, the sight of €5, €10 and €20 bills being put into the machine by enthusiastic visitors—only to see it burn away—can be an uncomfortable one. It spurs a reflection on economic disparity in our society and how the wealth of the world is being used and exchanged. If Banksy is praised for producing an artwork that destroys itself in an attempt "to disrupt the flow of capital"—such was New York Magazine art critic Jerry Saltz's argument1 1 - Jerry Saltz, Tweeted on October 7, 2018: "Me on NPR on how Banksy pranked the insidious auction world and disrupted the flow of capital—if only for an evening. We could be heroes—if just for one day. I'm not a Banksy fan but this made me want to dance barefoot with him.": https://twitter.com/jerrysaltz/status/1049105878220230657 —how is there a similar gesture here? And how valiant is that gesture?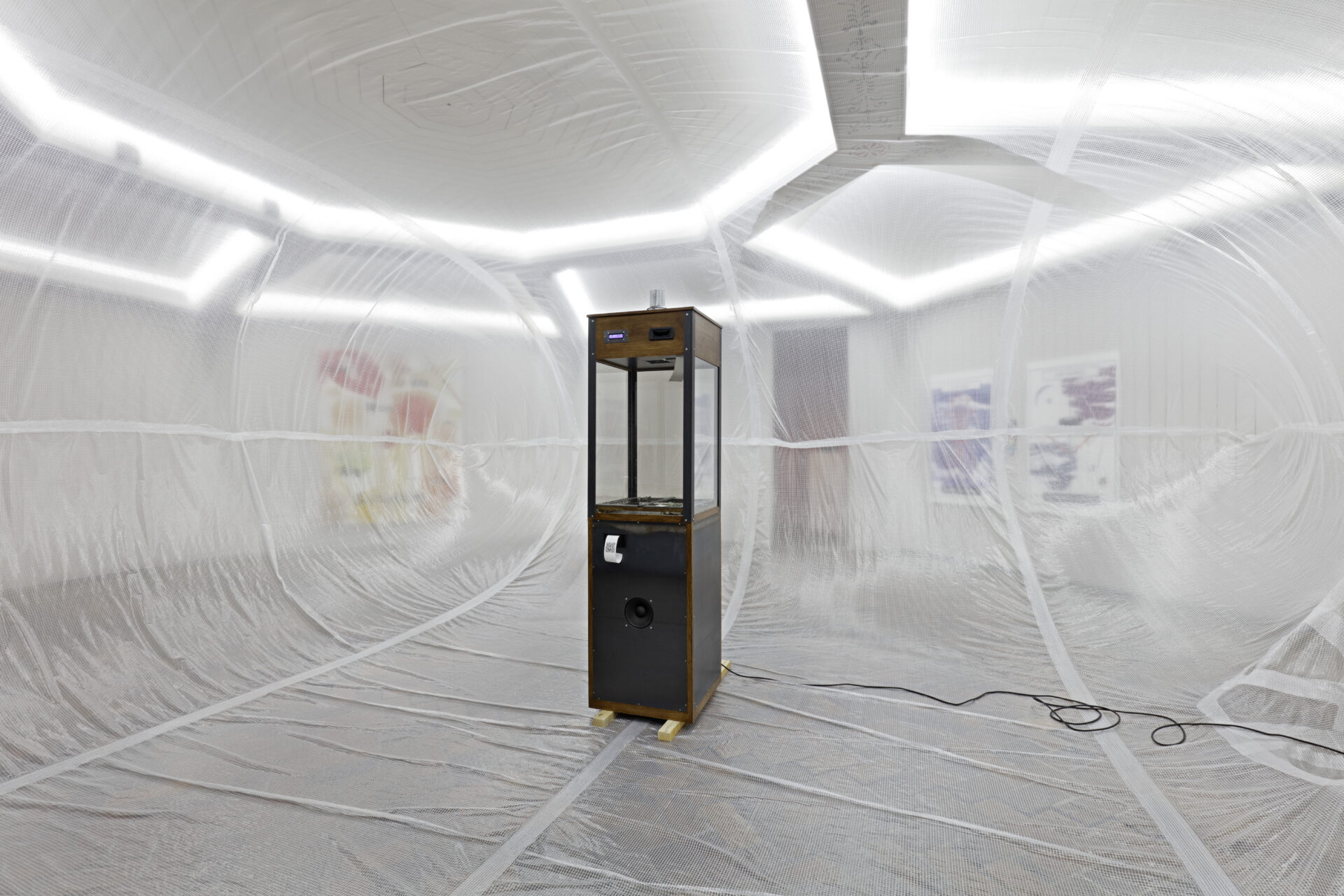 In the smaller connected chambers of the gallery there is a series of other works. Authored by programmer Matt Liston and artist Avery Singer, Dogewhal (2018) is a 3D-printed sculpture that combines two iconic internet memes: a narwhal-toothed whale and the famous Shiba Inu dog with a red lollipop. This is the first sacred object of a blockchain-based religion named 0xΩ whose sets of beliefs are constantly being updated and redefined via a smart contract supported by blockchain technology. Premna Daemon by the collective terra0, composed of theorists and developers Paul Kolling, Paul Seidler and Max Hampshire, is among the most surprising works in the exhibition. As a small bonsai tree placed on the floor of the gallery in a small alcove, it does not appear to belong in this techno-futuristic environment. However, this piece is connected to an interface and monitored by cameras that broadcast the tree's condition live online. A blockchain system amasses the funds to support its survival—monetizing the attention economy to cover the cost of its existence. This is a crucial use of blockchain as a system born out of capitalism and based on value exchange. The proliferation of blockchain technology is based on people who are willing to invest in it and in this regard, these people have been incredibly successful in creating the hype needed to promote it—much like the contemporary art world. But while the blockchain is a technology that is energy-gluttonous and financially volatile, it is also a tool to reconfigure crucial concepts such as privacy and confidentiality, the decentralization of wealth, as well as knowledge and power via a restructuring of our financial, cultural, and political institutions. And the fact that the blockchain is already the subject of an exhibition at an institution like the Schinkel Pavillon is proof that this restructuring is already at work.
Curated by Simon Denny (in dialogue with Distributed Gallery, Harm van den Dorpel, Sarah Hamerman and Sam Hart, Kei Kreutler, Aude Launay and Anna-Lisa Scherfose)