Mine de rien by Marie Mougeolle and Liane Thériault & Tout ce qui va, revient by Catherine Gaudet
OFFTA–Festival montréalais d'arts vivants
June 3–4, 2015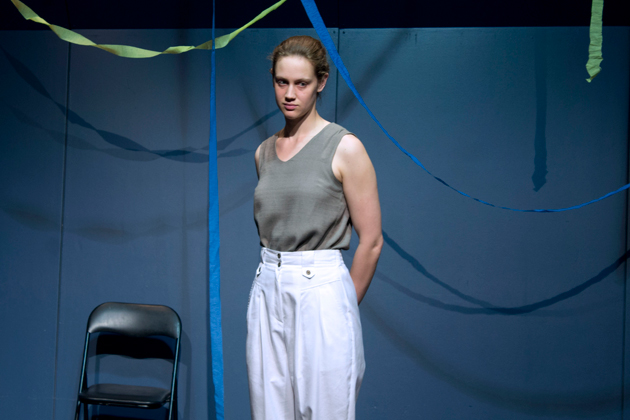 OFFTA–Festival montréalais d'arts vivants
June 3–4, 2015
At the beginning of Catherine Gaudet's Tout ce qui va, revient, performer Sarah Dell'Ava announces that her birthday has recently passed—which explains the streamers casually strung about the theatre, as well as the vodka shots and party hats offered to audience members upon re-entry from intermission. Dell'Ava looks directly at us during this address, and her gaze remains conspicuously unbroken for much of the performance.
The piece emerged from scholar, dancer, and rehearsal director Christine Charles's thesis work, which examines the gaze of the dancer in theory and practice, through a process of research-creation. Of course, as a multitude of theorists from Laura Mulvey to Maurice Merleau-Ponty explain, looking does many things, and affects bodies in many ways. Dell'Ava's gaze, initially casual and welcoming, engenders conviviality, a tone which soon begins to shift as her ways of looking become increasingly mercurial.
Gaudet's piece was presented by the OFFTA alongside Mine de rien by Marie Mougeolle and Liane Thériault. While these works formed a program more eclectic than it was cohesive, they did share an interest in looking. Like Tout ce qui va, revient, Mougeolle and Thériault's piece begins with eye contact. The two dancer-choreographers enter the small performance space looking directly at the audience. And similar to Dell'Ava, Mougeolle and Thériault continue to meet our gaze for much of the work's duration.
Mine de rien presents a concise set of ideas, effectively rendered. What are the dynamics of rehearsal, what are the dynamics of performance, and what happens when they are juxtaposed in front of an audience? Throughout the first section of the piece, the two performers discuss their process of working through the choreography. They make observations: "I'm having trouble with the space today." They remark on a particular difficulty with floor work, or note that spectators seated in the back may not be able to see what is going on with their feet. After a period of prolonged exploration, one of the dancers looks up, gives a cue, and with a sudden shift of light and music, the "performance" begins. Mougeolle and Thériault now move through choreography with the silence and consistency most might expect from a dance performance, a striking contrast from moments before. And as we begin to recognize familiar gestures and choreographic sequences from the first section of the piece, the distinction between these two modes intensifies. While repetition relies on similarity, it also reveals difference. By repeating movements within a new set of performative conventions, Mougeolle and Thériault emphasize the mediating effect of these codes, and their impact on how we perceive and understand choreography.
Unlike Mine de rien, Gaudet's piece never produces the clear delineations we usually expect from a performance. While the former renders its explorations clearly and succinctly, Tout ce qui va, revientpresents a more discordant, and perhaps richer, proposition. After her announcement, Dell'Ava positions herself centre stage, seemingly on the cusp of "beginning," before she regresses back into giggles brought on by something or other distracting her in the audience. Regaining composure, she assures the audience she will be ready to start soon. Slowly, her observation of the audience leads to imitation. Dell'Ava's mimicry, her postures of interested spectatorship, eventually give way to a maniacal grin. And this, too, changes form, as Dell'Ava reconfigures her expression until she begins to cry in a state of extreme tension and apparent anguish. What begins as a play of looking and being looked at modulates to become a complex choreography of emotions.
In her volume The Cultural Politics of Emotion, Sara Ahmed discusses the "sociality of emotion,"1 1 - Sara Ahmed, The Cultural Politics of Emotion (Edinburgh: Edinburgh University Press, 2004), 8. describing how emotions "shape the very surfaces of bodies, which take shape through the repetition of actions over time, as well as through orientations towards and away from others."2 2 - Ibid., 4. Ahmed's theories may be useful in parsing how Gaudet's work constructs the entities of performer and spectator in a choreographic exchange charged with perpetually shifting emotion. In one section of the piece, Dell'Ava describes how much she adores her birthday, subsequently accusing her audience of not caring, then shouting angrily at us in a Donald Duck voice that is both comedic and alienating. In another moment, she enters the space where the spectators are seated, moving in lurches and gyrations. Dell'Ava approaches one spectator and gestures as if about to strangle them, before her movement melts into a tender massage. In such instances of radical affective fluctuation, Gaudet's choreography demands that we constantly reconsider our subjectivity, and that of the dancer we encounter.
At times sinister and endearing, the work's refusal to settle in one emotional register encourages us to think beyond how the performance makes us feel, and consider how our feelings, and the choreographed feelings of the performer, make, modulate, slip from, or stick to what Ahmed might call the "emotional object"3 3 - Ibid., 5. that is the performance. Of course this object remains both tantalizingly and disconcertingly elusive amidst the choreography's constantly shifting affective ground. Perhaps all we can conclude with any certainty is that performances may be like birthdays: things we can relish, rebuke, celebrate, or deny, but that inevitably shape us as much as we shape them.