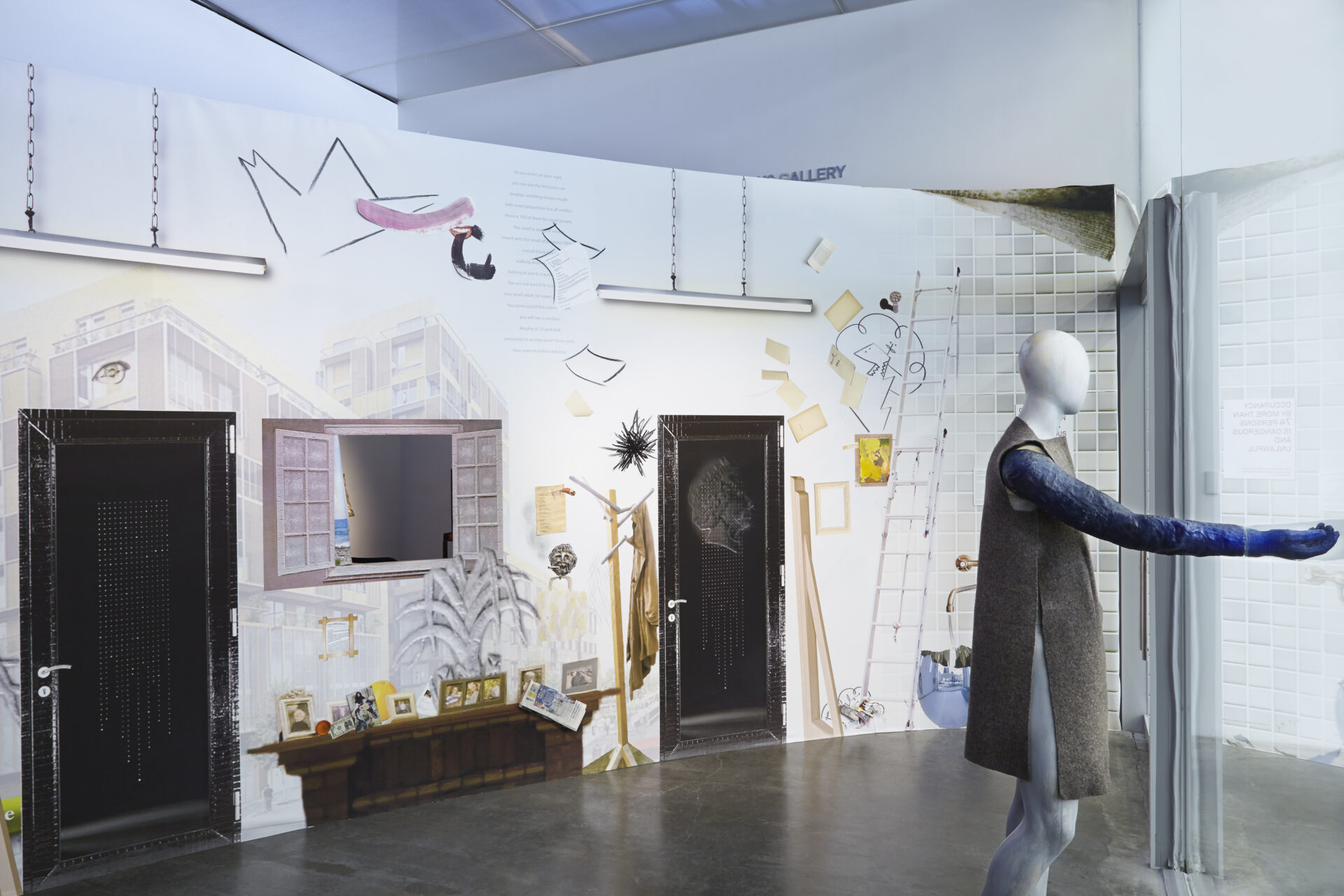 New Museum, New York
Du 12 février au 13 avril 2014
[In French]

« Hold onto the images » (accroche-toi aux images), c'est par cette injonction que Laure Prouvost s'adresse aux visiteurs de l'installation dense et joyeusement désordonnée qu'elle présente au New Museum pour sa première exposition personnelle aux États-Unis. Elle lance ainsi un défi au spectateur car le rythme frénétique du montage dans How to Make Money Religiously, la vidéo autour de laquelle s'organise l'exposition, et le brouillage constant entre image et objet, matérialité et virtualité, interdisent de véritablement s'arrêter sur les images. Les objets occupant l'espace physique de l'installation réapparaissent dématérialisés dans les vidéos ou sont juxtaposés à leurs représentations, créant des effets de trompe-l'œil. À l'inverse, certaines images de Prouvost sont d'une telle sensualité qu'elles provoquent des sensations de l'ordre du tactile, devenant presque matérielles. L'un des passages de la vidéo principale résume ces questions en présentant une version actualisée de Hand Catching Lead (1968) de Richard Serra : une main tente de saisir des images numériques qui lui glissent entre les doigts. Là où Serra propose une réflexion sur la sculpture de son temps et sur le médium film, Prouvost dit quelque chose de notre condition à l'ère d'internet: l'image prolifère et séduit au point de nous faire croire à son existence quasi réelle, avant de nous échapper à nouveau.
Et pourtant, nous dit l'artiste, notre société néo-libérale repose sur le fait que nous nous accrochons religieusement aux images. L'exposition met en scène un monde de désirs inassouvis, de promesses non tenues où se mêlent cyber-arnaques, billets de loterie gagnants et remèdes miracles. Les vidéos empruntent leurs structures aux émissions d'info-publicité et aux méthodes d'épanouissement personnel, s'engageant à « rendre [les spectateurs] plus riches » et à les « changer pour toujours ». Bien à sa place à New York, ville-temple du rêve américain, l'une des vidéos ironise sur le mythe du « si on veut on peut », montrant qu'il est possible de mettre le feu à (l'image d') un bâtiment simplement en le pointant du doigt. Dans son ensemble, l'exposition souligne la manière dont les images participent d'une structure de désir qui laisse croire à chacun qu'il peut à tout moment devenir « l'unique bénéficiaire du numéro gagnant ».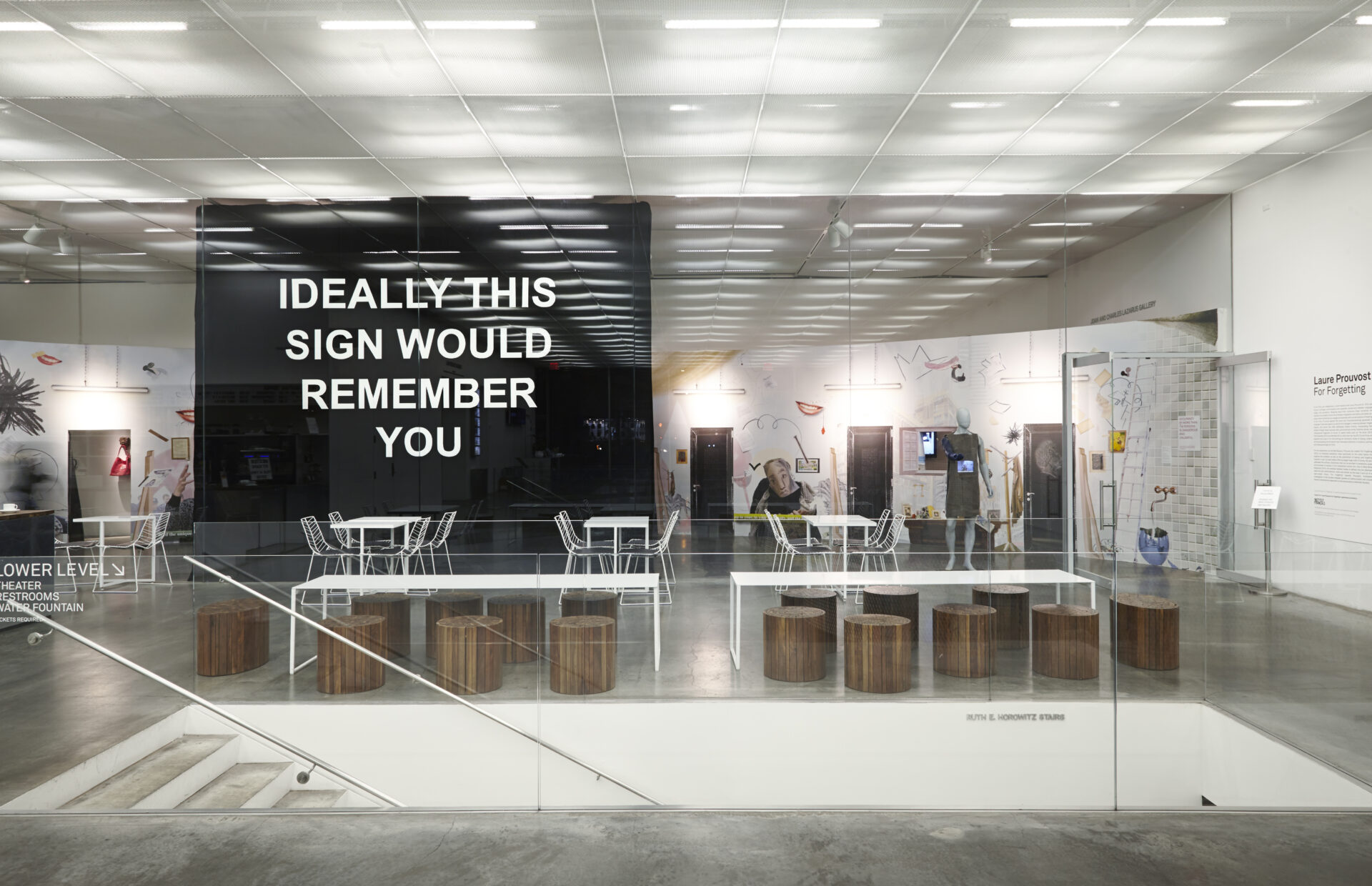 Le sentiment d'exception et la question de la personnalisation des pratiques marketing sont également au cœur du projet de Prouvost. Comme Vito Acconci dans ses vidéos des années 70, Undertone ou Theme Song par exemple, l'artiste cherche à établir une relation d'intimité perverse avec le spectateur, en lui donnant des instructions, en flattant son ego ou en lui chuchotant des paroles suggestives. Comme lui, Prouvost souligne ainsi le pouvoir de manipulation de l'image (et de l'œuvre d'art) et la soumission plus ou moins volontaire du spectateur mais en en exposant les conséquences dans notre société capitaliste contemporaine.