James Nicholas Dumile Goddard, Skin Tone: how will we hold onto each other
Leonard & Bina Ellen Art Gallery, Montréal
April 1, 2020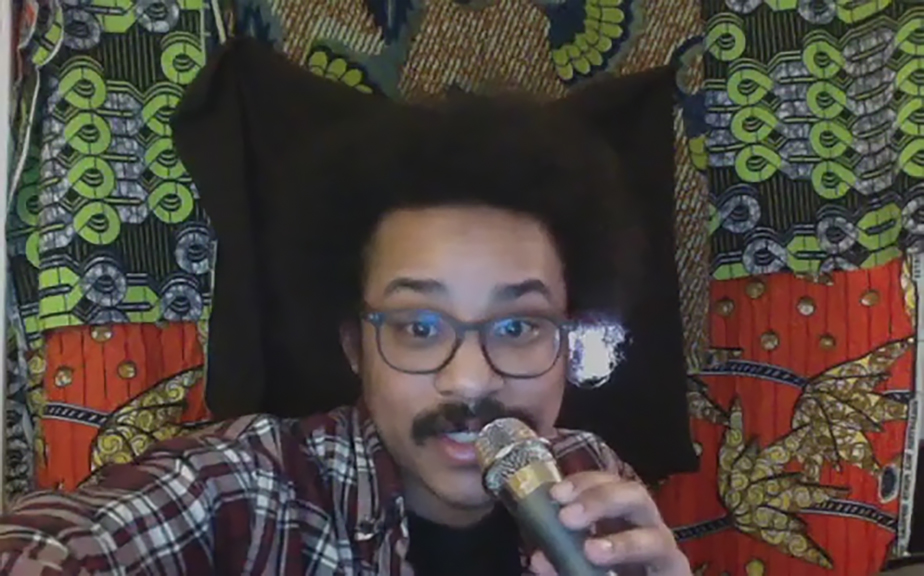 Leonard & Bina Ellen Art Gallery, Montréal
April 1, 2020
The ability to adapt to changing circumstances and to create out of precarious conditions are part and parcel of any performer's toolkit. When improvisation is not enough, and all contingencies fail, the act of carrying forth into the unknown can be an alluring draw or a basic reflex. In these moments of uncertainty, it is often the audience's willingness to participate in the experiment that makes for a successful journey. We are, after all, a community that shares in this act of bearing witness to the vulnerabilities of live performance. Our support for each other is critical, especially as our usual ability to be co-present is altered in this era of social distancing.
James Nicholas Dumile Goddard's performance how will we hold onto each other was initially meant to occur at the Leonard & Bina Ellen Art Gallery on March 18, 2020, as part of the live programming for the exhibition In the No Longer Not Yet (February 5–April 4, 2020). Curated by Julia Eilers Smith, the exhibition considers the multiple ways in which the apocalypse is not an impending reality but an already existing one. Unlike the grand end-of-world narratives that populate our collective imaginary, the artists on view demonstrate that world-shattering catastrophes have already struck populations in the forms of colonialism, climate change, racism, and other forms of extinction, extraction, and dispossession. At the time of the exhibition's opening, the unfolding COVID-19 pandemic had not yet reached an alarming scale in Canada. This quickly changed and as a result Dumile Goddard's performance was postponed, rescheduled, and then "adapted from the gallery space to [his] home/adapted from a shared time & space to a shared time electronically mediated."
Using the moniker Skin Tone, Dumile Goddard's solo performance for a virtual audience merged acoustic and visual elements. Tuning into the platform Twitch, a live feed of suspended African wax print fabrics and a 35mm slide projection picturing a sunlit sidewalk came up on my computer screen. As I waited for the performance to begin, I stared at the counter indicating the number of people joining the feed. In lieu of physical bodies sharing a room, I felt solace in people virtually trickling in. This temporary common space, an intimate window into Skin Tone's apartment, bridged the increased isolation of our present social divide. Breaking the stillness of the frame, Skin Tone appeared onscreen for an instant revealing the size of the installation—much smaller in scale than I had thought—and disappeared again behind the fabric. Seconds later a rumbling emanated through my headphones, and I was sucked out of my living room and into the event.
Over the next thirty minutes how will we hold onto each other flowed to the sounds of live mbira, alto saxophone, sampled voices, and other electronic noises surfing on the waves of an intergalactic drone. Throughout the performance, a series of 35mm slides, taken by the artist and repurposed from a previous project on domesticity, cycled through the centre of the screen. Framed by the vibrant and colourful patterns of the African wax print fabrics, these simple images of various social gatherings, mundane interior spaces, and the Montréal outdoors reverberated with unique intensity in this current context when we are all mostly stuck indoors. Awash with the brightness of sunlight and an analogue projector, some images were difficult to discern. These overwhelming bursts of abstract energy carried their own potency as visual explosions, a counterpoint to the eerily foreign sensation of pictures capturing the city in its pre-pandemic life.
With the low hum of the drone adapted from an astrophysicist's approximation of the big bang interlaced with laser-like, higher pitched ebbs and flows, Skin Tone's performance tugged on the existential matter of our past, present, and future selves. In the looped voiceover work, individuals could be heard reflecting on the uncertainty of what is to come: "It's not necessarily clear which step we'll take from here…" These recordings, made before the global pandemic, reflect the critical work Eilers Smith sought to accomplish in In the No Longer Not Yet by revealing how certain populations are habitually threatened with danger and loss. Skin Tone's own description of his musical project touches on this reality: "Skin Tone was/is always a reactive project—relying heavily as I do on improvisation. Skin Tone is always changing; is always able to change. For a long time, it was my outlet to reflect on anti-black police violence—to respond to anti-black police violence." While how will we hold onto each other might now feel more relevant than ever, it was above all a reminder that the pandemic has only exacerbated the fissures in our social fabric—further endangering our most precarious communities, those that have for decades already faced erasure. As many of us experience this dread of the unknown for the first time in our lives, Skin Tone's final voiceover recalls its implicitness for the marginalized: "What do we mean when we say the end of the world, and what would it look like?"
Following the performance, Dumile Goddard came out from behind the hanging curtain to engage in a question and answer period. As queries were posed on Twitch and Facebook Live usernames appeared identifying members of the audience that had previously been anonymous. A sense of community, which had largely been absent due to the lack of a physical venue, took form as people greeted each other and the artist. Amongst the congratulations for Dumile Goddard came a series of questions about the conceptual, logistical, and technical aspects of the work. In a moment of levity, the artist admitted not playing as much saxophone as he would have liked out of fear that it would irritate his neighbours, a reminder of the new conditions that have shaped these live events. Though the transposition of how will we hold onto each other from the resources and structure of a white walled gallery to an apartment may have felt novel to some extent, the artist's embrace of a lack of control, his imperative to improvise, and his overall flexibility were tantamount in creating a new kind of event altogether. Coalescing around Dumile Goddard's virtuous sound and magnetic presence, the performance promised that even in our present circumstances gathering and sharing remains a possibility, and even a necessity.
One of the benefits of the internet is that how will we hold onto each other has been catalogued and archived on Twitch, available for viewing and reviewing. The Leonard & Bina Ellen Art Gallery will be fulfilling their pre-existing commitments to artists in the month to come by hosting an online presentation of Ignition 16, the annual graduate student exhibition. As artist, curators, directors, producers, and writers manage the anxieties of a new cultural landscape from the confines of their homes, it behoves us even more to attend to each other and those amongst us who may have already been struggling and/or oppressed. How we choose to hold onto each other will not only determine the outcomes of this pandemic, but the structural conditions and lives we return to thereafter.