Annie MacDonell
The Beyond Within
The Robert McLaughlin Gallery, Oshawa
September 24, 2022–February 12, 2023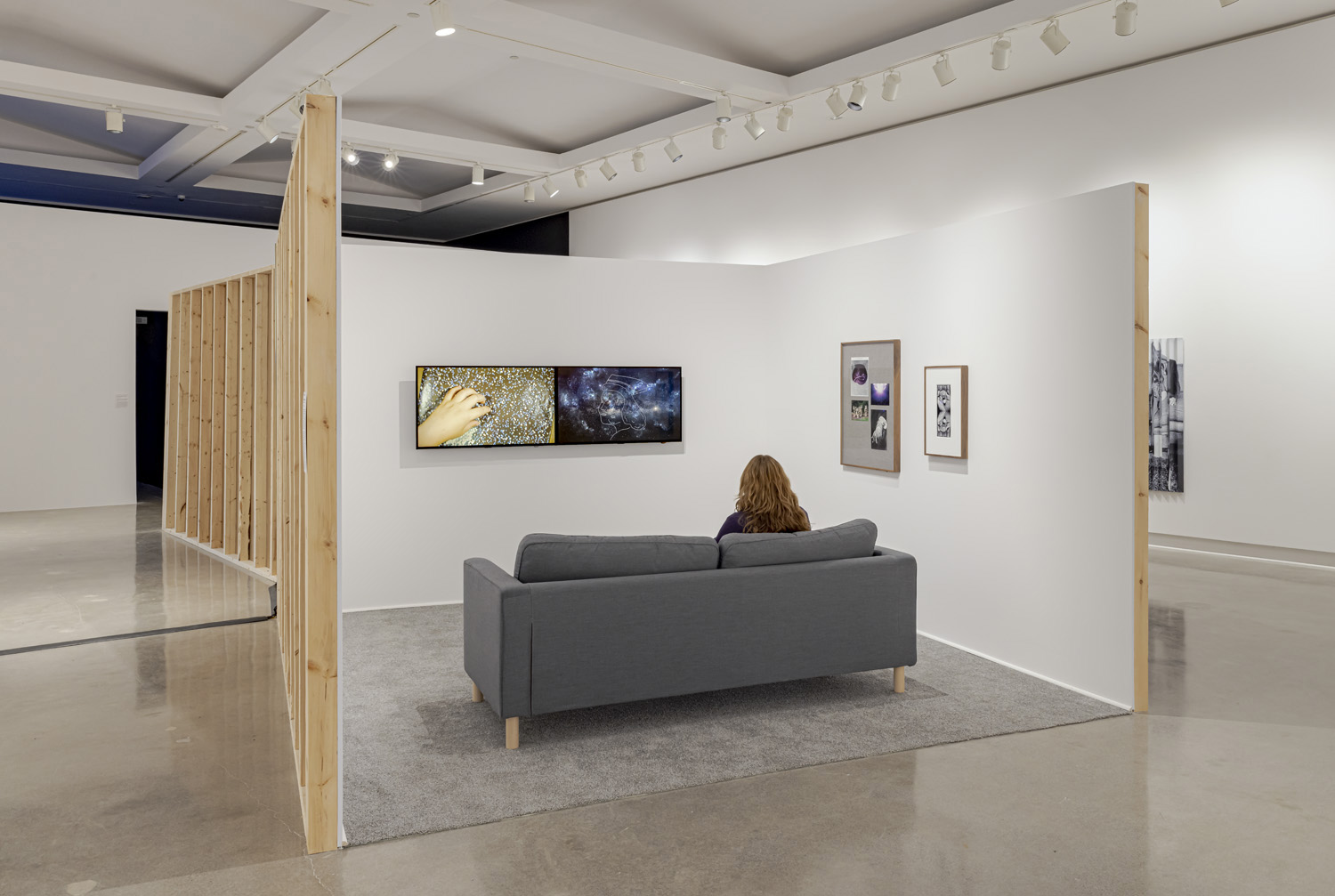 The Robert McLaughlin Gallery, Oshawa
September 24, 2022–February 12, 2023
Annie MacDonell's exhibition The Beyond Within at The Robert McLaughlin Gallery, organized by curators Crystal Mowry and Leila Timmins, is a journey that traces routes through her interest in the history of psychedelics and communion. Her works point to the personal, artistic, therapeutic, and worldbuilding potentialities of psychedelic experience.
The exhibition opens with nine 8.5″ × 11″ photographs depicting the interiors of rooms in which psychedelic trials took place. The layout of the research spaces is uncanny; the rooms all contain pieces that mimic domestic space—a cosy couch, comfortable pillows, a coffee table, a warm blanket, a woollen rug—as though following a prescribed list.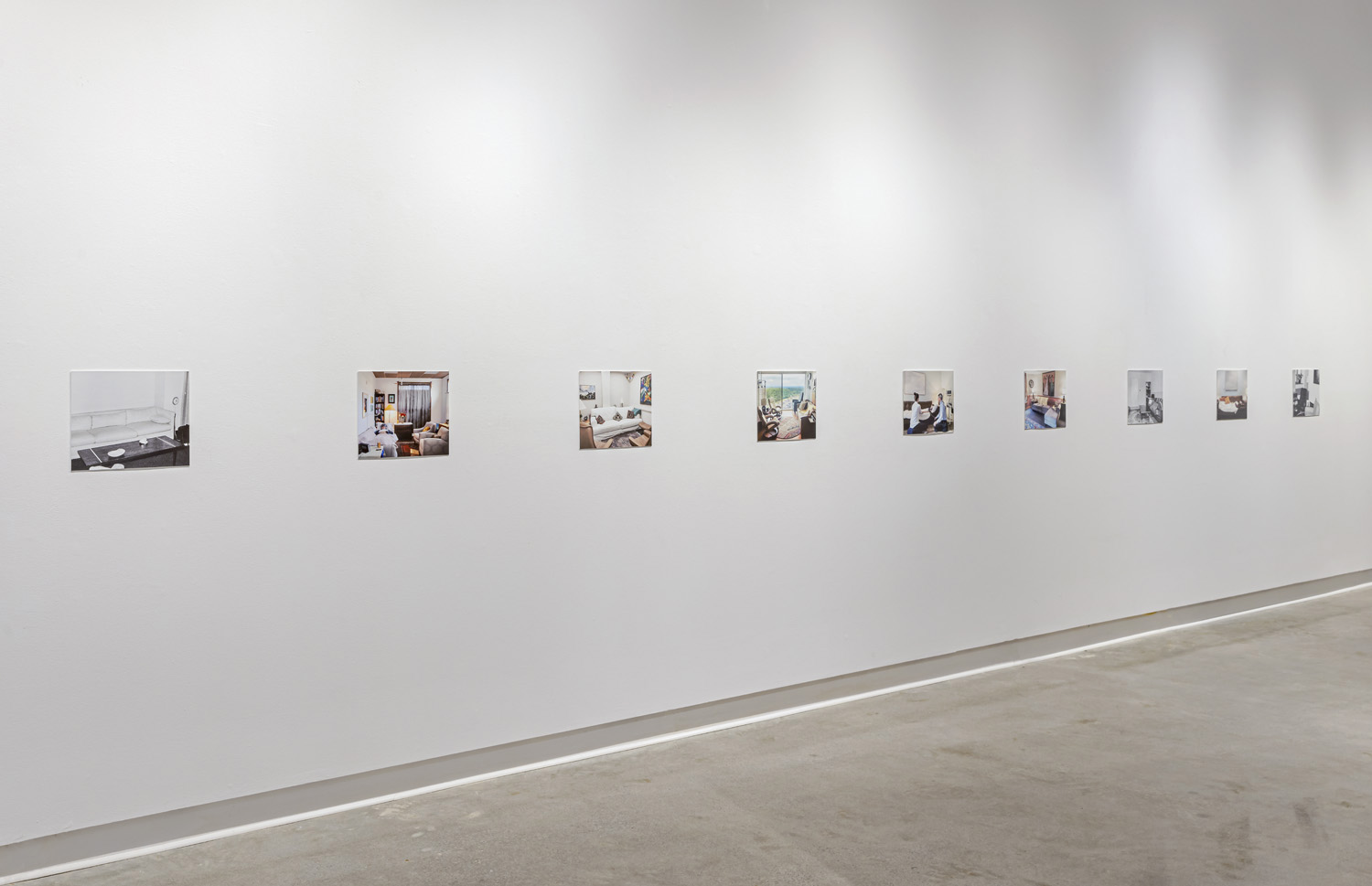 The oldest of the photographs is from the late 1950s and depicts the interior at 525 Sixth Street, New Westminster, British Columbia. At a time when LSD did not carry social stigma, Vancouver's Hollywood Hospital provided psychedelic therapy for its upper-class private clientele. Most of the other photographs depict more contemporary spaces at university research hospitals, which have recently shown renewed interest in the modality.
On a wall adjacent, large-scale reproductions of scientific reports on psychedelic trials, describing researchers' attempts to document the transitory perceptual changes and effects of LSD, are highlighted in hot pink. The original reports were written at the Weyburn Hospital in Saskatchewan. In the 1950s, the province was the site of some of the most important psychedelic research in the world.1 1 - Erika Dyck, Psychedelic Psychiatry: LSD on the Canadian Prairies (Winnipeg: University of Manitoba Press, 2012).Funded by the first elected socialist government in North America, researchers at Weyburn developed therapies based on guided LSD and mescaline trips as alternatives to long stays in psychiatric hospitals. The treatment space was architecturally modified to be home-like, and staff were trained to provide comfort and empathetic care. Psychedelics-based therapy was a radical approach that aimed to restore wellness and autonomy to patients previously confined to institutions, and it fit the goals of a new, publicly funded healthcare system. When psychedelics became associated with counterculture in the 1960s, the drugs, and subsequently the therapies, became illegal.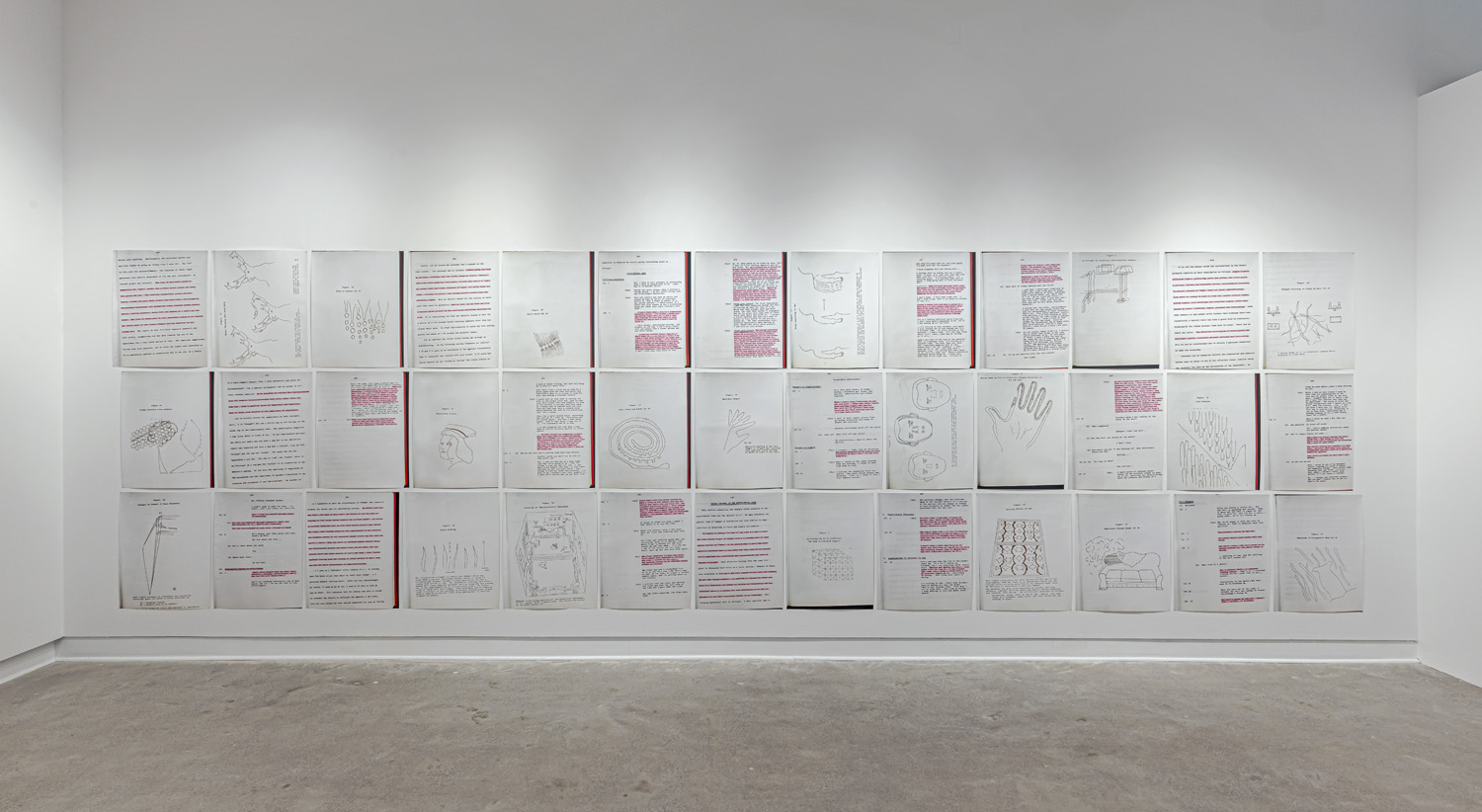 At the back of the gallery are two films, co-created with MacDonell's long-time Paris-based collaborator, Maïder Fortuné. In Communicating Vessels, MacDonell and Fortuné reflect on attunement and the way that meaning migrates and shifts from person to person. OUTHERE (For Lee Lozano), their newest work, is based on a radical lecture series given by the late contemporary artist Lee Lozano during a 1971 class at NSCAD. Lozano delivered a lecture thrice in one day: once, sober in the classroom; a second time, stoned in a nearby park; and a third time, high on now-outlawed LSD. In audio recordings of the lectures, Lozano stutters and moves forward and backward through time. The drugs help her express and share her inner world. At times, she sounds uncertain. At other times, she is very sure. Fortuné and MacDonell weave recordings of the lecture in with readings from sections of Lozano's private diaries and excerpts from their own writings, while images documenting the lecture and re-enactments from a script are layered over and under glitchy footage of them digitally processing and scanning the diaries.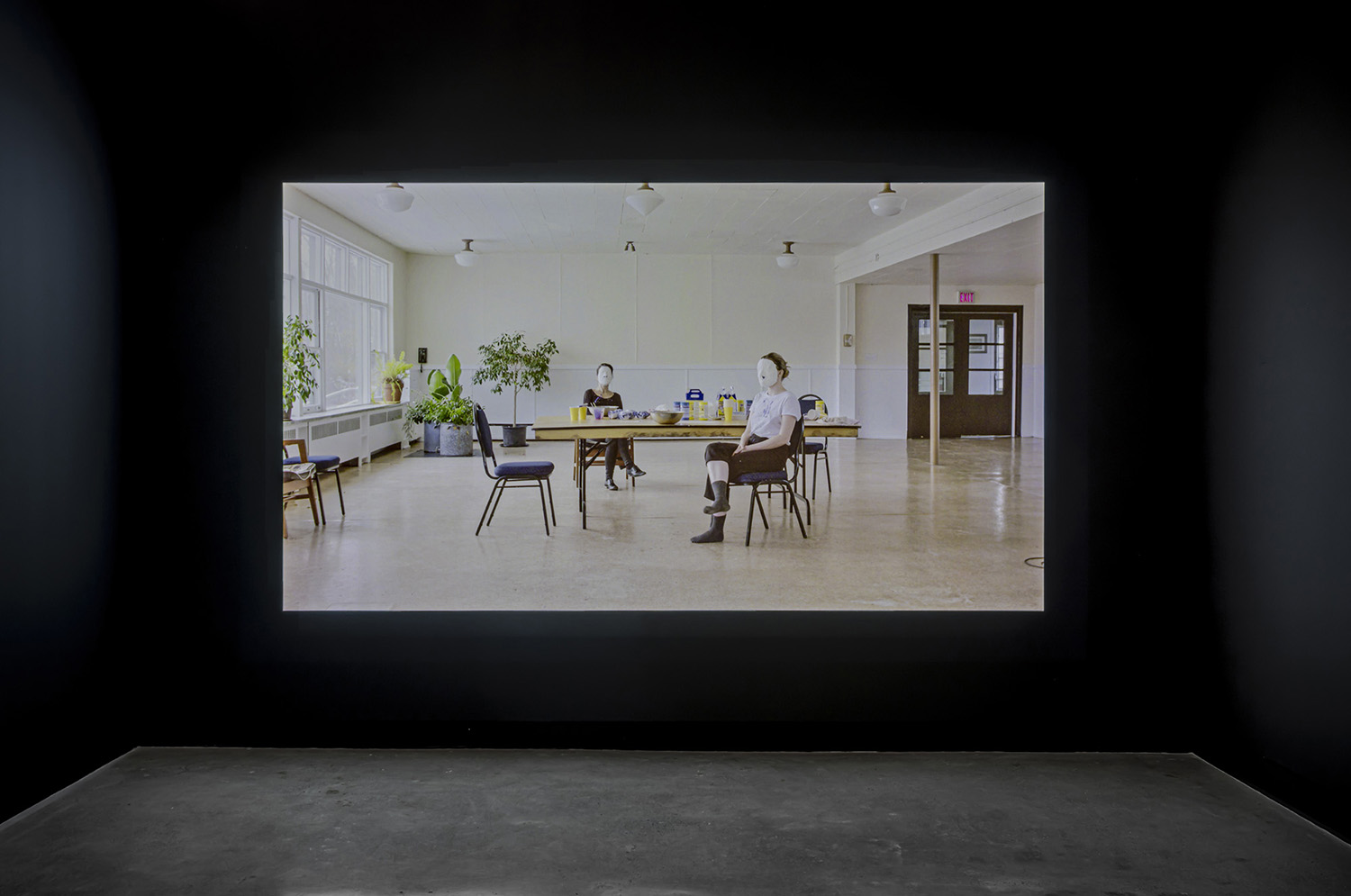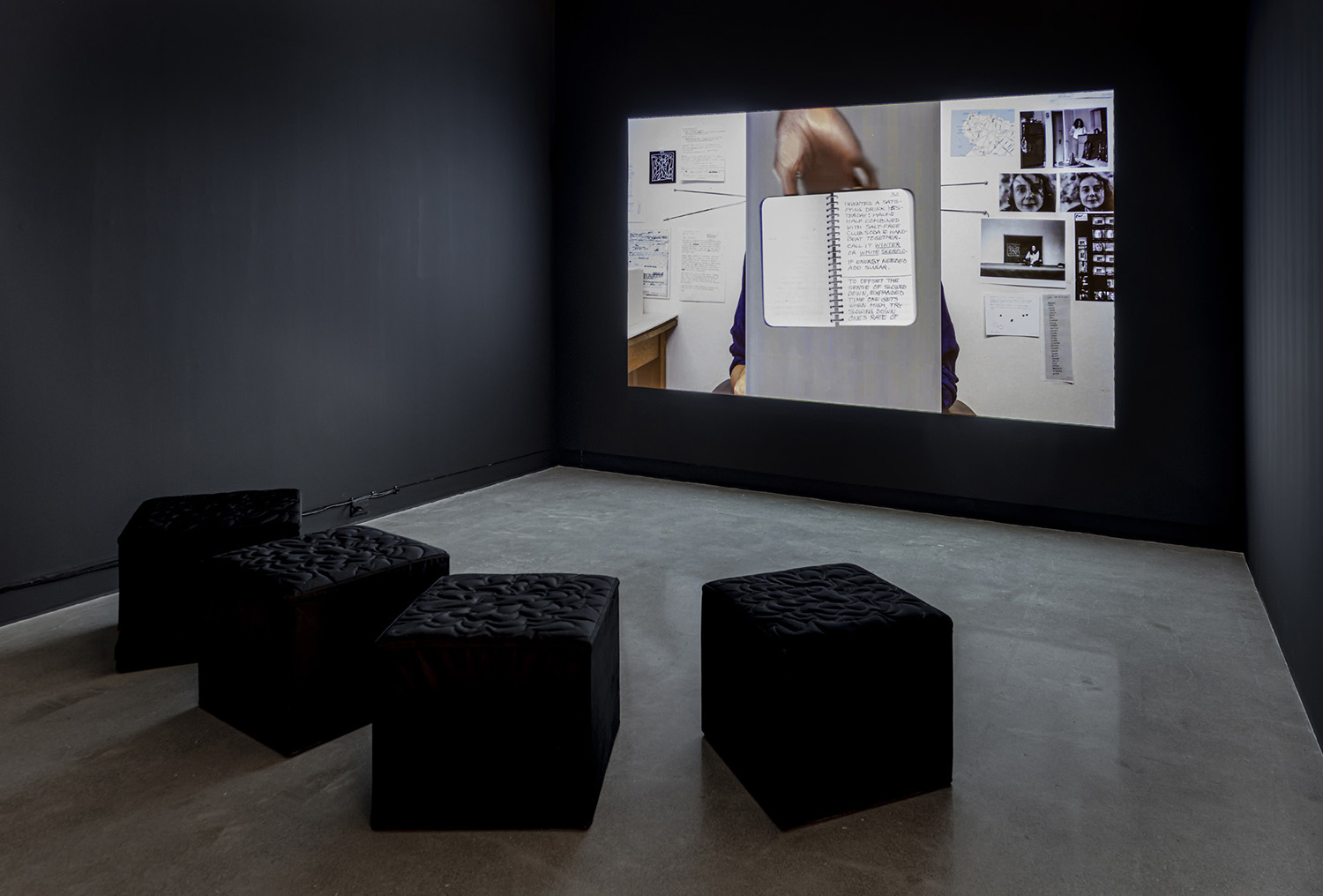 After watching the films, I enter a mirrored structure. Set and Setting is a portal. Inside, MacDonell provides a comfortable spot, akin to the settings depicted in the psychedelic research photographs, for visitors to rest and be transported through a story told laterally.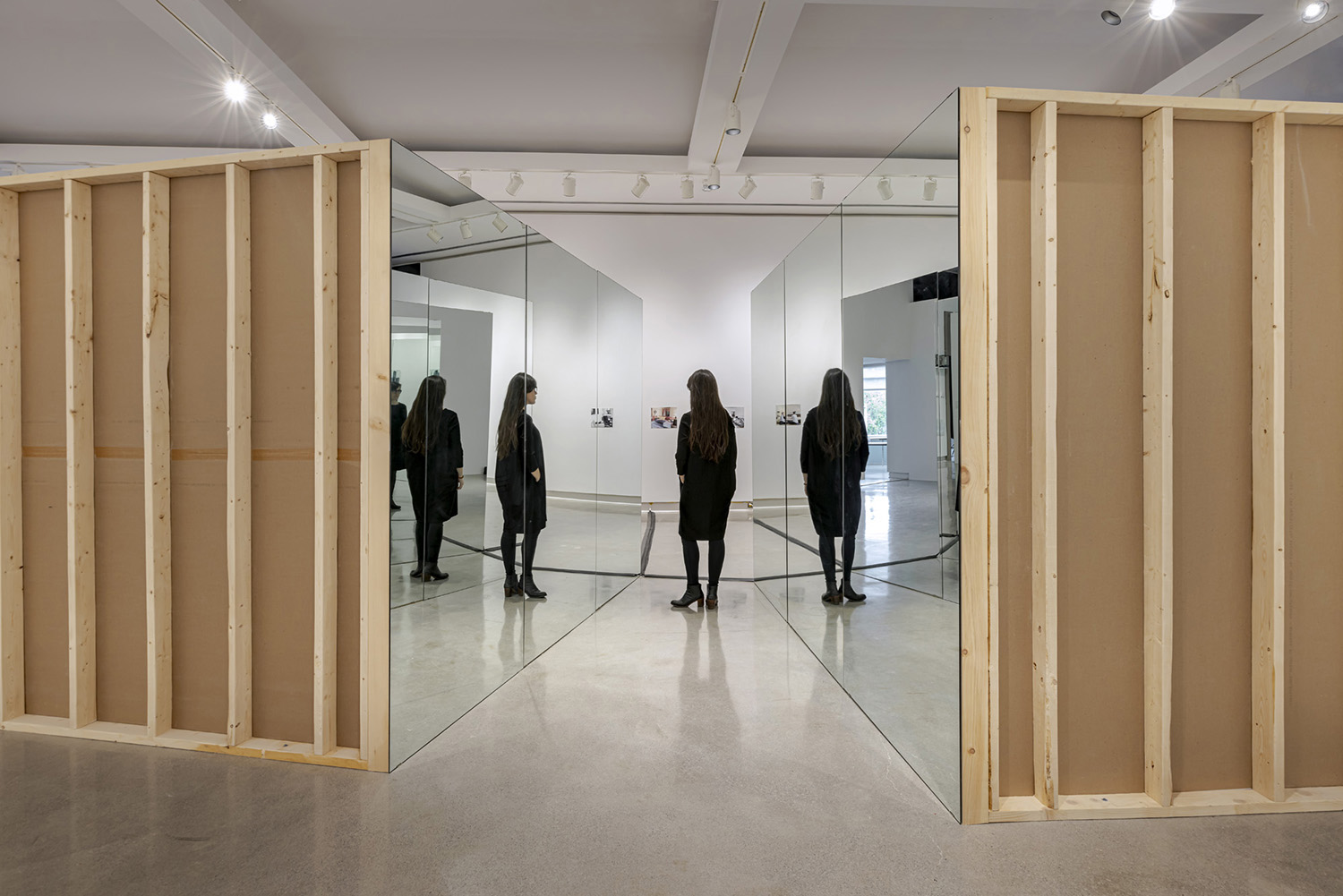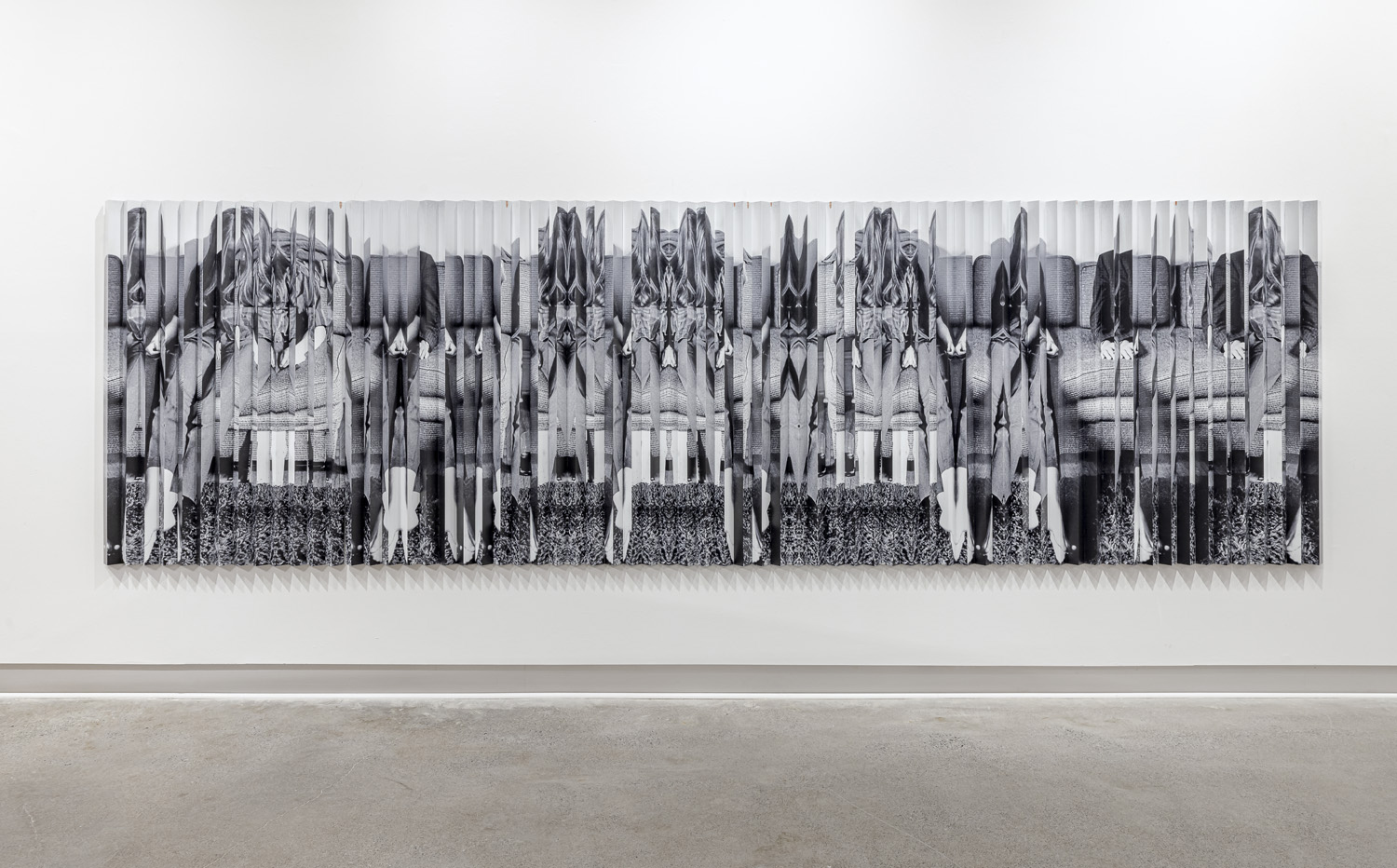 Over the course of a guided visualization, my cupped hand is transformed into an amethyst bowl, then into the cosmos, then into the eyes of a wolf. A voice sings to me, off-key, "I'll be your miiiiiiirror. I'll be your miiiiiiiirror." On the back wall hangs a large black-and-white photograph. Its original image, made as a press photograph for a 1960s-era Toronto Star article, depicts a woman on LSD slouched over on a couch. Adapted by MacDonell, the photograph stutters, folds in on itself, and repeats forward then backward, again and again, as it spans several body lengths across the wall. Placed between the two mirrored structures of Set and Setting, the image is hung such that if I position myself just so, the moment echoes itself, extending infinitely.