"Who is the best artist? " Rosemarie Trockel (b. 1952 Schwerte, Germany) screams at herself in her 1994 video work Continental Divide. She cannot give herself an adequate answer and is slapped and beaten until unconscious for her ineptitude. Although the secret of artistic success is not given away in this work, it is a question that seems to follow Trockel's artmaking, especially when she is faced with one of the biggest demarcations of artistic success: the retrospective. If they are lucky or famous enough, artist's will search through their oeuvre, evaluating layer upon layer of work in order to build a new present/future image of themselves fit for public consumption. This perceptibility (to be seen and acknowledged) is the primary goal of most retrospectives. But what if an artist refuses to be edited down into a public comestible or has no discernable layers? What if their evolution and identity is more rhizomatic,1 1  - As used by Gilles Deleuze and Felix Guattari, Trockel's work, like the rhizome, is about creating connections that never end, that can connect to any other thing, and if they are broken, they will begin again at some other point. Her work circles and spirals, returning to old themes and subject matter while constantly changing and connecting to new styles and subjects. Deleuze and Guattari, A Thousand Plateaus: Capitalism and Schizophrenia, trans. Brian Massumi (Minneapolis: University of Minnesota Press, 1987), 7. more imperceptible than perceptible?
This is just the case with Trockel's 2013 retrospective, Rosemarie Trockel: A Cosmos.2 2 - This exhibition was presented at the Museo Reina Sofia in Madrid (2012), at the New Museum in New York (2012 – 13), and at the Serpentine Gallery in London (2013). Her curatorial work for A Cosmos reveals this rhizomatic practice, which refuses to reduce the retrospective to a backward-looking reframing of an artist in terms of a stable, fixed entity (perceptibility) and opens up the practice to an infinitely transformative future of the imperceptible and undefined. Trockel's work is known for its infuriating instability. Critic Jean-Christophe Ammann asserts that "when you come to write about Rosemarie Trockel's work, you literally feel the ground cut away from beneath your feet. . . . It is impossible to grasp the sense of that work as a whole."3 3 - Jean-Christophe Ammann, Rosemarie Trockel (London and Basel: Institute of Contemporary Art and Kunstahalle, 1998), 6. Trockel's oeuvre is both physically and theoretically complex, containing thousands of drawings, hundreds of videos and paintings, dozens of sculptures, clothing, earthworks, public memorials, and even children's books. She is best known, however, for her knit canvasses produced throughout the 1980s.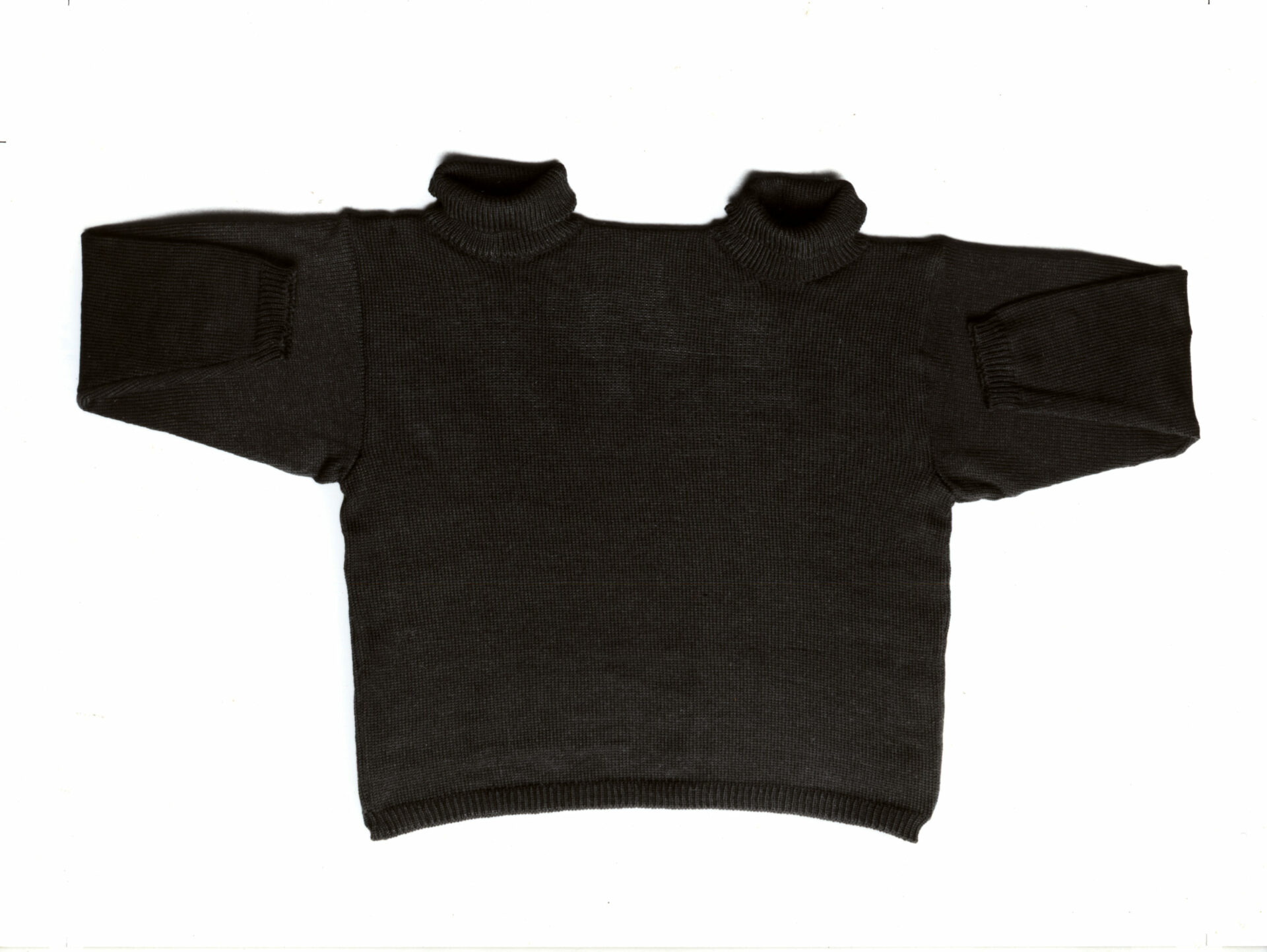 One reason for the complexity of Trockel's work is its imperceptibility: it is never truly finished or complete. For example, her work Schizopullover, a black wool sweater with two head-holes, has been displayed by itself — hung on walls or hangers or in vitrines — but was also in her 1988 series of photographs depicting several different women wearing the sweater (some combined to look like they are wearing it with themselves, the pinnacle of "schizo" styling). These photographs appear throughout books Trockel has created, which in turn appear in other photographic, sculptural, and video works. This reuse is not limited to Schizopullover; a large number of Trockel's artworks are repurposed, redisplayed in new contexts, and combined with other works. As one can see, Trockel's oeuvre cannot be categorized in a linear or stylistic way — seemingly a necessity for the typical retrospective.
As previously mentioned, perceptibility is a primary goal for most major retrospectives but not for Trockel's. Hers is a showing of imperceptibility. Ronald Bogue writes that "becoming imperceptible is a process of elimination whereby one divests oneself of all coded identity and engages the abstract lines of a nonorganic life."4 4 - Ronald Bogue, Deleuze's Wake: Tributes and Tributaries (Albany: State University of New York Press, 2004), 73. To become imperceptible is to escape symbolic order, to avoid a fixed identity and never be truly complete. It is a place of constant unending movement essential for creation. But how can that becoming be placed within the confines of a retros­pective? How can Trockel not be signalled out through her own work?
In A Cosmos Trockel positions herself as one among many. Her work is shown alongside fourteen other artists, all carefully chosen. The artists range from outsiders such as James Castle and Judith Scott, to long forgotten but influential botanists, to well known superstar Salvador Dali. All of these artists, and the wide range of work they bring to the exhibition, demonstrate the non-hierarchical components of Trockel's process and oeuvre. The take-home message that the exhibition itself (the text included in it, anyway) and critics seem to promote is Trockel's lack of style. As the wall-text for the exhibition states, "Although remarkably inventive and prolific, Trockel has deflected any identifiable stylistic signature." Guardian critic Jason Farago agrees: "For decades, she has studiously avoided anything that can be called a style."5 5 - Jason Farago, "Rosemarie Trockel: A Cosmos Review," The Guardian (8 Nov. 2012). What is special about Trockel's work, however, is not a lack of style. (Her work certainly does have a style, as anyone familiar with it could walk into the gallery and easily recognize her drawings, her ceramic work, her use of yarn.) What makes her work so intriguing is that her style is rhizomatic and in a constant state of flux. While one could of course recognize her older works, it was also easy to believe that any of the other works in the room were made by her, new works in which she was — like a rhizome — expanding her oeuvre. If the Dali phone or the Scott sculpture had been mislabelled as being by Trockel, it would not have been difficult to believe.6 6 - This mislabelling has occurred and been believed by several "experts." The New Museum promoted the show using another artist's piece and Farago's article identified the sculpture as Trockel's. The caption read: "Tiny dancer… Rosemarie Trockel's Untitled (1950 – 60)." Trockel would have been ten years old or younger when the piece was made.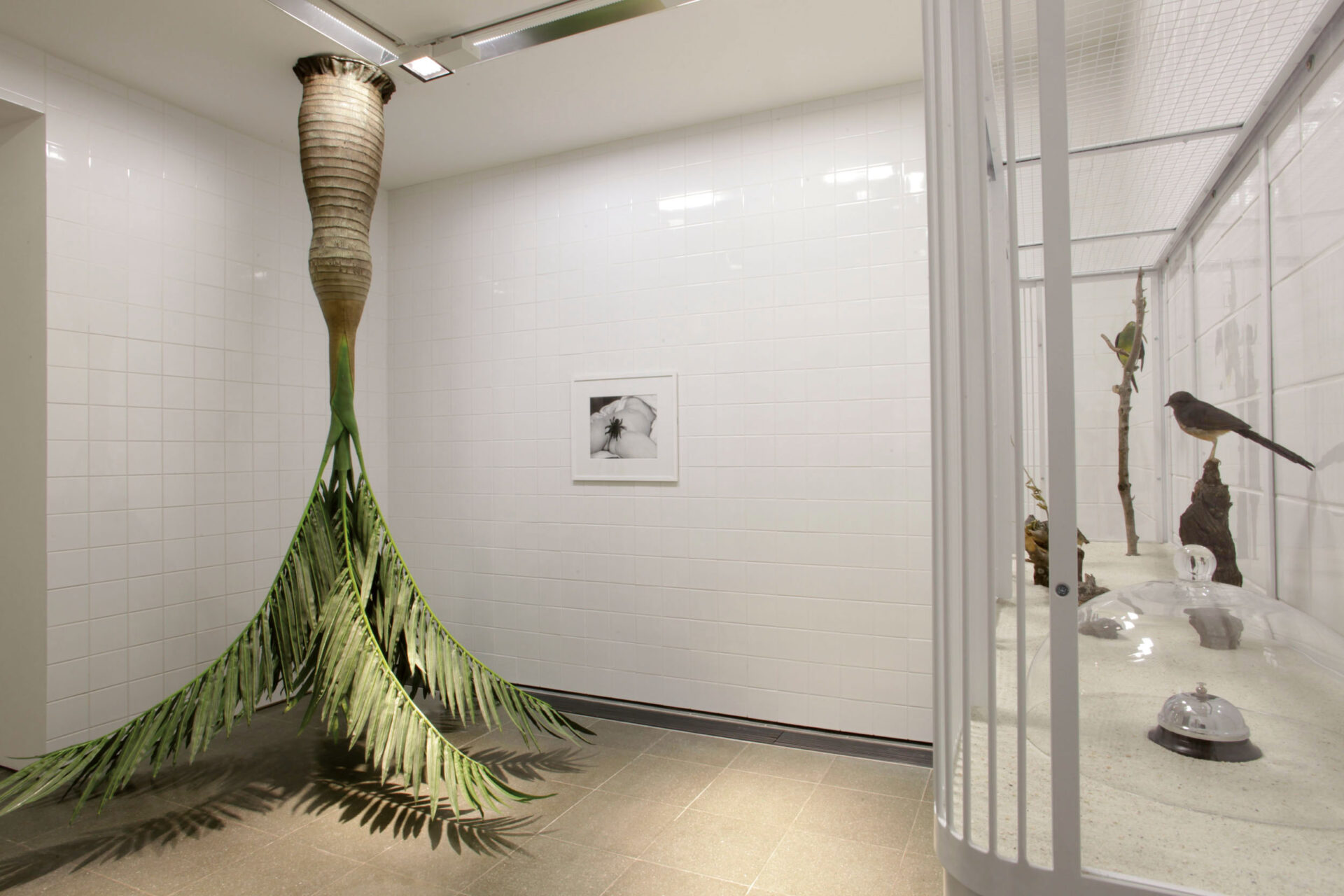 The multiple artists included in A Cosmos not only help with Trockel's constant becoming (imperceptible), they also give entirely new meanings, when juxtaposed with her older work, to her oeuvre. Sometimes these are not even juxtapositions but complete absorptions of old works into the service of the new. For example, Trockel's Living Means to Appreciate Your Mother Nude, a 2001 life-sized photo of a young girl lying on her stomach amongst projector slides, was placed in a vitrine alongside a more recent work, Fly Me to the Moon (2011)(a collaboration between Trockel and Polish artist Gunter Weseler in which a plastic baby lies in a crib, accompanied by one of Weseler's mechanized "breathing" creatures). Is the older work now a part of the new? Does it exist outside of this vitrine, or is it forever more only a component of the collaborative piece?
Another example of older work not just being displayed but truly reworked is Trockel's Lucky Devil (2012). In this work, a giant taxidermal crab sits atop layers upon layers of neatly arranged fabric scraps. Is this the historical linear oeuvre Trockel has been missing? Not entirely. This piece is composed of Trockel's famous knit canvasses, but she has torn them apart, cut them into squares, and topped them with an irreverent creature. They are off-the-wall scraps and completely new (they are not new canvasses made just to be torn up: they are her originals). She has taken the work she is most revered for (heralded as important feminist work for combining the manly art of canvas painting with knitting) and destroyed them to create something new. No work of Trockel's is safe or complete: it can be brought into the service of a new project at any moment.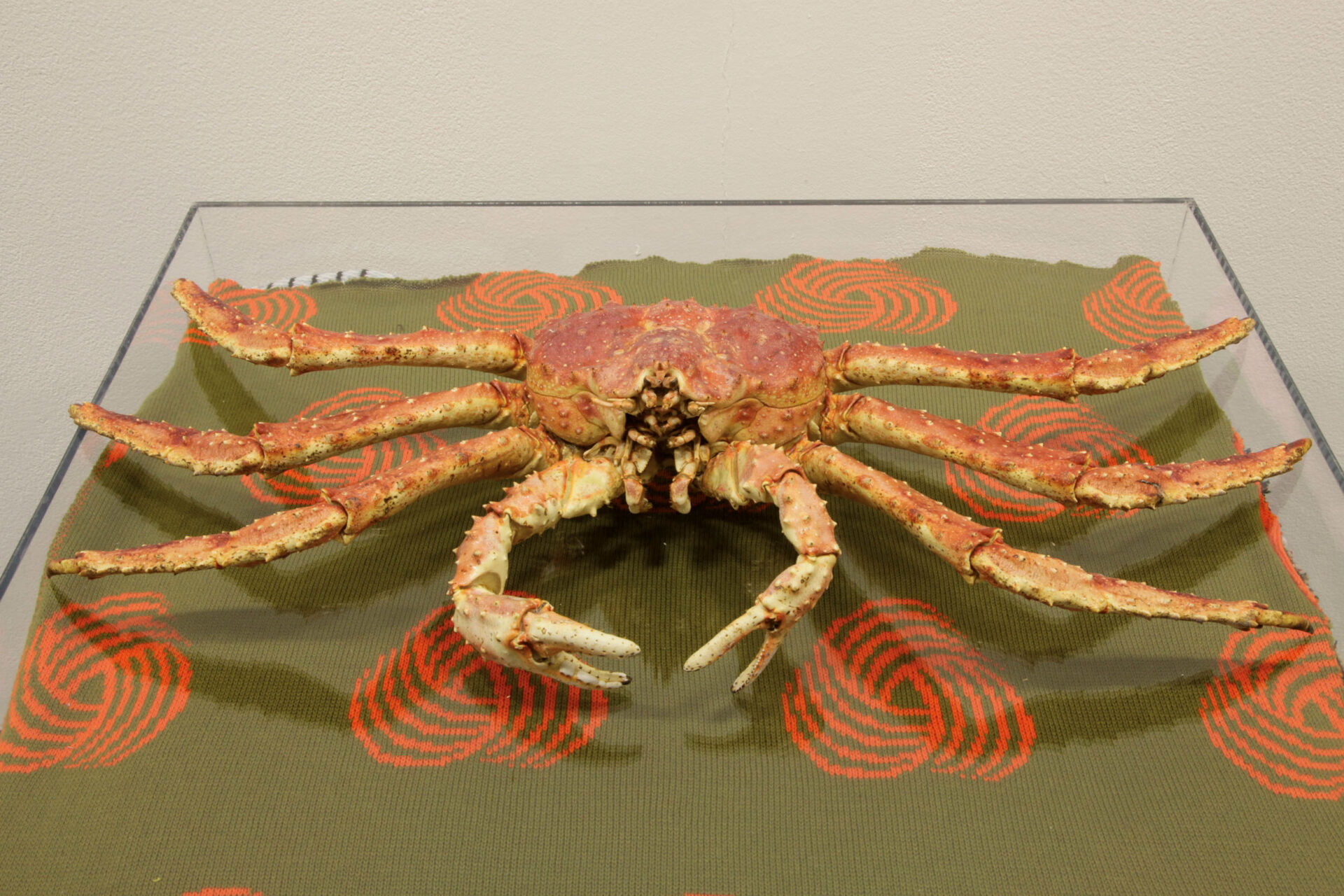 The exhibition's most notable reworking of old work to new work is the inclusion of Trockel's "book drafts" and "unrealised projects." These works, of which there are hundreds, consist primarily of sketches and dummy books. Trockel has been creating them throughout her entire career, and while there are many that can be connected to projects which have come to fruition, the majority of them are connected to what Trockel originally labelled "failed" projects. In 2002, however, these works began to be shown alongside her other work in exhibitions. To resurrect these sketches after they had lain dormant for so long was seen by some critics as an end — as Trockel coming to terms with failure. Critic Birte Frenssen argued that their addition was due to Trockel's inability to "recognize the opposition between masterpiece and marginalia."7 7 - Cited in Gregory H. Williams, Permission to Laugh Humor and Politics in Contemporary German Art (Chicago: University of Chicago Press, 2012), 125. But as art historian Gregory Williams explains, "The act of submitting these 'unrealised' books and catalogues years later to the scrutiny of viewers implies as much a reactivation of latent ideas as a laying to rest of failed projects."8 8 - Ibid., 123. Indeed, to see these book drafts and unrealised projects decades after they, and the works they were connected to, were created is to rethink all of Trockel's oeuvre. It is even to pre-retroactively or proactively rethink them, as some of the sketches are dated later than their completed counterparts. This return, this spiralling, is an integral part of Trockel's process, what she calls "der langsame Entstehungsprozess."9 9 - Ibid., 123. This "slow process of creation" is a continuous becoming. Trockel's work is special because it is not static but constantly changing, it will never become anything settled. To quote Williams again: "The in-between status of the 'unrealised' [projects] represents one of Trockel's most radical attempts to embrace the fragmentary as a means of avoiding an unwelcome moment of closure."10 10 - Ibid., 126.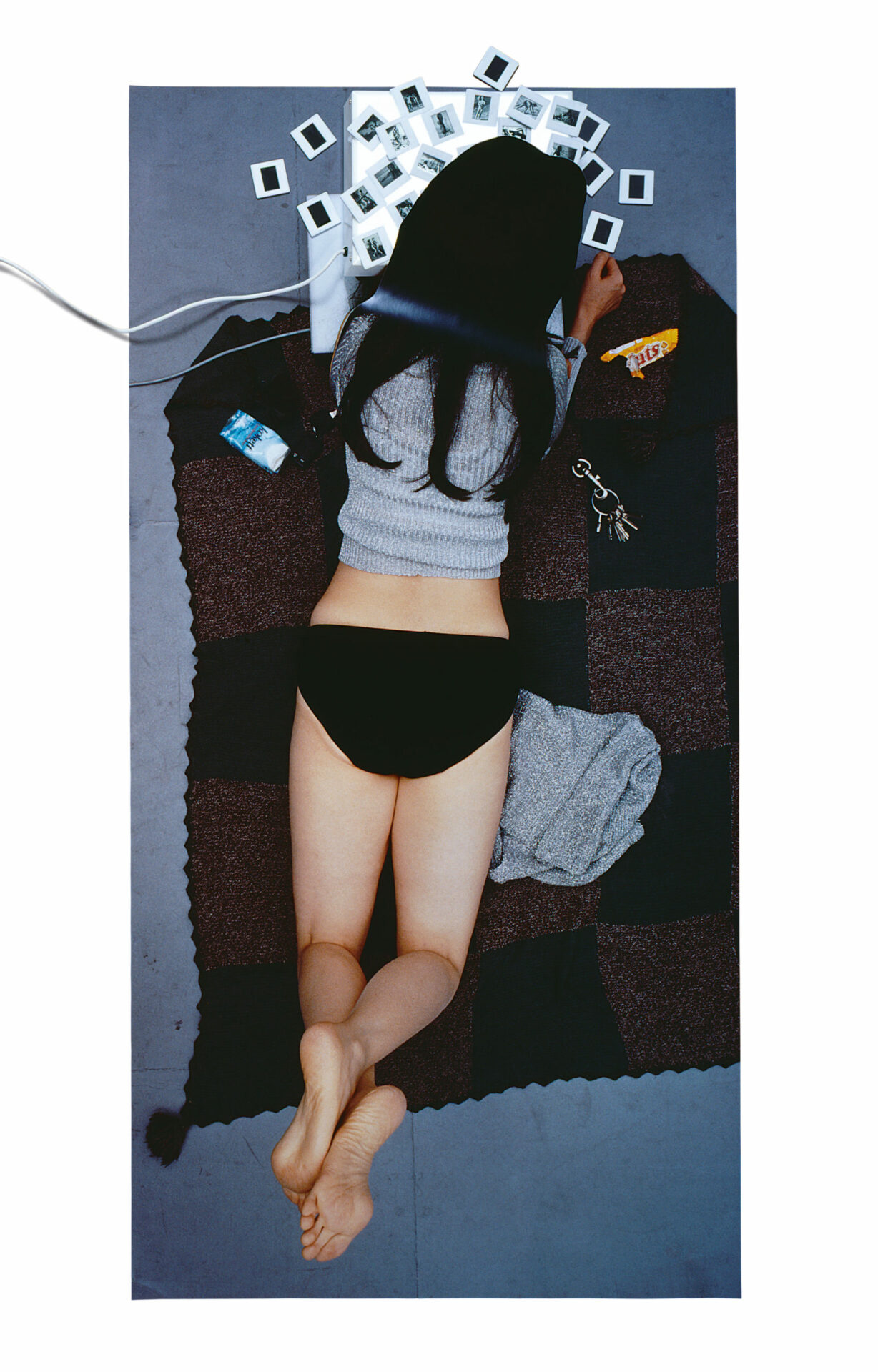 Trockel's work is often seen as infuriating by critics. How could it not be? It is constantly changing, moving forward but backwards, circling and spiralling like a rhizome. Her work has no linear progression, is never on solid ground (what is one day a classic work, her knit canvasses, for example, is the next day cut apart and part of a new work). How does one label? How does one judge? These questions, this infuriatingly slippery collection of work and process are what make Trockel's work so extraordinary. Trockel will continue to make these until she dies. Trockel and her work are always becoming imperceptible but never arriving at that end point (for when she dies, she is not imperceptible, but dead). Moving towards this imperceptibility both is, and fuels, Trockel's langsame Entstehungsprozess. She excels at maintaining the difficult process of becoming, never letting her work become stable or remain static.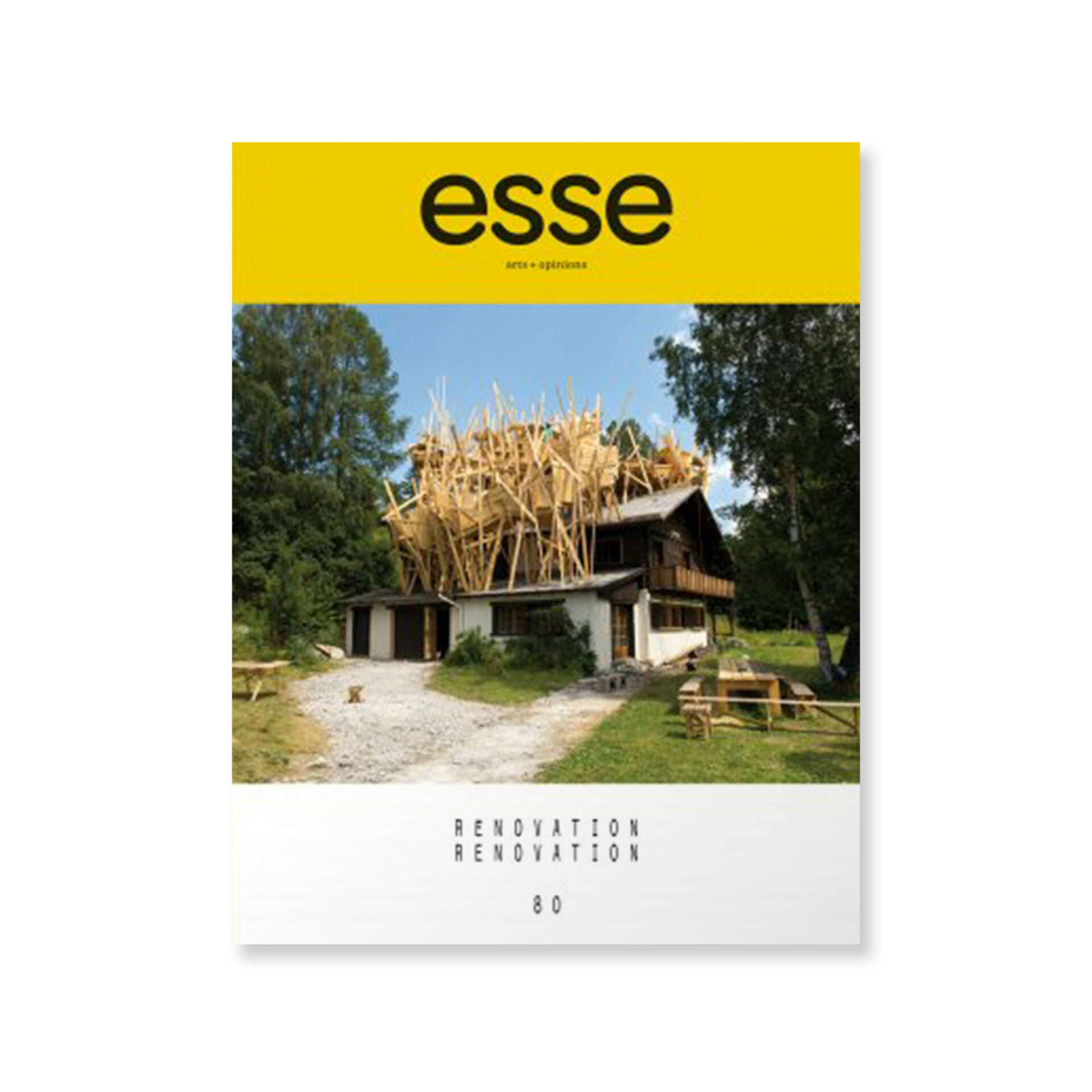 This article also appears in the issue 80 - Renovation
Discover