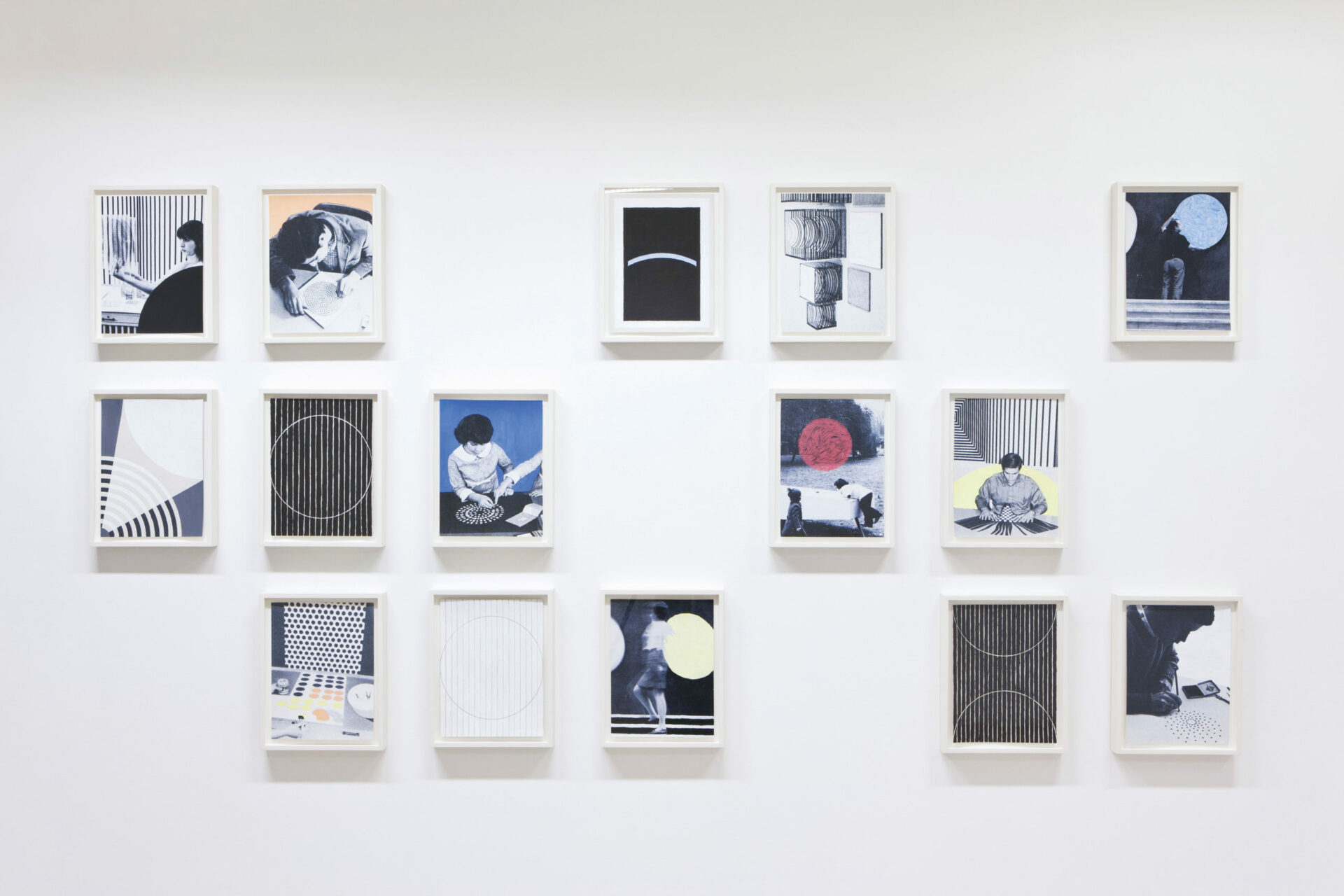 What is the residue of abstraction? How does its signification change through time and through translation? Where does it appear in our everyday lives? Derek Sullivan's recent work capitalizes on a key aspect of abstraction: its elusive, shifting, and at times arbitrary relationship to meaning. Borrowing from a wide array of bibliographic sources, Sullivan approaches the histories of modernist design, abstraction, and conceptual art as a floating field of signs, paying particular attention to recurring patterns and forms, and weaves them into new relations of signification with a deft sleight of hand. The resulting images seem familiar and evoke a curious sense of likeness, but ultimately they are impossible to pin down.
This is most evident in Illustrations for (and/or from) the book that is (and/or will be) titled More Young Americans (2011), a multi-part work posited as illustrations extracted from a missing book. The panels comprise drawings, paintings, collages, and found images that borrow from the visual language of geometric abstraction: the textile patterns of Lyubov Popova and Varvara Stepanova, the modernist compositions of Frank Stella, and the Op art designs of Bridget Riley and Victor Vasarely. Some of Sullivan's illustrations appear to be exercises in formal composition, while others excise images sourced from a variety of books, pamphlets, and catalogues; images that show young people engaging with familiar, abstract forms through production, juxtaposition, or play. Children climb on public sculptures, teenagers craft geometric designs at tables, and young people wear Op art inspired clothing. Placed together, the images highlight moments when vernacular abstraction becomes absorbed into popular culture, detached from a high-art context, and made ­fashionable — an irony, given the avant-garde status of abstraction throughout these years.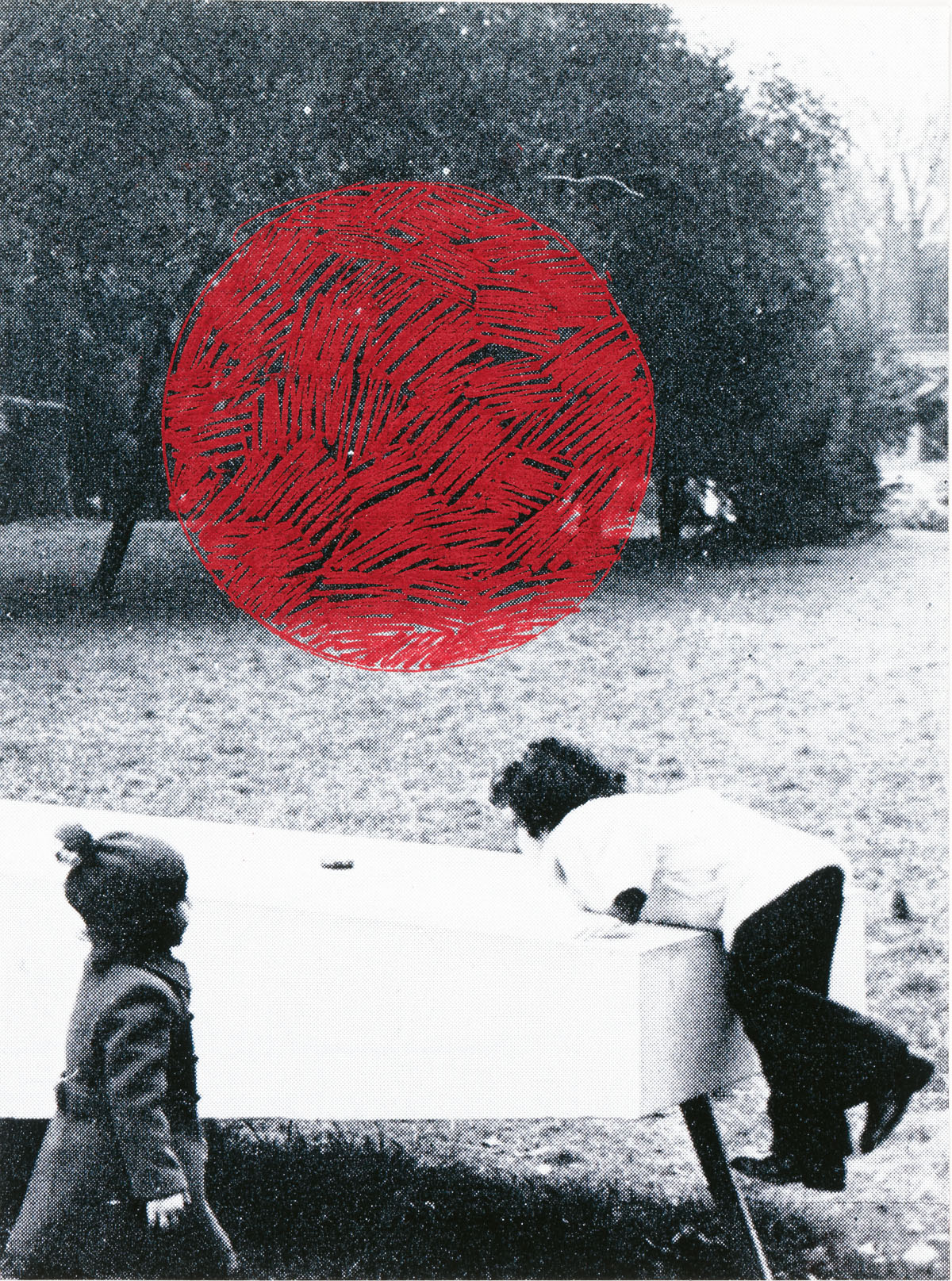 Illustrations for (and/or from) the book that is (and/or will be) titled More Young Americans was arranged in two parts and shown separately. The groupings suggest a speculative book, leaving the relationship between images open to interpretation. The first group of six images was shown in a frieze.1 1 - The Object of Observation (Changes by Being Observed), group exhibition at Galerie Johnen, Berlin (curated by Tim Lee), July 1 to September 3, 2011. The second group of fifteen images was interspersed with six gaps and positioned in a three-by-seven grid.2 2 - Walking and Chewing the Fat at the Same Time, solo exhibition at Jessica Bradley Art + Projects, Toronto, November 12 to December 23, 2011. While we might presume that these gaps represent spaces for the first six to complete the set, it is important to understand that these two sets of images were never intended to be shown together. The missing images and the conditional language of the title suggest that the book is incomplete, that there is always more that could be imagined or discovered. This series, like much of Sullivan's work, uses the conceit of the book as a malleable container for the juxtaposition of disparate images, objects, and histories. It underscores the idea that the activity of reading and looking (in relation to either a book or an artwork) is an exercise in speculation. While a narrative may be gleaned from the combination of abstract forms, images, and missing pages, ultimately meaning depends on the particular engagement of the viewer. Further, Sullivan's work often appears in forms that are fragmental or incomplete, complicating the activity of finding and fixing meaning.
Why is this purported book called More Young Americans? And what is it about youth that continues to fascinate us? Originally inspired by a number of post-war catalogues produced by the Museum of Modern Art that featured the work of "young" American artists at that time, Sullivan uses this title as a loose framing device. It evokes those key moments in the early careers of artists when the work is often more experimental in nature, yet shows the seeds of a practice that becomes formalized and recognizable in later years. As a young artist himself, Sullivan's practice has many of the same characteristics: it slips between styles or forms and resists categorization.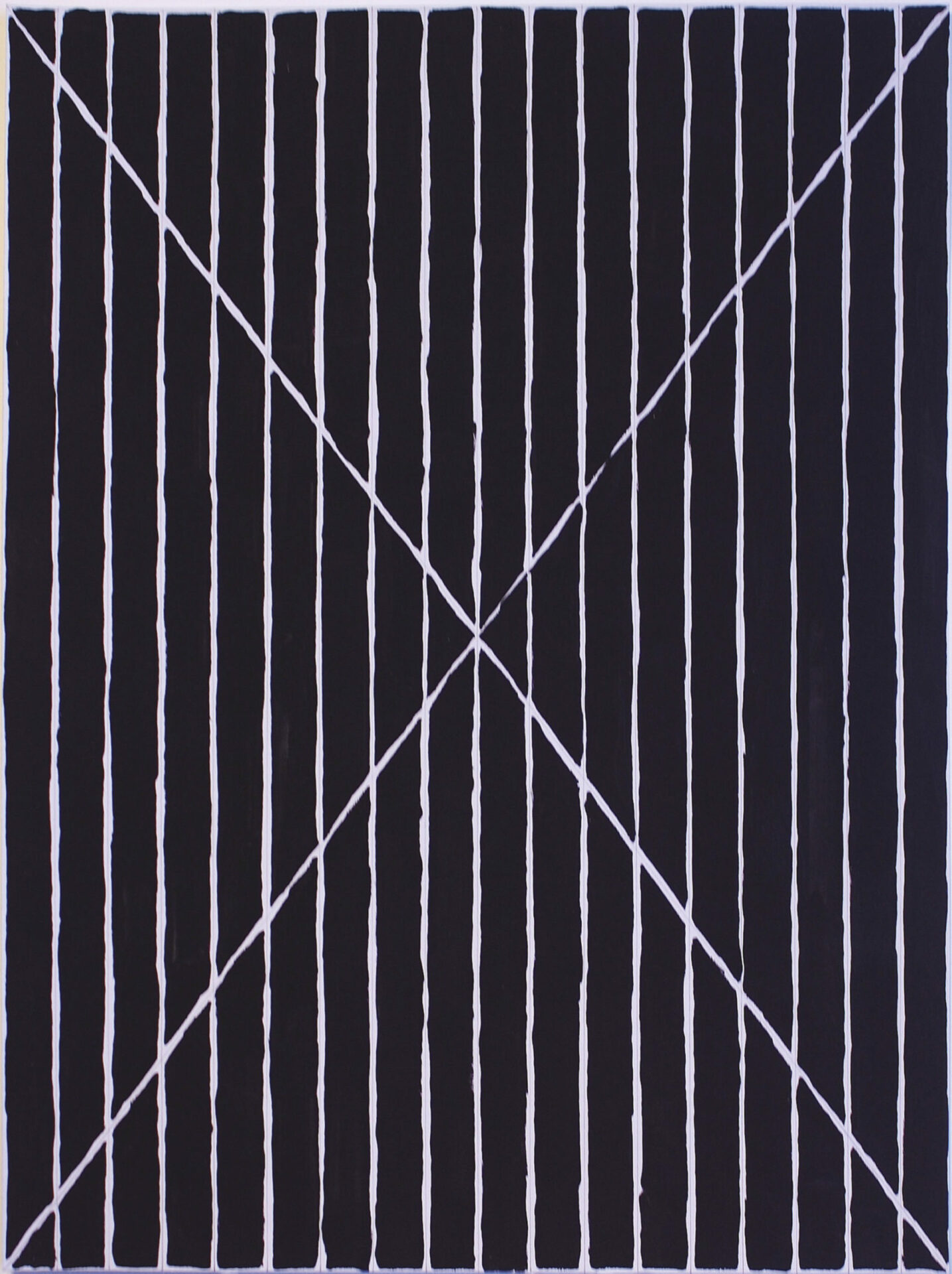 On a formal level, the illustrations shuffle between photographic reproductions and abstract compositions made with coloured pencil and gouache, materials more associated with craft. Flat areas of colour, often in the shape of an ellipse, are superimposed over black and white photographs. In one, a group of children play on top of a public sculpture. A pale yellow oval is painted over the image in the upper left, perhaps a nod to John Baldessari, or simply an interruption of the illusion of depth in the photograph and a flattening of the picture plane. Next to this is an image of three people placing ovals on a diagonal wallpaper grid, as if it were a demonstration from a craft manual or home decor magazine. Following this is a panel of black and white vertical stripes, marked through with an X, reminiscent of Stella's black paintings. This dynamic continues in a visual choreography from one illustration to the next, alternating between representations of the process of making (as depicted in the photographs) and what we might imagine as the results of this labour (in the abstract paintings).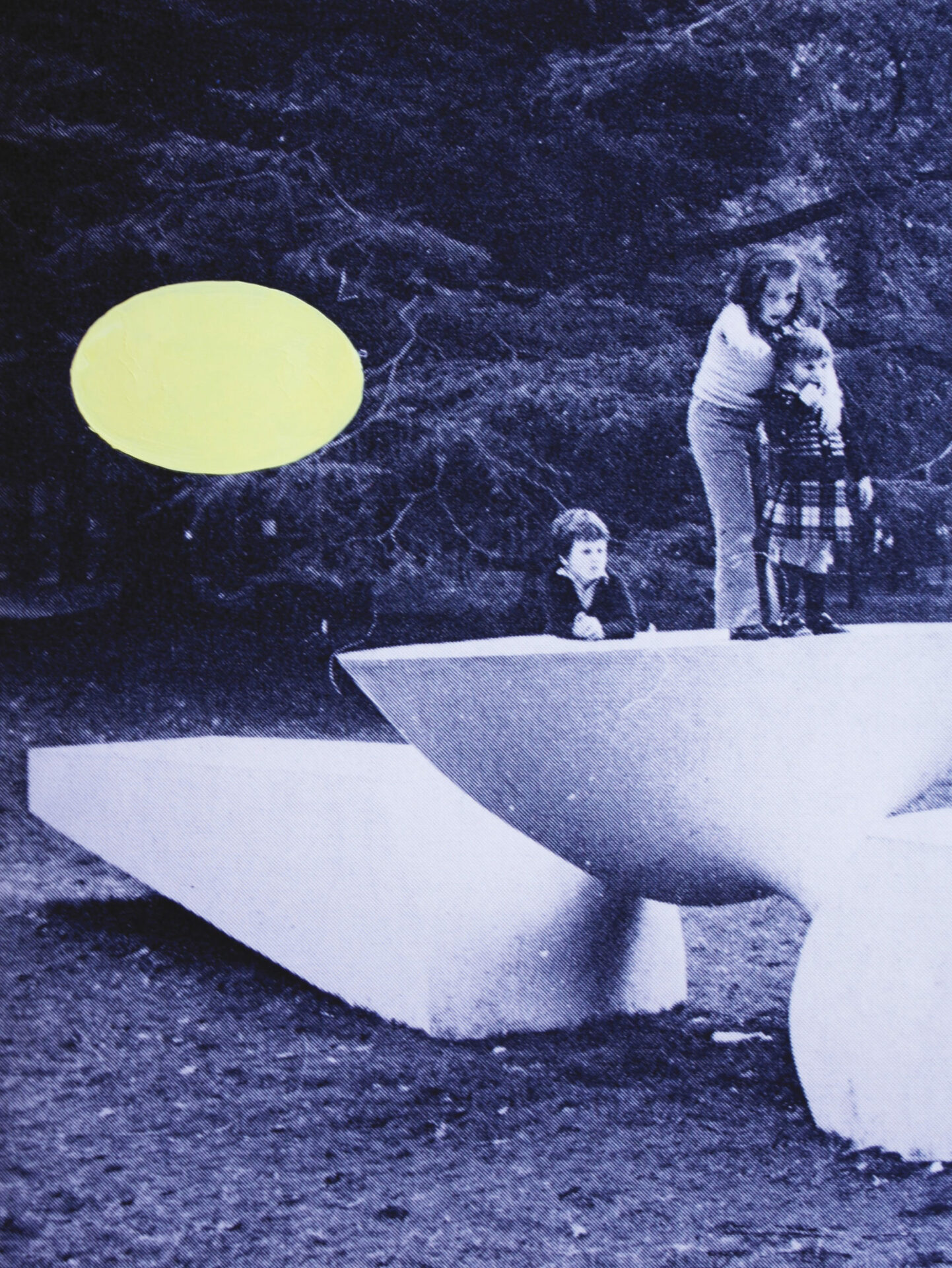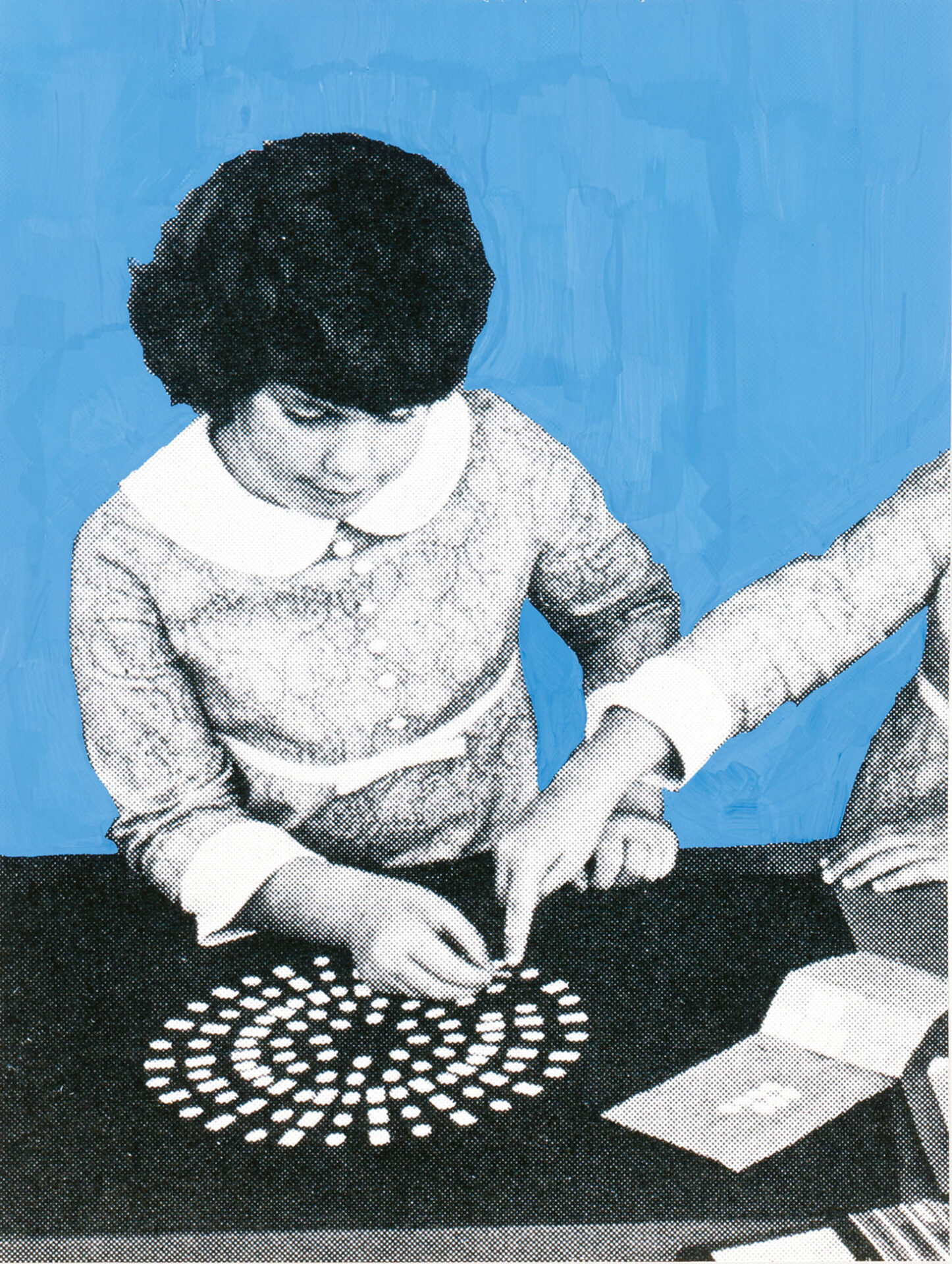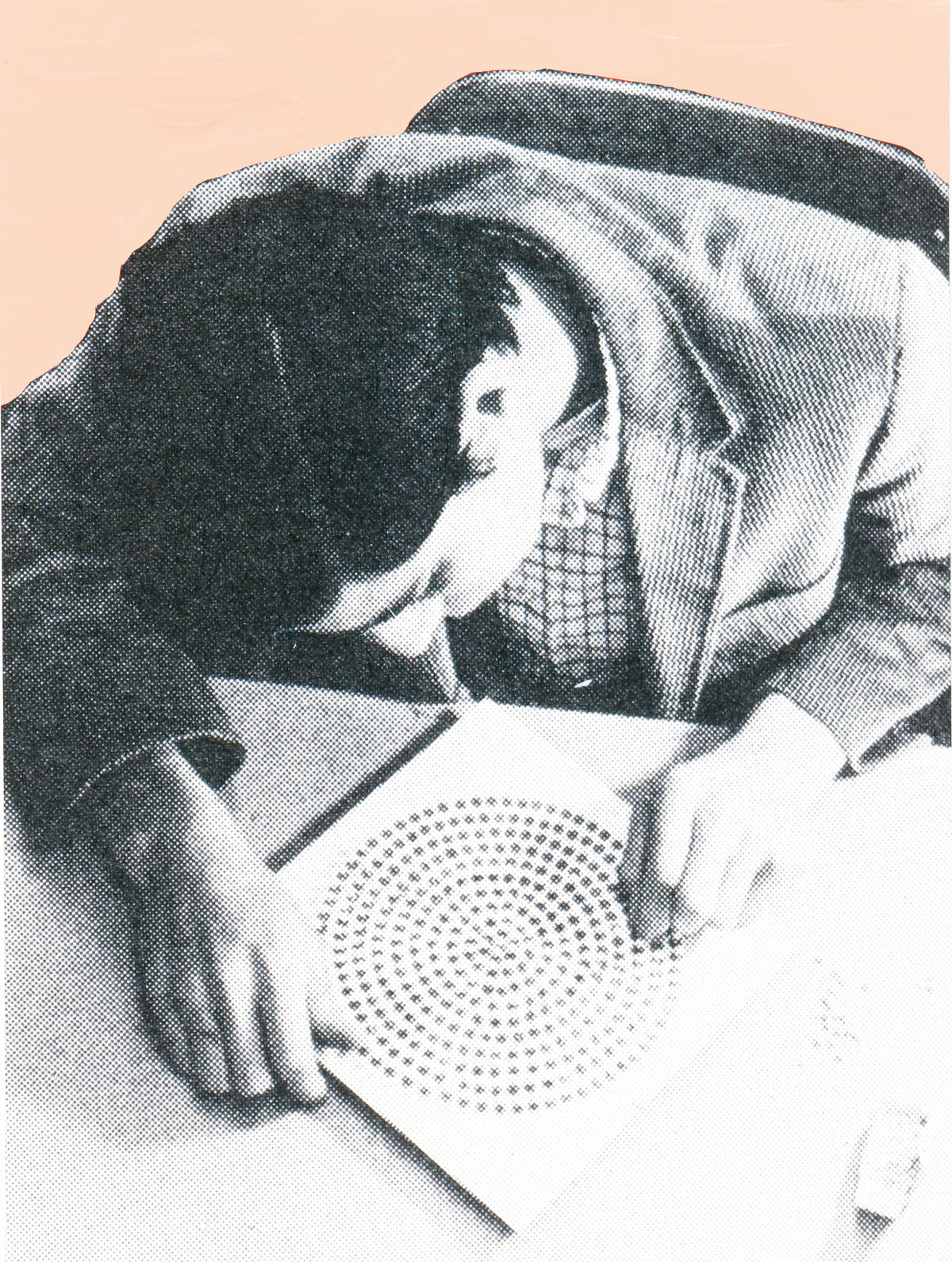 Sullivan's strategy of juxtaposition and citation teases out various signs to create a sense of likeness, a semblance of a subject, but one that remains in a suspended state of flux. The resemblance is often so strong that the illustrations appear to be copies, but ones that have lost their original source. Consequently the familiarity of the signs invites a kind of memory game of association, though one that is ongoing. In this way, Sullivan's work accumulates references over time; references that are both intended and latent, both from the past and open to the future. When asked in an interview if the title of the series, specifically "Young Americans," might refer to the David Bowie album, Sullivan describes it as a faux ami or false friend,3 3 - Derek Sullivan, interview by Jen Hutton, "Bookish in Belgium: Derek Sullivan's friendly and formal 'Young Americans,'" Magenta Magazine 2 no. 3 (Summer 2011). www.magentamagazine.com/7/features/canadians-in-europe terms for words or phrases that appear so similar between two languages that we mistakenly assume they must have the same meaning. By calling it a false friend instead of dismissing the reference entirely, there is an acknowledgement that a relationship does in fact exist between these associations, even if it is an unintended one, and that the work is open to this kind of citational play.
As Jorge Luis Borges writes, "One literature differs from another… less because of the text than because of the way in which it is read."4 4 - Jorge Luis Borges, "Note on (toward) Bernard Shaw," in Labyrinths, eds. Donald A. Yates and James E. Irby (New York: New Directions, 1964), 214. This is certainly true of Sullivan's More Young Americans, which is open to wide and varied readings. The series is typical of Sullivan's recent work in that it functions in myriad ways: it is a group of pictures, it is a book, it is an index, and it is incomplete. Sullivan's illustrations for an absent book ultimately resist the conventions of an artwork as stable and contained, and suggest that both reading and looking are active states of production and interpretation on the part of the viewer, an act of speculation based on one's knowledge and curiosity.
This article also appears in the issue 76 - The Idea of Painting
Discover