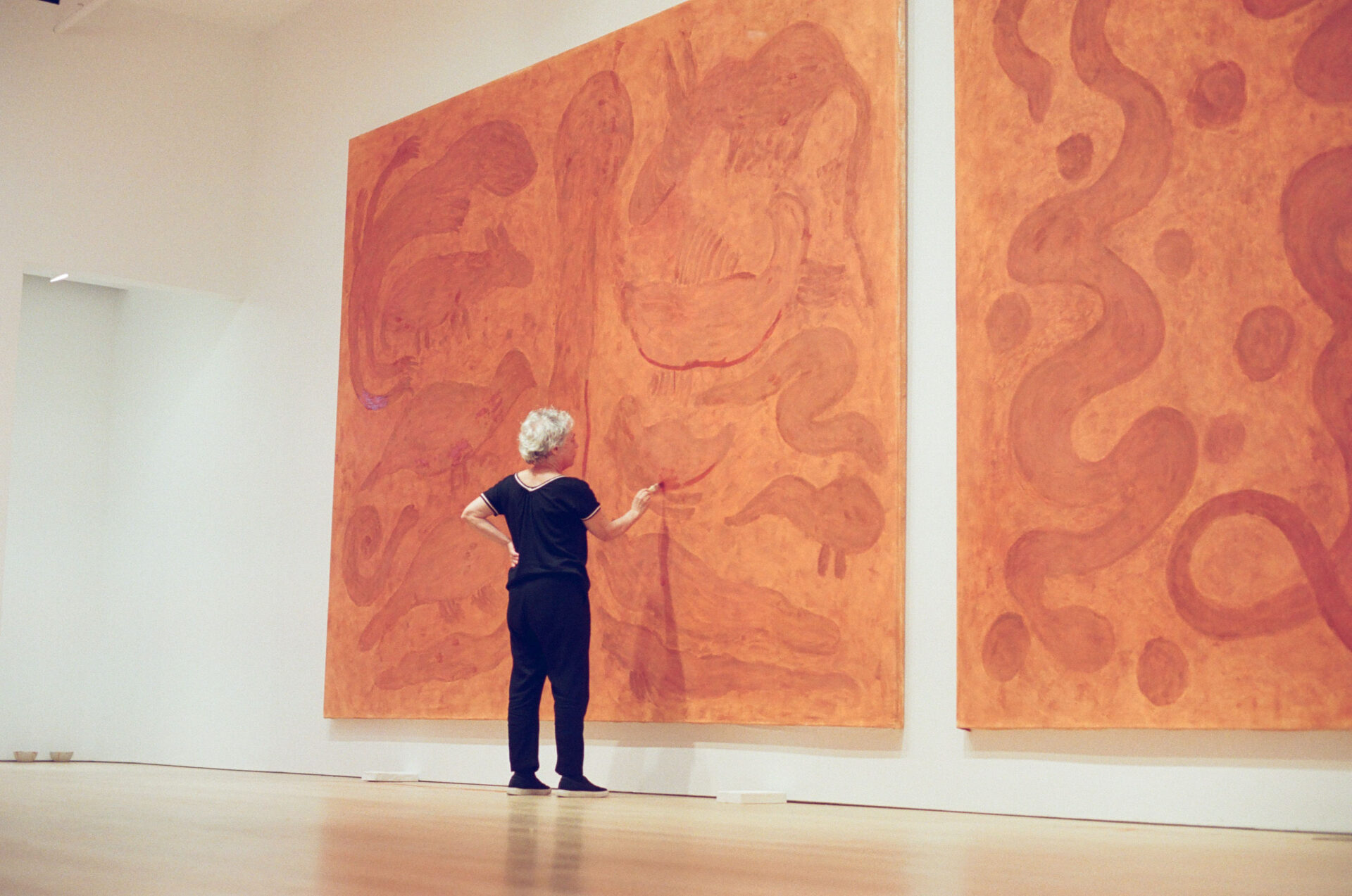 Mendes Wood DM, New York
May 12–June 17, 2023
[En anglais]
Using organic materials indigenous to her native Brazil, the artist Solange Pessoa takes inspiration from the splendid landscapes of Minas Gerais, with its rolling hills and winding rivers. Earthworks, her current exhibition at Mendes Wood DM in New York, delves into the intricate layers of personal and regional identity, questioning how our sense of self is shaped by our cultural heritage and the natural habitat that surrounds us. 
Large, monochromatic cinnamon-coloured paintings embrace a group of amorphous clay vessels, turning the main gallery into a terracotta garden. Various plant shapes, birds, and reptiles punctuate the surfaces of the paintings in an homage to the rich floral and faunal ecosystems that Minas Gerais supports. Despite alluding to all types of natural symbols, Pessoa's pictorial language remains grounded in the tradition of Brazilian abstraction. Amid the paintings, the sculptures, an ensemble titled Domingas (2023), function as vessels of collective memory and ancestral wisdom, and subtly hint at regional traditional craftsmanship. The juxtaposition of the smooth, organic forms against the textured surfaces of the paintings creates a striking contrast that embodies the complexities and contradictions of the human relationship with nature.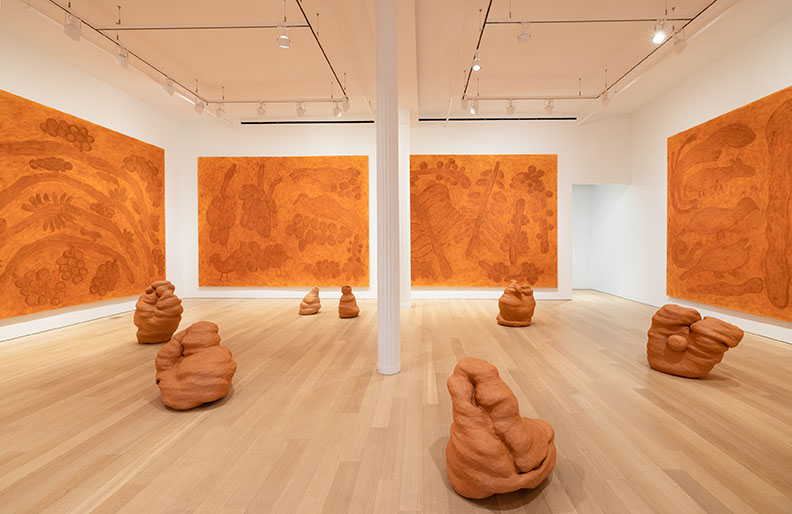 Minas Gerais is a mining region with a landscape in constant flux. Over the years, Pessoa has seen the mountains modulate to the rhythms of the mineral-extraction industry. Whereas the paintings' dynamic brushstrokes evoke this restless agitation, the sculptures remain perfectly still, inviting viewers to contemplate their spatial relationship with the pieces and with the world around them.
On the lower level of the gallery, Pessoa presents groupings of small frescoes. With these works, Pessoa introduces a wider colour palette for which she uses various natural clay pigments: earthy ochres, rich chestnuts, along with bright eggshells and verdant greens. This testifies to her profound engagement with her material of predilection, as earth is used here as both a surface and a painting medium. The turning point of the exhibition is the video piece titled Lonjuras (2012–19), composed of observational shots of nature captured during long walks in Minas Gerais over the course of the last few years. The images document textural patterns and rock formations encountered during Pessoa's strolls, pointing to geological time, a temporality beyond human comprehension. This notion is also softly declared by her handling of organic materials, and more specifically by her diversified use of clay. The material will outlive the sculptures; it has been temporarily moulded by the artist's hands into shapes of her choosing.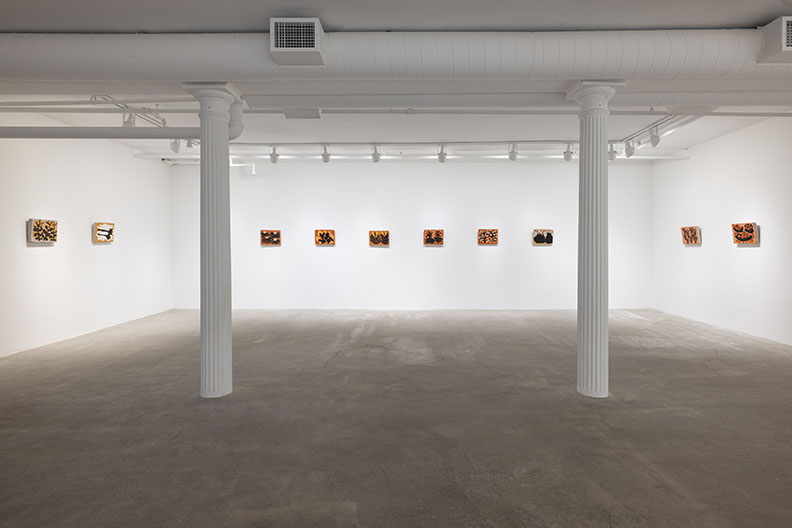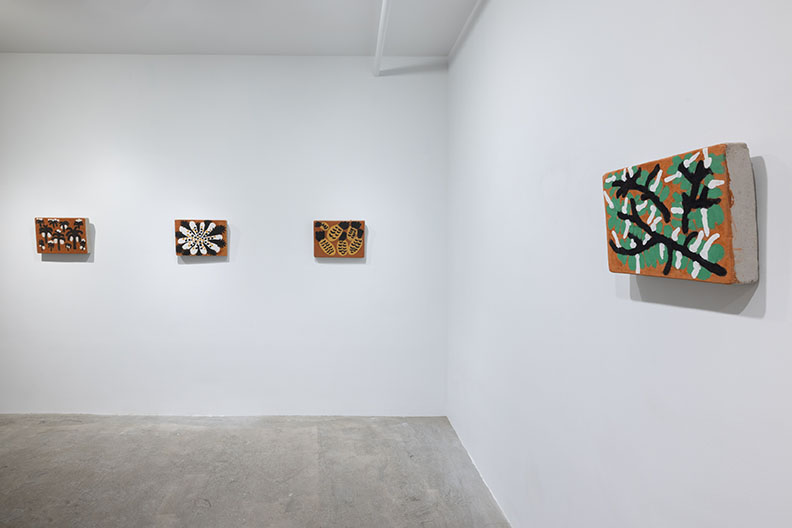 Pessoa's practice embodies a primal and quasi-libidinal connection with the ground. There is something metaphysical in her body of work that points to a form of unity with nature acquired only through a physical interaction with matter. In this way, her work, which is guided by her intuition and personal memories, remains universally spiritual. She devises a space for viewers to reflect on their own connections to their place of origin and contemplate the ways in which these have come to inform their own sense of identity. Ultimately, even though her works draw directly on her native region of Minas Gerais, they transcend cultural and geographical boundaries to address fundamental questions about identity, belonging, and the embodied and spiritual experience of a place.
A curator of exhibitions and projects in North America, Europe, and Asia, Anaïs Castro is a founding member of the curatorial collective The Department of Love and an editorial member of Daily Lazy. She publishes regularly with various art magazines