Fractus V
Sidi Larbi Cherkaoui / Eastman
Ted Shawn Theatre, Jacob's Pillow Dance Festival, Beckett, MA
July 11 – 15, 2018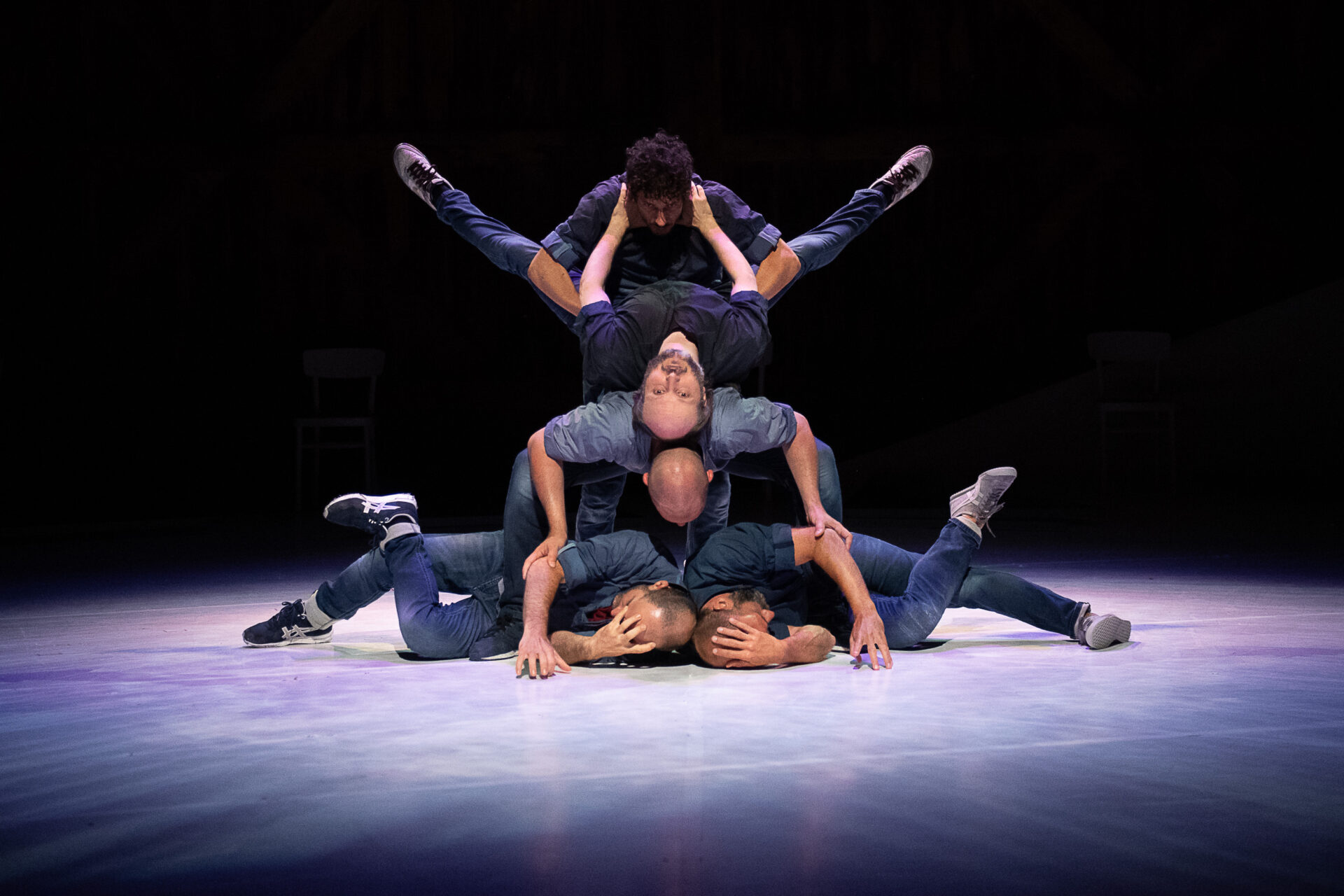 Ted Shawn Theatre, Jacob's Pillow Dance Festival, Beckett, MA
July 11 – 15, 2018
[En anglais]

The contemporary dance world is no stranger to controversies surrounding gender disparity in the workforce, issues of racial inequity, or the exploitation of ethnic "otherness" as a marker of cultural exchange and worldliness. Perhaps there is no better example of the contradictions espoused by the progressive values of dance than Ted Shawn, the "Father of American Dance" (1891–1972) whose nativist, racist, and xenophobic explorations with eugenics are well documented. In the 1930s, following a collaboration with is former wife Ruth St. Denis, Shawn formed an all-male dance company that showcased masculine movement and athleticism. He then founded the internationally recognized and critically acclaimed Jacob's Pillow Dance Festival (c.1933) in the Berkshires of Massachusetts.
Considering Shawn's troubling legacy, it is fitting that on its 86th anniversary the Jacob's Pillow Dance Festival presented Sidi Larbi Cherkaoui / Eastman's Fractus V, a performance that poignantly departs from Shawn's representations of cultural difference while also addressing issues of masculinity and violence. Bringing together a total of nine performers, five dancers and four musicians, from different cultural, ethnic, and stylistic backgrounds, Cherkaoui's work highlights fractures between national, linguistic, and artistic identities and investigates how they might coexist or come into friction on stage through movement, sound, and scenography. Inspired by the texts of the Jewish-American linguist and political philosopher Noam Chomsky, the work explores the relationships between the individual and the collective as it relates to political and social propaganda, as well as media and information consumption.
Sitting in the Ted Shawn theatre waiting for the performance to start, it was impossible not to consider the overwhelming whiteness of the audience, composed largely of middle-aged New Englanders who had come to experience the mythical festival on its opulent and fairy-tale-like estate. With great awareness, Fractus V forces its audience to confront the relative ease with which it selectively opts out of reflecting on disquieting realities, choosing instead to uncritically accept the information presented by various officially recognized news outlets. These considerations take shape through both movement-based and vocal/instrumental choreographies that allow each of the performers to showcase the particularities of their training and background, as well as more theatrical and didactic scenes. While not all equally effective or clear in their relation to the overall themes, each segment resonates with it its own potent corporeal energy.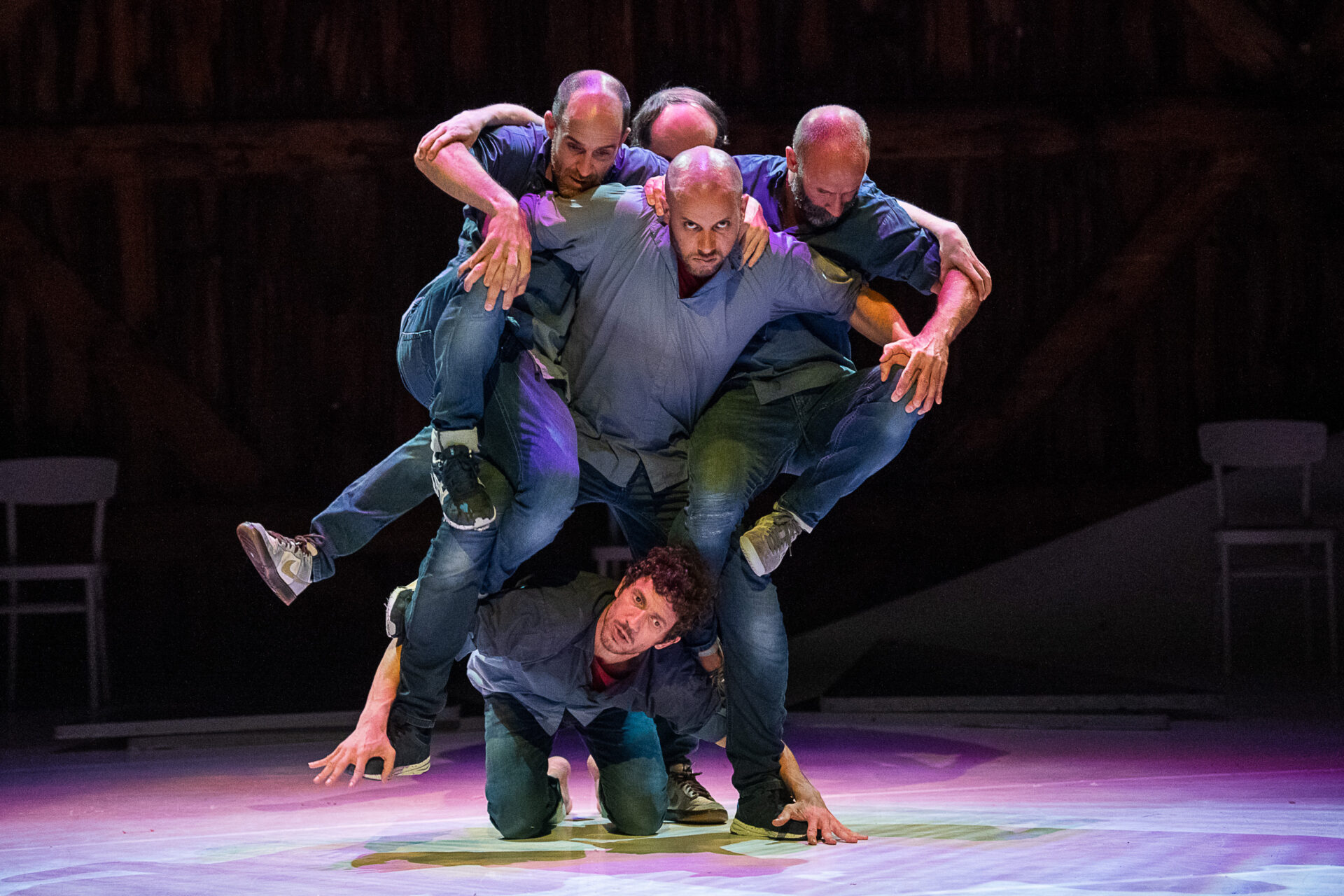 A powerful combination of collective and solo work, Fractus V showcases elements of hip hop, breakdance, flamenco, and contemporary dance, as well as the musical prowess of Japanese percussionist Shogo Yoshii, the Korean musician Woojae Park, the Indian Sarod musician Soumik Datta, and the Congolese singer Kaspy N'dia. Many of the most interesting moments in the performance occur when stylistic elements combine or overlap to create experimental permutations. When Cherkaoui, well known for his fluid rubbery movements, joined Fabian Thomé Duten in a rhythmic flamenco duet, the lead choreographer's often flowing and disjointed gestures seemed to take on a new structure and identity adapting to Duten's own style. Masculinity and "brotherhood," a central element of the show, also seemed to unravel when the male dancers interwove arms, legs, and heads to create a grotesque flailing being. Polymorphic and multifaceted, these physical overlaps between collective action and the individuality of each performer incited a reflection on the bonds that unite men—on the complexity of masculinity and patriarchy as systemically moulding and oppressive forces.
Two striking and uncomfortable sequences stand out, in which dancers depicted violent acts of masculinity through exaggerated, virtuosic, video-game like movements. In one instance, Cherkaoui, sitting to the side of the stage on a wooden chair with a television remote in one hand and a TIME magazine in the other, repeats a series of hand gestures signalling the mindlessness of media consumption. At centre-stage, a white performer, Shawn Fitzgerald Ahern, is repetitively shot by three other dancers holding mock guns for what felt like an interminable period of time. Punctuated by percussive gunshots echoing through the theatre, Ahern's body reacts to each round with uncanny flexibility and dynamism, viscerally communicating the devastation enacted upon him. In an American context where the continued threat and use of violence by police against Black and Brown bodies has become an endemic issue, the scene felt frighteningly real and simultaneously commonplace. When Ahern was finally exhausted and stripped of his clothing, photographed and filmed by his assailantsturnedreporters, and Cherkaoui was dramatically knocked off of his chair by a series of falling panels precariously poised since the beginning of the scene, someone in the audience began applauding enthusiastically.
Cheering at the repeated physical representation of an execution, its documentation, and the subsequent dissemination and misrepresentation of it in the media, the inadvertent slip of the audience member captured the complacency Cherkaoui sought to criticize. Almost on cue the predominantly "liberal" and affluent audience leered and celebrated the spectacle of violence, feeling polite outrage from the safe distance of their comfortable seats. Eighty-six years after Shawn started Jacob's Pillow Dance Festival with a display of white athletic masculinity, Cherkaoui and his collaborators reshaped the presentation of all-male virtuosity on stage—a reality that might have been lost in its own sea of white privilege.