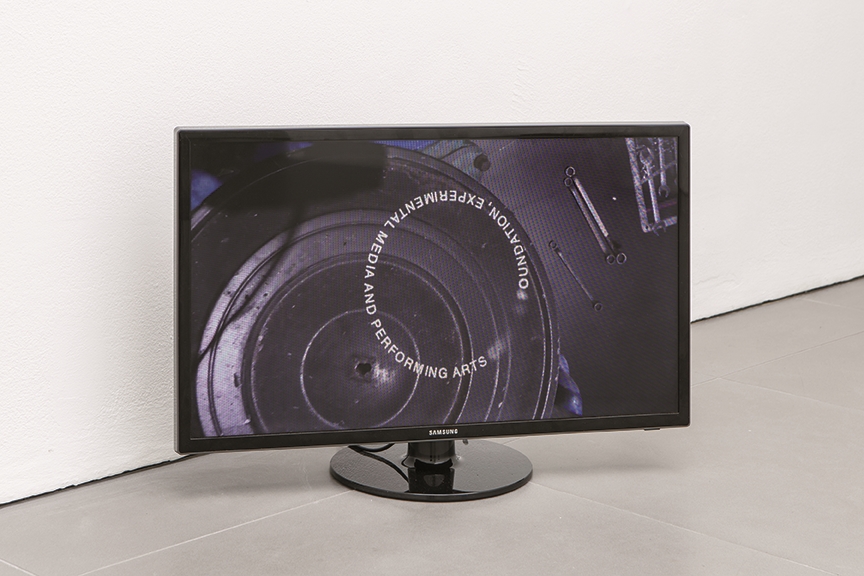 Cell Project Space, London, U.K. February 1–March 17, 2019
[En anglais]

It's familiar, the voice that you hear immediately as you walk into Joins, a two-person exhibition by Canadian artist Rosa Aiello and British artist Patricia L. Boyd. "Joins" is both a verb (to connect, attach, combine, bond, etc.) and a noun (the places or lines where two or more things are connected or fastened together). Joins can be seamless, but they can also jar, jostle, make us aware of their making. And to what ends? A join — to join — is to ask how things fit together, and how we notice this, or don't.

"Up the stairs," the familiar voice says, as I walk across the threshold and enter the exhibition: welcoming me to the space, inducting me, perhaps, activating my presence. The room knows I am here, and now I do too. But it is not a command. It is a recollection. This is an eight-second audio work by Aiello, a brief capture of Christine Blasey Ford's recent testimony before the U.S. Senate Judiciary Committee, where she spoke about her teenaged sexual assault by the recently appointed Supreme Court Judge, Brett Kavanaugh. Phrases that hint at details of Blasey Ford's experience run across the bottom of a series of eleven photographs by Aiello, which show a monochrome winter suburb as seen in motion from a nearby highway. The language in Untitled (Blasey Ford) (2019) is precise and recognizable, but also abstracted ("one person goes to the bathroom, one person follows them"), and could be reconfigured to represent any number of encounters: a hint at the insidious, often sinister contents of seemingly banal domestic spaces, shaped and produced by the standardized mechanisms of capital that erect them.