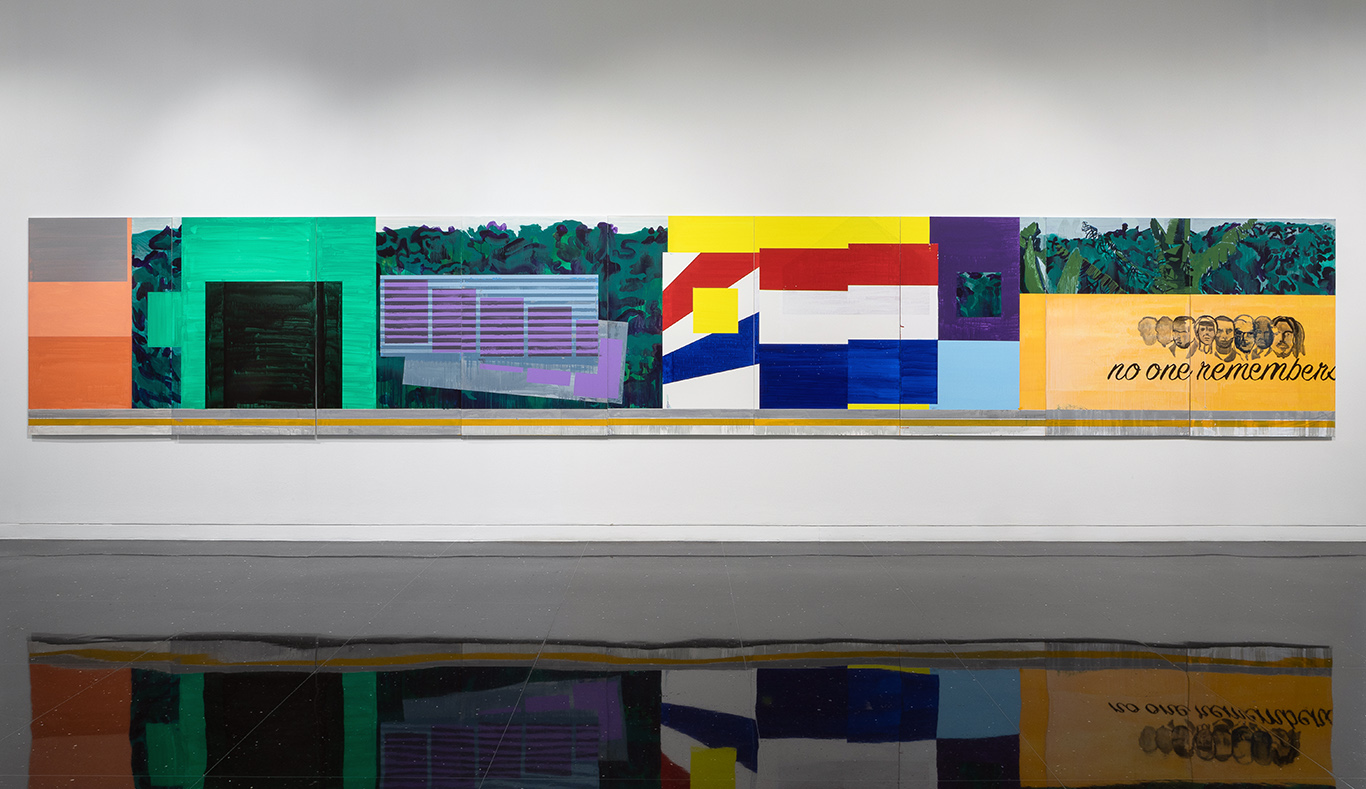 The Arts Club of Chicago April 9–August 7, 2021
The intense palette, bold brushwork, and intriguing flickering of flatness and three-dimensionality reveal the competence of a consummate artist, intimately aware of painting's ability to complicate our relationship with time and space like no other medium. Hurvin Anderson: Anywhere but Nowhere at The Arts Club of Chicago is a powerful and aesthetically original statement about diaspora, memory, and identity. The artist's visions of the Caribbean are in direct contrast to the colonialist photographic imagery produced by American and British banana companies and hoteliers during the second half of the nineteenth century. The colours are vibrant, the mood is bright, but for the most part humans remain idle. This is not the Caribbean tourist destination we have become used to.
Curiously aligned to Edward Hopper's ability to evoke an existentialist kind of hollowness, Anderson's paintings are hauntingly silent, yet vibrant. Overabundant exotic vegetation reclaims the concrete ruins of a colonial past that has defined these islands as much as the lives of those who left them. Loose brushstrokes, complete with drips, are at times unleashed upon the canvas with abstract expressionist impetuousness. Sometimes, delicate and intricate outlines delineate vegetal repetitions and motifs that convey an uncontainable sense of presence and liveliness. These are not images of ruins, passive lamentations of a bygone glorious time, or even statements of accusation against the colonialist powers that lurk underneath the painted surfaces.
Born in Birmingham, England, to parents of Jamaican descent, Anderson's first memories of the Caribbean islands were crafted by his family—stories of a faraway land of plenty, corroborated by sparse photographic imagery substantiating an irremediable sense of longing and misplacedness that defined the artist's childhood. He dreamed about Jamaica until his fourteenth birthday when he travelled there with his mother.
The landscape paintings on display at The Arts Club of Chicago are based on photographs taken during his trips. The grids, deliberately left visible in sections, are not simply a tool the artist uses to translate photography into painting, but a symbolic reminder that we can never truly see reality beyond the symbolic systems of the past. This aspect of his work gestures to the plant-filled installations of African American artist Rashid Johnson, whose work is also about identity and negotiating diasporic memories. In the hands of these artists, the grid, a modernist symbol of order and rationalization, speaks of colonialist powers that invisibly rule our relationships with the past while indelibly marking the present. This is the matrix of the uncanny emptiness of Anderson's paintings. They are simultaneously referents of real locations and also images of the mind—conceptual memories and sedimentations of the artist's longing—that represent the impossibility of ever inhabiting ex-colonial land with a sense of true ownership.
In Anderson's hands painting becomes an opportunity to process and negotiate. In a conversation with Jackie Wullschläger published in The Financial Times we find the following statement by the artist: "My struggle with Jamaica: I don't know it and I know it. I have this romantic vision of it and a lot of the painting is fighting that romance." Across every canvas in the exhibition, this flickering haunts the viewer. There's sheer beauty in the way Anderson unravels the workings of a traumatic distancing from his motherland through paint; a reminder that painting can simultaneously be a sharp tool of introspection and one that can help us unravel complex cultural/historical analysis.