The development of research-based art, rooted in the gathering of information, has transformed many artists into deviant historians who alter archival practices by putting knowledge on display as a minimally handled readymade. As such art practices often involve compensating for historical blind spots, the most interesting artists don't hesitate to "custom-make" their exhibits by inventing their own documentation when it is missing. Their operative and reformative approaches legitimize art as the key arena for perilous games of truth — games that, in turn, broaden art's frontiers.
Concurrently, debates on the place of performance in the exhibition have preoccupied curators for over a decade, causing them to question the limitations of the (photographic or video) document as a substitute for the live act in the art space. The two phenomena were quite distinct until some artists began using performance to reconstruct their research, creating new forms of embodied, or even literally "interpreted," scholarship. It is as though the unresolved issue of "documenting the performance" was being replaced by the inverse and more constructive issue of "performing the document." Eric Baudelaire, Dora García, Walid Raad: these three artists have little in common other than a practice involving a reconstruction of facts that borrows from poetry and fiction in the interest of cognitive efficiency. Also, all three artists recently turned towards various forms of performativity, imbuing their rigorous documentary practices with a sensual and theatrical air.
The historical and ontological issues of performance (the artist's body, the live act as material, the subject-object relation, identity, and others) no longer seem to function directly here, or they function as consequences, not intentions. The active, spectacular forms of performance are borrowed for practical, or even ballistic, purposes. The content being disseminated and its target audience are essential. The message is not the medium. Everything unfolds as though the fruitful demonstration of these investigations takes side streets, detours via complex areas of knowledge in which performativity is established as the natural mediator of an objective report. Paradoxically, very concrete political themes — contemporary art as a geopolitical instrument in the Middle East (Raad), Abkhazia as a model of a national identity in the making (Baudelaire), and anti-psychiatry as the crucible of ideological resistance (García) — give rise to these fictional stagings. Moreover, these works propose ways to occupy and activate a space, playing on temporality, mobility, and the unexpected in the exhibition, even though the style is more theatrical rather than strictly performative. We know how simulation, play, and repetition were foils for some pioneers of performance art, which was forged in opposition at least as much to static visual work as to theatrical representation.1 1 - Chris Burden stated in 1973, "It seems that bad art is theatre. Getting shot is for real… there is no element of pretence or make-believe in it." Quoted by Meiling Cheng in In Other Los Angeleses, Multicentric Performance Art (Berkeley, Los Angeles, and London: University of California Press, 2002). This perspective is taken up again in What Is Performance Art, on the Marina Abramović Institute website: "What differentiates performance art from the performing arts such as theater is that performance art is not a space of make believe. In the theater, a knife is fake and the blood it draws is fake. In performance art, the knife is real and the blood is real." Using spoken word, the frontality of apparatuses, the artificiality of stage sets, and the invention of characters, the artists presented here do not appear to have the same apprehensions; rather, they fetishize theatre's codes.
Perilous Fictions (Walid Raad, Scratching on Things I Could Disavow, since 2007)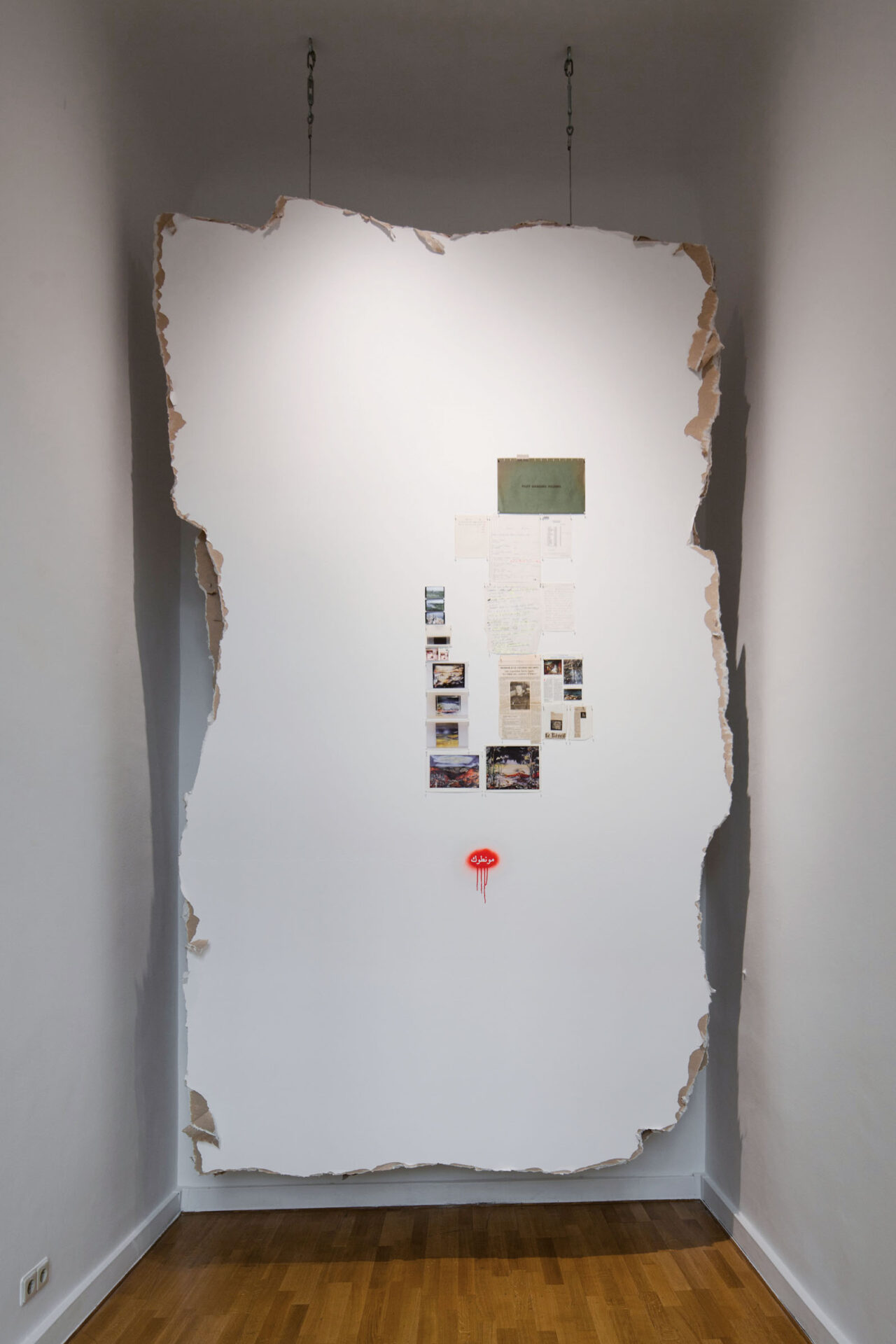 Several years ago, the Lebanese artist Walid Raad abandoned (perhaps temporarily) his vast project, The Atlas Group, a fictional archive of documents on the wars in Lebanon,2 2 - Vincent Lavoie, "The Indefinite Archive: Walid Raad and Imaginative Dimensions of the Lebanese Conflict," in The Undecidable: Gaps and Displacements of Contemporary Art (Montreal: Les éditions esse, 2008), 267 – 78. in order to focus on seemingly lighter subjects, ones that touch more on the economy of contemporary art. At first glance, this seems regrettable, since this initial body of work masterfully transformed the impossibility of historical representation into a real poetics of absence. In fact, however, the evolution of Raad's work appears exemplary. Although the artist could have capitalized on his fragmented and evanescent reconstructions of the past, he revitalized his purpose in an investigation called Scratching on Things I Could Disavow. In various forms, this project reveals the political and financial presuppositions of the recent emergence of infrastructures for the visual arts in the Arab world. The work thus develops a subtle institutional critique that, in turn, has journalistic, lyrical, and literary overtones. By examining particular cases — the Artist Pension Trust, an edifying Ponzi scheme involving dubious investments under the guise of a pension fund for artists; the astonishing account of the shrinking of The Atlas Group's artworks for an exhibition in Lebanon — Raad shows how any exhibition is a manifestation of power with hidden agendas, for which the artwork is only the justification or the collateral damage. Consequently, the survival and integrity of art can be assured only, paradoxically, through withdrawal, erasure, flattening, and other strategies of disappearance. Based on his theoretical and poetical suppositions, Raad conveys his research findings through objects, but also through live speech. The works thus have two statuses: sculptures and/or educational materials for guided tours with the artist or an interpreter.3 3 - These might also refer to Guy de Cointet's painterly-theatrical performances. The objects in the exhibition are subtly akin to educational materials: the vertiginous ramifications of the Artist Pension Trust are represented by a kind of tableau for teaching young learners, associating the playful with the cognitive and the kinetic, and a detailed scale model shows a retrospective of The Atlas Group in miniature. This is a kind of regressive reappearance of things via simplified or corrupt modelling. Raad had already used the oral presentation-performance format, playing on shifts of register between fiction and documentary. The Atlas Group documents alone had the double identity of material objects and aids for narration. The work's power rested precisely in these games of metamorphosing the object through the account: the objects' apparent abstraction suddenly became extremely concrete, even figurative, when clarified by their narrative underpinnings. Yet this time, the account is relegated no longer to the written label, but to the spoken text. Consequently, the work appears more than ever to be a theatre of resilient remarks and objects, assembling the stories of ghosts, disappearances, shadows, and reflections as fabulous transfigurations of politics.
Diplomacy as a Stage for Representation (Eric Baudelaire, The Secession Sessions, 2014)4 4 - Eric Baudelaire, The Secession Sessions, Bétonsalon (Paris, France) and Bergen Kunsthall (Norway), 2014.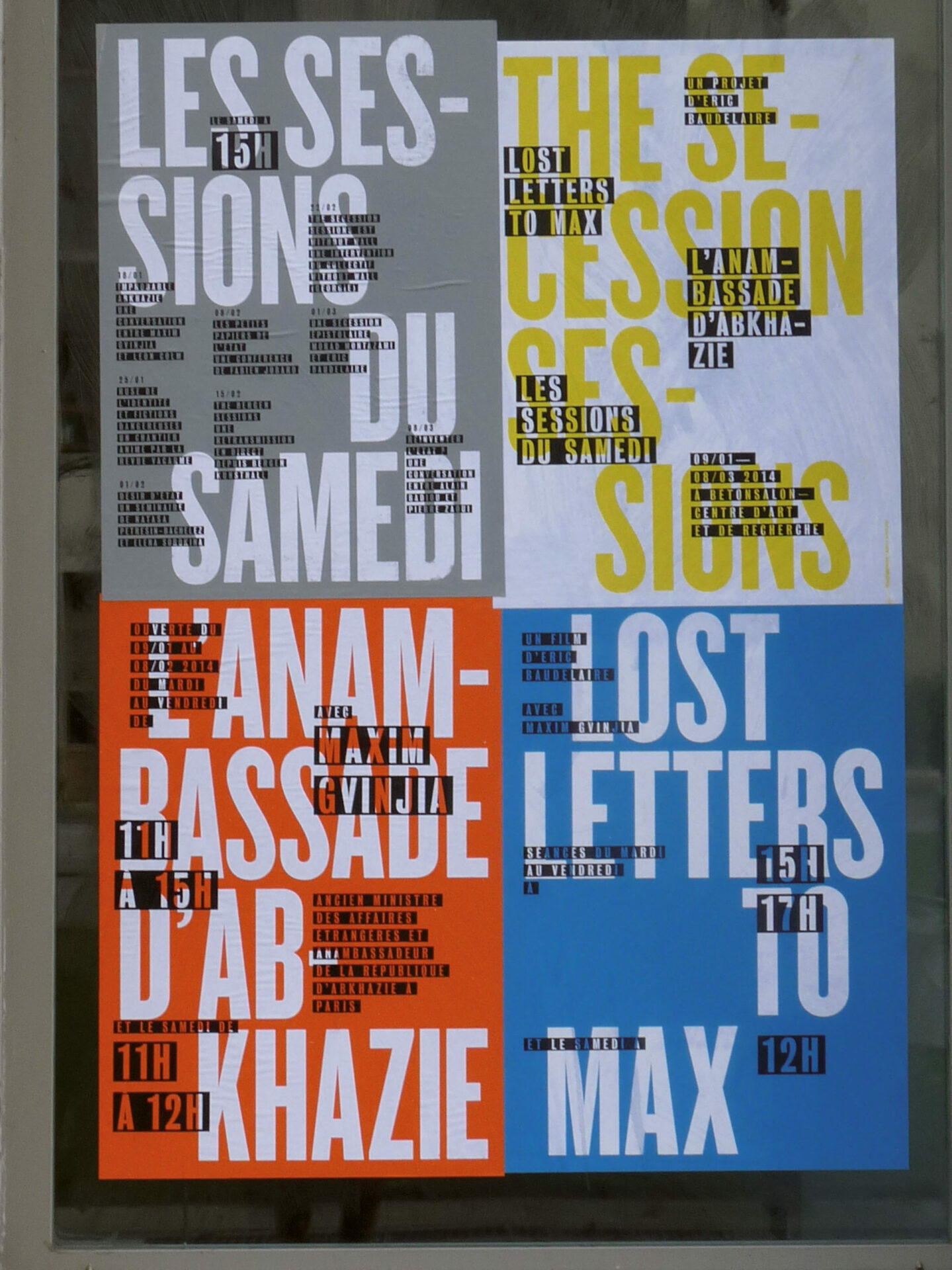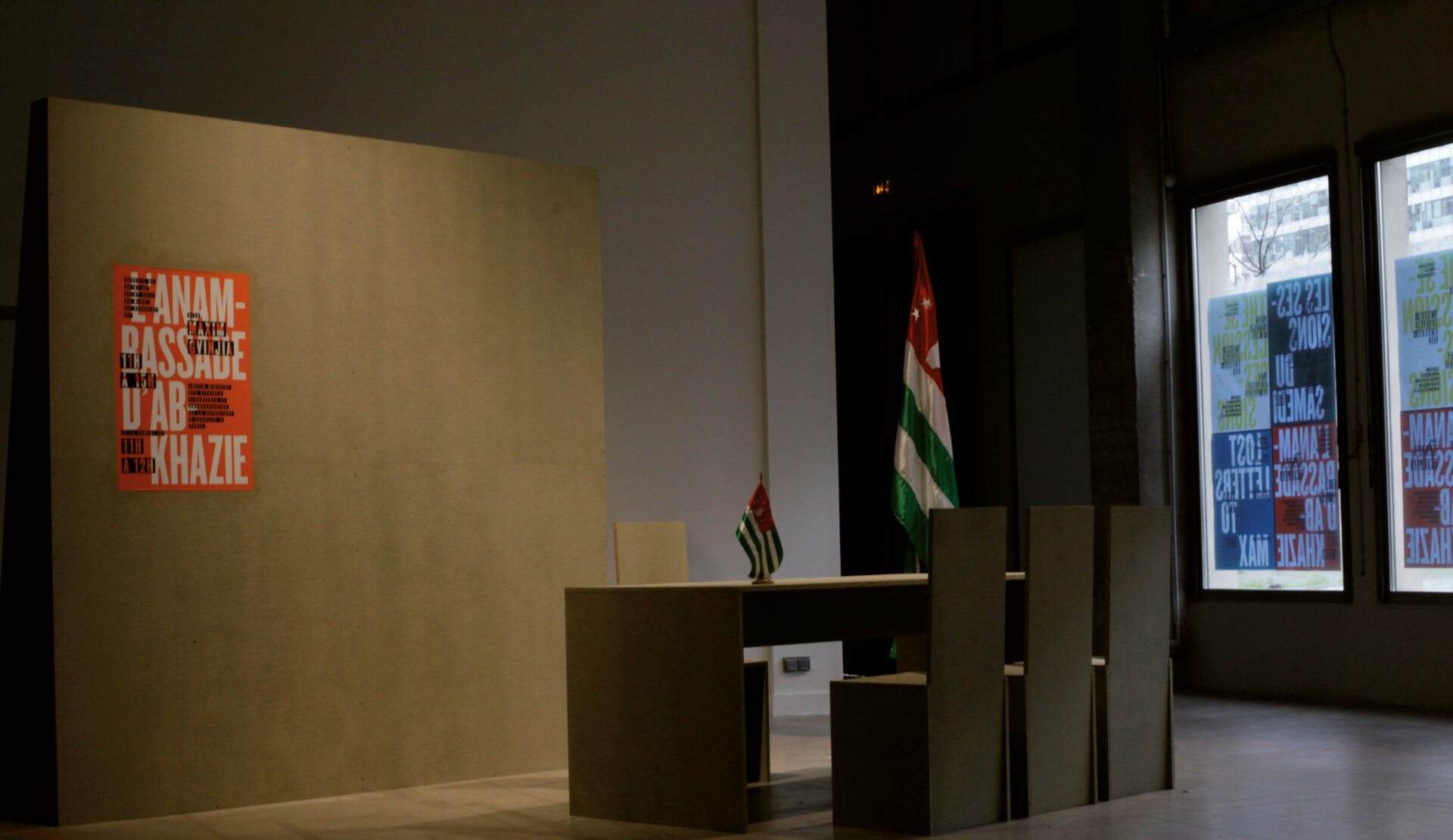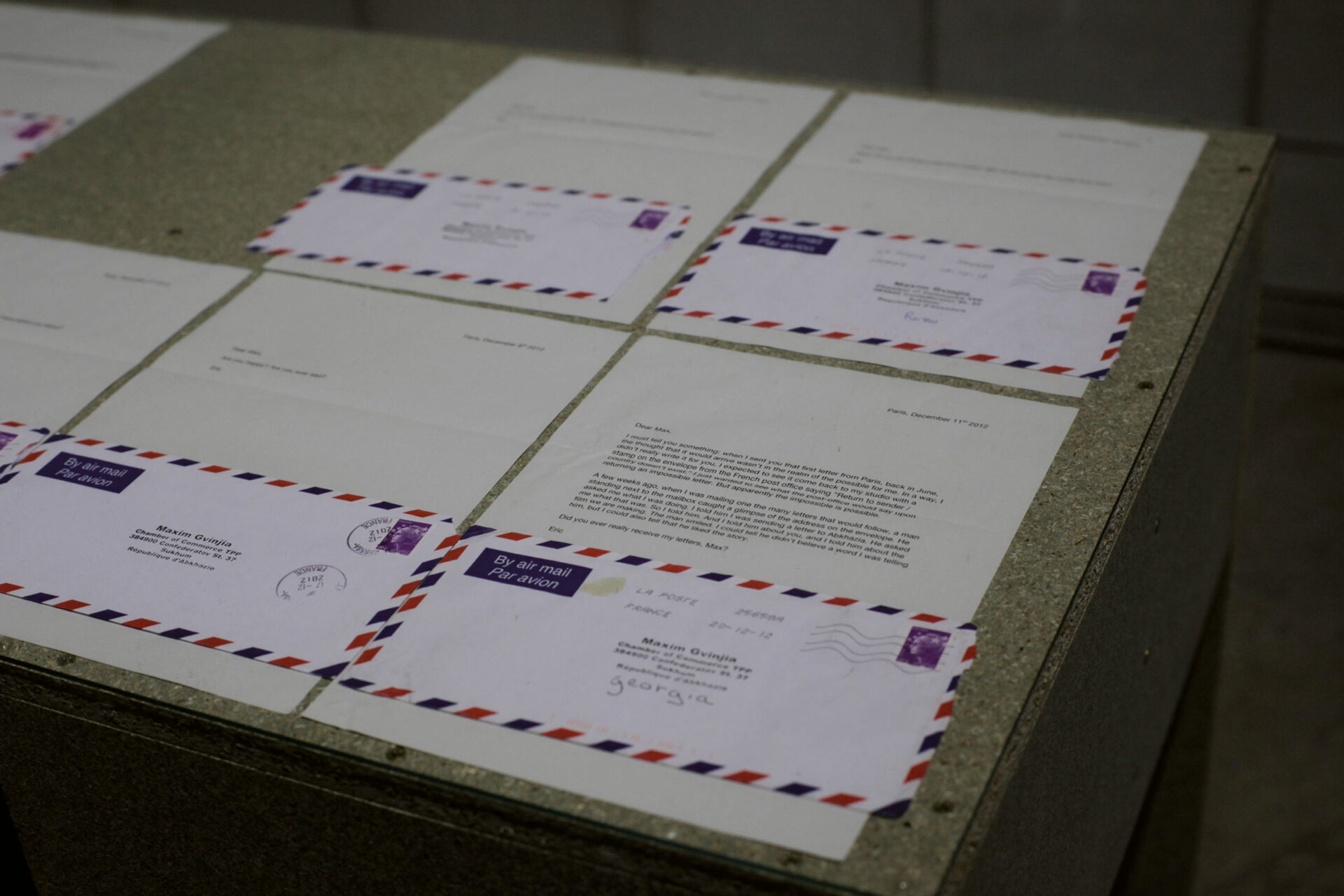 Eric Baudelaire came to art — first photography, then film and installation — from a background in political science, and his borrowing from theatre is more contextual. For The Dreadful Details,5 5 - Eric Baudelaire, The Dreadful Details, diptych c-print, 2006. he used actors to painstakingly reconstruct a war scene, and in the film The Makes, a film critic plays himself to convincingly describe a supposed Japanese period of Italian director Michelangelo Antonioni. This is the practice of a forger who reveals the gaps between an event and its representation. The subject of Baudelaire's most recent project, The Secession Sessions, is Abkhazia, a microstate that seceded from Georgia during a civil war in 1992 – 93. Despite being at the centre of a power struggle between the West and Russia, the country is de facto independent, but is recognized as such by almost no member nation of the UN. Therefore, it is a kind of fictional state, a diplomatic utopia, though geographically and politically very real. Baudelaire frequently applies a documentary approach to an object with a slippery identity. The "romantic" fascination exerted by alternative political systems, autonomous communities, and other micronations that defy the entente of official nations is well known. In Abkhazia's case, the situation is more cruel and less glamorous: a de facto republic, whose only political project is its recognition by other countries and whose construction is akin to sometimes pathetic role playing. Its political order is like a theatre stage without an audience. Consequently, Abkhazia becomes the critical metaphor in an inquiry that surpasses its particular case: what defines a state? Is it a real space, possibly self-defined, or a space projected onto a national and international public, whose message is composed of a set of codes, signs, and customs — currency, flag, anthem, stamps, and so on — to be interpreted? With this in mind, the apparatus imagined by Baudelaire consists in creating a fake embassy (the "Anembassy") of this unofficial country. At this embassy, a friend of the artist's, Abkhazia's actual former foreign minister and the protagonist of a film being projected in the space, greets visitors and holds informal discussions. Here, a strange and serious comedy unfolds, in which the former diplomat plays himself, while also being the subject of a work by Baudelaire, without fundamentally doing anything but what he used to do as a minister: persuade, greet, and interpret official discourse. There is nothing at issue here but "representation," whether it be diplomatic, artistic, or theatrical. The essential meaning of this word is understood so thoroughly that it renders something absent present. It is precisely here that the example of Abkhazia critically brings to light the general game of diplomacy: figuration dramatized in an elusive fiction that could be called the national novel. Moreover, the exhibition is the stage for public talks, during which scholars, artists, and activists publicly debate the political, ethical, and philosophical issues at stake in Abkhazia, while selected people are invited to one-on-one meetings with the "Anambassador." Admittedly, the apparatus here appears to be more performative, even relational, than theatrical. Nothing is scripted in advance, and most of what occurs is the result of the construction of situations. This involves producing rather than reconstructing knowledge. The set design of the exhibition6 6 - Created by the Est-ce ainsi Architecture Firm. is similar to a television studio with freestanding walls and stage markings detailing the day's various sequences according to a precise schedule. A real-fake country, a real-fake public, a real-fake ambassador — the exhibition's spectacular nature functions like a mise en abîme of its subject: a complicated mix of harsh reality and fantasy. The procedure proposes a fictional scene in the service of reality, or else its exact opposite: a concrete situation about a fictional subject. As this story of perspectives matters little, the content of the exchanges triggered by this reconstruction is all the more essential.
From the Subversive Mainstream (Dora García, Mad Marginal, 2009 – 14)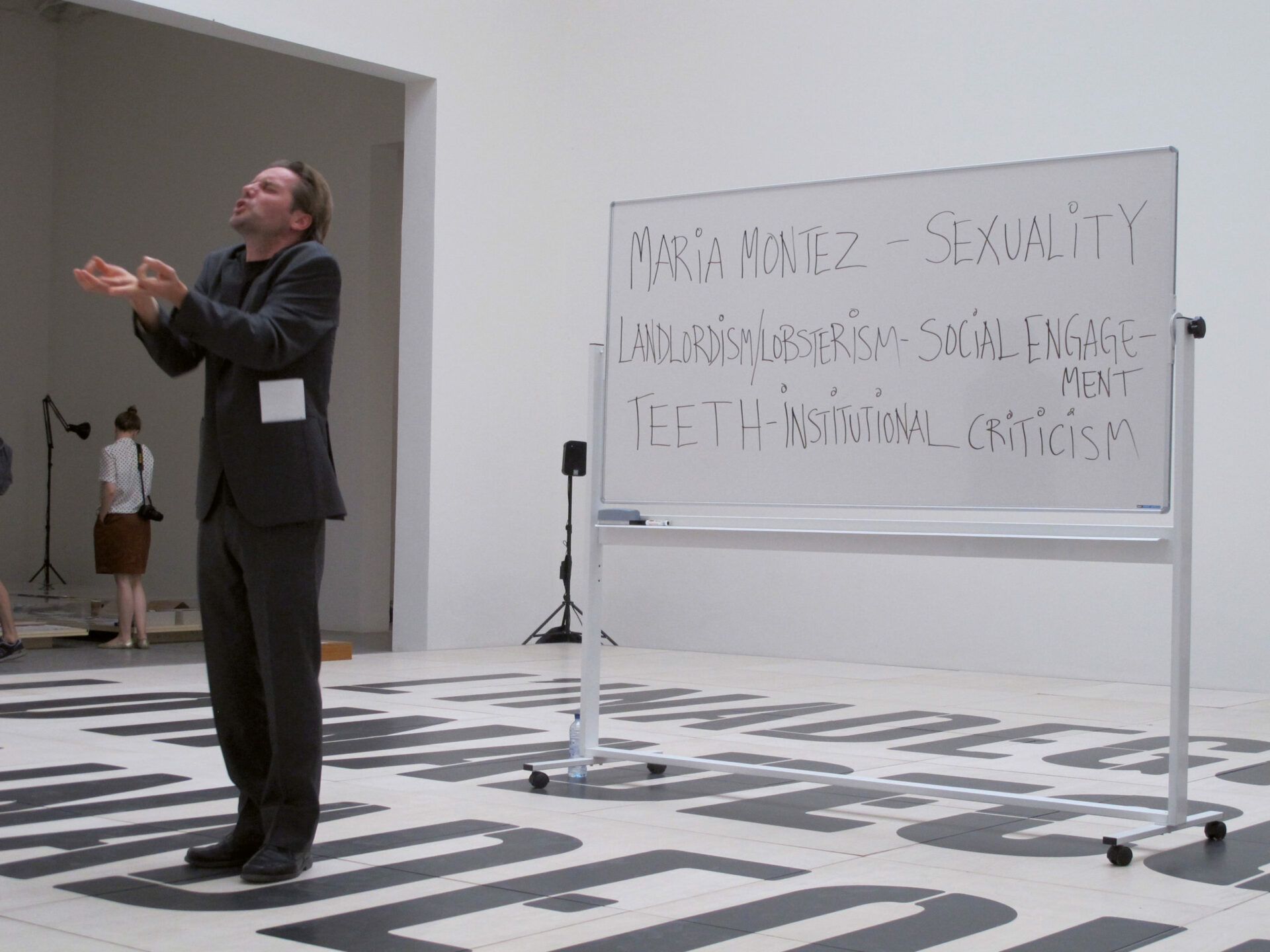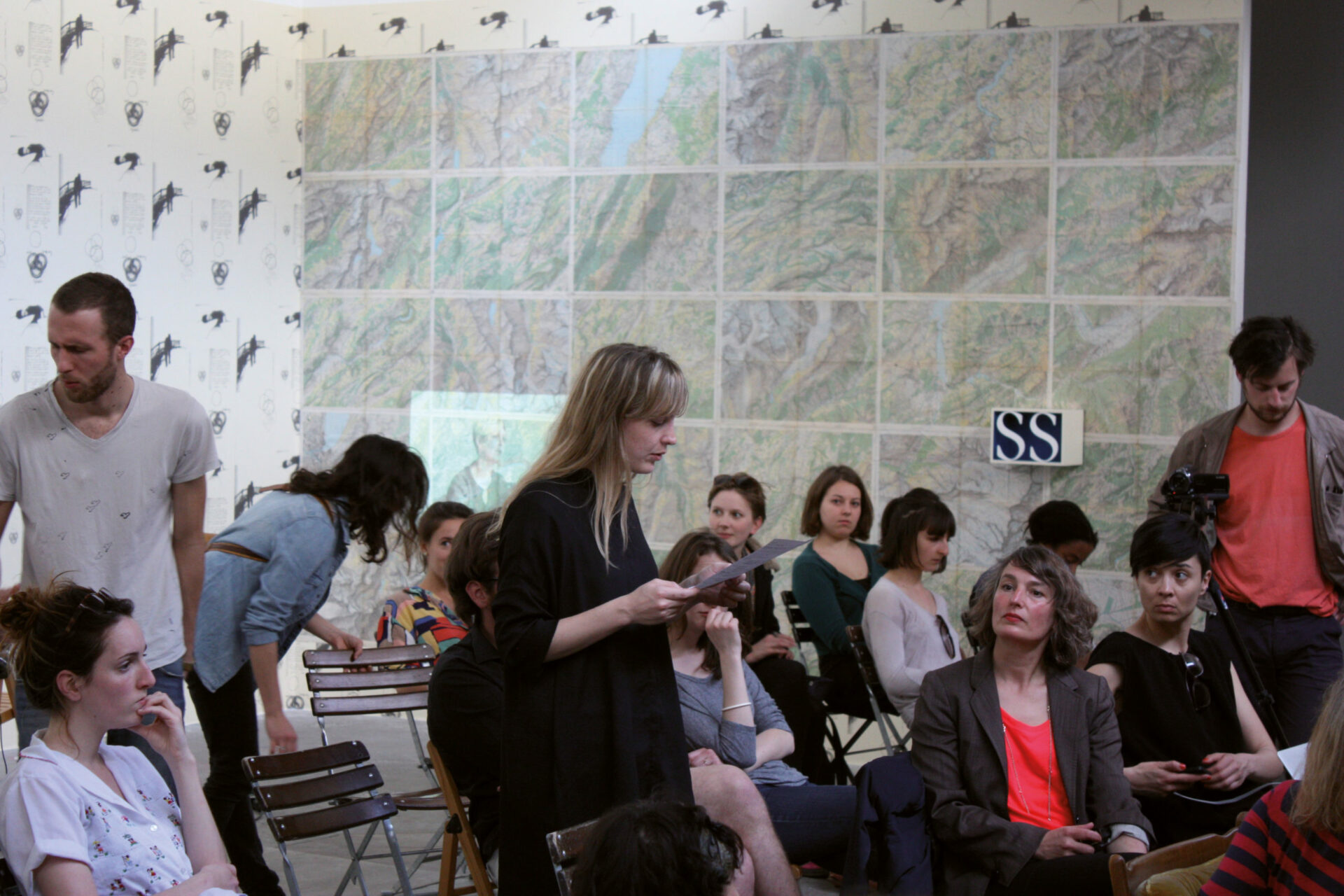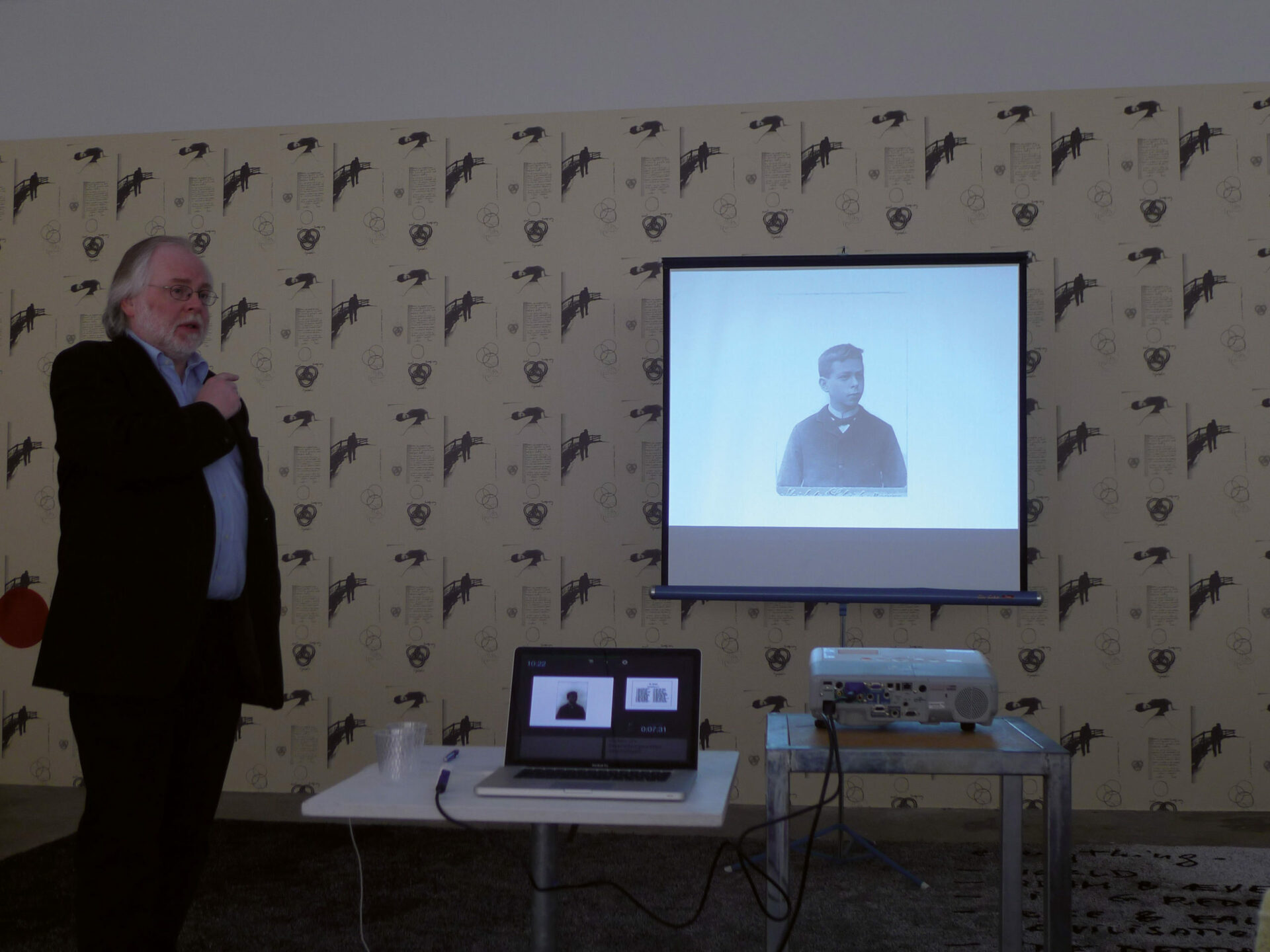 Dora García's project Mad Marginal is an extensive, multiform investigation based on various aspects of the 1960s anti-psychiatry movement.7 7 - Anti-psychiatry is a relatively disparate school of thought that developed in several European countries at the same time. The movement was opposed to classical psy­chiatry, objecting in particular to psychiatric institutionalization and medicalization and questioning the established boundaries between "crazy" and "normal." Its key proponents were Franco Basaglia in Italy, David Cooper in Great Britain, and Gilles Deleuze and Félix Guattari in France. Anti-psychiatry thinking also influenced radical political groups, particularly the Baader-Meinhof Group in Germany. Her modes of reconstruction are heterogeneous: publications, workshops, seminars, performances, films, installations, and photographs, but also theatre performances with professional actors. Beyond the subject, which is compellingly and expertly explored by the artist, the transformative, slippery, creative treatment of the information is remarkable. Based on this radical ideological movement, which affected the medical, political and artistic fields, García builds her extensive research via relation, analogy, and intuition, sketching her standpoints as she goes along. She uses the opportunity to freely convene figures whom she admires — Jack Smith, Lenny Bruce, Robert Walser, Antonin Artaud, and James Joyce — a personal pantheon of remarkable outsiders evoked through quotations, talks, debates, and physical reincarnations. In her amorphous research, which follows the serpentine paths of serendipity,8 8 - The term serendipity, as it is used in the sciences, is the unexpected and fortuitous discovery of something by chance, while on a quest whose initial aim is different from the discovery. she paradoxically ends up drawing a coherent and clear-cut outline of this referential nebula. García shapes the knowledge that she acquires, giving it its own volume, one that isn't wedded to the exact shape of its constituent elements, an autonomous body at once material and ideological, enthralling and elusive. Reflecting this deviant research practice, the project considers inadequacy a fundamental metaphor for art: that which eludes all moral, legal, and aesthetic order, as well as comprehension. This is subtly suggested in the artist's most recent film, which depicts a book club dedicated to James Joyce's Finnegans Wake.9 9 - Dora García, The Joycean Society, 2013. Another chapter of the project, KLAU MICH: Radicalism in Society Meets Experiment on TV, presented at the last Documenta in Kassel, is perhaps the most exclusively performative. Taking the form of a weekly television talk show that is broadcast live, and summoning the spirit of the American television programs starring Dean Martin and comedian Andy Kaufman, the show appropriates techniques typical of audiovisual entertainment. A charismatic and ingratiating host, surprise guests, the encouraged participation of real and fake audience members, applause, laughter, dancing, jingles, sketches, and songs: these are unexpected forms in contemporary art, all the more because they are used not as parody but as homage. A palpable tension stems from the fact that this apparatus tackles very serious and complex topics, such as Nazi euthanasia programs, terrorism, the countercultures of the 1960s, radical forms of education, and mental illness, thus finding a subversive position in the manipulation of mass media within contemporary art. It was with this in mind that García previously used theatrical performance to document or critique: by reviving important dead figures (William Holden, Gertrude Stein, Lenny Bruce), creating debate, or assessing the stakes of her own projects. In so doing, she alludes at once to Bertolt Brecht and Antonin Artaud, to stand-up comedy and psychoanalysis. She also touches on Allan Kaprow's seminal concept of the happening, in the sense of a radically deviant art practice, whatever the form. In other words, she does not affirm the superiority of the visual arts over the spectacle, but searches for a role, "other" than creation, that subverts both the theatre and the visual arts. Through the mise en abîme of her subject, García practises the subtle art of subversion, a way of behaving badly from within the field of contemporary art, disregarding the dialectical separation between critique and celebration, knowledge and entertainment, high and low, all in the service of an ambitious and rigorous incubator for contemplation.
When the Formless Informs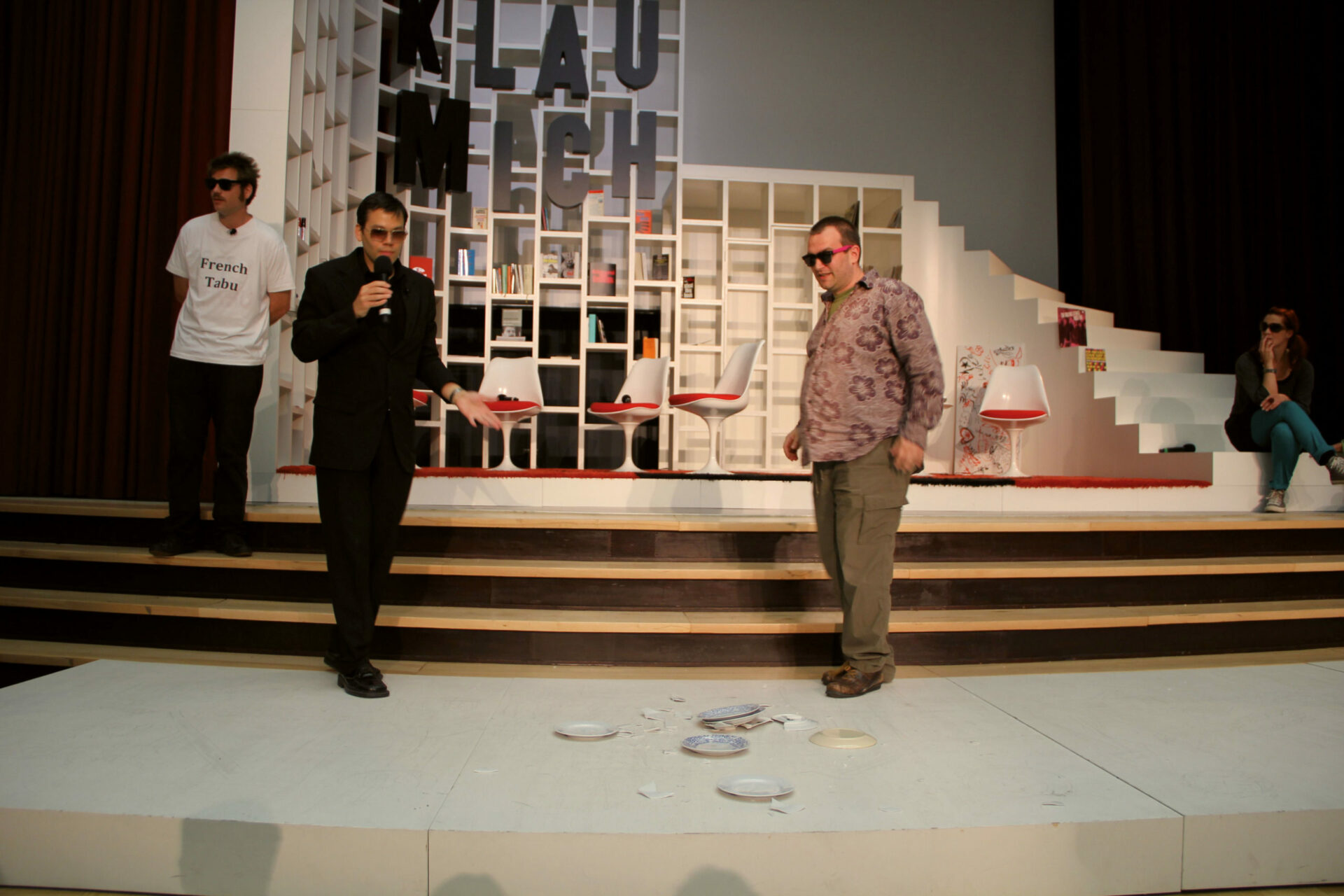 These strategies of borrowing theatrical forms with a documentary intent constitute a new step in the post-conceptual trajectory, which is increasingly breaking free from its origins. Such strategies are a reflection of active modes of reconstructing facts, modes that are both real and metaphorical, and not a reflection of art's function as cosa mentale or producer of thought. Chances are that these artists pay no heed to the coordinates of their objects in a cartography of forms; they flirt with research, performance, oral presentation, film, and journalism, without ever settling on just one. In so doing, they unintentionally distort the forms of performance by means of dramatized, absurd, and excessive situations, investing in the performing arts and in entertainment for their ability to be "formless," despite the codes that govern them. This is a formless that informs. Adapted to complex subjects and engaged in the present, this borrowing constitutes an epistemological, and thus moral, risk-taking. This was the basis of activist theatre, from agitprop to Augusto Boal's Theatre of the Oppressed via Brecht. The three artists presented here work on the blazing frontiers between reality and fiction, politics and aesthetics. Consequently, they redefine, in their own ways, the status of a documentary practice that cannot be based exclusively on the document. Fiction, re-enactment, and theatrical representation expose certain blind spots, otherwise inaccessible, in the history of ideas. From this stems the need to summon substitutes, doubles, and phantoms. Here, a kind of cognitive sorcery is at work, via games, dreams, and magic. It is an invocatory practice with an educational intent, and a possible return to a sensual experience of knowledge at the risk of falsification.
[Translated from the French by Oana Avasilichioaei]
This article also appears in the issue 81 - Being Thirty
Discover