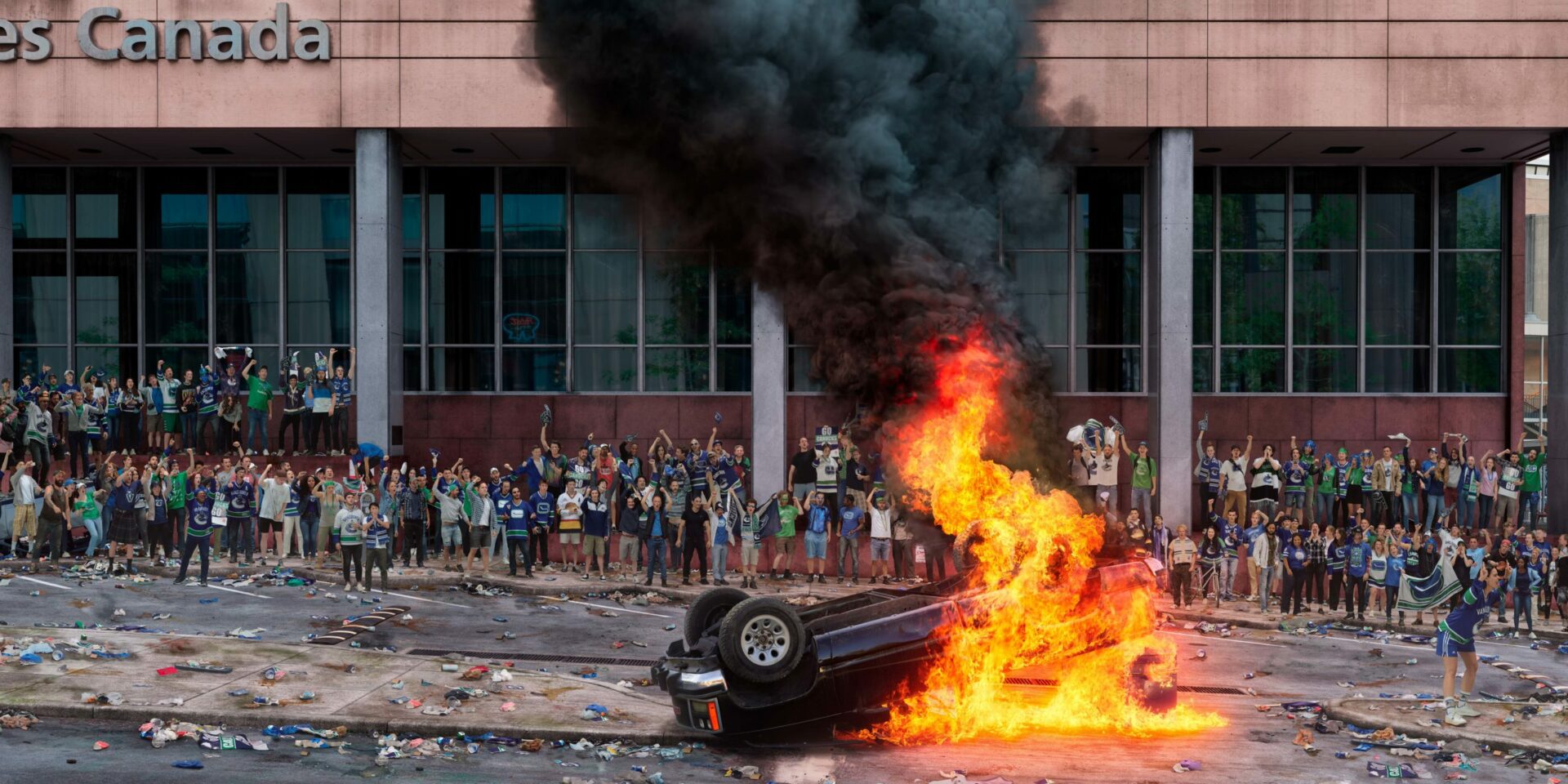 There is perhaps no other artist for whom a year-long delay in presenting their work at the Venice Biennale feels as though it was engineered by design, rather than by chance. Throughout his thirty-five-year practice as a filmmaker, photographer, and multimedia artist, Stan Douglas has consistently surfaced the belated meaning of historical events, finding engaging, narratively complex ways to show us how the past continues to reverberate in the present. Building image archives for events that should have registered on camera but didn't—from failed modernist utopias and civic uprisings to the everyday labours of jazz musicians and union organizers—Douglas has made a career of reimagining past moments that, in hindsight, were historical linchpins: times when things could have gone one way, but instead went another.
Now, a year later than planned, following the disruptions of the global COVID-19 pandemic, Douglas is unveiling a new suite of works, commissioned by the National Gallery of Canada, as his contribution to the Canadian Pavilion at the 59th Venice Biennale, using photography, film, and sound to invent an archive of civic refusal. For 2011 ≠ 1848 (2021–22), on view at the national pavilion in the Giardini, Douglas has created photographic documentation for contemporary moments of riot and resistance that transpose them to the register of major historic events. Across four panoramic staged photographs depicting protests that emerged around the world in 2011—from the highly politicized Arab Spring movement and riots in London responding to austerity measures and police violence in the UK, to the less spectacular events of Occupy Wall Street in New York City and a hockey riot in Vancouver, his hometown—Douglas probes the unrealized potential of these grassroots actions, in which activists' demands for transformation were largely unsuccessful. Not only were the events of 2011 communicated to, and copied by, geographically distant groups thanks to the internet but, as the title of the series suggests, 2011 also mirrored the many smaller, bourgeois revolutions that took place across Europe in 1848, with their varying demands—for voting rights, freedom of the press, and an end to wealth disparity—that went largely unmet. Although it is tempting to see the 2011 protests as the return of the unfinished past, implicit in Douglas's juxtaposition of these two histories is a question of which stories of resistance, and which actors, get taken up as global history, and which ones register only in the quiet tones of local collective dissatisfaction.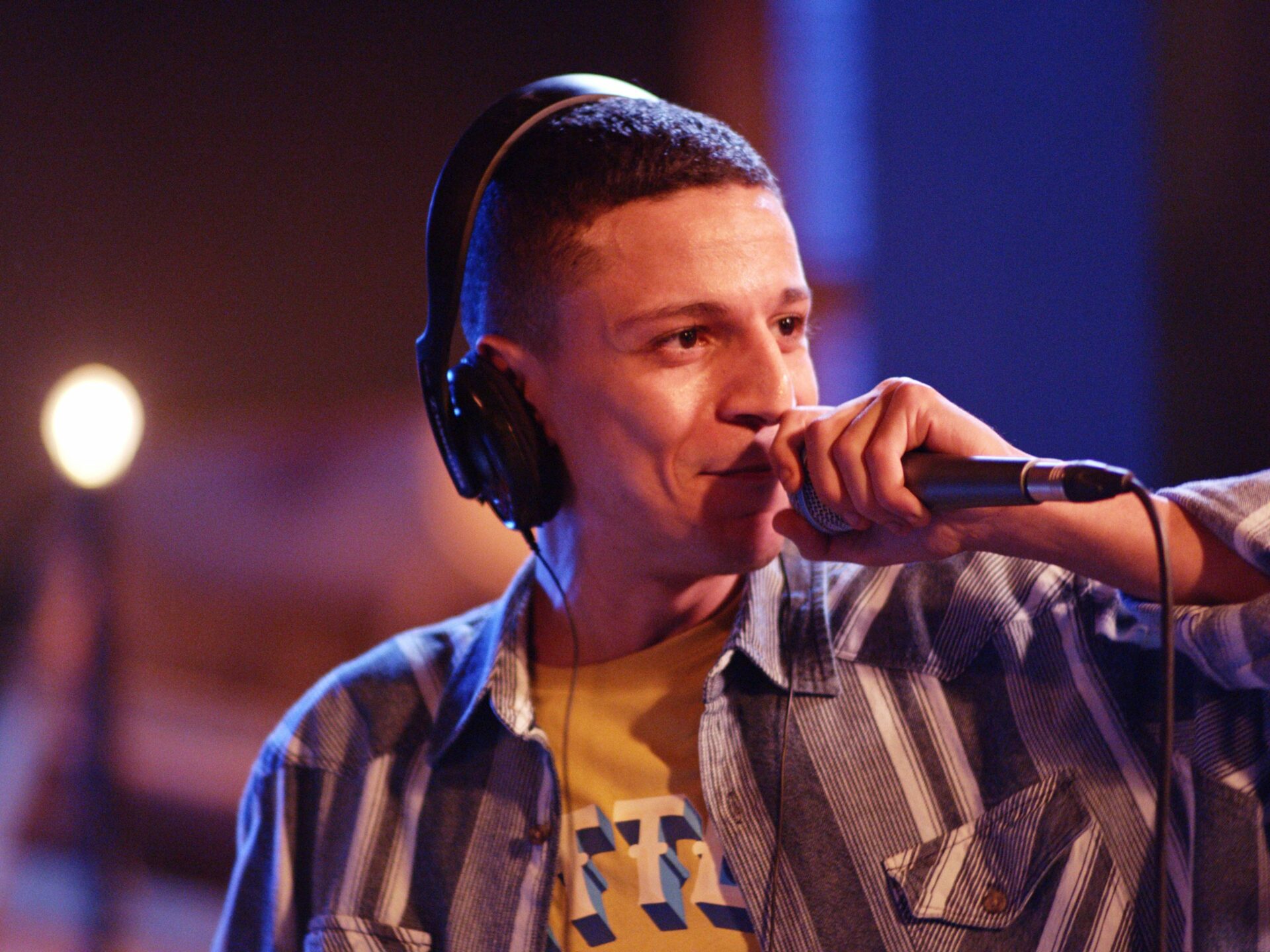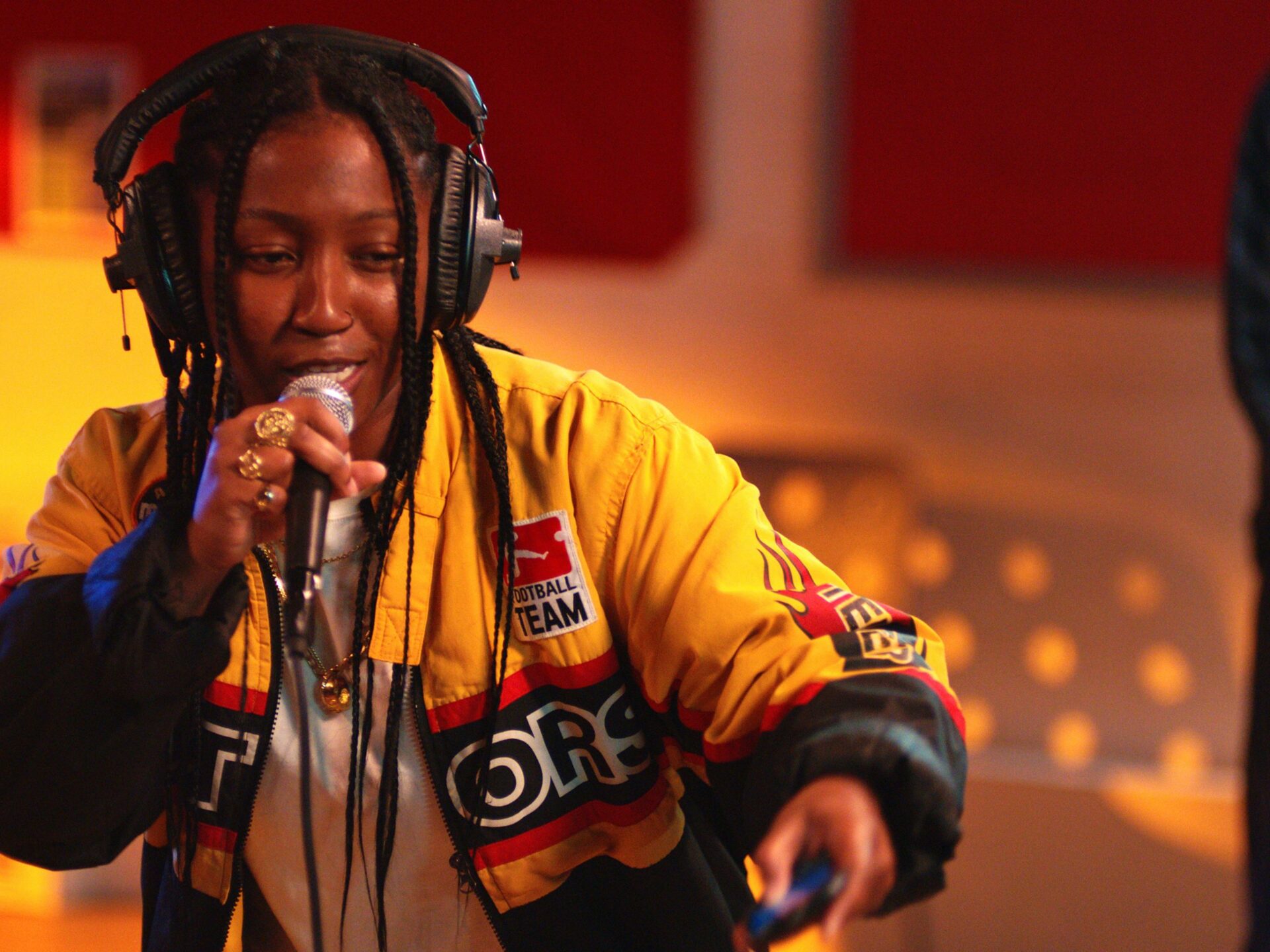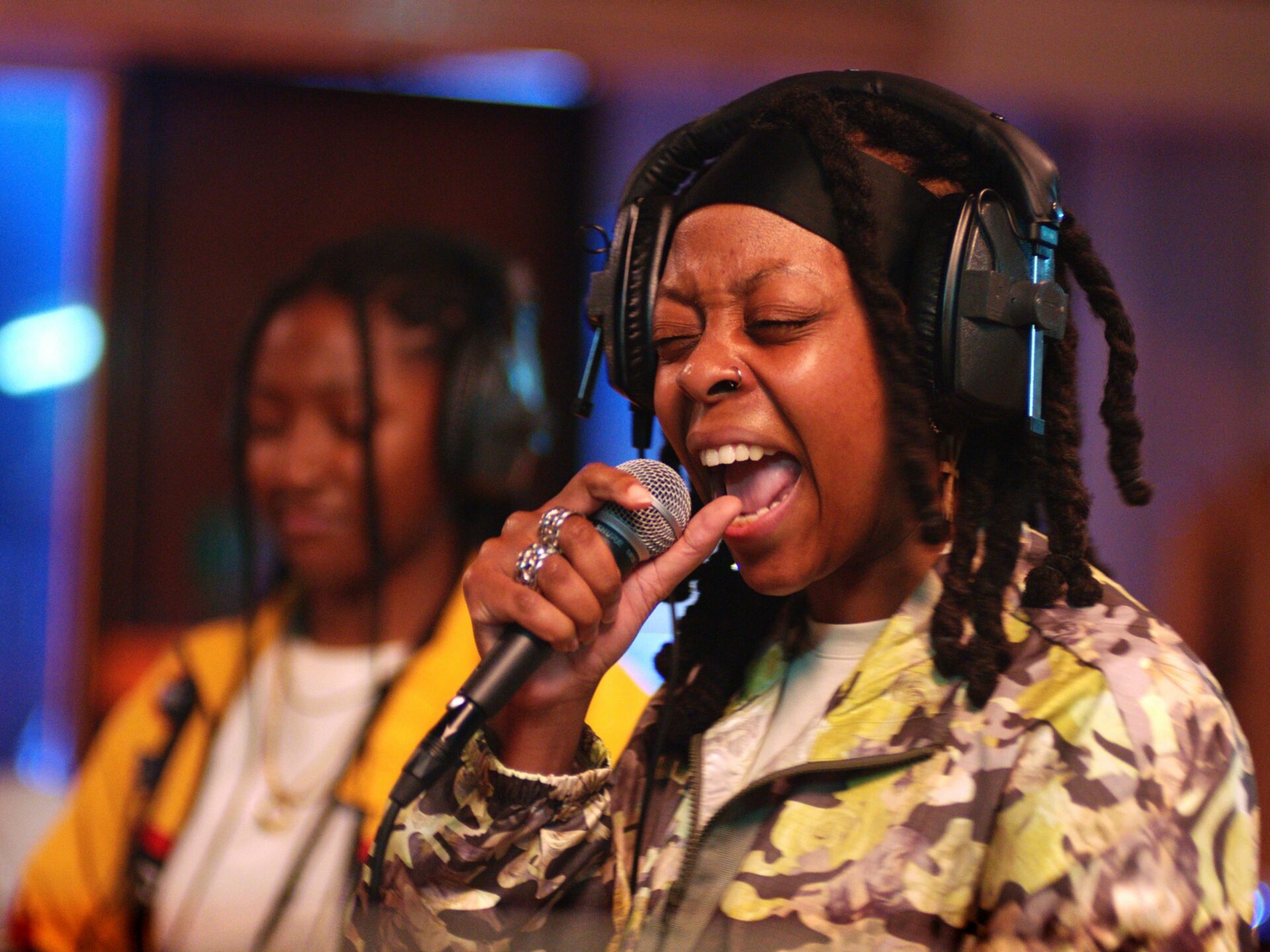 A related project at an off-site venue, a sixteenth-century salt warehouse on the island of Dorsodouro, offers a soundtrack for this era of global revolt. Across two screens and with a constantly mutating musical score, Douglas weaves together grime and Mahraganat musical influences to create a recombinant narrative that evokes the transnational connections among activists and musicians that fuelled these acts of civil disobedience. Making use of a nearly obsolete technology called Integrated Services Digital Network (ISDN)—a communications system that transmits digital audio over copper phone lines—the fictional characters in Douglas's film trade music back and forth between studios in England and in Egypt, collaborating by sending electronic dance music and dubstep backing tracks to one another across the network and improvising drum tracks, rap lyrics, and vocals to transmit back in return. Titled ISDN (2022), the film continues Douglas's interest in visualizing the often-unseen labour of musicians (and, here, MCs and DJs) as cultural and political agents, and simultaneously points to the unrealized potential of anachronistic technologies in a post-Internet society (ISDN continues to be beloved by recording studios for its reliability). Sonically immersive and infused with a raucous joy, the resulting music is, much like the riots depicted in Douglas's still photographs, a local manifestation of recognizable global transformations.
Though the project was originally timed for the tenth anniversary of the 2011 uprisings, the added year, rather than dating the project, seems only to have deepened its contemporary relevance. "Watching Douglas develop the project through the upheaval of the past two years, he's maintained consistency with the trajectory of his original ideas. In my view, the way that those ideas have dovetailed with what's happened, and what is happening right now, is something that is quite rich,"the pavilion curator, Reid Shier, observed. "It's the sign of a great artist when, even after the world has been turned on its on its head, the work has become even more urgent and explicit."
As Douglas prepared to install the work in Venice, I sat down with him to discuss the trajectory of the project, its resonances with his past works, and his shifting relationship with fiction, photography, and technology. In a format befitting Douglas's investment in networked flows of information and the travelling of sound across borders in this work, what follows is a conversation assembled from interviews that took place between Toronto and Vancouver (and transmitted via Zoom) in which Douglas meditates on history, repetitions, and art's capacity for imagining other possible worlds.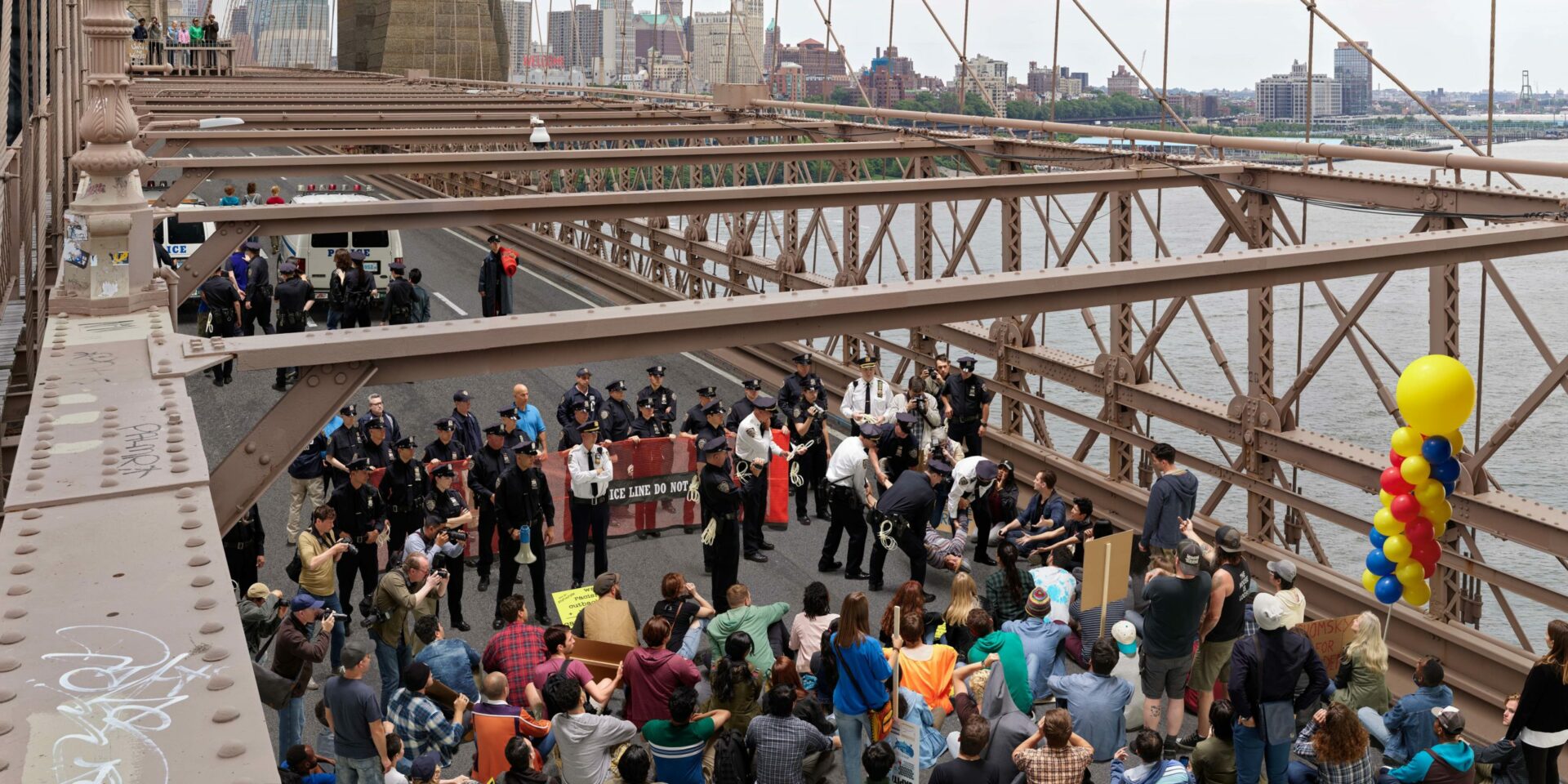 Gabrielle Moser The architecture of the Canadian pavilion is notoriously tricky, and has often been turned into a cinema as a result, so it's exciting to hear that you're doing the opposite by showing these history painting–style photographs in the pavilion, and then using the Magazzini del Sale No. 5, a huge warehouse for salt on the island of Dorsoduro, as an opportunity to show a video. I wondered if you could start by telling me about how you are approaching the use of these two very different spaces?
Stan Douglas The last time I was at the Biennale I was in that space [the pavilion] and realized it's actually a really nice space with good light. And then, when I had the offer to represent Canada at the national pavilion for the exhibition, I thought, well, I should show reflective art in there. That's what it was intended for. Why not just do that. We're turning the three big walls of the space into four, and each will have one big photograph on it.
The Magazzini del Sale, on the other hand, is kind of an epic space: it's very long, very high. We're going to hang the screens above the audience, three-by-four-metre screens, just above people's heads, and then have lots of loud sound. The installation team did a test by turning up the sound so loud that they couldn't stand to be in there, but the neighbours couldn't hear it, so we can be as loud as we like. It's also got very rough walls, rough bricks, which are good for diffusing sound.
GM I was thinking about how it's such a nice reference point within your practice too, because it's a kind of pre-modern warehouse or colonial shipping-container port, right? It has a nice resonance with a lot of the earlier bodies of work that you've made, particularly your film Journey into Fear (2001) and the related suite of photographs of shipping containers being loaded onto ships in the Vancouver Harbour.
I'm curious about your ongoing interest in historical recurrence, in which things repeat themselves in new iterations in your works. In Venice, this takes the form of imagining 2011 as a kind of revenant or return of the global revolts of 1848 and a residue of the 2008 mortgage crisis. I'm not sure if this is even a question, but I'm trying to ruminate on what is happening with history, or what Ariella Aïsha Azoulay might describe as "potential history," in these two new bodies of work.

SD I have often taken historical events and then reimagined them in another period, as in The Secret Agent (2015), taking the terrorist bombings in London in the late nineteenth century and transposing them up to 1975 in Portugal. But yes, in this case there is a historical resonance, which in this case I think is a factual one. When 2011 happened, I almost immediately started thinking about how it could connect to 1848. In both instances, there was an idea, an intuition, communicated through media from various countries, in which people realize they were in the same situation and so took it up. In 1848 it was print media, but in 2011 this intuition was communicated through electronic media, so it spread much further and much faster. First, with the Arab Spring, when people took up the same initiative, and then in different ways with the uprising in the London riots, in the UK, which was more intuitive and about venting frustration about police violence, tuition rates, and social welfare—a continuation of demonstrations from the previous winter. And Occupy Wall Street, which was very literally a copycat Arab Spring.
The Vancouver riot is, is something else, a bit of an outlier, but in a way it does represent a certain frustration people have with the city itself. It's not a riot caused by the hockey game being lost, because the riot began before the game was even over [smiles]. Really, what I was seeing in the footage was people enjoying occupying the street, much like they did in Hackney. In the footage captured by SkyNews, for instance, I didn't see any looting, I didn't see any property damage; I just saw people liking the carnival, the turning things upside down, being on the street and where the police were outnumbered by this huge crowd, and it became some sort of festival, somehow. Vancouver is a place where a lot of people are frustrated by the price of real estate and rent, and many of the people involved, who were there, probably can't afford to live in Vancouver proper but are out in the suburbs. The events have various, sort of tenuous connections, but there is a real sense that everyone is frustrated with the conditions they find themselves in.
GM I'm especially curious to imagine how different each of these streetscapes is going to look, in the way that you've modelled them out. The different physical interactions between people and the space are so geographically specific even though they are, as you're saying, copies of earlier iterations of revolution or revolt. I was wondering, too, about the language of riot versus revolt that gets used both by news media and in the description of the project. How do we distinguish between these two events, in which 1848 gets the title of revolution, but then these 2011 events are uprisings or riots or something else?
SD The Arab Spring had no political program, and that was perhaps the problem with it. They knew they were frustrated but had no shared solution. The question is who gets to validate these actions as political. In the UK, the media framed them as hooligans, as consumerists, who just wanted to break things, destroy property, and "have fun." But to me, it was really an intuition about something being very wrong but not having any one way of articulating that. This is how the events were identified, from the outside, as a riot, but when I first showed the Hackney photograph in London, the people who were involved there, who I was speaking to, were saying, "You know, we thought this was a revolution." We, as global spectators, could only see bits and pieces of it on TV, but, on the ground, everyone was asking each other, "Is this it? Is it happening now?" [laughs]
GM [laughs] Yes, that strange sense of history in the making when you're not sure, is it "History"? Is it happening? That also makes me think of your earlier series of photographs, Humour, Irony and the Law (2006–08), thinking about moments of refusal and resistance driven by labour unions that become part of the kind of small history rather than big history of a place. And I remember the Occupy Wall Street movement being accused so frequently by the media of not having a program or an agenda, of not having tangible demands. And yet, as you say, it becomes a good way of taking the temperature that something's not right, even if you can't quite pin down what that is.
SD Exactly. The politics of intuition.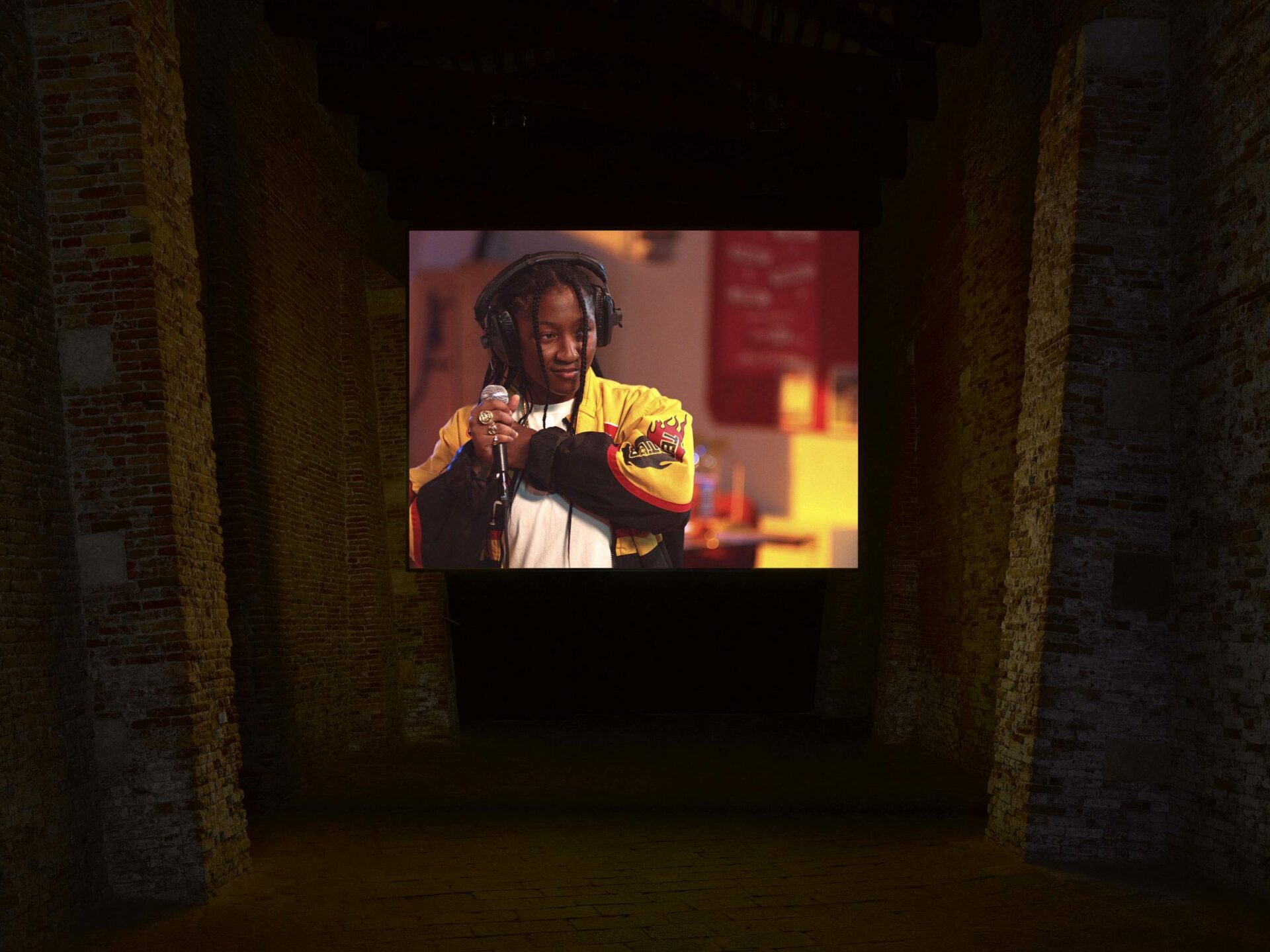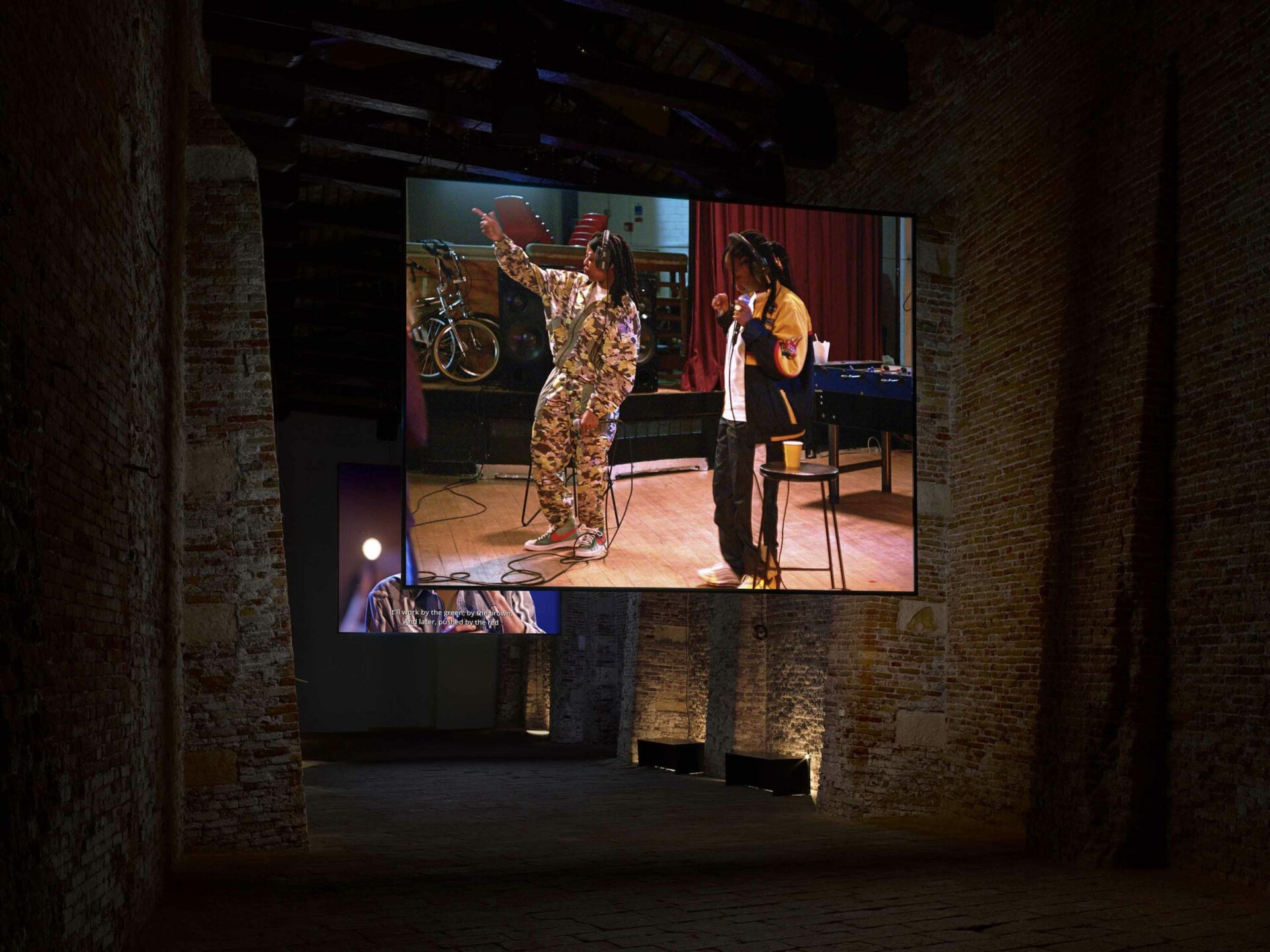 GM Yes, what a great phrase. That leads me to another question about fiction, and what I see in your work, and especially in this project, as the promise of fiction to ironically tell a greater truth about a historical event. Of course, you've worked with fiction as the basis for the scripts for video and film works in the past, but this kind of hybrid mode that you're presenting at Venice, of events that are real but then historically fictionalized, seems new and led me to wonder about the shifting relationship with fiction in your work.
SD The Hackney photograph is a good example of that. I initially thought I could use news footage of the original event as a model and so I licensed two hours of aerial footage from SkyNews, and I thought I could use a process called photogrammetry to make a 3D model of the space, but there were too many holes and the resolution was too low. However, when I zoomed in all the way, I could see images of people interacting. In the end, I went on location with a helicopter to the GPS coordinates where I determined most of the action had taken place, to take a plate shot, and then we composited the figures into the locations. It took me a while for me to figure out what the footage was showing at first—like, "Where was it? What time was it? What's happening, where?"—because the footage came out of sequence, out of order.
But when I had an idea in my mind about how things were taking place, I was able to make a model of a riot—not only the riot, but the space—showing things that are happening concurrently: almost like in a Brueghel painting, where you see different events taking place simultaneously even though they are part of a sequence. In this way, I could make this schematic of the event in a very intense way, which was both true and not true: a construct and a documentary at the same time.
I thought I could do the same thing in each city, but surprisingly, there was no footage in Vancouver, or very little footage, no footage of any quality from New York City, and the idea of flying a helicopter over Tunis or Cairo was very unlikely, and so I thought, "It isn't going to happen." I kind of let it go until I had the offer of the exhibition at the Canadian pavilion. There was enough support from the National Gallery of Canada to do these things, and so we staged the figures for the rest of the images in a hockey arena, and I commissioned photographers in New York and Tunis to shoot the locations.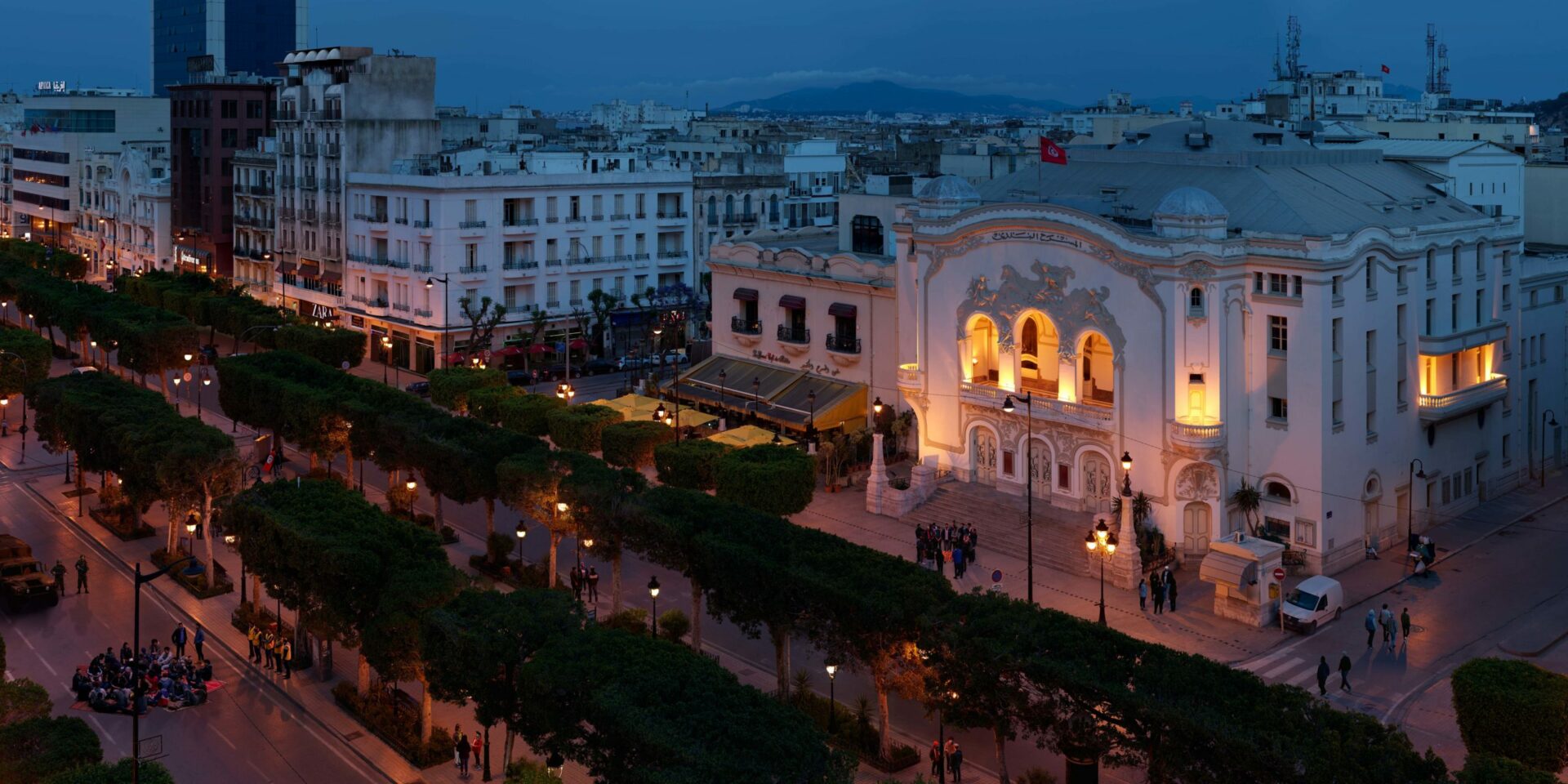 GM I was curious, too, about fiction's resonance with forgotten or obsolete technologies, that there is an undetonated potential to these obsolete technologies, to borrow a phrase from Elizabeth Freeman, including things like Integrated Services Digital Network, which I didn't know about until reading about this project. I wonder if there's something about this particular technology that you're curious about in using it as a hypothetical medium for the video work that you'll be showing in Venice.
SD The idea is exactly what you're saying, that a lot of musicians fetishize old equipment, because, even though it is old, it does a really good job. In fact, recording studios still often use ISDN, as do people who do voiceovers, because it can transmit high-quality audio over a phone line. The characters in the film realize they can make this connection and have a collaboration over the phone line.
Another connection is something called FruityLoops: in both locations, you'll see producers are playing music using this software that was either free or pirated, but the people in both Cairo and in London in the film reference the same genres and use the same technology because it all happened over the internet. Our very expansive worldview of what music could be is thanks to this technology as well. The software is more or less obsolete now, but back then it was the current thing that they could use, often using the same samples to make different genres of music.
The film then uses this logic to constantly mix a series of tracks into new compositions. My musical director works in UK grime and rap, and he made a series of what are called stems—so you have seven drum tracks, eleven bass tracks, and thirteen melody tracks—that then loop, and they go out of phase, so you have different permutations of the music. We did that for both the grime-based music and the Mahraganat, licensing some stems from Amir A7A7, who was one of the original producers of that genre, so that we have some period music that he then repurposed for this piece.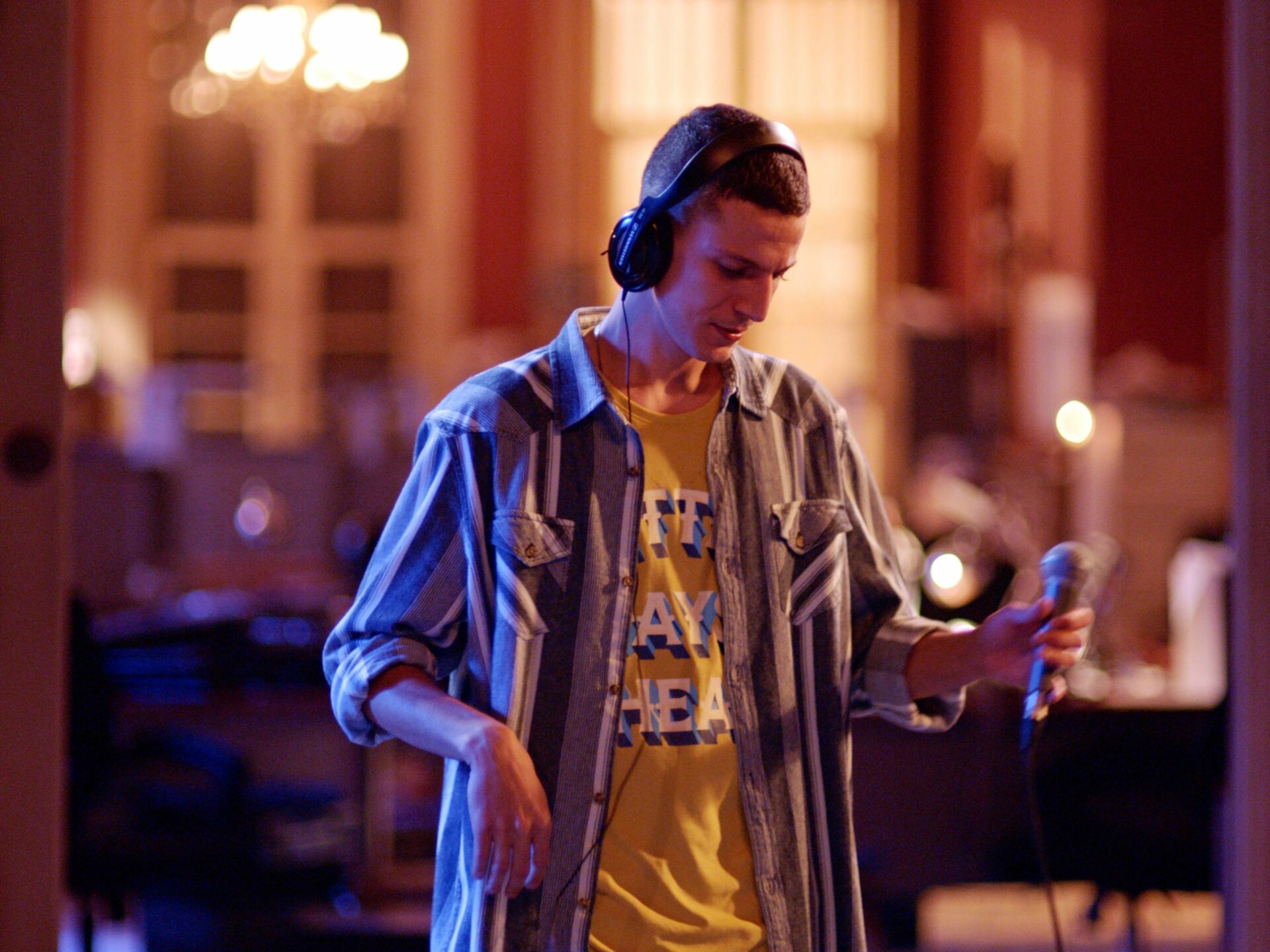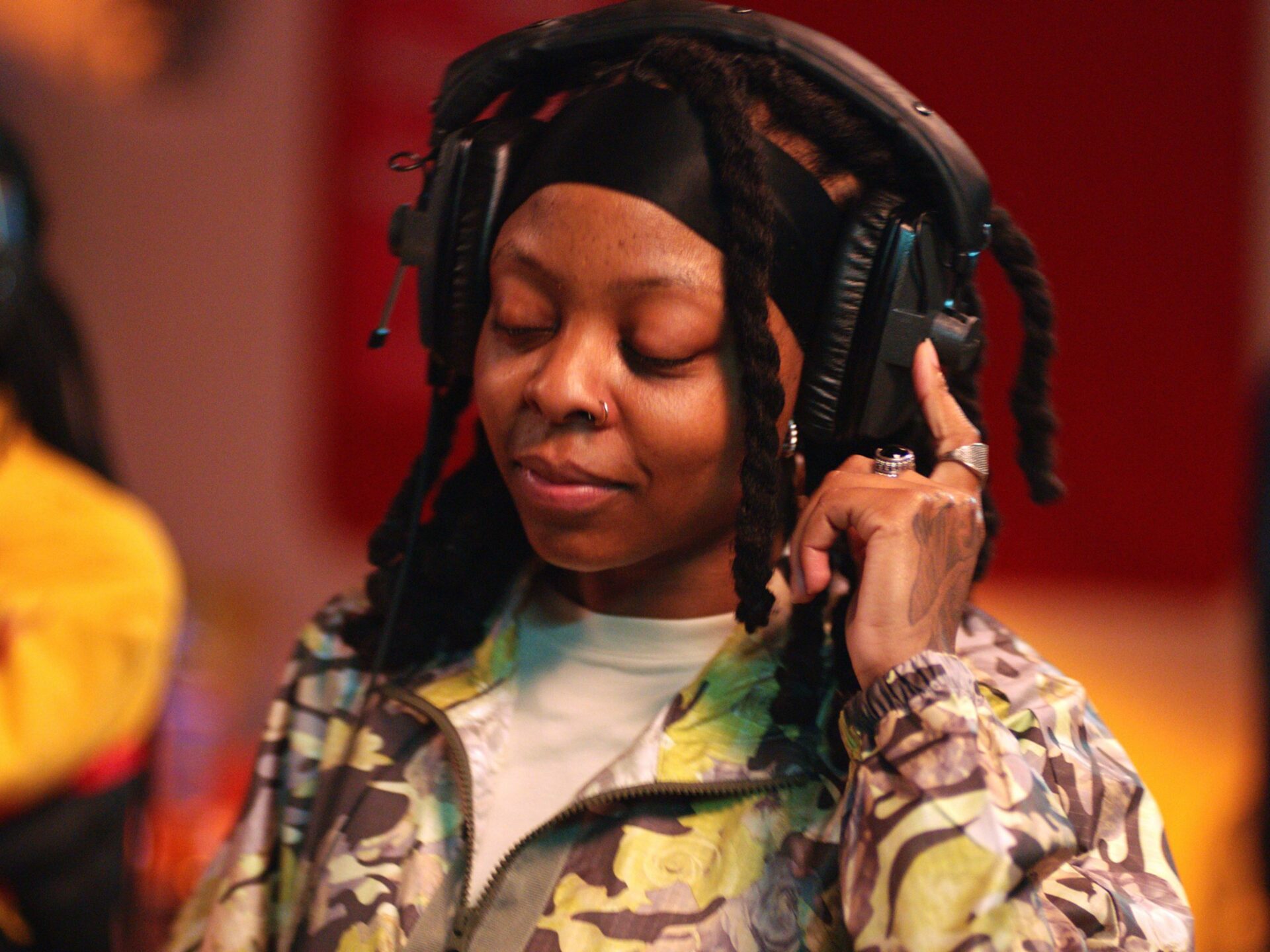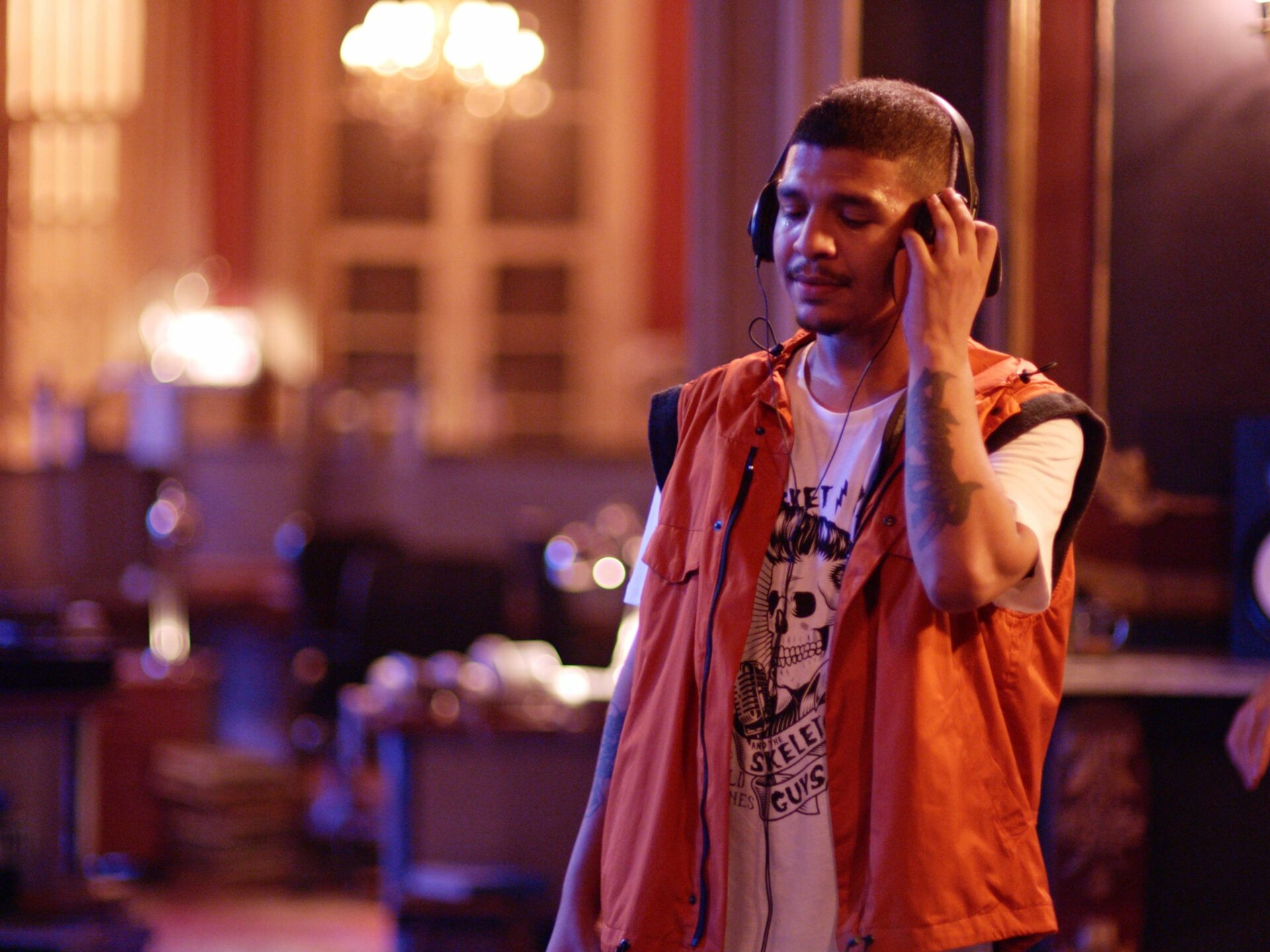 GM That idea of shuffling has been part of your practice for a long time, such as in film projects like Inconsolable Memories(2005) and Klatsassin (2006), that use the same computer algorithm to make no two minutes, even, the same experience for each viewer. And that logic is clearly also at play here, but applied to sound. Almost a proto-Web 3.0, which we perhaps don't have the capacity to imagine yet, but to propose a kind of meme-ification music via internet and streaming platforms.
SD Right.
GM Has anything shifted for you in the relationship between photography and video in your practice over the last thirty-five years?
SD Yes, there have been a few big changes. Around 2008, I spent five years practising only photography. People wouldn't take my photographs seriously; they'd say, "You know, your videos are the real thing." So I spent five years making only photographs to say, "No, this is a real thing too." [smiles] And I piled as much stuff in those images as I could, beginning with the crowds and riots images, which were a way of practising working with actors and staging scenes, before I made the Gastown Riot photograph [Abbott and Cordova, 7 August 1971, 2011], which was very complicated to set up. But I really enjoyed working with the actors, and so I began using them more frequently in photographs.
Basically, in photographs, things are spatialized, and the viewer has a certain amount of freedom to decide where to look and for how long. In media work, or cinematographic work, the filmmaker is determining the duration of the gaze and has a bit more control. For me, it's two different approaches in time-based and space-based media. I've used them in different ways over time, but with the main change in the videos and films being that, early on, I was adopting techniques from a genre, from a certain historical period, to depict that period in that location. But when I got to Nu•tka• (1996), which is set in the eighteenth century, there were no lens-based media invented yet, so I couldn't do that. I began inventing technologies, in that period, the most elaborate of which was Der Sandmann (1995) where we had to build things up to work, to more recent works using software to connect things.
GM What you were saying, about inventing technologies to match the content you're interested in, perhaps leads to my last question. I'm wondering if you've thought, and I'm sure you have, about what's happening to the human imagination, for lack of a better term, in this moment when we've expanded the reach of technology and communication, digitally and electronically, but then we also are seeing increasingly closed borders. The situation of the pandemic is exemplary of this. What role do you see your practice—or maybe art, photography, and film more generally—playing in addressing this moment when it seems like our world is shrinking?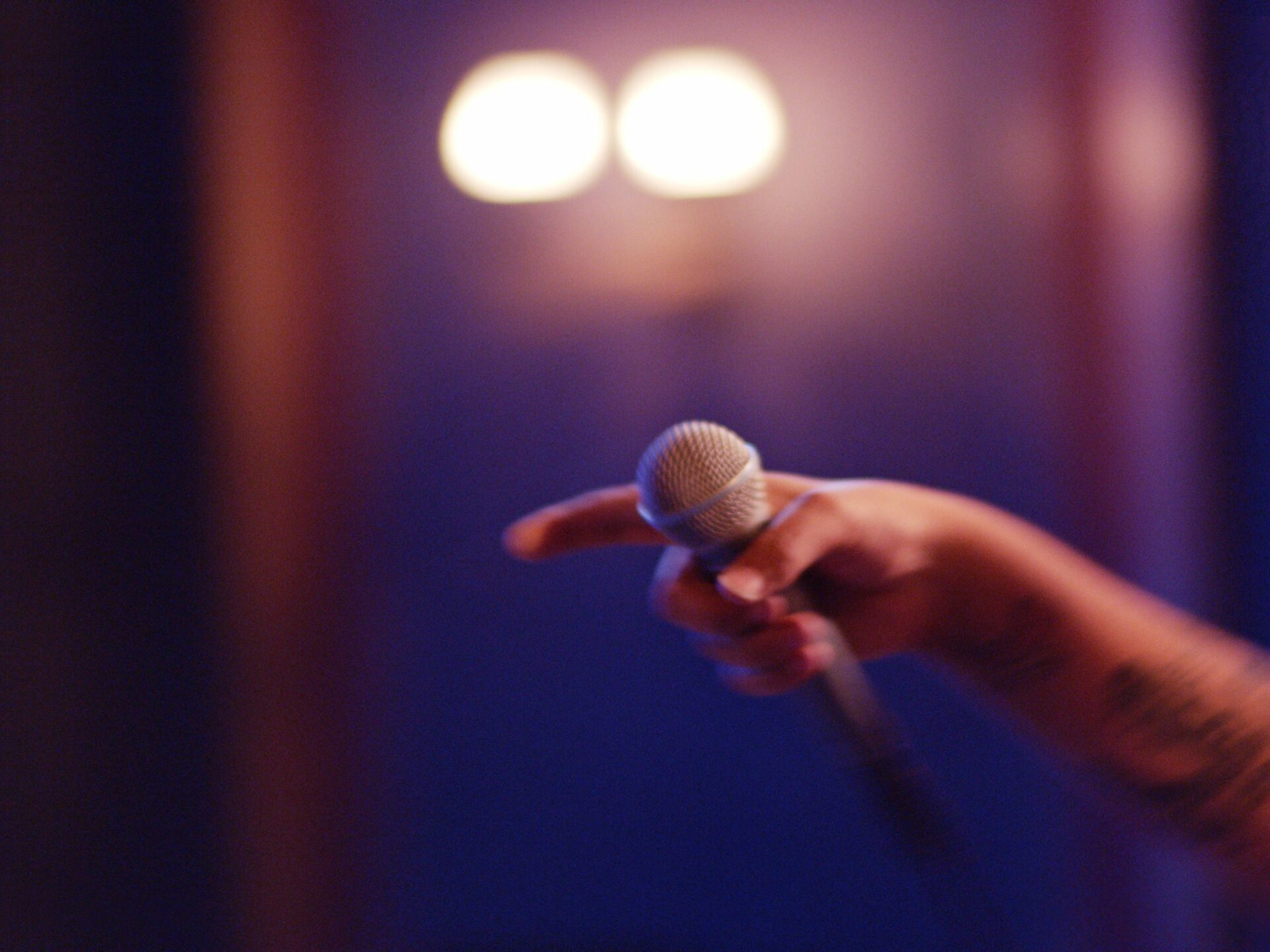 SD People thought, with the internet, that we would have exactly the same reference points, the same ideas, and that it would impose a certain model, a reality, on everybody, but the opposite has happened: everybody is siloed in these very discrete realities often defined by the algorithms of Facebook and whatnot. This means that even with post-Photoshop, post-digital photography, there's a question about what is true and what is not because we can't make an appeal to the indexicality anymore: everything is a construct. So, photographers, artists, have a responsibility for what they do, to admit that they made this thing and they morally stand for what it represents and what it signifies. This responsibility is crucial, as artists are able to basically present a version of the world, a version of reality, that they are proposing for other people to consider. You are able to propose ways of thinking about the world that may not exist. And that's the main thing art can do: to make you imagine something you couldn't imagine any other way.
I guess there's a certain kind of pessimism in the photographs: showing things that failed, or didn't go right. The video, on the other hand, is quite joyous, in the end. It really is collaboration that's cross-cultural, and for me, it was a pleasure to work on it because it's such great music. And I hope it will engage others in the same way as well.