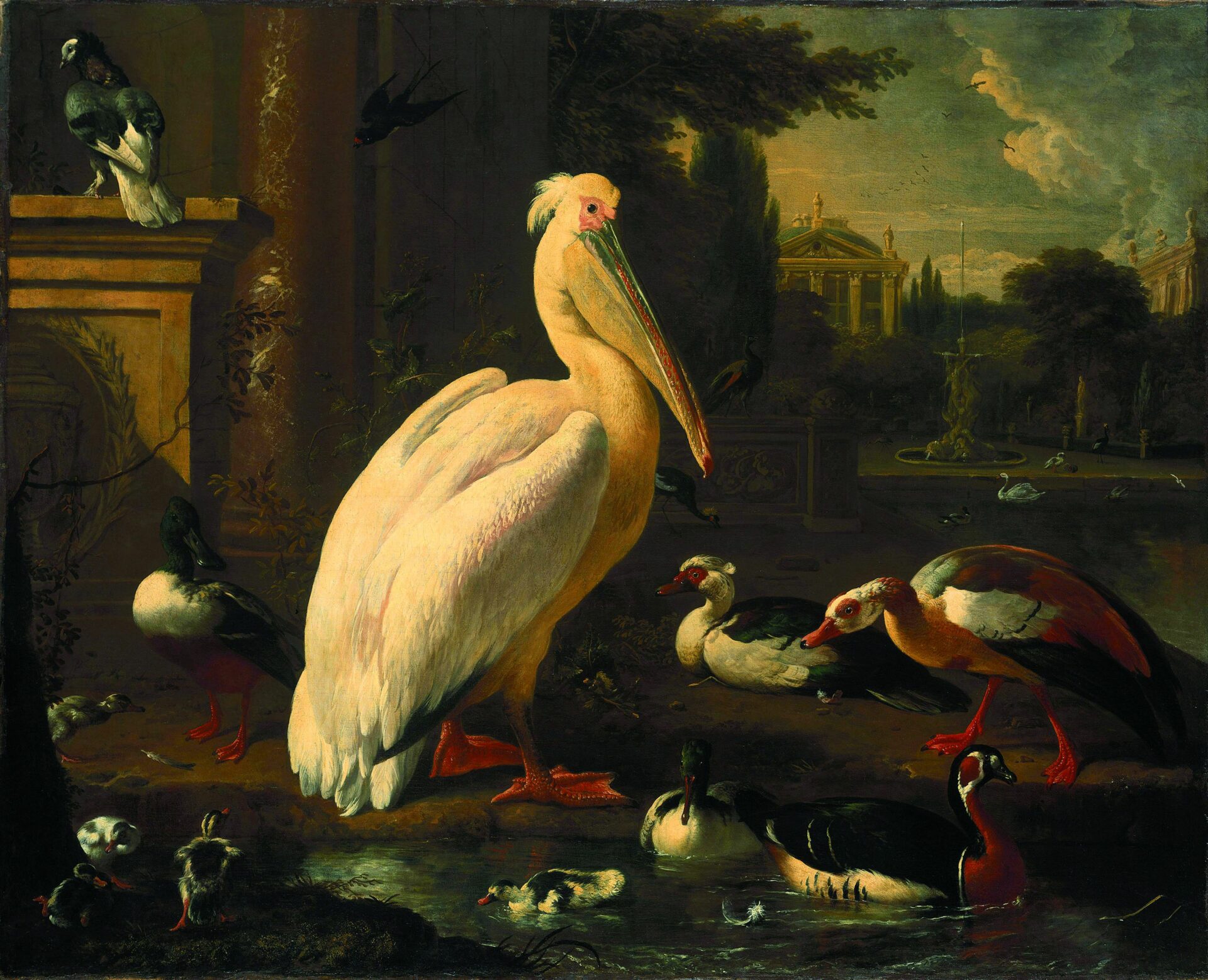 Over the last twenty years or so, many museums have invited artists to build exhibitions, sometimes with works drawn from the institutions' own collections or with their logistical support. One thinks of the Palais de Tokyo's "carte blanche" projects, the Tate Modern's Unilever Series, or the McCord Museum's Artist-in-Residence program. Apart from invitations by museums, we are seeing the emergence of artistic practices integrating curatorial strategies, in which the exhibition itself serves as a device. Starting from a conception of the artist as curator, I propose to use the term "curating-art," essentially encompassing exhibitions — conceptual, critical, or collaborative — conceived and organized by artists. These methodological initiatives naturally raise some questions. What role does creativity play in these curatorial approaches? Do artists enjoy greater creative freedom than curators? What ethical framework pertains to the use, solicitation, or commissioning of a work? How is the notion of authorship inherent in the creative act affected by collaborative approaches or co-productions?
I explore these questions in light of Intolerance, an exhibition by Dutch artist Willem de Rooij and an exemplary case of curating-art. Before dealing with this particular project, however, we should take a look at a series of three exhibitions that preceded and, indeed, laid the groundwork for Intolerance. In 2006, de Rooij presented a first exhibition at Galerie Chantal Crousel in Paris, in which he introduced his interest in the painting of Melchior d'Hondecoeter (Utrecht, 1636 – 95). De Rooij used d'Hondecoeter's painting A Pelican and Other Birds Near a Pool for the invitations to the opening, and its more common name, "The Floating Feather," as the title of the project. The Floating Feather brings together three sets of work in the Parisian gallery: a sculpture by Isa Genzken, two videos by Keren Cytter, and designer clothes by Chinese-Dutch designer Fong-Leng. In the late 1970s, Fong-Leng's cloak dresses rendered the transition from flower power to proto-punk. De Rooij presented these garments as sculptures in his installation, and by putting objects created on the "fringes" of art on display in a gallery, he lent them new support. Another exhibition confirmed de Rooij's interest in curating-art, this one at Galerie Daniel Buchholz in Cologne. Titled Birds in a Park, after a painting by d'Hondecoeter, this second instalment was similar to The Floating Feather in that de Rooij was working with the same artists; nonetheless, elements differed and were given a new spatial arrangement.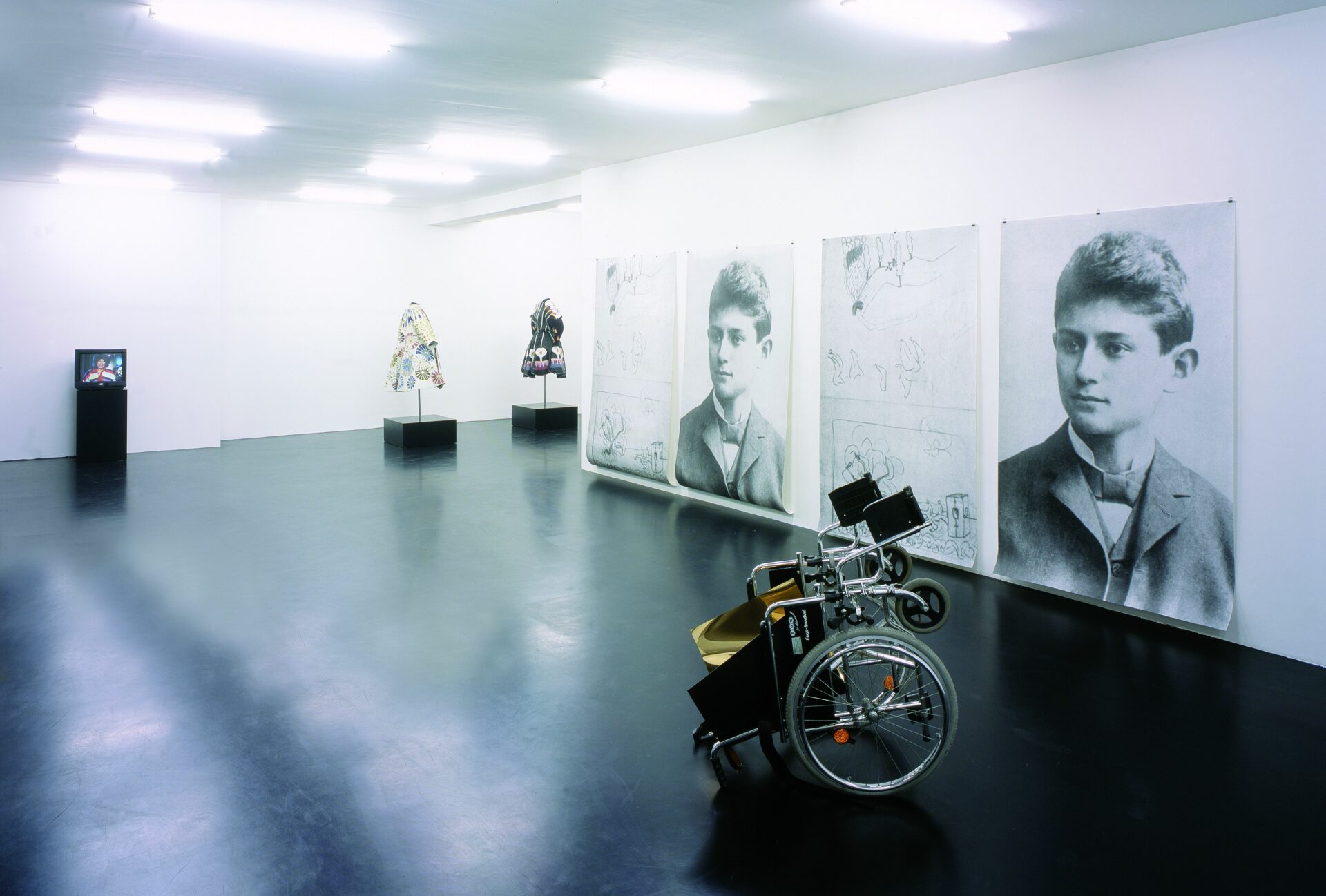 Only in the third exhibition of the cycle does de Rooij's project take a revealing turn, as the artist draws us into the heart of his deconstruction of authorship. Where does the discourse emanate from? Who is its author? The image he uses for the invitation to the Birds exhibition at the Cubitt Gallery in London (2009) is taken from a painting that was long attributed to d'Hondecoeter but has since been found to be by one of his contemporaries.1 1 - Juliane Rebentisch, "Montage and Late Modernity: Notes on Willem de Rooij's Intolerance," Willem de Rooij: Intolerance, exhibition catalogue (Düsseldorf: Verlag Feymedia, 2010), 40. From this mistake, de Rooij highlights the deceptive nature of disruptions in authenticity. Continuing the logic set out with the invitation card, the artist brings together a body of work that raises all the issues relating to notions of authorship, going well beyond the dual position of artist and curator.
First, he signals the absence of the painting Birds by affixing a descriptive panel on the wall, much like Sophie Calle's strategy in Fantômes (1991). Fong-Leng's unique and sculptural cloak dresses give way to the overdressed ready-to-wear collection the designer had created some time before the label went bankrupt. These are presented on ordinary mannequins, as in a department store. De Rooij also brings together works from Vincent Vulsma's ARS NOVA E5305-B series of black monochromes created by applying layers of spray paint onto pre-stretched Chinese canvases still in their plastic wrap. Further along in Birds, de Rooij exhibits signed posters from Pier Paolo Pasolini's last film, Salò o le 120 giornate di Sodoma. Here, though promoting an image of authenticity through the reproduction of the filmmaker's autograph, the posters inevitably create uneasiness as one realizes that Pasolini had died before his film was released. All in all, with these elements, de Rooij reveals himself as an "artist subject"2 2 - Ibid., 41. whose exhibition is determined by his tastes, his interests of the moment, or his relationships with artist colleagues. Critic Juliane Rebentisch observes, ". . . it is his name [de Rooij] as an artist that swallows up those of the other artists; it is into his work that their — in this perspective, clearly: appropriated — works enter."3 3 - Ibid. Later, Rebentisch delineates the break in authorship so perceptible in the work of de Rooij: ". . . the double gesture, the constant inversion with regard to the hierarchies of authorship (de Rooij as a mere 'curator'; de Rooij as the 'master' who creates the arrangement) aims at something else: the release of aesthetic subjectivity from its false identification with that of the artist."4 4 - Ibid. Following Rebentisch's thought, the authorial hierarchy that de Rooij deconstructs leads to the acceptance of a mobile, borrowed, "sequential" author. For although de Rooij is not the author of the works that he puts on display, he remains the author of their selection, of the arrangement of their dialogue, and he assays the disputed — and quite disputable — idea of the curator as "meta-artist, utopian thinker, and shaman," 5 5 - George Alexander, Tristan Sharp, and NSW Art Gallery, 40 years: Kaldor Public Art Projects, exhibition catalogue (Sydney: Art Gallery of NSW, 2009), 4. borrowed from Harald Szeemann as early as 1969. It is after this cycle of exhibitions — The Floating Feather, Birds in a Park, and Birds — that de Rooij presents the Intolerance project at Neue Nationalgalerie in Berlin in 2010.
While the exhibitions that preceded Intolerance employ images of d'Hondecoeter's paintings, it is only with the financial and logistical support of Neue Nationalgalerie that de Rooij manages to bring several of the actual paintings together in a single place. In this endeavour, de Rooij reaffirms his position as an artist who uses the exhibition as an ideal  device. Intolerance presents two bodies of work: a selection of paintings from d'Hondecoeter's studio, and some "featherworks," ordinary or fetish objects made from feathers and of Hawaiian provenance. What does de Rooij reveal by juxtaposing these two bodies of work? From a conceptual point of view, the artist has chosen these two ensembles because they embody signifiers of power from their respective eras and territories. With Intolerance, de Rooij proposes a "triangular" reflection on the beginnings of world trade, intercultural conflicts, and stylistic influences.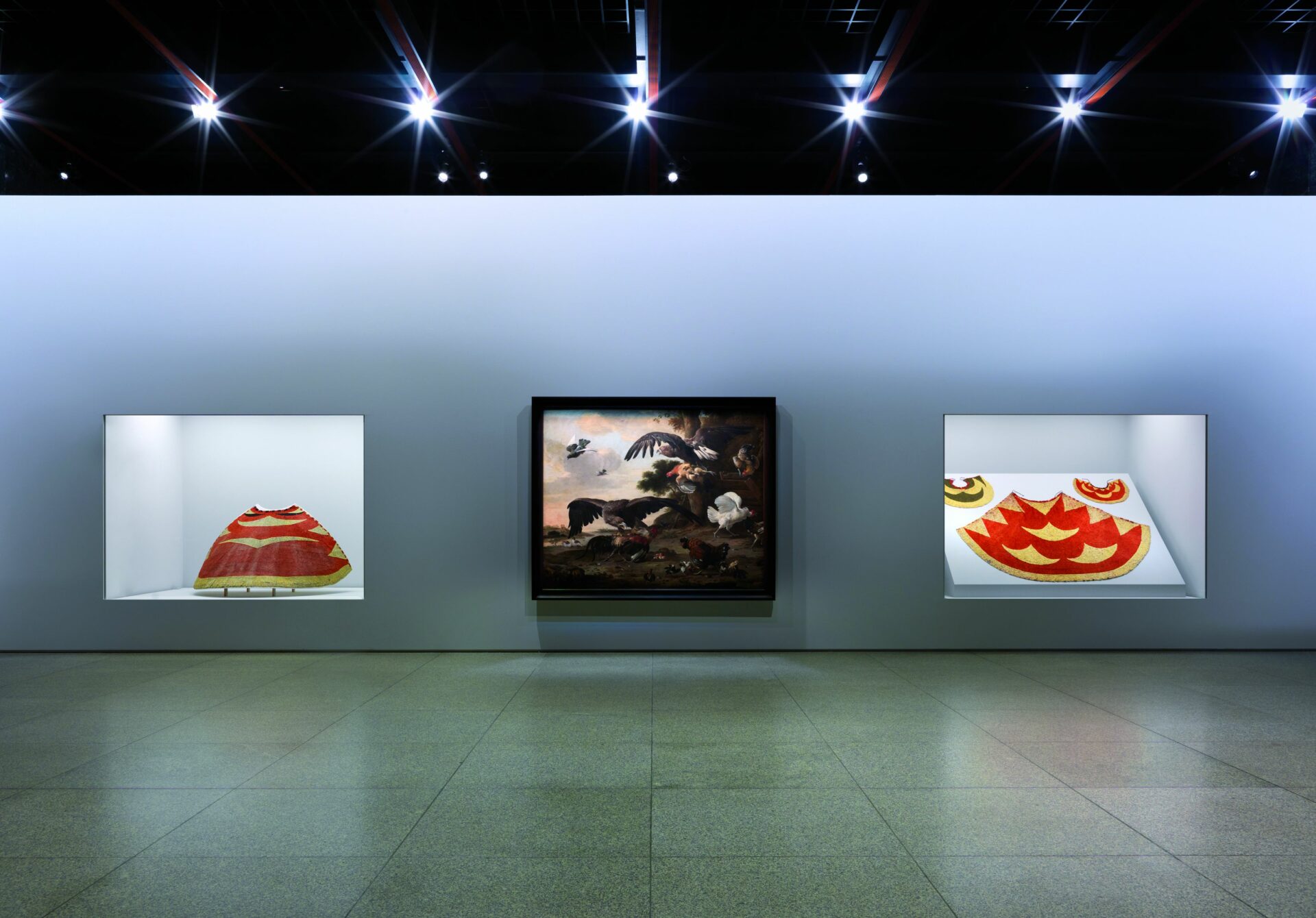 Born in the Dutch city of Utrecht in 1636, the painter d'Hondecoeter is especially well known for his animal paintings, still lifes, and hunting scenes. At the start of his career, he painted farm birds: ducks, geese and roosters. Only later, with the development of maritime commerce and the introduction of new species of exotic birds into Europe, did he develop whimsical aviary compositions, scenes illustrating flocks of plumed creatures. D'Hondecoeter's career reached a major turning point when his clientele expanded to include King Willem III of the Netherlands and the new bourgeois business elite, who commissioned paintings of exotic birds — a sign of prosperity and of a spirit of adventure. One could mention here that these paintings constitute objects of power depicting other objects of power. All in all, between 180 and 250 paintings are attributed to d'Hondecoeter's studio. The painter's very success dissolves the principle of authorship, as de Rooij points out in an interview with curator Dieter Roelstraete: "Not all of d'Hondecoeter's works are equally well made, and there is a certain element of conveyor-belt banality to some of his output, which is considerable in terms of volume. . . . This ambiguity of authorship is another facet that fascinates me, since it plays an important role in my own work."6 6 - Dieter Roelstraete, "Artists at Work: Willem de Rooij," Afterall Online (November 2, 2010), accessed February 9, 2015, www.afterall.org/online/artists-at-work-willem-de-rooij. The intense production of paintings in d'Hondecoeter's work engendered a repetition of subjects, even literally a repetition of compositions. "I [Willem de Rooij] found this repetitive aspect of the work quite attractive — as a visual strategy, but also as an artistic gesture. . . . It's almost like watching a soap opera, or anything based on a strong sense of the formulaic."7 7 - Ibid.
In a sense, in the selection and articulation of the body of work, de Rooij brings out the faults in the fine arts and the qualities of the ethnological objects. The pieces from Hawaii are considered extremely rare and require tight control of light and humidity in the gallery. These conditions transform the space of Neue Nationalgalerie, a solemn yet luminous construction by the architect Mies van der Rohe. The windows are filtered, creating a constant half-light, and in the very centre of the gallery, de Rooij erects a unit on which the elements are either imbedded or hung. Arranged with no didactic markers (no descriptive text, no labels), the ethnological artefacts mimic and mix the codes of representation of contemporary art. From a methodological point of view, de Rooij borrows from the museum curator's work by bringing into a single space works that were dispersed throughout Europe. As the artist himself points out, the featherworks in Intolerance are a symbol of the cultural plunder that explains the presence of these rare objects in the museums of Europe. In the project's exhaustive catalogue, Viola König, director of the Ethnologisches Museum in Berlin, points out that the museums were complicit in the dissemination of cultural goods: "Ethnological museums were once trading posts in disguise, department stores for cultural wares from all over the world."8 8 - Viola König, "Foreword," in Benjamin Meyer-Krahmer and Willem de Rooij (eds.), Hawaiian Featherwork: Catalogue Raisonné of Pre-1900 Feathered-god Images, Cloaks, Capes, Helmets (Dusseldorf: Verlag Feymedia, 2010), 8.
De Rooij does not wish to establish a hierarchical relationship between the fine arts and ethnological artefacts. In his artistic proposition, d'Hondecoeter's paintings, which celebrate a romantic vision of the unknown, are associated with a repetitive and instrumentalized cultural production, whereas the presence of the featherworks in Berlin attests to acquisition, conservation, and lending policies for cultural goods belonging to other cultures. Alongside the discursive strategies de Rooij employs, he formulates a personal definition of the exhibition as a distinct medium. If he can explore the different forms that curating-art may take, it is in part because he withdraws from production to concentrate on the selection of the works. The analogy between curatorial work and artistic work is all the more evident with artists whose practices are marked by an indicial or ideational approach rather than by the creation of objects. Curating-art certainly contributes, as does curatorship, to realizing the exhibition as a constantly redefined and theoretical space.
Translated from the French by Ron Ross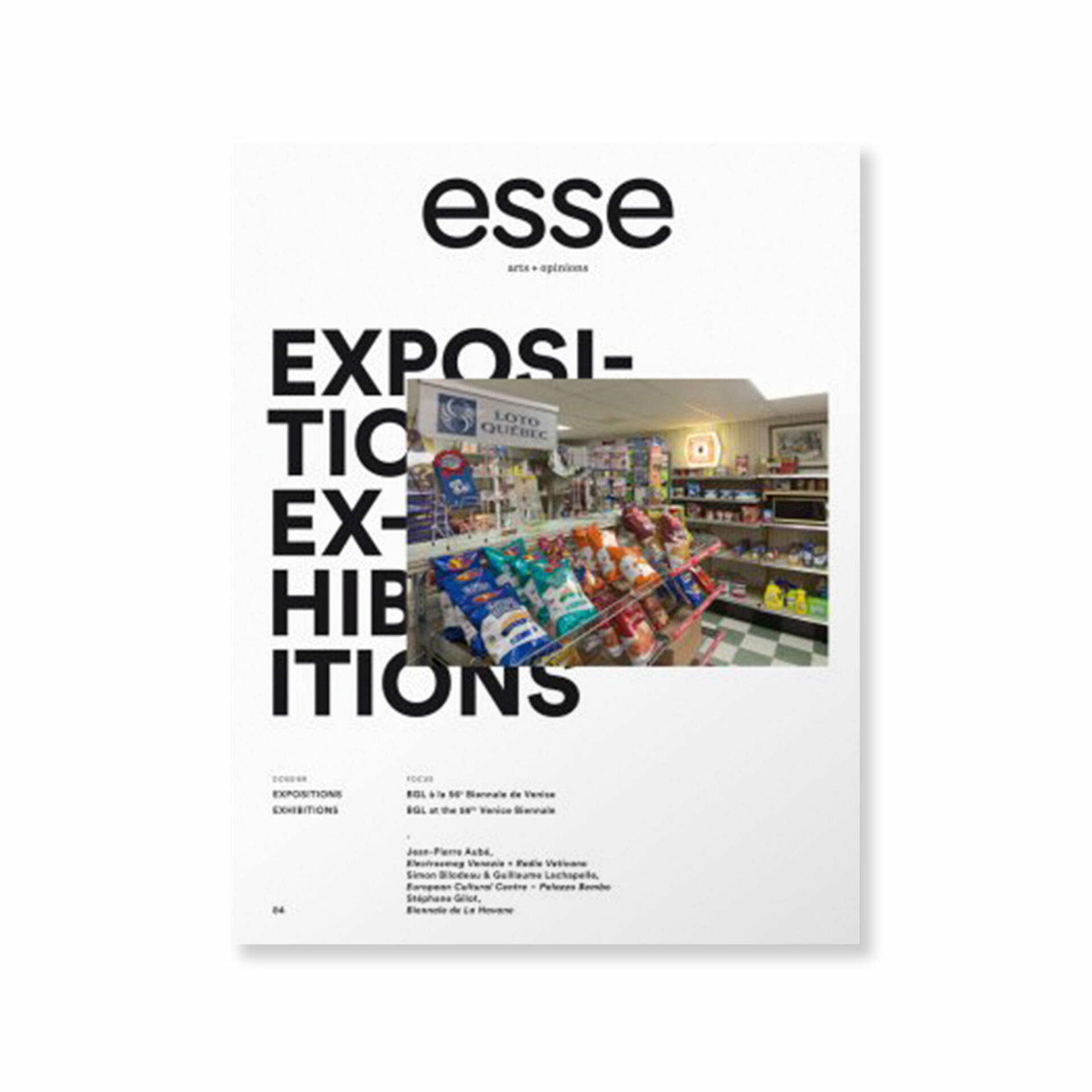 This article also appears in the issue 84 - Exhibitions
Discover