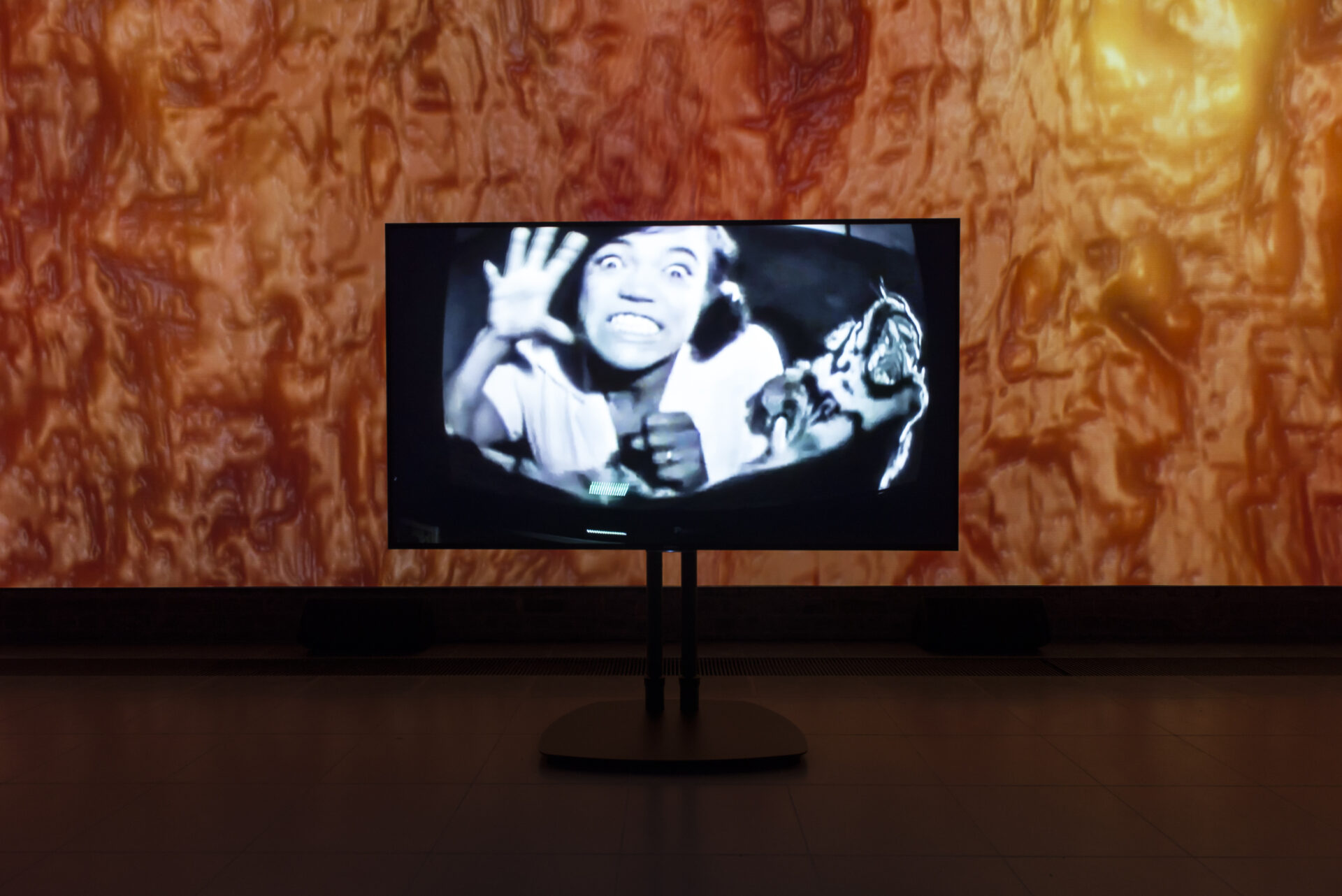 Serpentine Sackler Gallery, London, U.K.,
March 6–May 20, 2018
[En anglais]

The water is static. The water is in motion. The water courses neon purple, ultraviolet, with undulating waves. The water turns blue, green, grey, brown, red: murky and opaque with what appears to be blood, dirt, oil. The water covers the walls—wall-to-wall, corner-to-corner—a wash of waves in quadruplicate: four walls, a room of roiling colours and shapes, engulfing the space and its viewers entirely. Ambient noise fills the air: a serene soundtrack of echoes and faraway chimes, light melodies, or perhaps distant voices in song.
A calm before the storm? Yes, if the storm is a rising internal heat—a critical unrest that refuses to acquiesce and draws attention to that which bubbles and seethes beneath all surfaces. The word "typhoon" comes from the Greek tuphōn, whirlwind, and denotes a violent wind that has a circular motion. American artist Sondra Perry's Typhoon coming on, her first solo show in Europe, is just that: apprehensible currents of activity in the air, ebbs and tides approaching, the atmosphere rife with disturbance—hints at the strong winds of change that are soon to descend, if you just carefully tune your eye and ear to a different frequency.
Perry's visual logic is one of nuanced and artfully distorted surfaces, collapsed narratives, and collaged images and content, immersive installation, and interactive, sculptural video assemblages. The work requires time and careful attention in order to fully absorb just how much more there is to it than what meets the eye. Typhoon coming on, the titular work of the exhibition, is a series of seamless projections made using Ocean Modifier, an open source software tool that allows users to simulate and to alter ocean surfaces. At the Serpentine, Perry has filled the corridor-like space, which surrounds the two rooms at the centre of the exhibition, with animated water that alternates between bright purple—the software's default "error" warning colour—and a digitally manipulated image of J. M. W. Turner's painting Slave Ship (Slavers Throwing Overboard the Dead and Dying, Typhoon Coming On), from 1840. What initially seems a placid, otherworldly seascape, is in fact water running with the blood and bodily matter of 133 slaves who, as depicted in Turner's painting, were thrown overboard so the merchant company could claim insurance compensation for lost or destroyed "goods."
In one of the central exhibition spaces, surfaces similarly confound. Once more, using projected animation, Perry blankets the walls of the room—this time with a modified, extreme close-up of her skin. She reveals how easy it is to scratch the surface of images ever so slightly: to cause them to wear away, to alter our expectations, to dissolve like water, to bleed, and to sweat, like skin. In front of this skin wall, a flat-screen monitor plays a looped audio-visual collage of protests, footage shot on body cams, and images of the artist's family. The video combines spoken narratives about racial prejudice and surveillance of Black Americans, from being stalked on the street to forced home entry, with texts about perceived Black criminality. These words, the testimonies of individuals, run down the screen, angle and rotate against a bright, chroma-key blue—a nod to the power of projections: how a colour can become the designated host for images, signs, and symbols over which it has no control. Cutting through the work is the voice of Eartha Kitt singing "I Want to Be Evil": a body cam zooms in on a living room television that shows her performing, in black and white, as she twists her face into comical grimaces and widens her eyes—both mocking and embracing the powers attributed to the Black woman as subject. Behind, ever pulsating and slick, an immersive reminder, is Perry's own skin.
Another room houses two interactive sculptures: three-screen video assemblages attached to workout machines—a stationary bicycle and a rowing machine, whose turbine has been filled with hair gel. Viewers who power the machines become slowly exhausted as they face Perry's videos, which angle closely towards their faces, like small triptychs. One video replicates the waters of the external space, while the other features a bald avatar of Perry speaking about collective authorship and identity sourcing. To watch is to be seduced and physically incorporated, as well as fatigued—it is to work both for and against the images that present themselves here so closely to the self, both autonomous and inextricable. "Blackness is agile," the artist has said, and indeed, so is her supple and critically engaged practice.