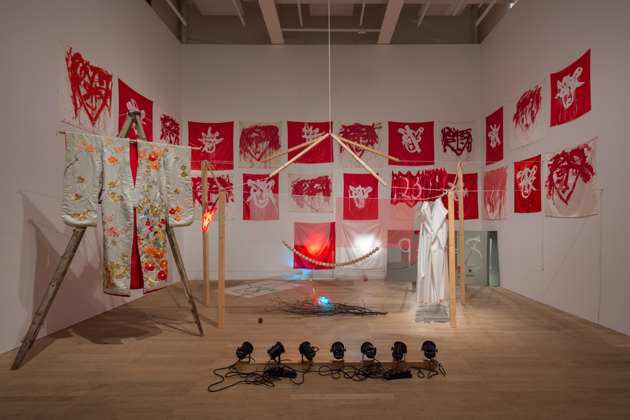 Tate Modern, London, U.K.,
March 14–August 5, 2018
[En anglais]

"I always thought the activity of putting one object next to another was like making a visual poem," states Joan Jonas on her artistic process, in the wall text that opens Tate Modern's impressive, if at times fractured retrospective of the octogenarian American artist. This methodology can be seen as central to Jonas's oeuvre as a whole, as well as to the exhibition display at Tate. Juxtaposition, collage, combining, mirroring, recombining, collapsing, and contrasting the haphazard, to effects magical, strange, and jarring: all are employed as modes to tease out unexpected meaning and evoke sets of interlinking, idiosyncratic references. Recurrent motifs are masks, mirrors, animal costumes, and atavistic tokens—objects collected in places near and far-flung. These things are present in her performances and films, as well as on display in the gallery—props that act as indices to aspects of Jonas's practice, as well as portals to ritualistic, otherworldly spaces. The artist herself appears in multiple guises, face covered in different masks, her identity always somehow obscured or temporally distant: a delay between the maker and the made, the transmitted and the received.
Jonas, perhaps best known for her pioneering early video and performance pieces—a fixture of the avant-garde downtown New York scene of the 1960s and 70s­—has long been interested in the relationships between storytelling, magic, theatre, and animism; as well as the history of women cast as outsiders and oddities (witches or those who are able to channel external forces to access different modes of understanding and making manifest). A sense of magical thinking is incarnate in the artist's complex and intricate multipart installations, an expansive form in which she has been working for the past few decades. A work might begin as a performance, a lecture, a drawing, a video, or a film—something discrete and contained­—to which Jonas adds an accretion of other layers. The original form of the work is merely a starting place for what ultimately becomes a multimedia palimpsest of additional references that stretch across forms, multiplying to surround a viewer in three dimensions. If this sounds complicated, difficult to imagine and perhaps to grasp in full, that's because it is. Jonas's sprawling installations, like much of her exhibition at Tate, is spellbinding and transporting, breathtakingly stunning and intelligent, as well as hermetic and arcane—with works often falling to either side of this divide, rather than striking what one might hope could be a challenging but generous balance between the two.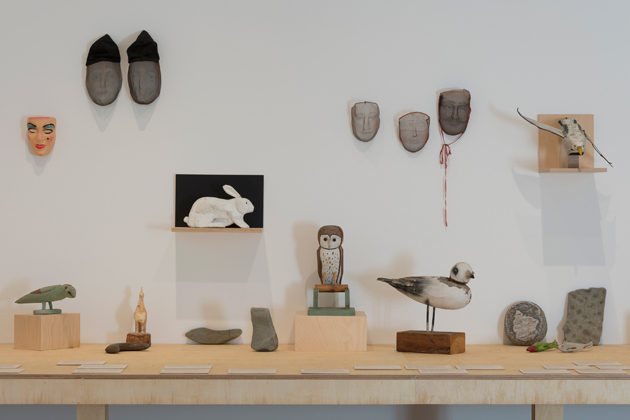 A cavernous room in one of Tate Modern's "Tanks" (exhibition spaces in the bowels of the building, opened in 2012 and devoted explicitly to installation and performance) houses a radiant installation of works related to glaciers and other natural forces—wind, fire, snow—entitled Reanimation. In this yawning, darkened space with its concrete-vaulted ceiling, four films projected on freestanding screens with latticed wooden frames stand in a central square: images of northern landscapes (Norway and Iceland), flicker and freeze-frame—high-flying blue skies and snow-covered mountains, shallow pools of rippling water, a seal basking in the sun. One screen shows a pair of hands arranging and rearranging a set of crystal prisms on a white table; in front of the screen, similar crystals hang from a small wooden frame nearby, quivering filmic light refracting through them to shoot bright rainbows around the room. Large, white, freehand sketches of birds are drawn directly on the concrete walls of the space, alongside smaller ink drawings on white paper: dark, roiling faces of animals that also resemble Rorschach blots. On another wall is a projection of Jonas's first film, Wind(1968), in which she and the artist Keith Hollingworth shuttle back and forth, in small steps, across a windblown expanse on Long Island, their bodies covered in mirrors of different sizes.
Reanimation is an example of the best of Jonas's most current work, installations in which all parts come together as a luminous, thrillingly inchoate whole: wind seems to fill the space and light reflects from every surface, moving and rushing, then still, almost holy. Gaps in narrative and mysteriously yoked images create a sense of freedom, in which the mind seeks and then finds a more intuitive means of making associations—that specific, interior Jonas logic. In many of the other works exhibited at Tate, however, these effects are uneven and sometimes unsuccessful, leaving one with the sense of wandering in the abstract through the constituent fragments that never fully cohere for a viewer: the gaps are too broad and baroque to leap.