Ebony G. Patterson
…things come to thrive…in the shedding…in the molting…
The New York Botanical Garden, New York
May 27–October 22, 2023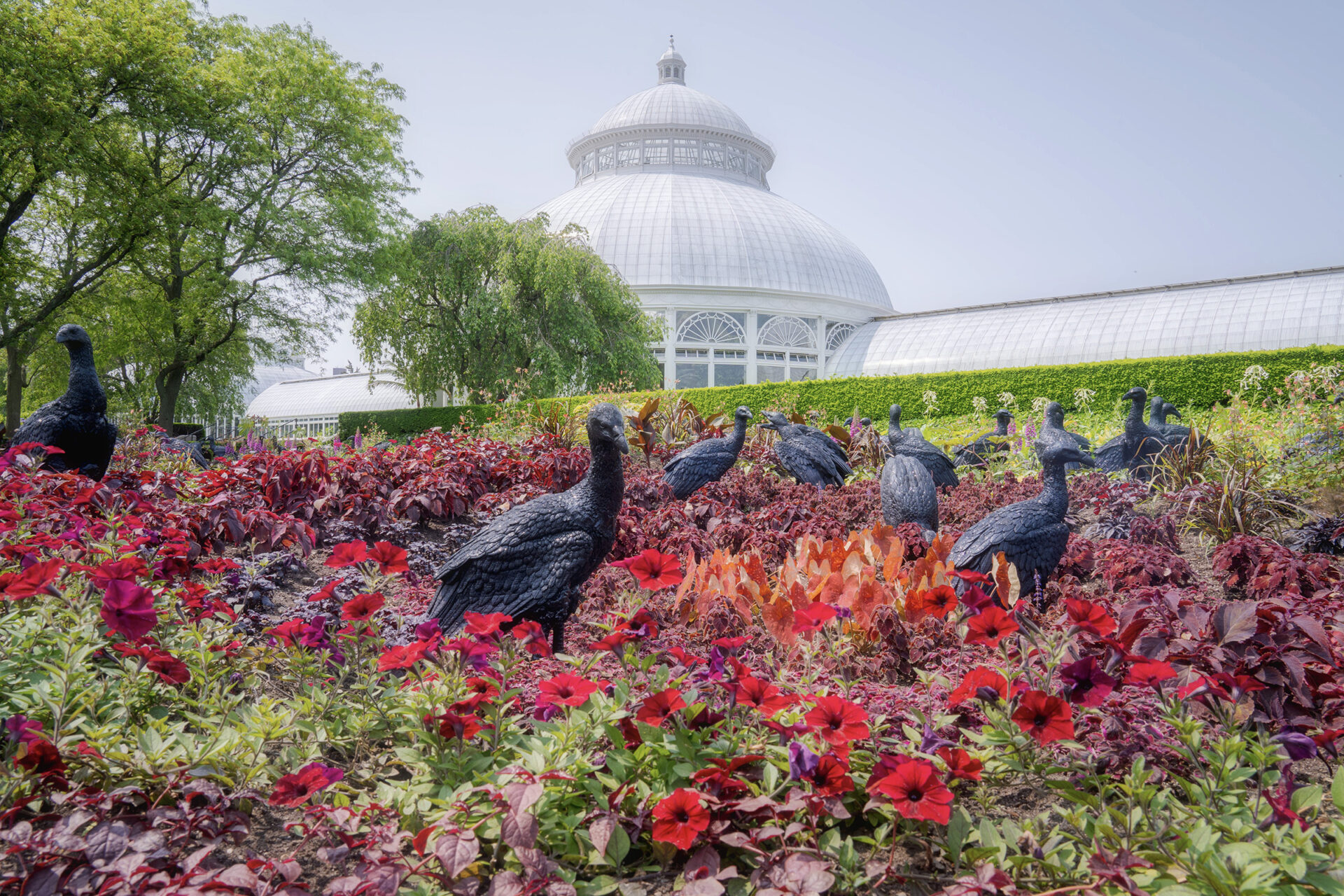 The New York Botanical Garden, New York
May 27–October 22, 2023
[En anglais]
Botanical gardens are a very special kind of institution. Like natural history museums, they have their roots firmly planted in colonialist logic and practices of extraction, cataloguing, and preservation. But botanical gardens are, in a way, more complex. The general public thinks of them mostly in terms of recreation rather than education. Of course, plant lovers obsessed with specific species and rare blooms flock there too, but the vast majority of visitors are hoping for a nice stroll around a manicured re-creation of the Garden of Eden. There are two other sides to botanical gardens that most people are unaware of—the library and the herbarium. These are often specialized and extremely important assets laid out and used predominantly by researchers. In this sense, botanical gardens are similar to natural history museums: they are archives of the living in which everything is dead. They are the materialization of the foundational paradox upon which our knowledge of nature in the West has, for better or worse, developed.
It is hard to exhibit great contemporary art in these kinds of institutions, where audiences come to switch off rather than engage with cultural politics. More recently, natural history museums such as the Smithsonian in Washington, DC, have mounted challenging exhibitions, but the task has proved much harder for botanical gardens. Among the most noteworthy, certainly, is The New York Botanical Garden (NYBG) in the Bronx. Having hosted Kusama: Cosmic Nature in 2021, Georgia O'Keeffe: Visions of Hawai'i in 2018, and Frida Kahlo: Art, Garden, Life (2015), the NYBG has consistently raised the bar in the "nature institution art exhibition" game. Its latest offering, an ambitious and challenging large-scale project by the Jamaican contemporary artist Ebony G. Patterson, has set a new standard.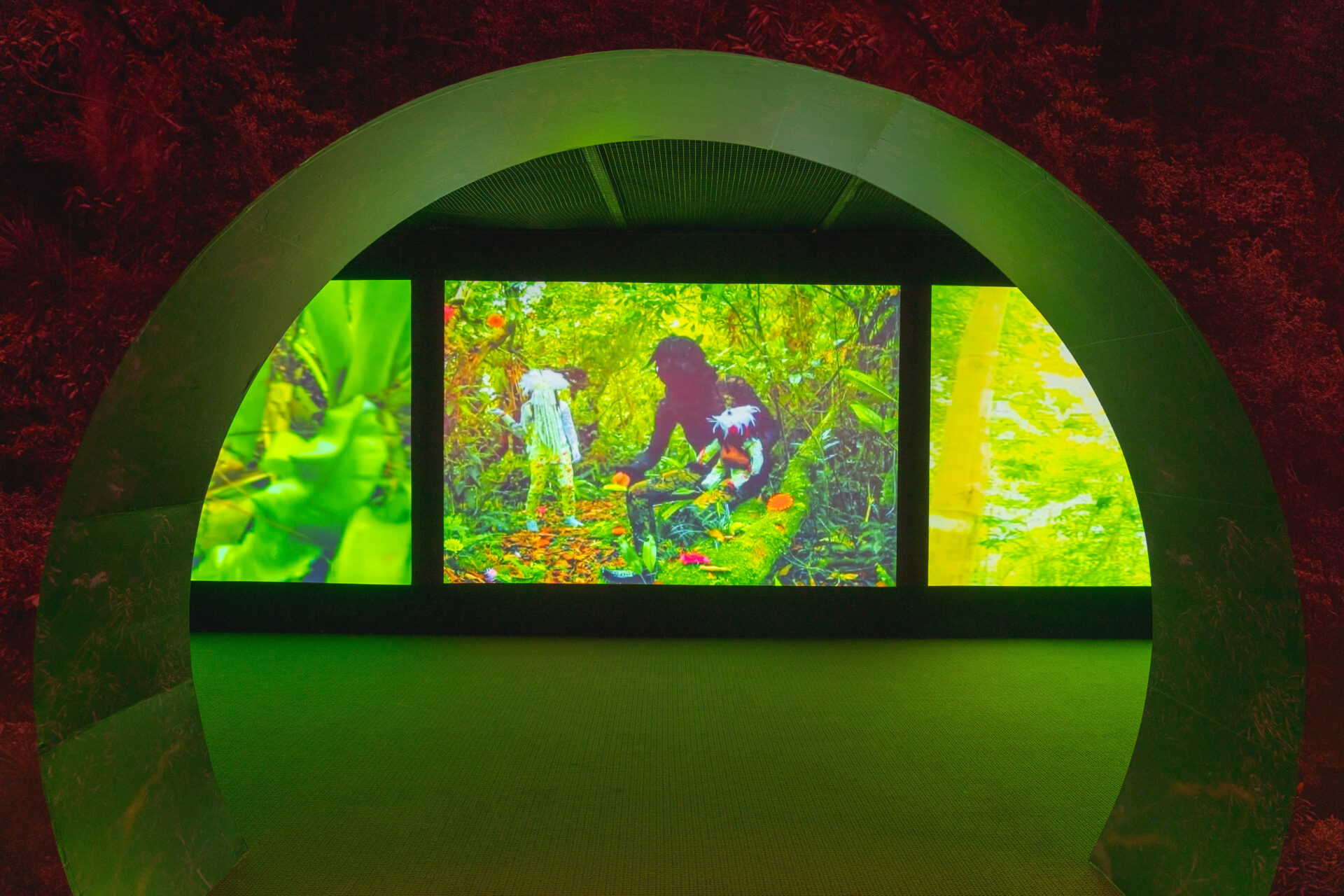 In this instance, Patterson has not compromised her well-known brand of political and thought-provoking art to fit the mould. This tremendous exhibition is a success for this very reason, and also because the NYBG allowed Patterson to critically engage with the greenhouses, flowerbeds, and museum spaces without smothering her originality in order to please its visitors.
As a result, …things come to thrive…in the shedding…in the molting…—not an easy, catchy title for flower lovers—is challenging and often bleak but also permeated by a bright sense of hope. The result of a year-long immersive residency at the NYBG, the exhibition is concerned with registers of visibility and invisibility and how they impact violence against BIPOC people—themes central to Patterson's body of work. Through this lens, she transforms the power dynamics and economies of consumption that normally govern the greenhouses and flowerbeds at the institution. Among the beautiful flowers and foliage that visitors expect to encounter in this type of space, Patterson has placed four hundred sculptures of black vultures that allude to the work of love and care that often goes unseen or is deliberately ignored because deemed unimportant despite being essential. The black, glittery vultures are a metaphor for the BIPOC workers who tirelessly, and unacknowledged, keep the world ticking and looking pretty—just as they do on the grounds of the NYBG. Patterson thus subverts the popular conception of the vulture as an opportunistic scavenger into a herald of new life and regeneration. Vultures clean carcasses, aid decomposition, and are central to ecosystemic balances. Nevertheless, they have been endlessly cast as villains in Western tales of heroism, which favour other birds or sublime animals (often predators) as inspirational models.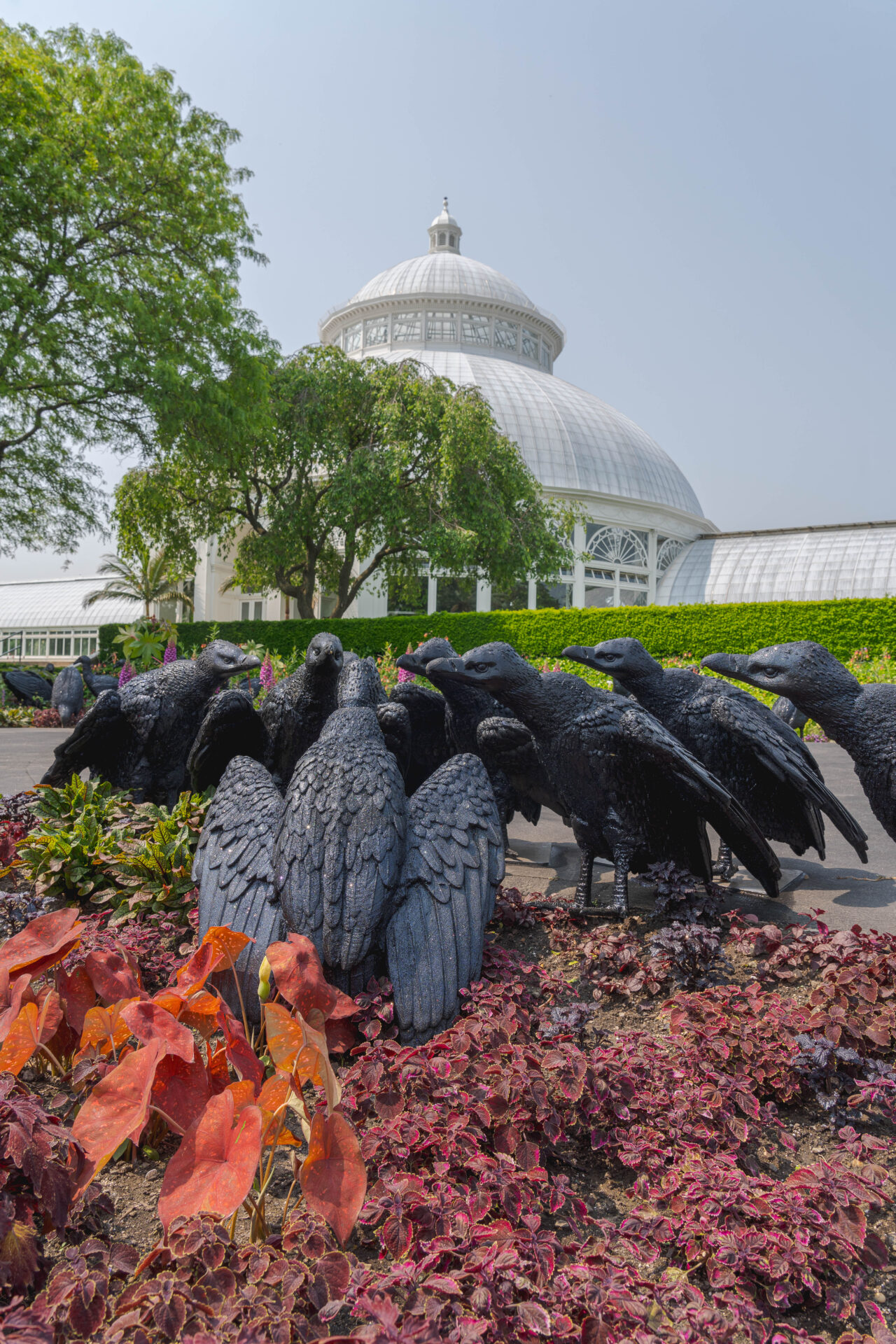 Here, the vultures triumph, covered in iridescent glitter, shimmering in the sun. They peck away at the wounds of the earth. They consume its body so that new growth can emerge. Patterson has also curated the planting outside the main greenhouse where the vultures are situated. With dark foliage and blood-red blooms, these plant species evoke the carnality of a real and living world often concealed under the beautifying veneer of capitalism. Every botanical garden aims to hide the relentless labour upon which its beauty depends. This is the same capitalist logic that perpetrates everyday violence against minorities while cloaking this violence beneath an unbroken and seamless veil of authenticity. Most of the flowering plants in any botanical garden appear to visitors as a permanent reality, but they are actually rotated multiple times a year to maintain an impossible and unsustainable impression of unfading full glory. In order to fully embrace the backbone of Patterson's conceptual framework, the NYBG will let the plants that she selected continue to bloom into seed until the end of the exhibition—thus suspending, albeit temporarily, its standard practice. After all, Patterson's installation is all about transitory states. Moulting and shedding are, in her view, essential stages in the processes of healing and regeneration.
By conceptually modifying the power relations that govern the plantings in the flowerbeds and greenhouses at the NYBG, Patterson evidences the ineluctable perseverance of postcolonial violence in today's world, one still haunted by colonial logic. The grounds of the garden were once home to the nation's oldest tobacco business, the Lorillard Snuff Mill, which opened there in 1792. What stays, what vanishes, and what turns into the foundation of our futures?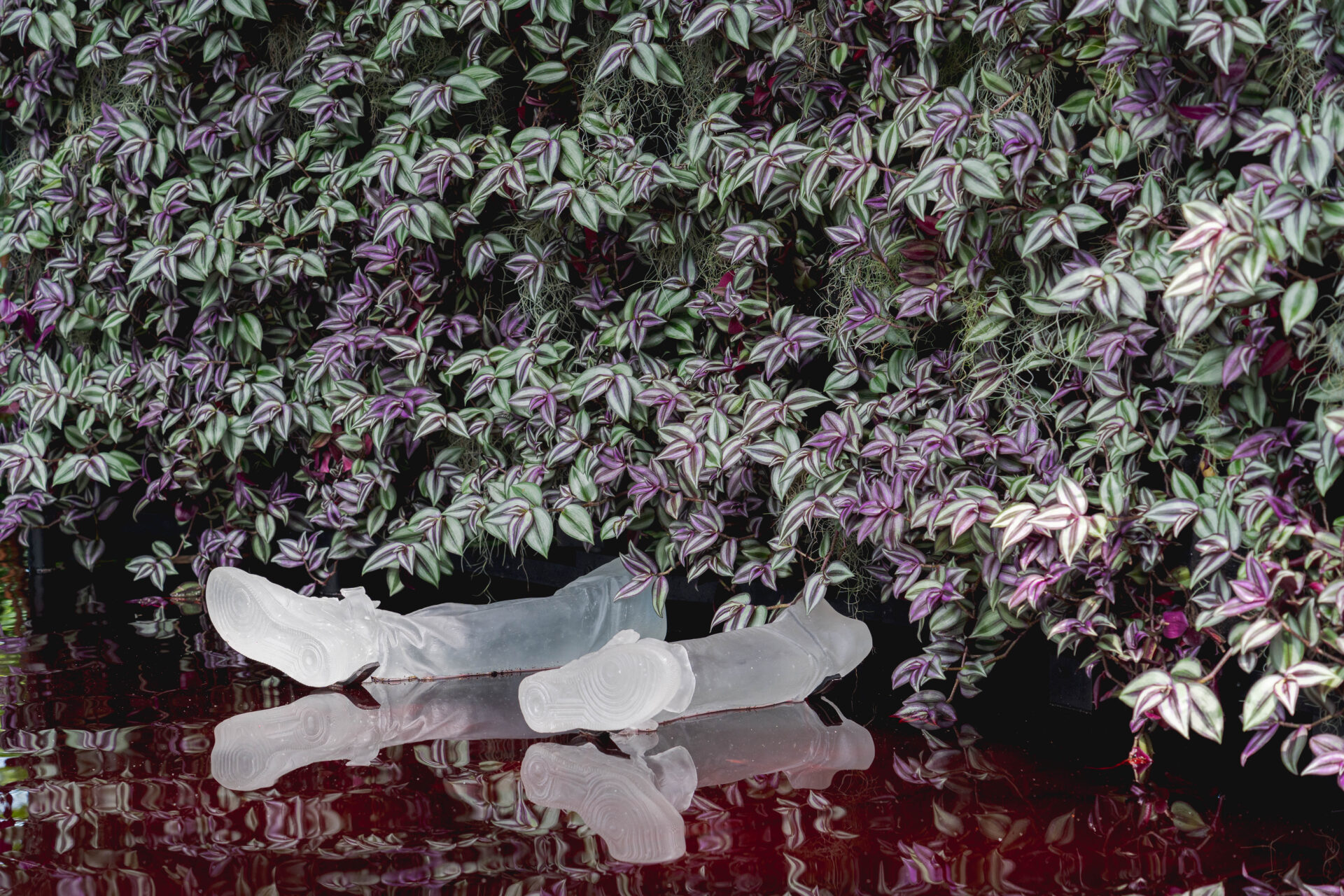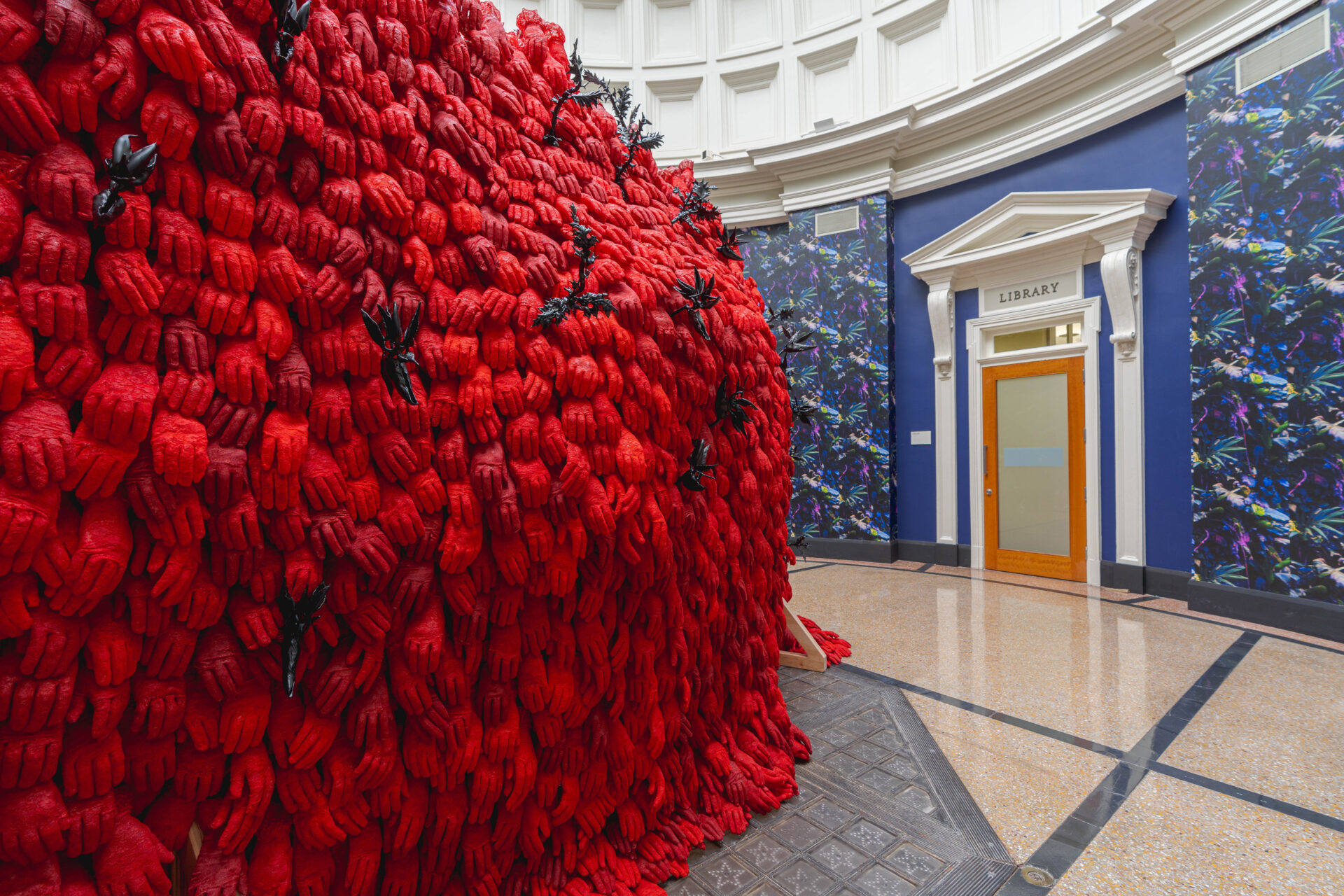 Patterson's hauntology continues in the garden's greenhouses, in which spellbinding albino plants cast in glass emerge among the colourful living flora on display. For this exhibition, she has engaged with the less popular parts of the garden, the herbarium, and the library, in search of lost species. What does it mean to learn from a ghost, she asks us? From space to space and medium to medium, her conceptual framework works as a recursive model outlining an ecosystemic dimension that encompasses much more than just animals and plants. These ghostly flowers are simultaneously effigies of lost specimens and ancestral reminders of lost cultures and ideas—emblems of erasure, willing and incidental, that have shaped our present. These themes are further explored in a series of intricate three-dimensional collages inspired by a book in the collection of the LuEsther T. Mertz Library at the NYBG. An imposing, two-sided sculpture titled …fester articulates Patterson's concern with the economies of visibility and invisibility from which our reality, often through violent systems, generates itself. On one side of the sculpture is a nightmarish mountain of grabbling hands punctuated by black plants, which supports the mythologization of refinement, superiority, and progress symbolized on its other side. Shrouded by a cluster of rich, lush fabrics is a gilded backbone—an ambiguous symbol of the complex relationship that binds beauty and wealth to horrors and exploitation.…things come to thrive…in the shedding…in the molting… is a surprising tour de force. Sophisticated, complex, and yet accessible, it confidently situates the NYBG as a cultural powerhouse where difficult histories that have shaped us as well as the natural world can be openly discussed and addressed—a compelling and highly contemporary statement from a world-class institution exhibiting world-class contemporary artists.
An author and curator specializing in the history and theory of photography, representations of nature, and materiality in art, Giovanni Aloi has edited and authored more than ten books. He is the editor of Antennae: The Journal of Nature in Visual Culture and of the University of Minnesota Press series Art after Nature.