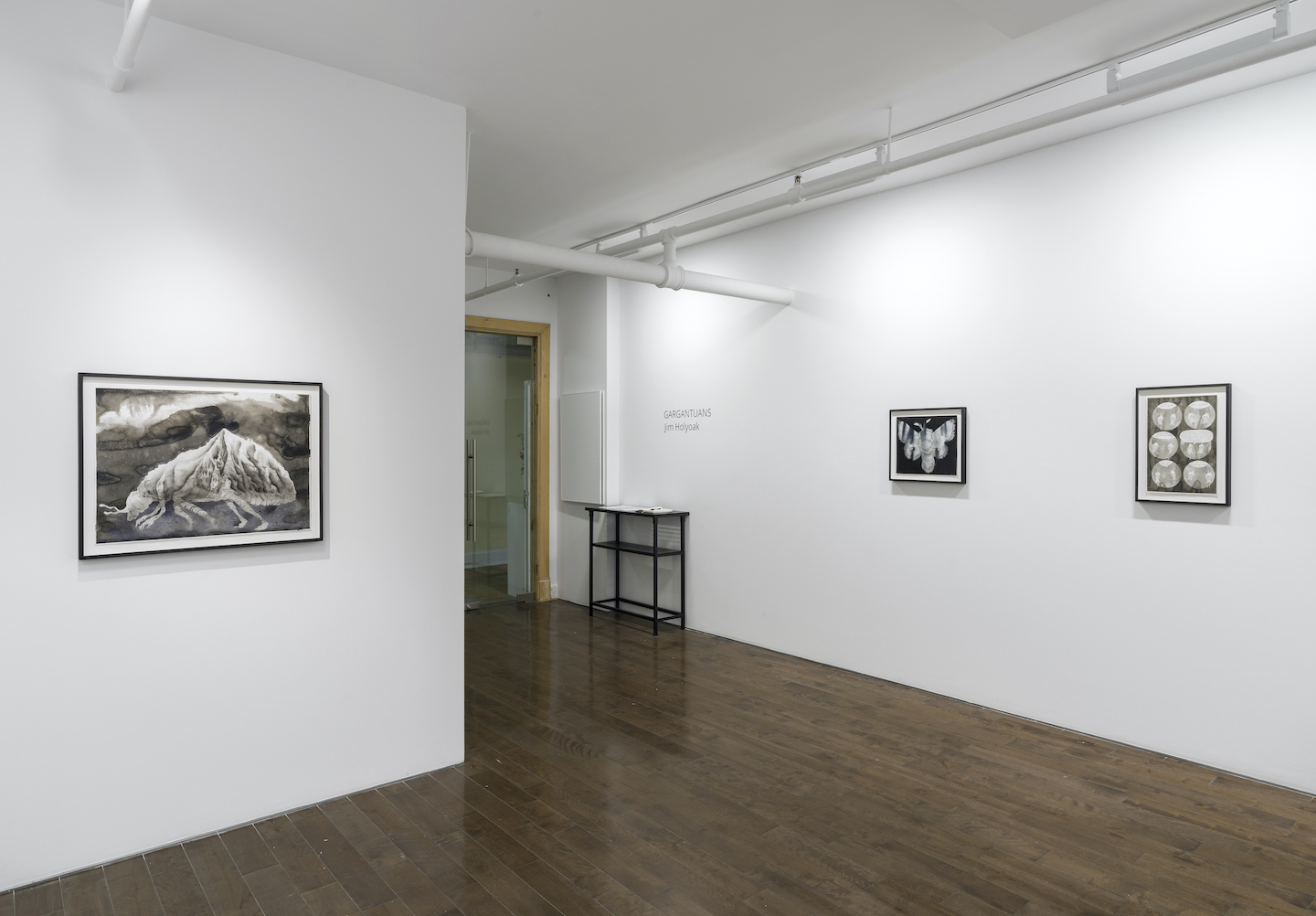 McBride Contemporain, Montréal
May 25 – June 30, 2023
[En anglais]

In "Promises of Monsters: A Regenerative Politics for Inappropriate/d Others," Donna Haraway offers that "nature is not a place to which one can go"; rather, it is "a topos, a place, in the sense of a rhetorician's place or topic for consideration of common themes; nature is, strictly, a commonplace." "Nature," she continues, "is also a tropos, a trope. It is figure, construction, artifact, movement, displacement." Haraway describes this essay, included in The Monster Theory Reader, as "a mapping exercise and travelogue through mindscapes and landscapes of what may count as nature in certain local/global struggles." Both the distinction of nature as topos and tropos and the methodology of the essay as a mapping exercise/travelogue of mindscapes/landscapes that includes a concern with the local and the global seem to form an energetic framework for Jim Holyoak's exhibition Gargantuans, as well as for his extended practice.
Comprising eleven framed works of ink, graphite, and/or watercolour on paper, Gargantuans operates as an abbreviated index of Holyoak's environmental imagination, in which landforms and oft-maligned winged or clawed creatures of the night, such as bats and moths, coalesce into washed hybrids whose edges are invited to bleed into one another. Part dreamwork, part remembrance, the darkly atmospheric landscapes, some turned bestiary, perform the discourse-ordering and memory-composition functions that Haraway assigns to place as topos. Through Holyoak, these landscapes become the enspirited locations that she calls for as places to rebuild public culture, whereas nature becomes tropos through hybridity formed of geologic and corporeal communion. In Mt. Lady Loki (2023), for example, a mountain becomes a ladybug (or vice versa), its white ridgeline descending into a bowed head with antennae divining westward. A network of darkened gorges and gullies descend from the apex, luring us into the interior, as the cavernous becomes the intestinal or skeletal. The sharpness of the backbone and the angle of the peak betray the usual smooth convex expected of the ladybug's shell to form a grotesque iteration of what might be considered a more whimsical insect. In the ink-on-Chinese-paper Wandering Gargantuan (2022), craggy columns rise ominously off the armoured back of an Ankylosaurus; they resemble the eroded geologic abscesses of Mt. Lady Loki, but this time the force is ascending, so that one cannot be sure if the mobile ecosystem is made of gas or stone. An irregularly shaped skull radiates out of the exhaust above the beast's nape, a subtle revelation reminiscent of the corpse's head that Bruegel hid beneath the bushes bordering the ploughman's stepped terrain in Landscape with the Fall of Icarus.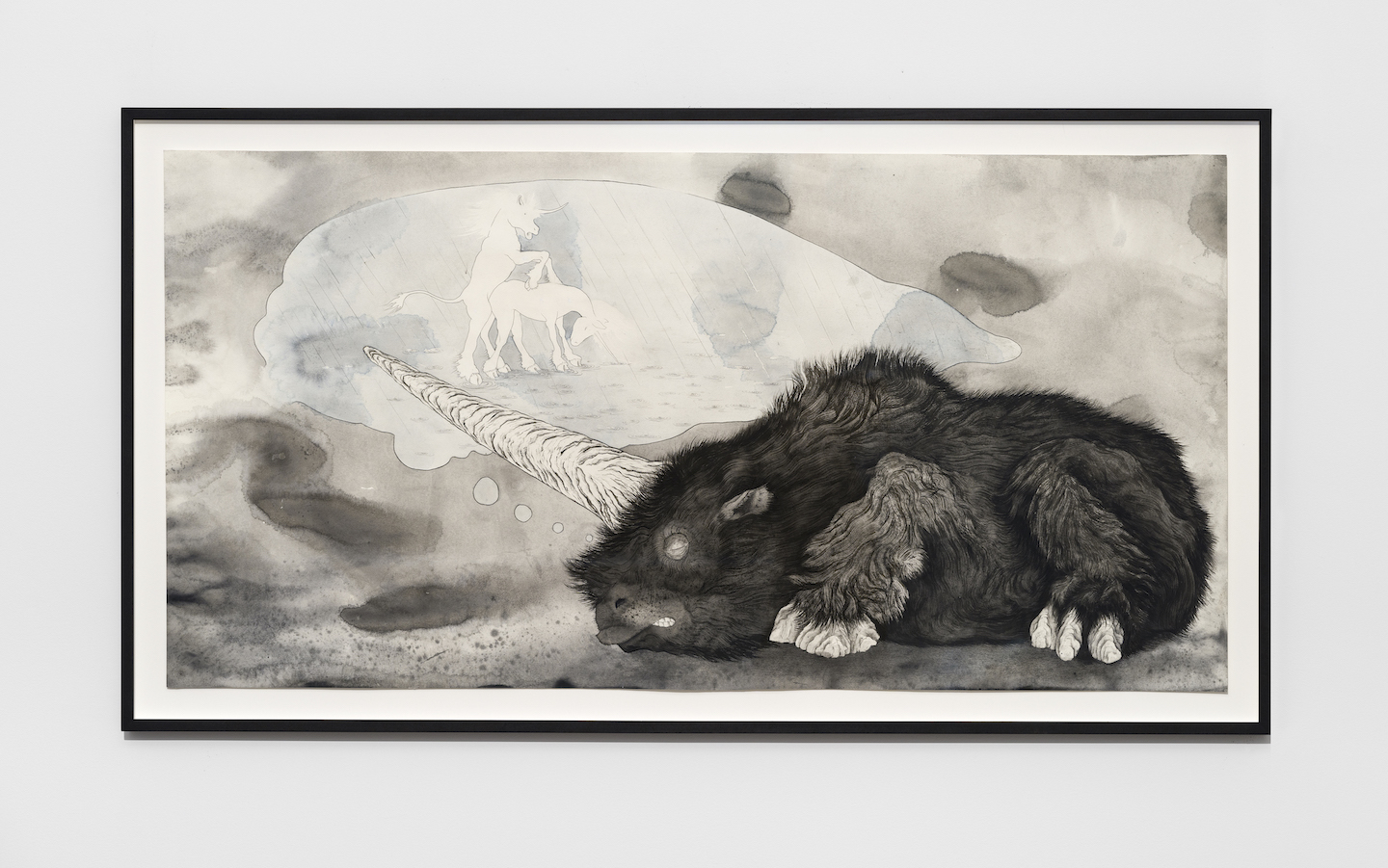 There is an immediate invocation of scale in the title, Gargantuans, and for anyone familiar with Holyoak's ambitious solo projects and those produced with long-time drawing partner Matt Shane, in which they generate worlds that often fill entire spaces, scale would be a logical associative term. Indeed, exercises in scale abound: in Mt. Lady Loki, the morphing of the gigantic with the miniscule causes a confusion of scale that invites one to question whether it is the insect that has achieved grandness or the mountain that has been reduced to the status of a pebble. In Holyoak's darkly sweet comic-book collaborations with Darren Fleet, Wild is my Truth and Why Was I Born (2021), featuring anxious conversations between trilobites that recognize the precarity of life, tiny extinct lifeforms are given the agency to ask big questions. In these examples, and in the subject matter that spans from mountains and prehistoric beasts the size of modern buildings to insects and extinct marine arthropods, scale is an important feature of the works in the collection. More than this, Holyoak conceives of scale as a connective concept whose range is an essential feature of biodiversity and evolution, which collaborate to form narratives of growth and destruction, so that the trilobite and the mountain are not so far divided.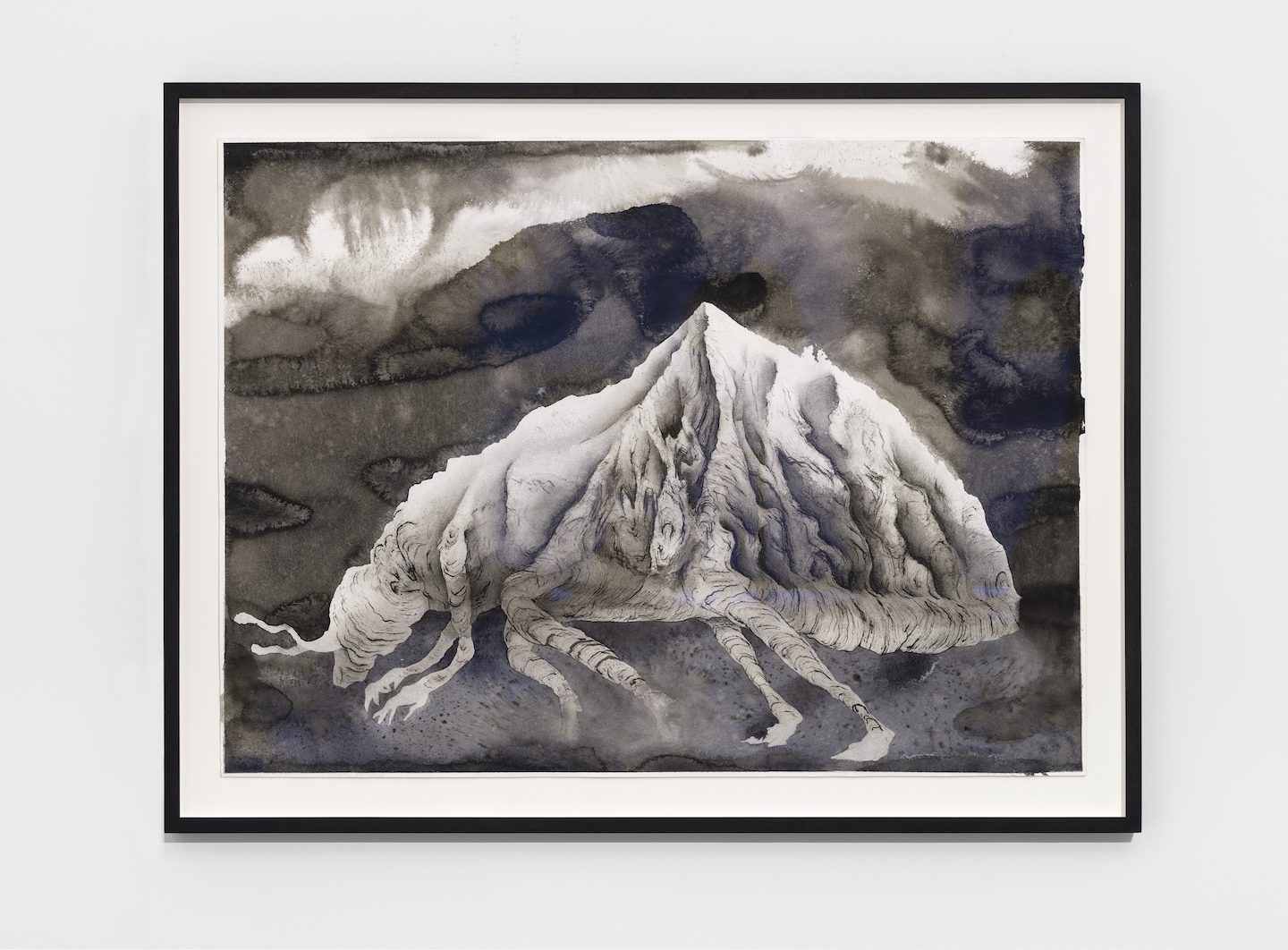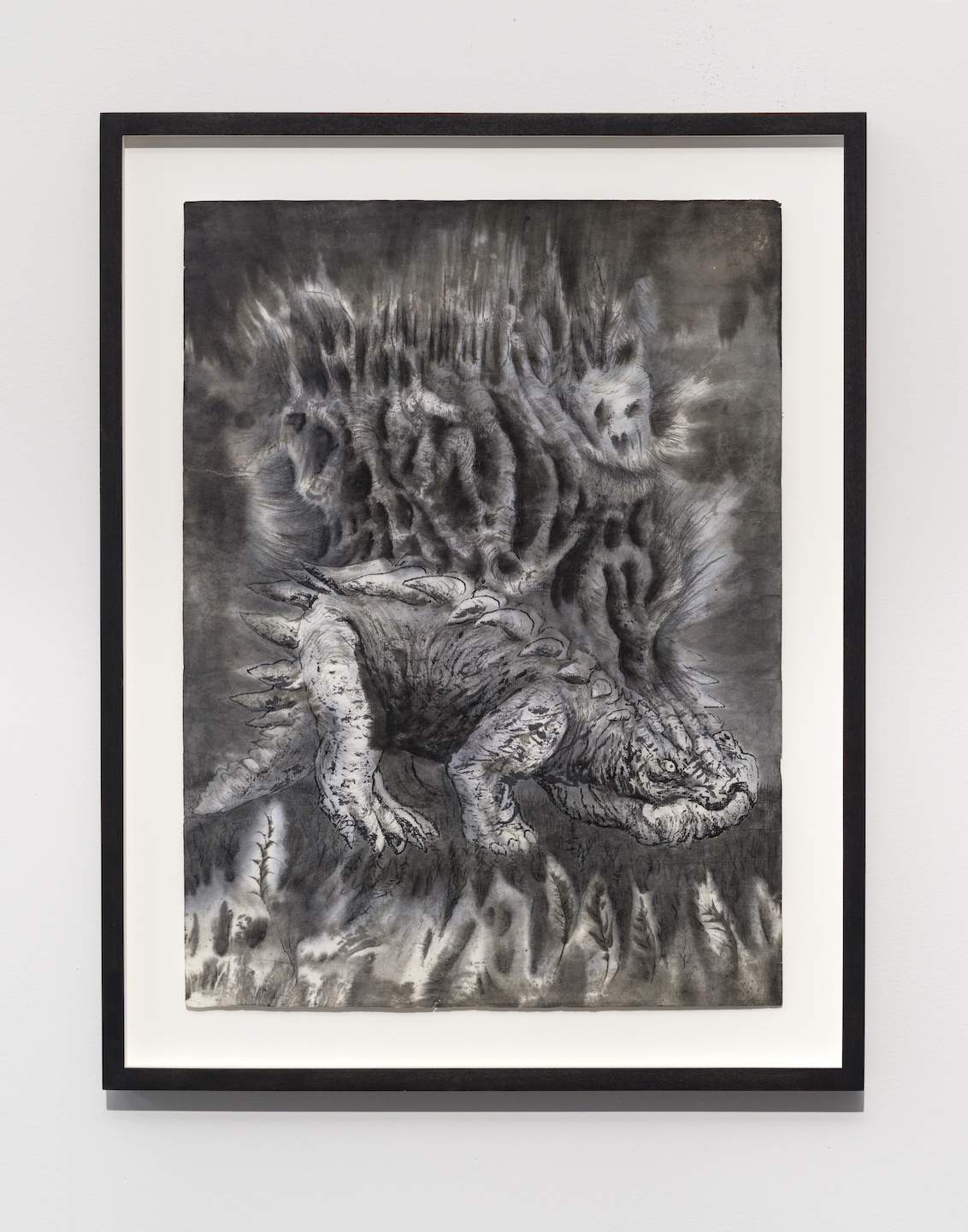 Along with impressive exercises in spatial scale, Gargantuans also showcases temporal scale, a system of measurement used by geographers to measure variability across time. Indeed, there is this kind of metric at work here: Holyoak expresses a deep-time sensitivity as he takes interest in, for example, the Cambrian period, which he describes as a biodiversity explosion that ended with an extinction event (we should pay heed). A temporal scale could be used to measure the length of time required to complete a work—an aspect both hidden and in plain sight, as the inked lines and water-coloured stains lay trace to the minutes, hours, years, spent in the act of creation. Viewers often miss this vital quality in a work of art, seduced instead by the skill of its making, which, when refined, seems to all but obliterate the concept of time. Duration can be explained in some instances by the nature of the medium; Holyoak explains that works done with Chinese ink take three times longer to complete than drawings with pen or graphite, as the ink must be applied in layers and given time to dry between applications. There are geological metaphors here too—it's all layered time. Exemplifying geologic and material time in participation with Holyoak's cumulative practice is Trollveggen (Troll Wall) (2023)—a detailed Chinese ink painting of Norway's formidable metamorphic rock wall, whose striated structures, as he renders them, are transformed into mythological figures—which took five years to complete.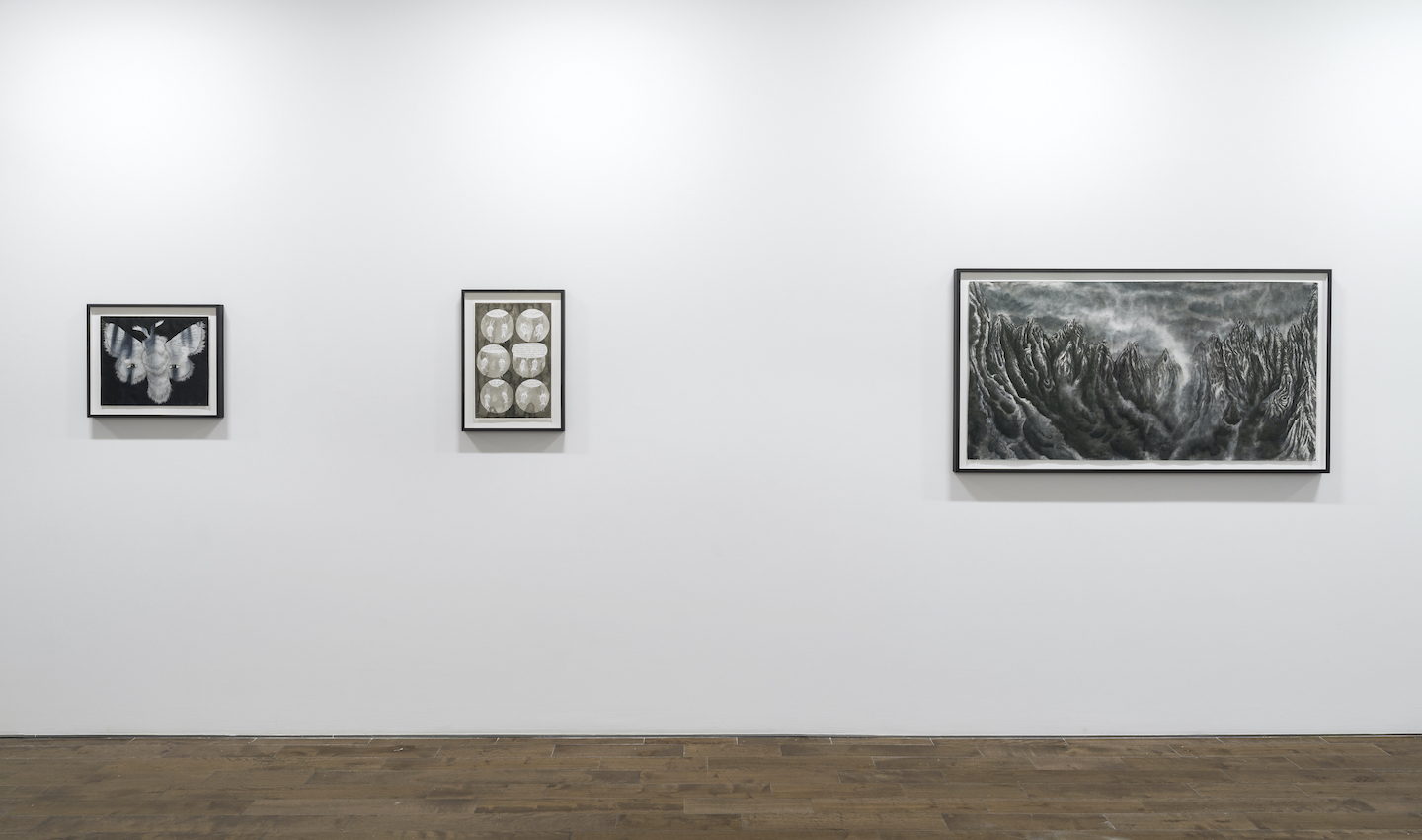 An adaptation of the temporal scale measures other things too, such as the enduring commitment that Holyoak demonstrates toward his so-called monstrous subjects, having studied and drawn, potentially thousands of times, creatures in existence, such as bats; those gone extinct, such as trilobites and dinosaurs; and those imagined, such as enchanted anthropomorphic trees whose entangled limbs form a gesture that bridges horticultural grafting and human embrace. A temporal scale also measures his dedication to particular locations and landforms, evident in the moody Ostara (2018), an ink-and-watercolour painting on Chinese paper of Klinga, a mountain peak in western Norway, done from observation while in residency at Nordic Artists' Centre Dale. He says he has drawn the mountain many times and describes this iteration as his most atmospheric. Here, a large white-gray cloud wisps off the peak's leeward side like a phantom exorcised from its rocky body, and watercolour stains form an ethereal background to the meteorological drama that bleeds off the painting's edges.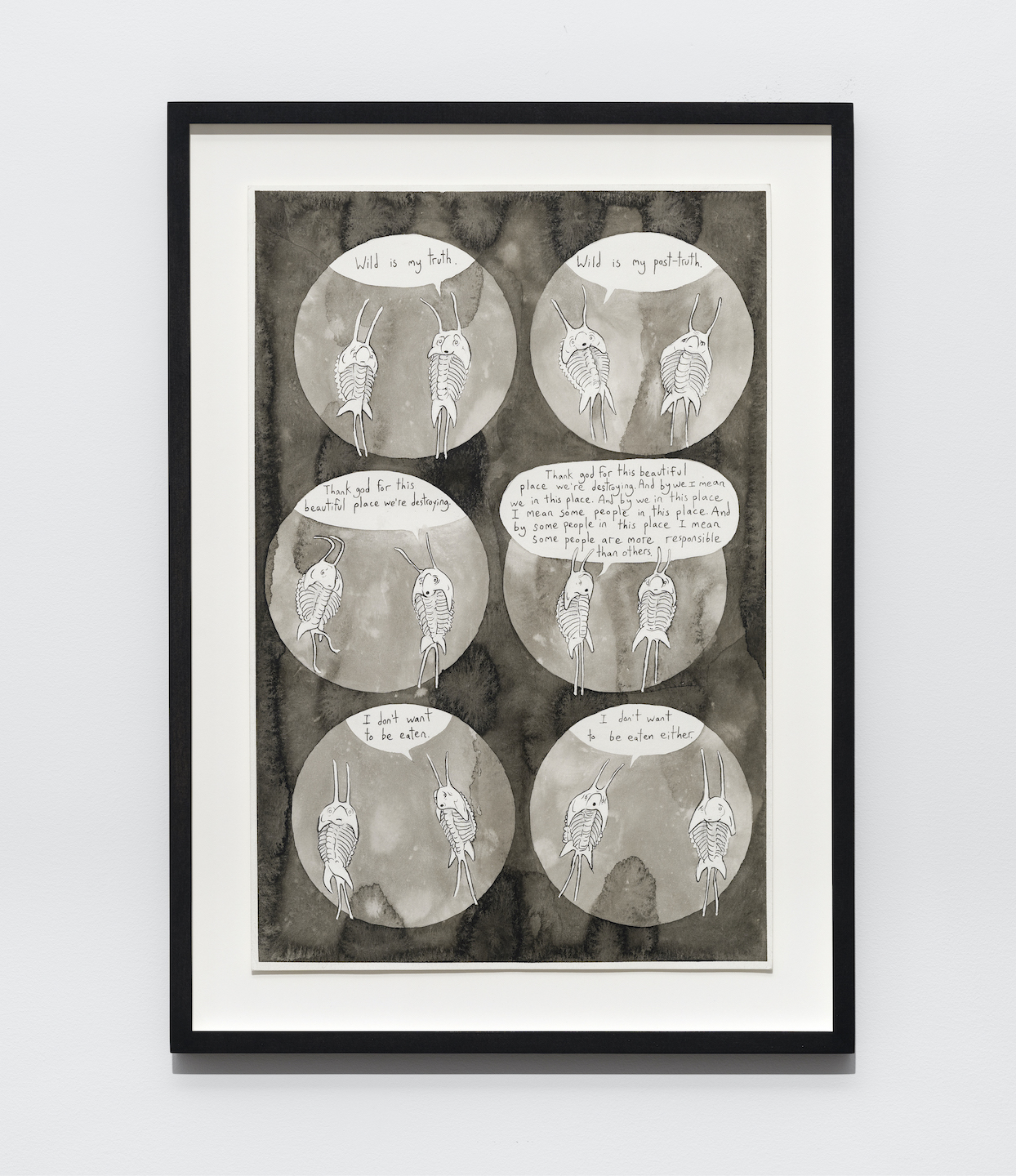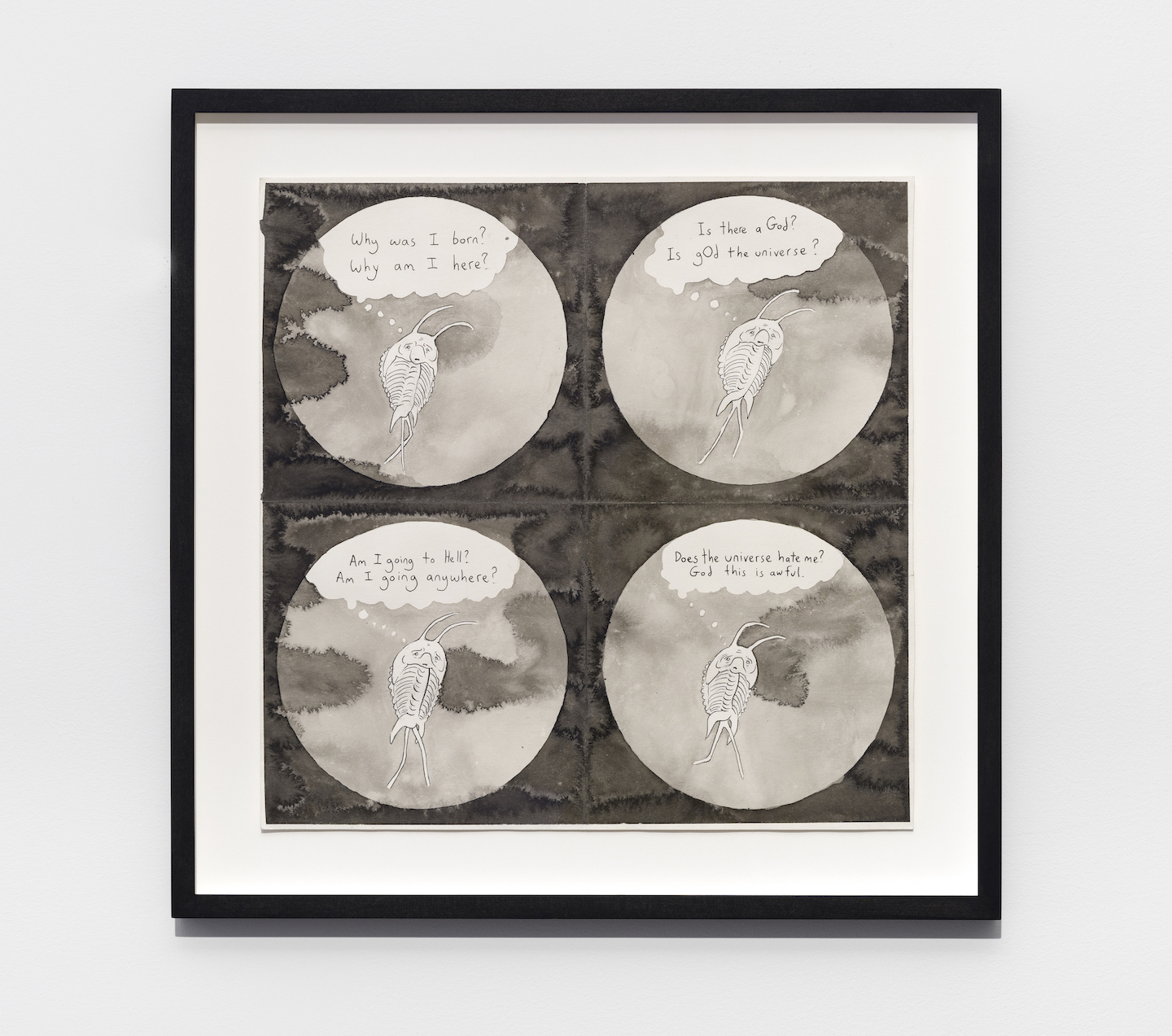 As he tells me this, I think about Cézanne's obsessive life-long rendering of Mont St. Victoire, a landscape that he reproduced in thirty-six paintings and forty-five watercolours. Maybe it is that Holyoak is not so much interested in capturing reality as he is in honouring the details of nature's exquisite design with the care and attention of an archivist tasked with cataloguing the end of time, while understanding the absurdity of the project. Rather than saying "this is what is," his drawings and paintings that sometimes leverage the absurd and resonate with an anxious tremor, using the known to create less-familiar constructions as if to say, "this is what's possible." It's a message that acts as a harbinger of imminent environmental collapse while reminding people of the beauty that currently exists outside the bounds of conventional categorizations.
Writing on art, architecture, and technology for a variety of publications for nearly twenty years, Tracy Valcourt is a recent graduate of Concordia University's humanities PhD program. Her research focuses on aerial perspectives of landscape.