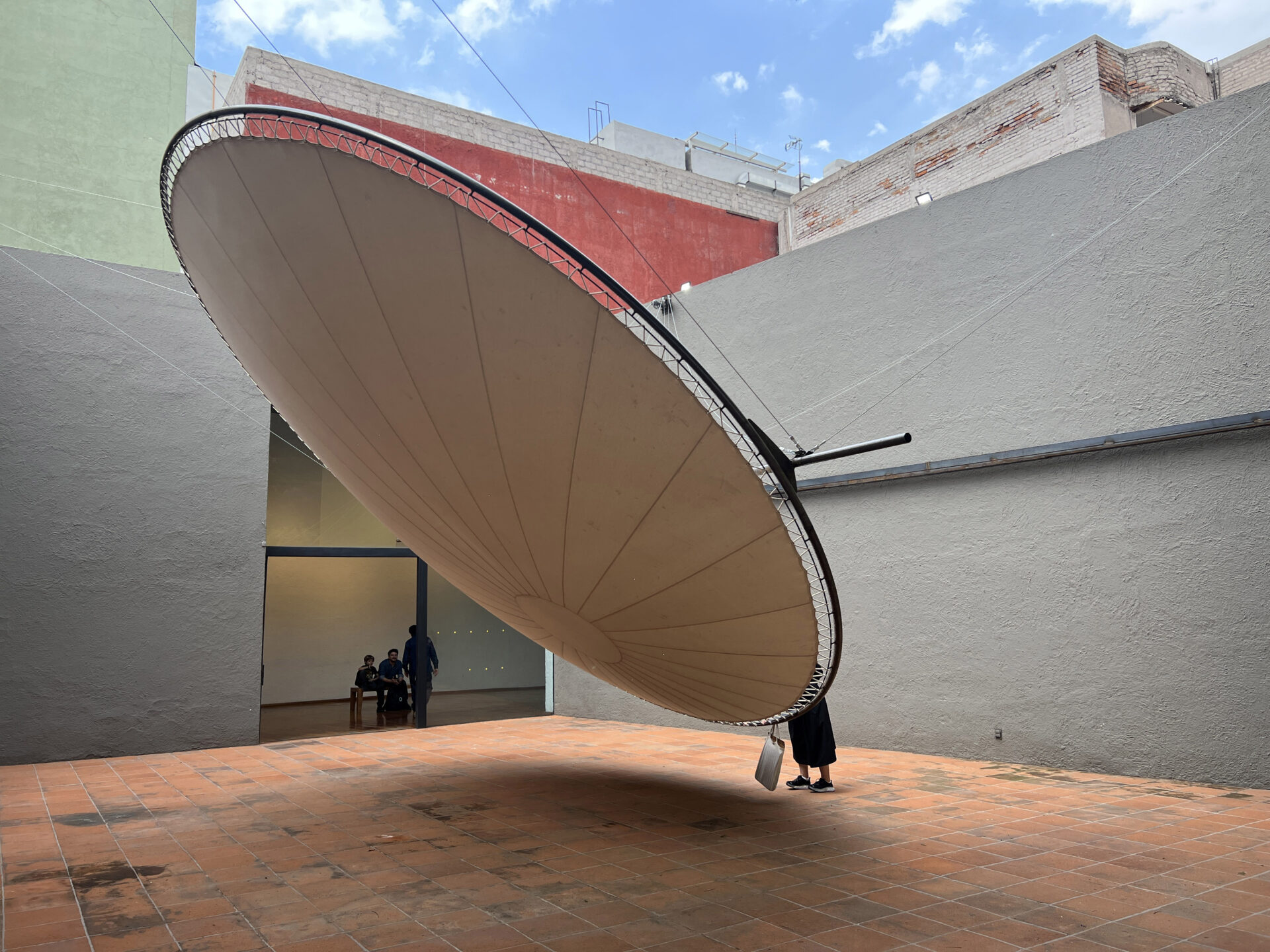 Museo Experimental El Eco, Mexico City
April 29–July 30, 2023
[En anglais]
Cuenco [Bowl], an architectural/sculptural work by the design team OCIO, is the winner of the Eco Pavilion competition sponsored by the Museo Experimental El Eco in Mexico City. Installed in the courtyard of El Eco, Cuenco is also the only work on the ground floor, with the remaining indoor spaces of this remarkable building purposely left unoccupied. Yet, these vacant spaces are neither inert nor ineffectual; they serve as both agents and receptacles that resonate with the kinetic potential of Cuenco. Here, art and architecture achieve a reciprocally illuminating accord, so that discussion of the one necessarily entails the other.
Museo Experimental El Eco is the work of artist/architect Mathias Goeritz. Of German origin, Goeritz settled in Mexico in 1949. El Eco is meant to exemplify what he termed "emotional architecture." In a manifesto published a year prior to construction of the building, which opened in 1953, he positions his design principle against the paradigmatic functionalism of modern architecture and the excessive romanticism of Gaudí. Emotional architecture aspires to elevate "man" to a spiritual plane: "Only by receiving true emotions from architecture can man consider it again as an art." His examples of such an elevated architecture include the pyramid, the Greek temple, and Romanesque and Gothic cathedrals. Goeritz's concept of building-as-art is most eloquently demonstrated by the installation of two of his signature vertical monoliths: a black volume in the interior, which he called Scream, and a yellow volume in the courtyard conceived as a shaft of light. Eschewing function, these tall, free-standing volumes are mysterious articulations of dimensions that exceed the human. Seemingly uninvited, they simultaneously anchor and elevate the architecture. I cannot help but compare them with the monolith in 2001: A Space Odyssey, Stanley Kubrick's sci-fi epic made in 1968. The gambit of El Eco is indeed simple: two vertical monoliths, one intervening in the exhibition space, augmented by a long entrance passage (a horizontal negative monolith?), and the other intervening in a courtyard that adjoins an exhibition space of roughly the same dimensions. Wall treatments, differing in surface and colour throughout, imbue the architectural complex with rhymtical intensity and liveliness. Indeed, El Eco is a concise achievement of architecture that elevates and enchants.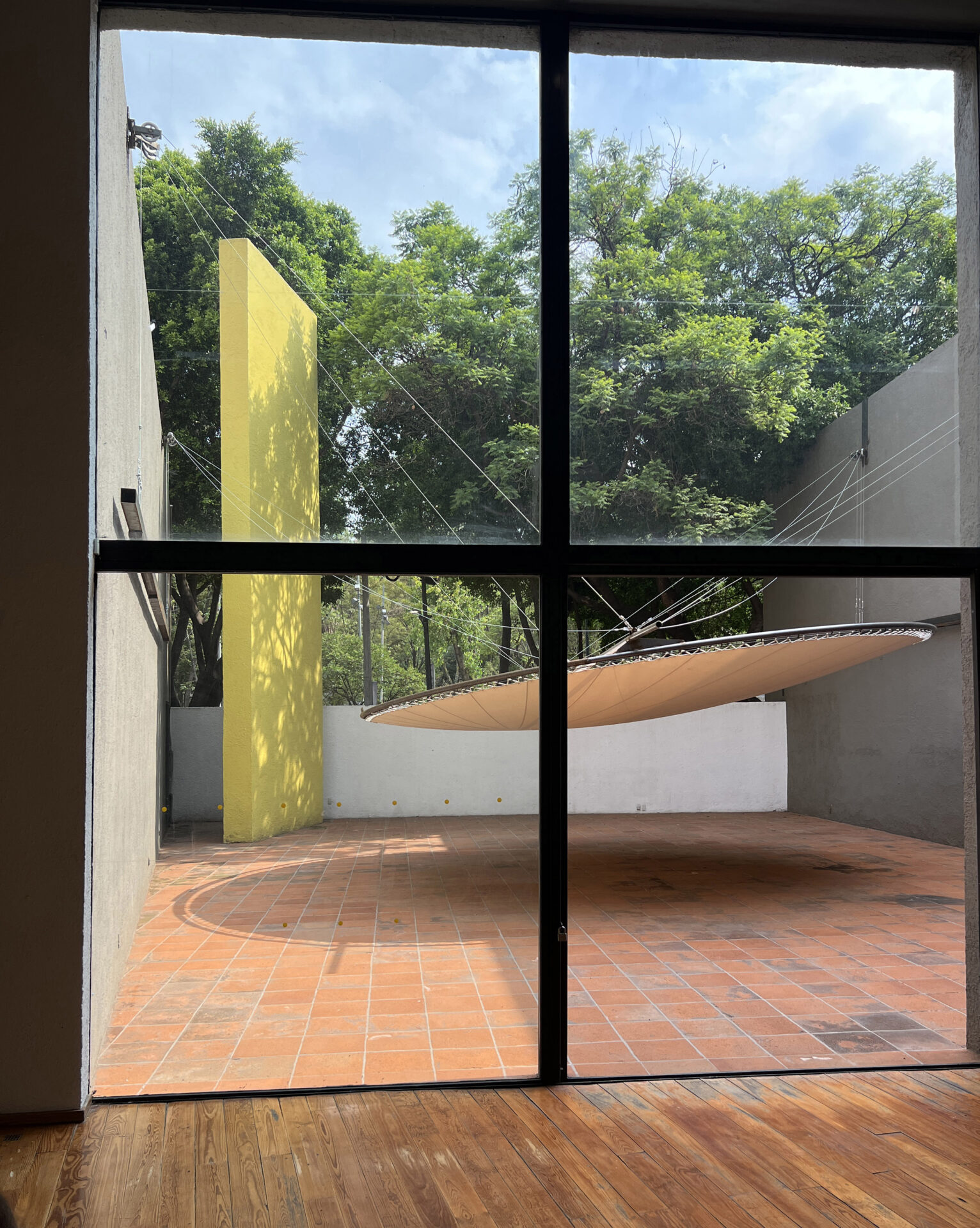 In contrast to the vertical thrust of the monoliths, Cuenco is a canvas disc horizontally suspended in the courtyard by a cantilever mechanism. The circular form appears to be an ingenious inversion of a courtyard canopy, lowered to hover just above human height. I call Cuenco a disc rather than a bowl, as designated by the OCIO team, because its shallow volume acts more like an elegant slice into the mid-elevation of the courtyard than a container. The space is compressed between the disc and its shadow. We move around Cuenco's circumference. The disc has kinetic potential, as it is suspended by a mechanical pulley system that also enables it to be manoeuvred. It can be tilted by hand or by nature, as when it is soaked with rainwater. I imagine it also responds to wind of a certain magnitude. When in stasis, its default orientation, the disc "hovers," imparting a sense of quietude and slowness to the courtyard that resonates unimpeded throughout El Eco. Spaces are no longer neutral; they are transformed, drawn into the vicinities (of the disc). I observed visitors lingering in different parts of the courtyard near Cuenco, to experience the vicissitudes of time and space from various vantage points.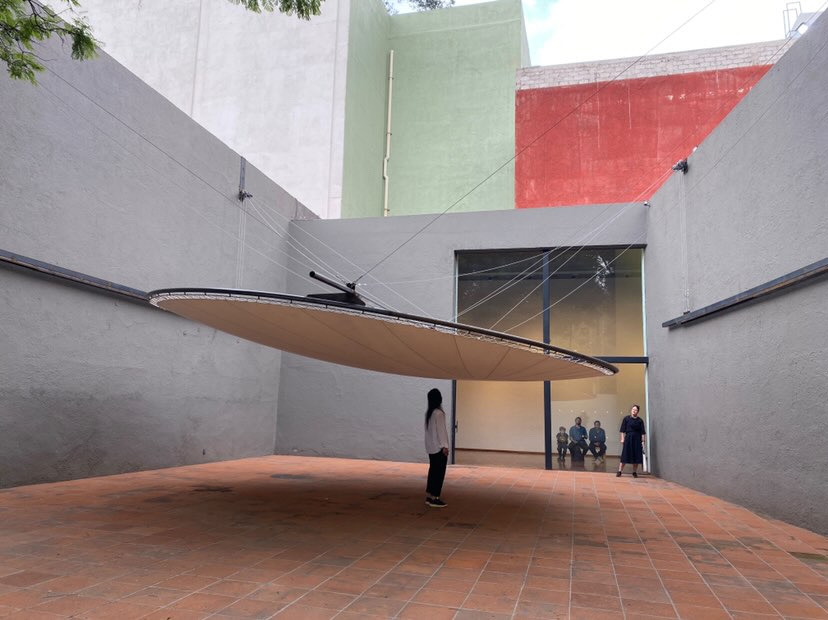 Surely, Cuenco and its attendant mechanism posit a performative, almost gymnastic propensity. Thus, despite the inherent stillness, there is a subtle, understated joy in the courtyard. Cuenco is beautifully fabricated and calibrated: suspended between stillness and momentum, it inhabits and performs in that interval. Hovering between stasis and readiness, it issues a subtle awareness of reciprocity with its environment. Imagine a kayak floating on and with the current of calm water. The placid, horizontal Cuenco deliberately contrasts with Goeritz's vertical, assertive monoliths. The scene is dynamically complemented and fulfilled. The design team OCIO succinctly states that Cuenco "remains undecided in its quest for a balance between the Earth that attracts it with its mass, and the tension that supports its falsely inert levitation. This balance is subject to biological and atmospheric variables, to the weights involved and the sum of their opposing forces: a host of external and internal circumstances interwoven in a net of interdependent events gathered around the textile." Cuenco is a form that articulates and precipitates an environment. It installs a superlative event of proximity among time, space, and tension, and between art and the architecture of El Eco.
Born in British Hong Kong, Yam Lau is an artist and writer based in Toronto. His work explores expressions of space, time, and the image. Lau is a professor of visual arts at York University, Toronto. His work is represented by Christie Contemporary.