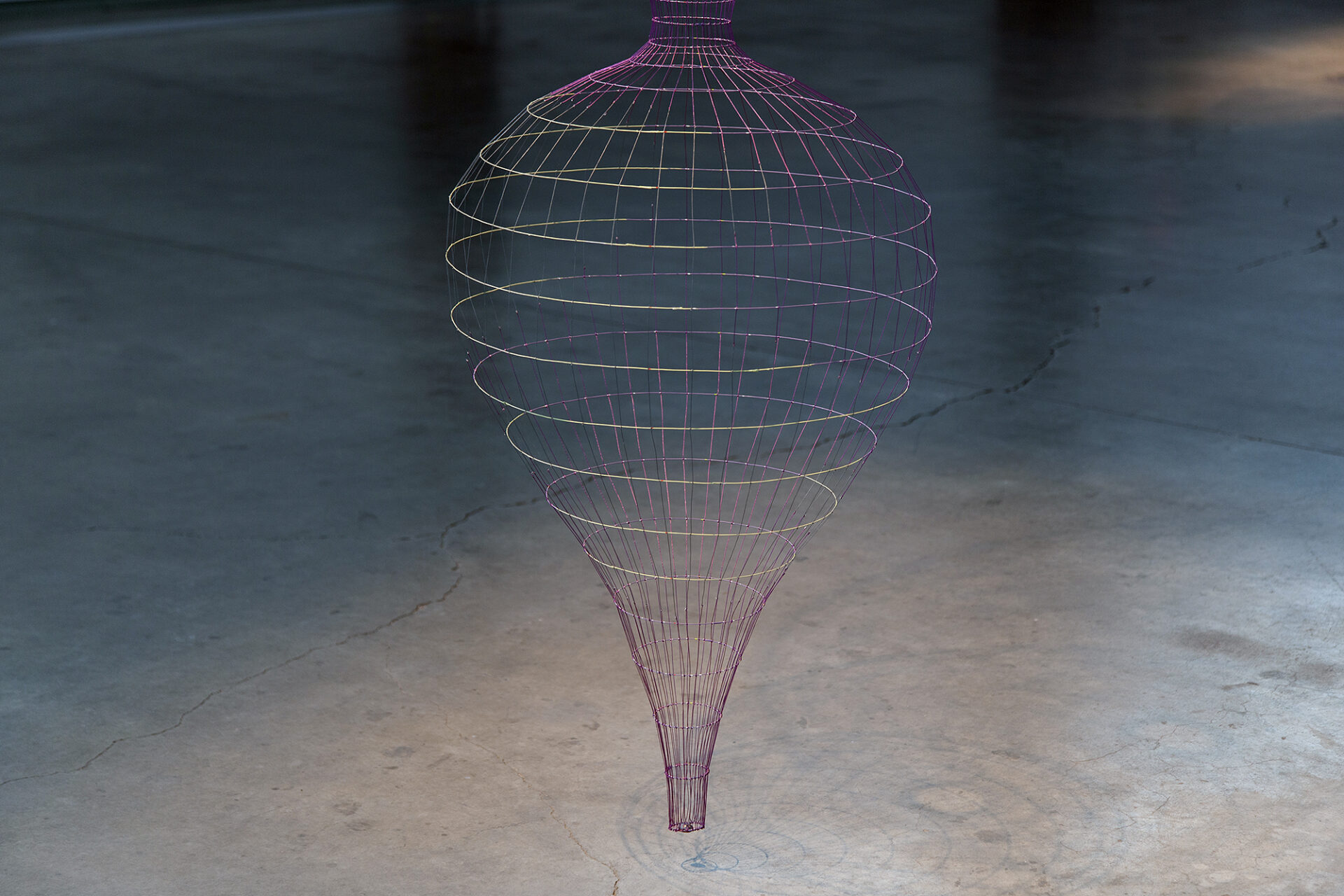 Fonderie Darling, Montréal April 22–August 22, 2021

Hanging voluminously—yet nearly imperceptibly—from the ceiling of Fonderie Darling's main hall, Sarah Stevenson's sculptures compel unique ways of conceptualizing the absence and presence of form. The six works in her exhibition Before the Storm float weightlessly in the vast industrial space, evoking massive organic yet mechanical objects. The mid-career Montréal-based artist uses vibrant metal wire and fishing line to create diagrammatic sculptures, which, in their weightlessness, transform the air of the hall into a substance—a medium filling the space within and around their skeletal forms. Recalling Ruth Asawa's woven mesh sculptures, they precipitate the sort of phenomenological engagement with space which high-Minimalism could only have achieved through conspicuously weighty impositions—a self-conscious viewing experience, in which one is compelled to circumnavigate the sculptures in order to comprehend their entirety, becoming aware of one's own relational presence in the process.
Before the Storm features Stevenson's largest and most ambitious works to date from her ongoing Wireframe series, begun in 1997, in which bulbous organic shapes are set in dialogue with the geometric, quasi-mathematical precision of their framing. Their form plainly conveys their conceptual origins and subsequent process of creation whereby Stevenson transfers two-dimensional grid diagrams into three-dimensional skeletons. By working in this visual language of architectural precision, Stevenson's sculptures ask us to consider their existence as pure concept—as that which remains constant between the diagram and the hypothetical solid to which it alludes.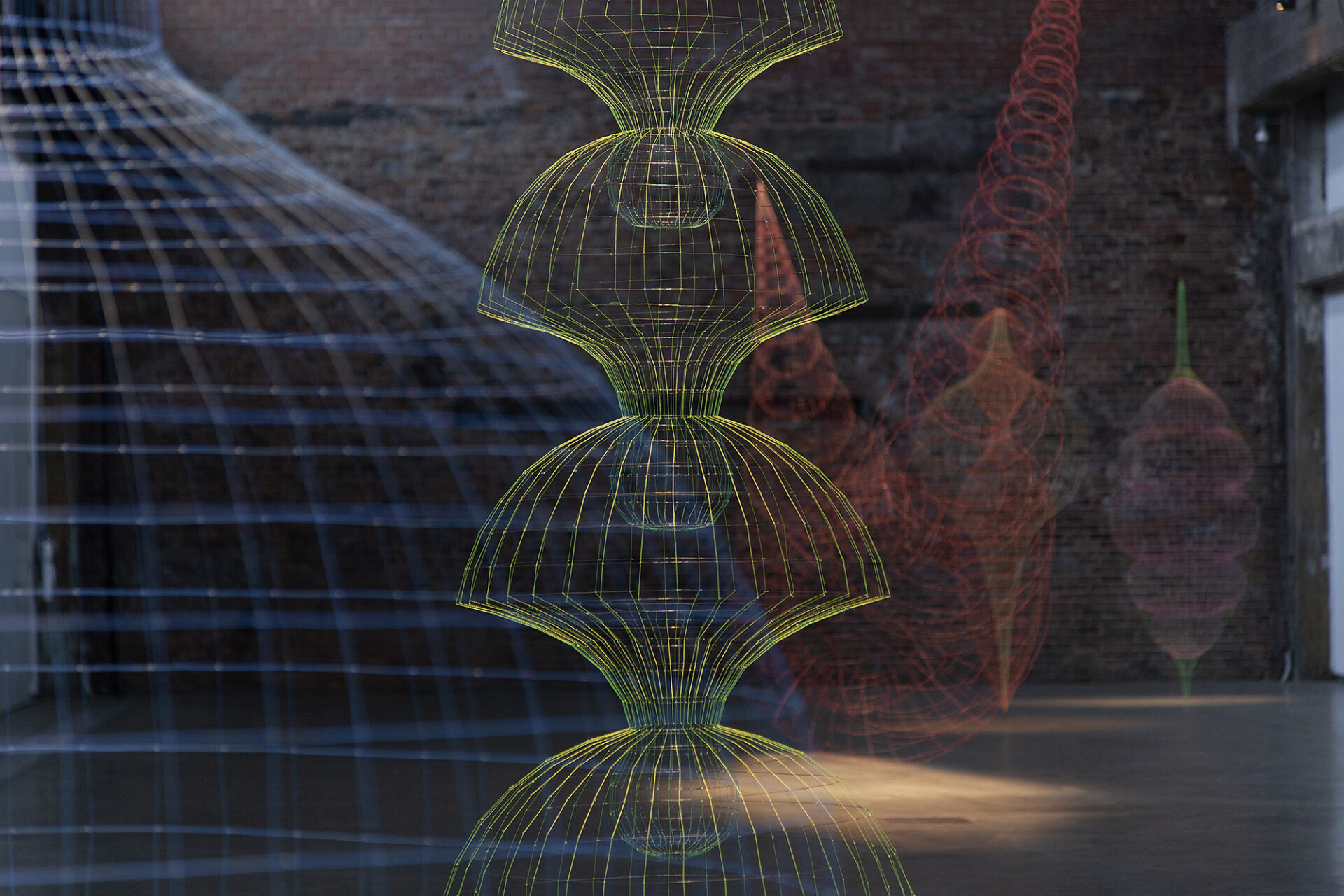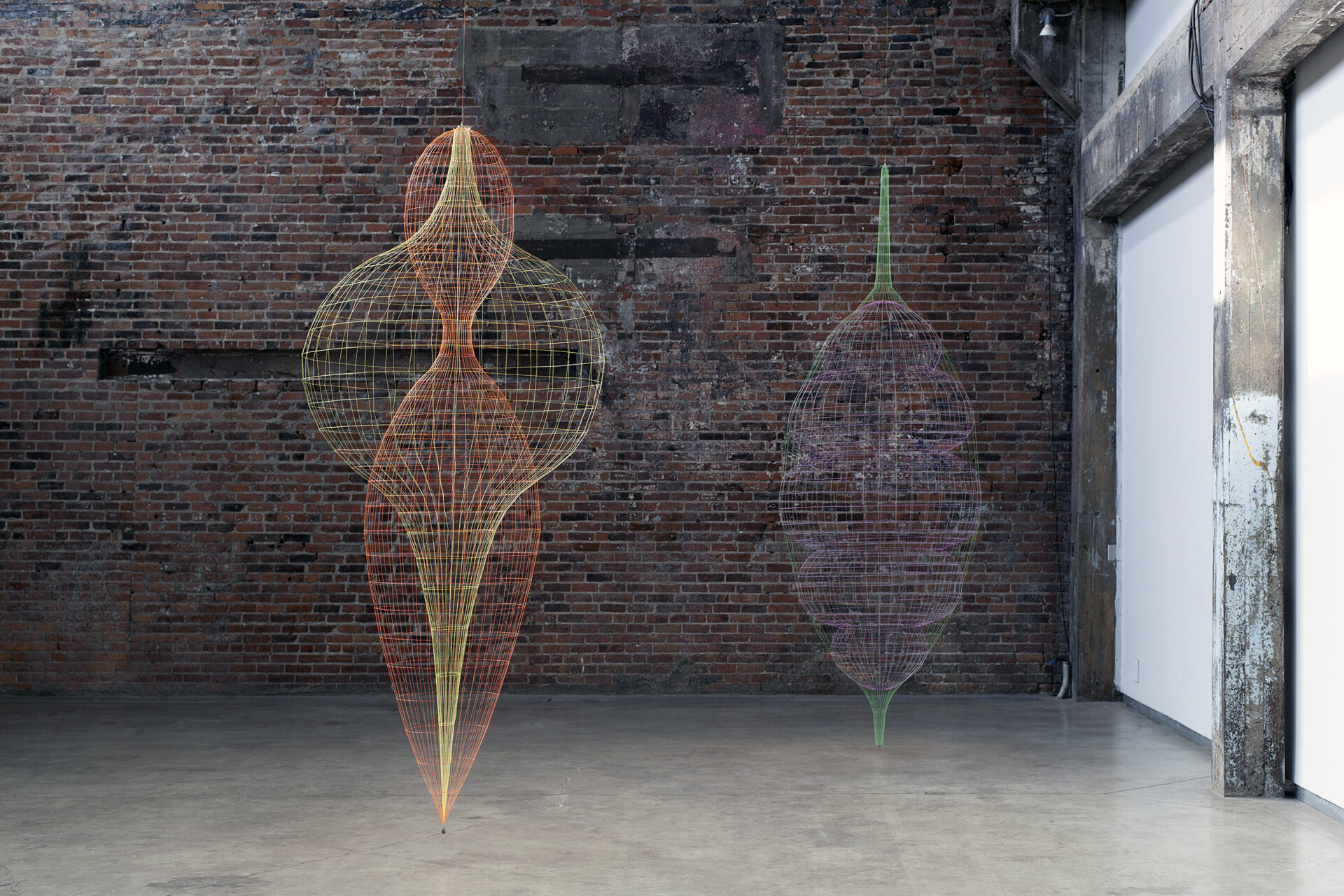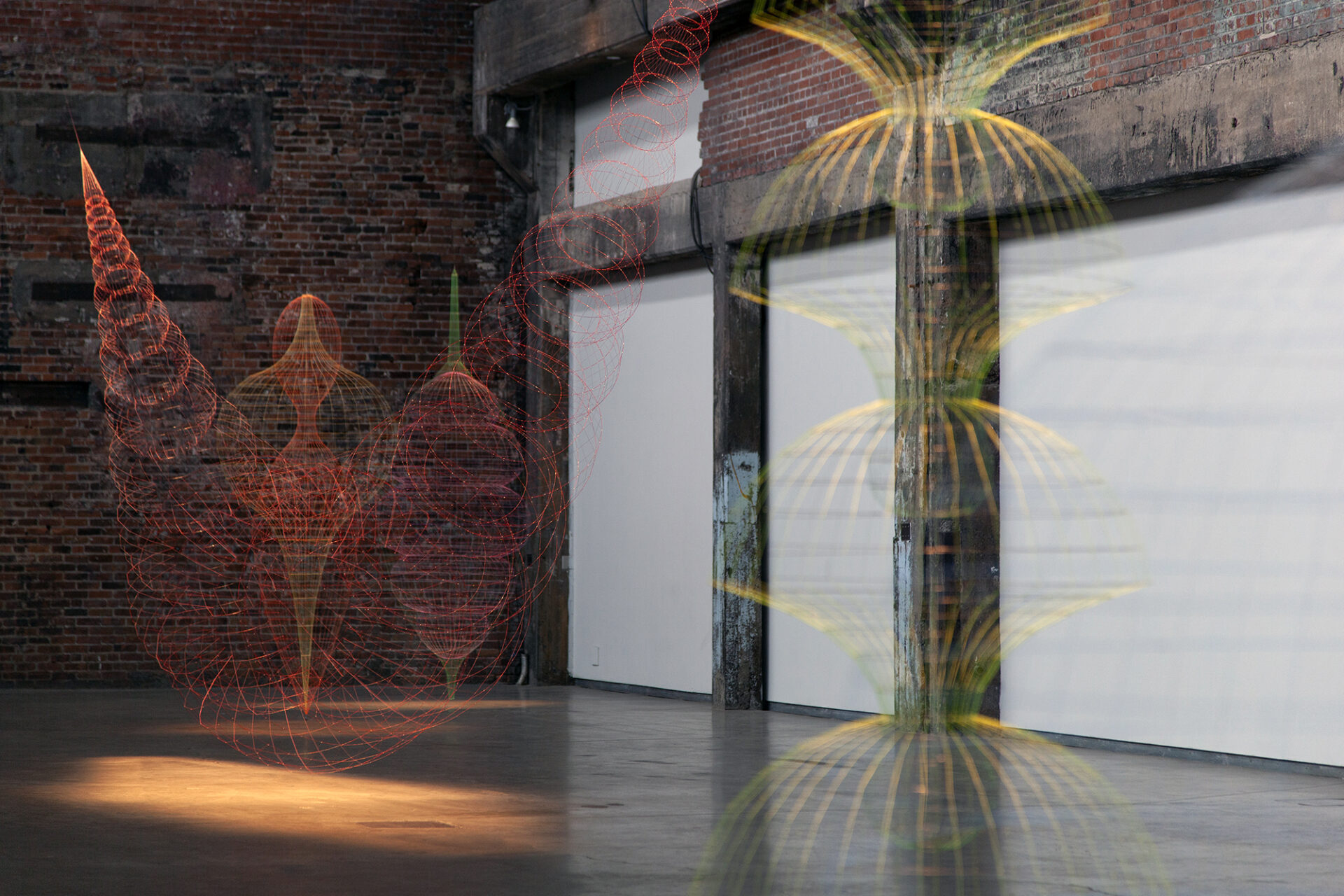 In some works, such as Bean (2021) and Burn (2021), the superimposition of two forms creates a tension whereby one seems poised to subsume the other into its implied mass. Others suggest the imminent arrival or recent departure of monolithic presences, like Nimbus (2021), the largest piece of the exhibition, which floats in the middle of the hall like the ghost of some titanic larval pod; or Spine (2021), which hangs in the sun-lit air—a weightless, fungiform totem. Spinning ever so slightly, as the movement of visitors circulates air around the hall, these works exude an ominous potentiality, a calm before the storm of future change. Thus unsettling the viewer, Stevenson's sculptures dramatize the relationship between a mutable form and its abiding essence, placing us in an eerie realm of conceptual and sensorial uncertainty.
It's easy to feel disoriented moving through Fonderie Darling as sculptures such as the blue-wired Spike (2021) escape our vision, seeming to fade into thin air. On a bright day, the wires intermittently glint in the sunbeams then nearly disappear as you move away from them, as if they were flickering in and out of material reality. By eluding the gaze, they force us to continually readjust our perspective in order to grasp their form: to alternate between standing at distance then moving closer to see the thousands of nodules—knotted junctures at which delicate wires intertwine and diverge—which compose the frames.
In Before the Storm, Stevenson has created an evanescent sensory experience which evokes perennial questions about the ontology of form, leading us to feel the contingency of our embodied relationship to the objects around us. Her airy sculptures are both conceptually dense and visually delightful—a weightlessly gravid body of work.