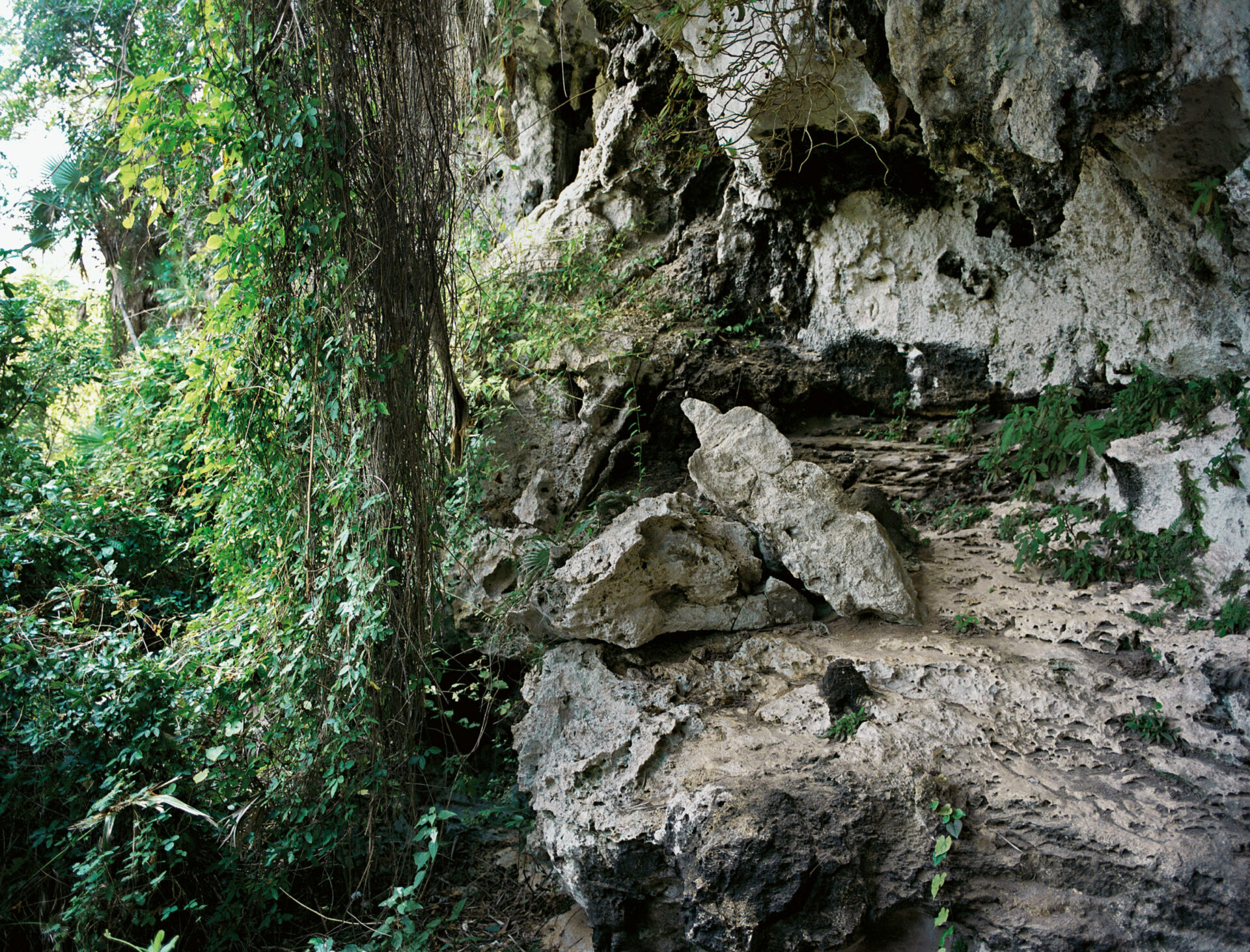 What if the singular aura of an original artwork, that marker of authority and authenticity, could only be preserved through photography? What if, outside of the realm of museums and conservation departments, original works were left to weather, wear, and disappear? Such is the case with Elise Rasmussen's photographs of the "missing" sculptures of Cuban-born artist Ana Mendieta (1948 – 1985). Rasmussen embarks on a project of rediscovery and resuscitation but forges something new in the process. In capturing the quiddity of Mendieta's work, Rasmussen creates her own.
Ana Mendieta's Rupestrian Sculptures (1981) should not exist anymore. Both the Guggenheim Museum and the Ludwig Foundation reported that the works were destroyed, but Rasmussen managed to find them — this in itself is remarkable. A series of seemingly anthropomorphized rocks, Mendieta carved these figurative imprints into the creviced limestone hills of Jaruco, Cuba, during her only return to the country. Left in their original sites with no maintenance or safeguards, the porous limestone forms have eroded and altered over the last three decades. Rasmussen indulges this aging. A series of five soft-grained photographs captures the saturated dampness of these hills and toys with the deeply Paleolithic elements of Mendieta's aesthetic. Rasmussen makes no attempts to clear or enhance the original works — the sculpture's chalky grays are regularly interrupted by verdant overgrowth.
Finding Ana does not focus exclusively on pre-existing work — some of the photographs illustrate the spaces and locations that surround the sculpture. Two of the images capture cave paintings that lie beneath the Escaleras de Jaruco and inspired Mendieta's work. The caves themselves are wonderfully interior; their cavernous spaces register as rock wombs. One of these photographs, At Night They Go Amongst the Living (2012), enhances and plays with the cave's void-like quality. Rasmussen focuses the camera on the periphery, bringing the rocky circle that frames the photograph into sharp detail while allowing the centre to become blurred and distant. The camera directs us to nowhere. The photograph foregrounds nothing, and this absence renders it as haunting as the forgotten sculptures.
In Finding Ana, Rasmussen creates documentation without archival sterility; she memorializes Mendieta without slipping into hagiography. At a time when numerous institutions and artists are attempting to re-evaluate and revisit Mendieta's work, striking this balance is no simple task. Beautifully haunting, these images capture the imagination even without the relatively romantic notion of rediscovery. They are photographs that celebrate more than Mendieta — they champion the trace, the hint. They raise the winking suggestion that someone came before; that some magic was here.
This article also appears in the issue 80 - Renovation
Discover