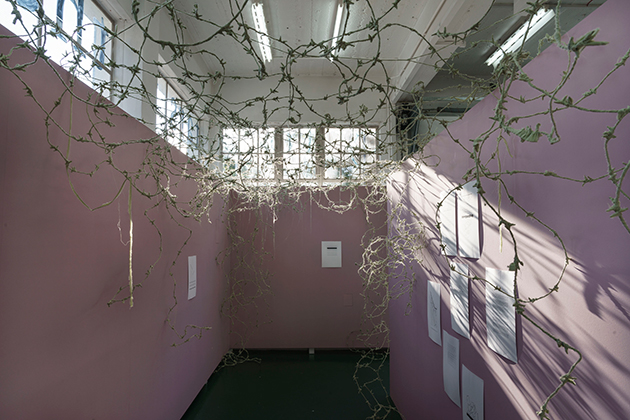 The Showroom, London
October 3, 2018–January 26, 2019
[En anglais]

"No chance, no destiny, no fate, can circumvent, nor alter, nor control, the firm resolve of a determined soul—will alone is great. Some got the Parades, but I the Promised Land." At The Showroom, we find this quotation emblazoned on a bright yellow banner, embedded in one of five colourful verticals of text—red, purple, red, yellow, blue—that reproduce a 1949 article in The Chicago Defender, "A Garvey Comes Home to Africa," by Hillal H. Nadji. The article lauds Garvey, who has travelled extensively across the world, and now returns from a first visit to West Africa: Sierra Leone, Liberia, Nigeria, Gold Coast, French West Africa, British and French Cameroons, Spanish Guinea, and the Belgian Congo. The names of many of these countries are now unrecognizable, having discarded their colonial nomenclature—a testament to the Pan-African movement in which Garvey was a pivotal figure. And yet the name of Garvey, here, is also in some ways today unrecognizable: Mrs. Garvey. Mrs. Amy Ashton Garvey (1897–1969), the first wife of the much better renowned Marcus; and to whom one of the three sections of Women on Aeroplanes is dedicated, via the extensive archival work of artist Emma Wolukau-Wanambwa, who has herself travelled the world during the past year to research the life and work of Garvey.
Wolukau-Wanambwa's project is broad and ambitious, as well as frustrating and frustrated. She wants to find out as much as possible about this awesome woman—social, political and cultural activist, world traveller, and more. But at many turns, she finds history and its documents to be partial, incomplete, and far from impartial, favouring Mr. and not Mrs. Garvey: Ashton Garvey's invisibility, or her position as attaché, only existing in relation to her husband is writ large. This, in spite of numerous and well-documented contributions to the Pan-African movement. At The Showroom, Wolukau-Wanambwa's research—meticulously labelled, numbered, colour-coded—is presented in an archival installation entitled Carrying Yours and Standing Between You. Five wooden desks are assembled in the main space: reading stations with binders of materials that can be consulted and leafed through at leisure.
Women on Aeroplanes, an international multi-part research and exhibition project, loosely borrows its title from the novel Women of the Aeroplanes by Ghanaian writer Kojo Laing and, as the press release tells us, takes "its ethos from his implosive deconstructed syntax." For its present iteration at The Showroom, alongside Wolukau-Wanambwa's project, Pamela Phatsimo Sunstrum has been commissioned to create a mural on the exterior walls of the gallery. Sunstrum's work, too, is intertextual, making use of language and its remnants—the significance of powerful statements that ring in the ears and run through the mind. Exalt B. H. is full scale, covering the façade of The Showroom, which it transforms into a desert landscape dwarfed by an expanse of blue sky. B. H. stands for Bessie Head (1937–1986), a writer who exiled herself in Serowe, Botswana in protest of apartheid. "I am building a stairway to the stars," repeats in white text across the big blue sky of Sunstrum's mural, as if Head's thoughts and words, and Sunstrum's too, reach into the world beyond, stretching to connect to those who might similarly wish to escape it, or to forge something new.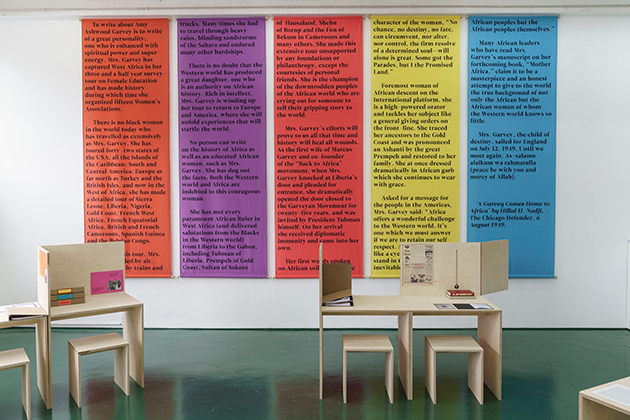 Inside, adjacent to Wolukau-Wanambwa's work, is a new installation by Lungiswa Gqunta, What songs will we sing when everything returns to us. Against dusty rose-coloured walls, the artist has mounted configurations of "scores" that she has composed, in reference to the historical use of song and sound as modes of resistance to colonial violence and its related ordering structures. Around the scores, hanging from the walls, are strands of barbed wire wrapped in bandages; the sharp barbs and X shapes echoed in the nearby scores, which have replaced conventional musical notation with strands of XXXXXXXX and wavering, snaking lines that reconstitute notions of how we might read sound, as well as violence and resistance, on a page.
Women on Aeroplanes is inquisitive and expansive, seeking to answer crucial questions about historical invisibilities and institutional and structural erasure, particularly with regard to women who have played key roles in revolutionary socio-political movements that helped to achieve post-colonial nation-states in Africa. At The Showroom, I found the content and ideas to be profound, well-researched and thought-provoking; but the curation was difficult to decipher. I wanted to know more about Laing's "explosive syntax," and how this might have related to the slightly disjointed aesthetic and formal qualities of the exhibition. And I wondered at simple links that hadn't been developed between the work of the artists involved. For instance, Gqunta's scores of resistance and Garvey's history of establishing urban venues for Pan-African music and entertainment. Much is left up to the viewer, which can be a great thing; but some of the premise of the exhibition—the critical nature of these invisible networks, and how to make them visible within new contexts—is lost, or obscured, in a presentation that lacks nuance.