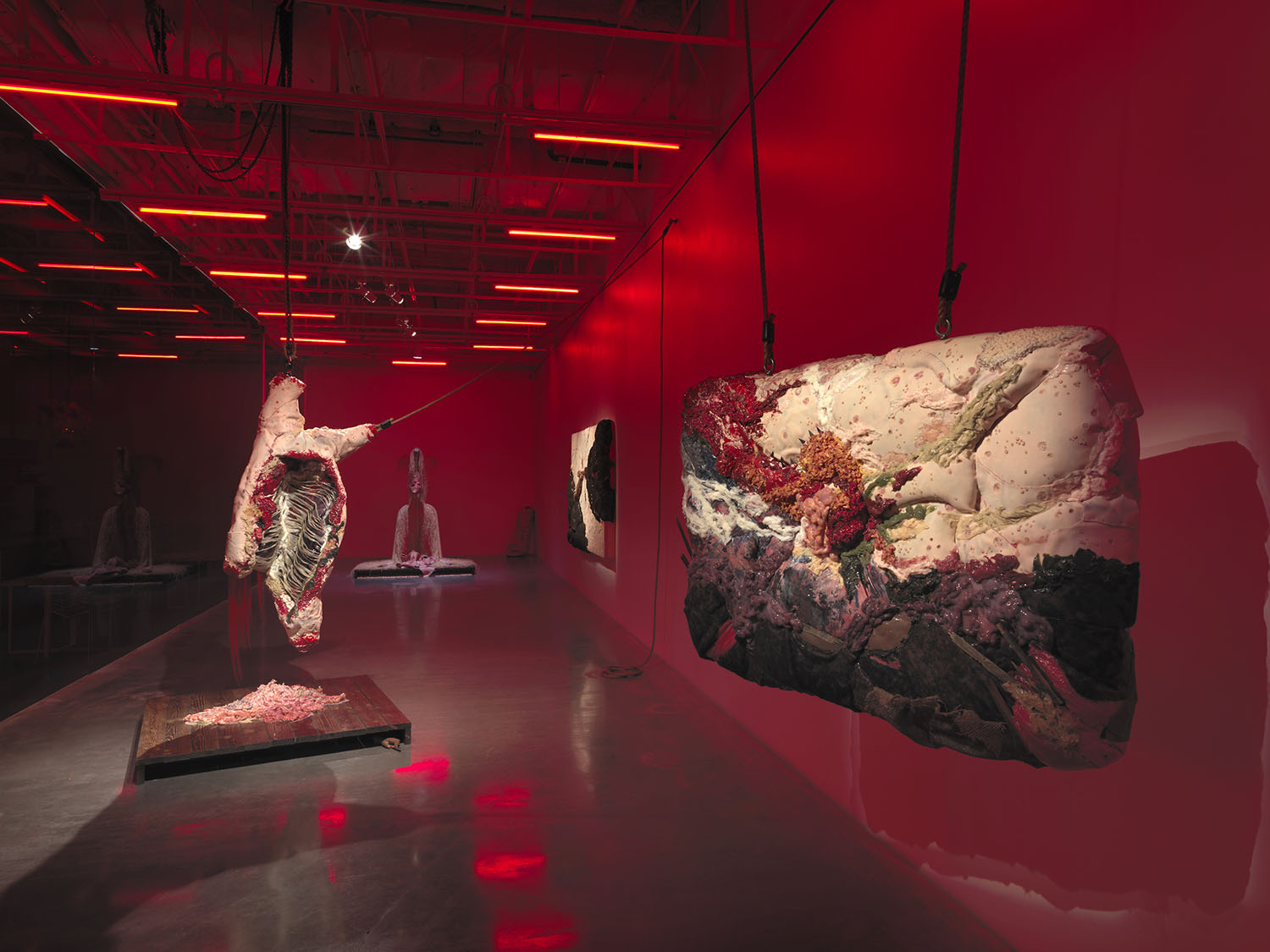 New Museum, New York
June 30-October 16, 2022
[En anglais]
Lately, it seems, some of the best contemporary art is wholly about collapse: the collapse of the boundaries that separate human from non-human; the collapse of historical metanarratives; the collapse of forces that divide peoples; and the collapse of the thin line that at times still separates high art from craft in the minds of many. The crumbling of power structures lies at the core of Doreen Lynette Garner's hauntingly beautiful and devastatingly honest exhibition at the New Museum. Bathed in deep crimson lightning floor to ceiling, the gallery walls summon at once the viscerality of warm-blooded livingness and the detached solemnity of imperial draperies. Contamination, purity, evidence, and denial flicker in the dimly lit gallery space. The ethical and moral paradoxes that define Christianity, colonialist ideologies, and science—the key cultural forces that have shaped modern Western history—are mercilessly exposed by Garner's cathartic practice. The focus is on accountability; the strategy is highly persuasive. History is being critically addressed and rewritten. 

There are only a handful of works in the gallery, but each bears an enormous gravitas: arresting, often iconic, and at times totemic, every sculptural piece confronts the viewer with overwhelmingly beautiful and complex corporealities that bravely veer into abjectness. Each piece in the show is the result of dedicated and painstaking craft that summons an uncanny, often disturbing spirit. Assemblages of threads, beads, fibres, leather, and other materials are stitched and woven together to untangle the metanarrative strands that for centuries have intentionally concealed the sequence of brutalities that goes by the name of modern history.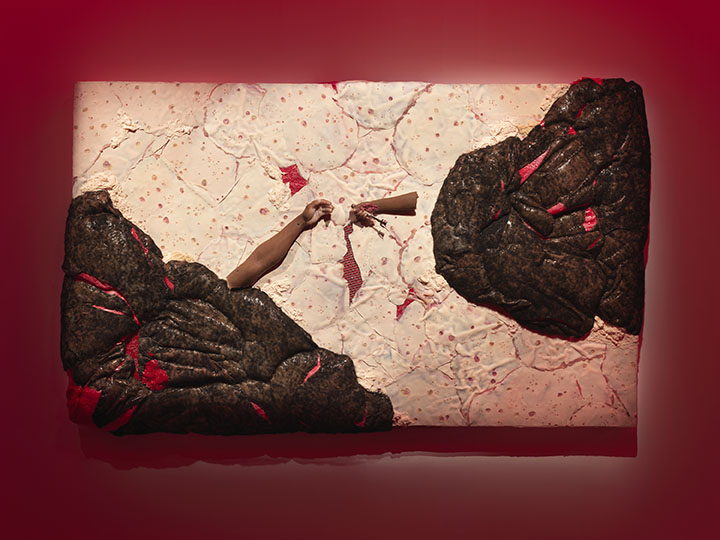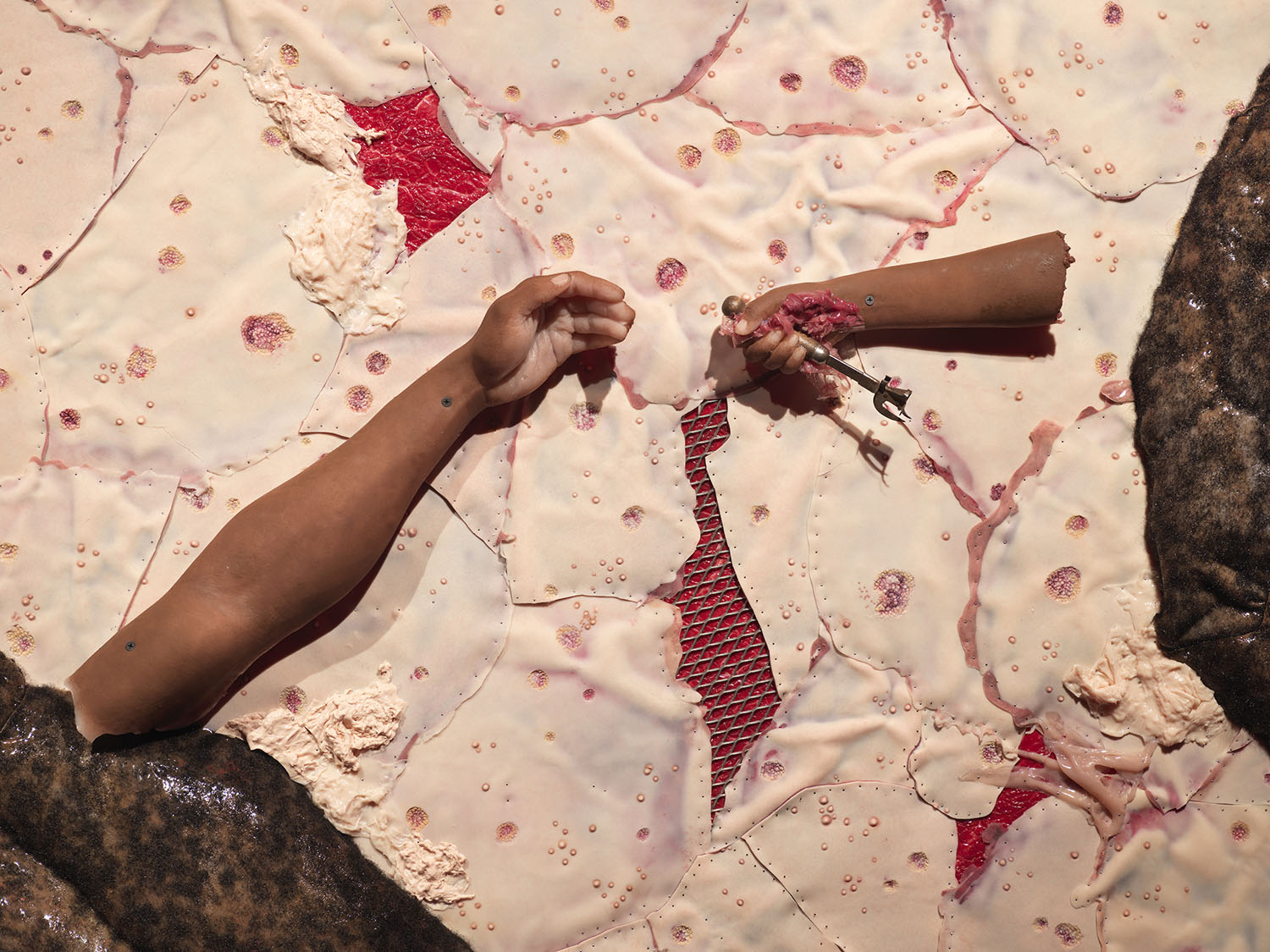 REVOLTED proposes a much-needed reckoning with histories that most of us still don't know—histories buried beneath the glorification of progress and the lies of those who believe in the superiority of one race over another with a conviction that blinds them to the heartless treatment of other humans. Artists know that history books are not being rewritten quickly enough, so experiences such as REVOLTED not only expose us to erased historical records but can help us dissect, process, and piece together the horrific truths of our shared pasts in an embodied way that is hard to forget. It is in this context that Garner's stitching, folding, stretching, and pinning become powerful authorial gestures charged with a post-colonial agency capable of teasing to the surface the inconvenient roots of the world we have inherited. Garner's approach to her materials and craft at times recalls the intricate quilting and lacing of Joana Vasconcelos and the over-ornate contemporary traumatic baroque of Ebony G. Patterson—both revolutionary artists determined to challenge patriarchy and white supremacy through their work. But Garner's aesthetic is also, at least in part, further complicated by an uncannily fleshy, hyperrealist tendency that echoes the work of posthumanist artist Patricia Piccinini. This aspect is what makes her work exceptionally powerful in the context not only of the rewriting of history in contemporary times but also of the conversations that currently animate academia. It broadens our obsolete and institutionalized conception of history to acknowledge two important factors: the non-human as a world-forming agent and the notion of the human as an implicitly white, male, cisgender, Western construct. Any new attempt to make visible past omissions and reconfigure facts must take these parameters into serious consideration in order to bring anything truly useful to our future.
Garner's intricate sculptures tease to the surface the animalization of the human that lies at the core of all histories of racial discrimination of the kind that made slavery possible and often led to genocide. With their disconcertingly beautiful marks of smallpox, bubonic plague, syphilis, and scarlet fever, Garner's fragmented bodies are simultaneously animal and human, irremediably enmeshed in the biological flux of life: vivid incarnations of the animalistic debasement imposed by white supremacy upon BIPOC people but also animalistic models of sentience from which new humanities can emerge.
The Feast of the Hogs (2022), which dominates the centre of the gallery space like a macabre anti-monument echoing iconographies of lynching, denounces the deliberate animal–human cross-contamination that spread aboard slave ships as Black slaves were force-fed diseased livestock. In part reminiscent of Francis Bacon's hanging carcasses—yet existentialist on a wholly different level—this is the portrait of humanity that so many of us are still not prepared to come to terms with.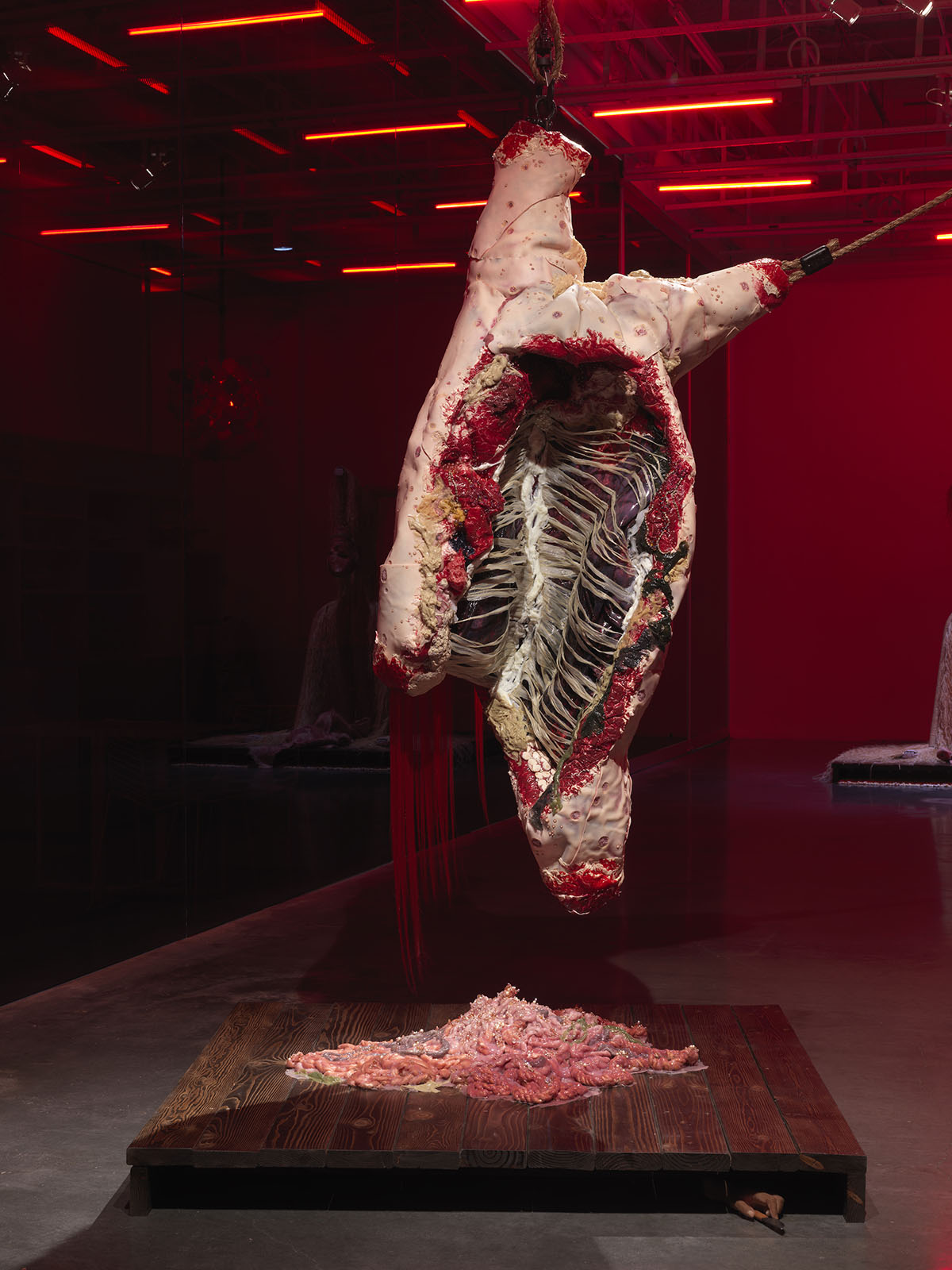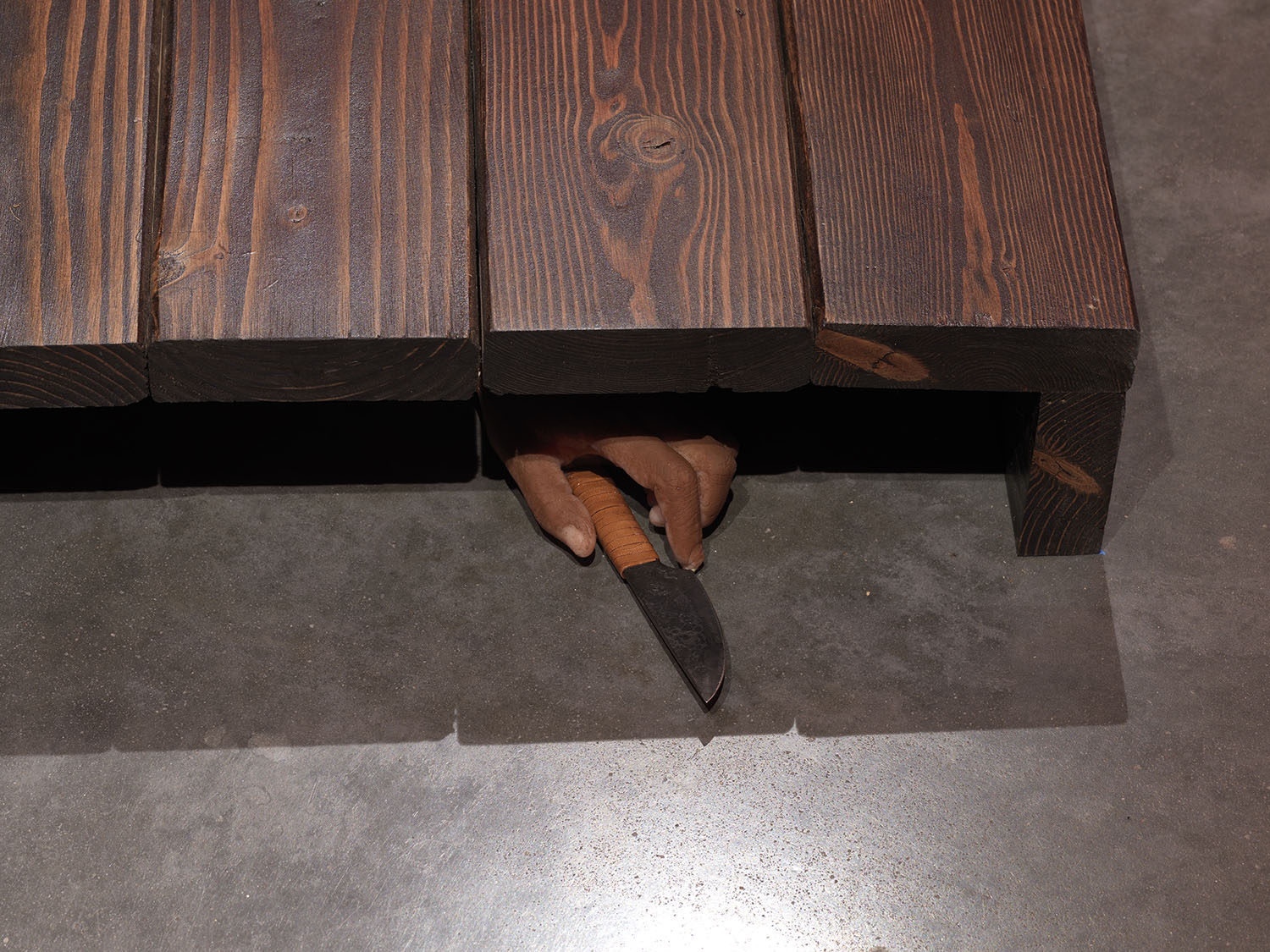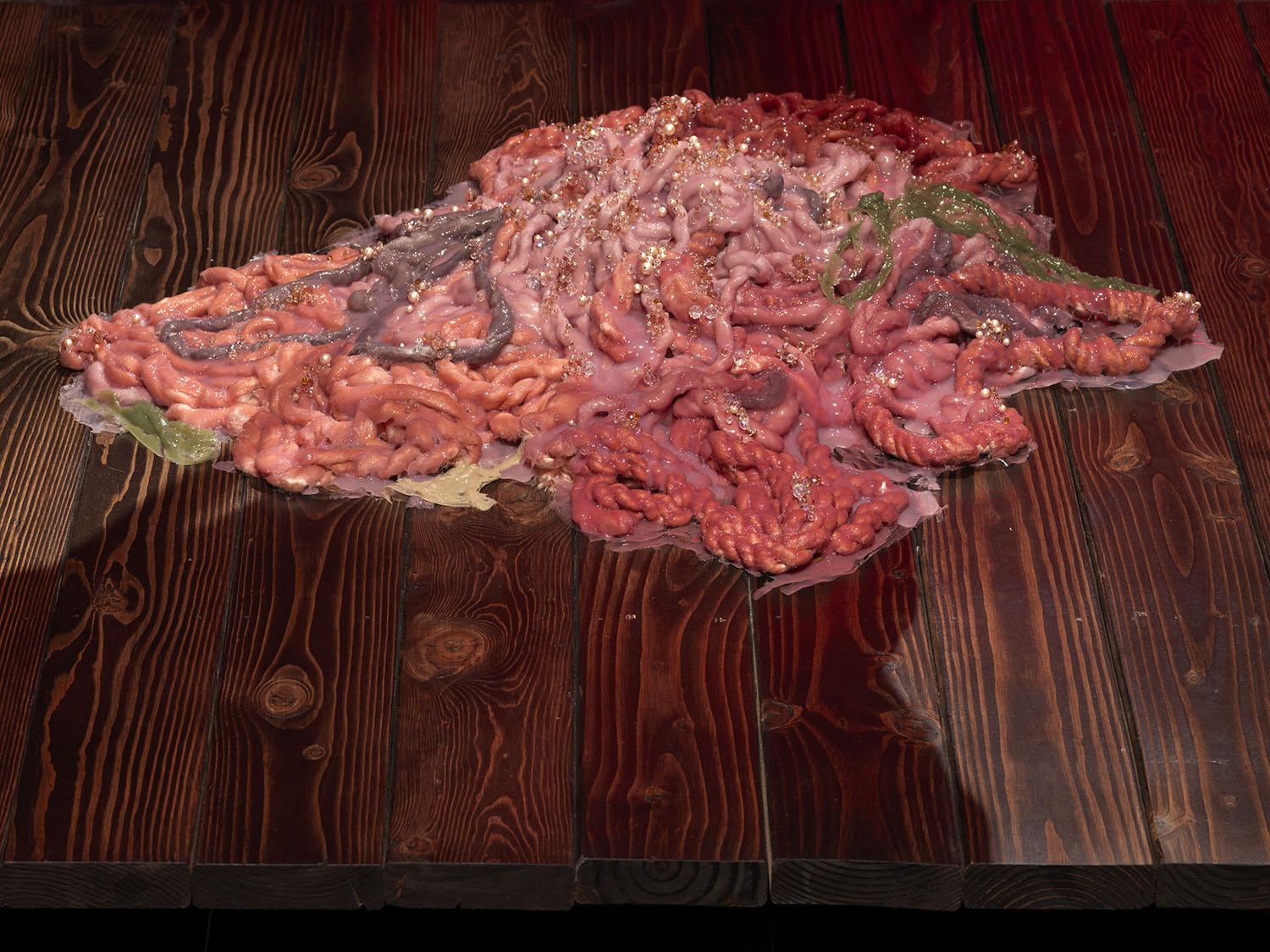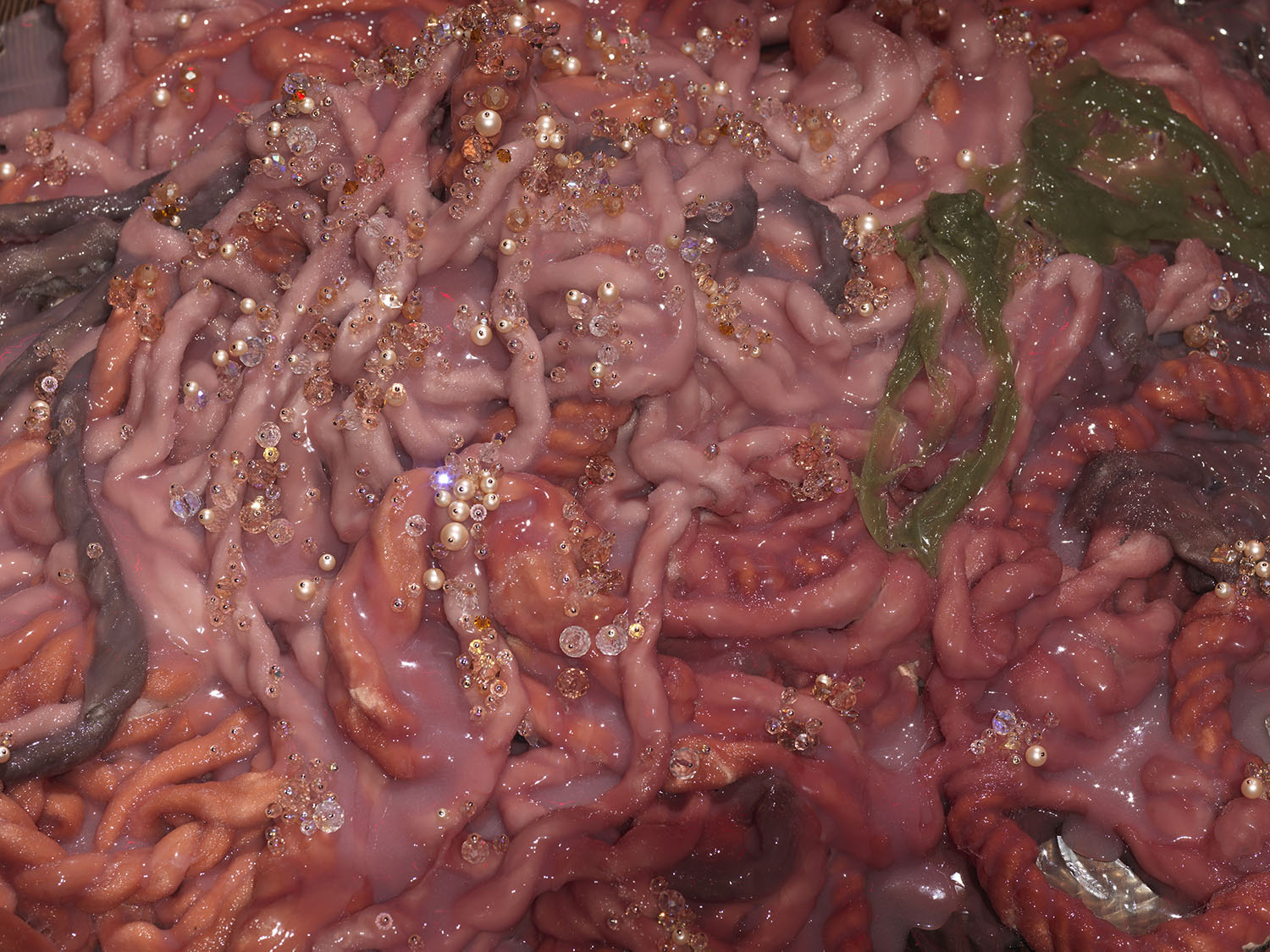 A poignant, critical appraisal of historical memorialization and the healing power of art is offered by Here Hangs the Skins of a Surgical Sadist! To be physically assaulted by those who identify as Black women, those who formerly identified as Black women, and those who were identified as Black women at birth (2022). This piece is perhaps even more literally an anti-monument, as it comprises the material remains of a silicone skin replica cast from the bronze statue of J. Marion Sims, "father of gynecology," that was removed from Central Park in New York City in 2018. Sims routinely conducted surgical operations—without anaesthesia—on unconsenting Black enslaved women. Garner's sphinx-like sculpture, like others in the exhibition, finds a cathartic opportunity, in the crumbling of modern mythologies, for symbolic ancestral revenge.
REVOLTED is only one of the many pages missing from our history books. At the core of Garner's deeply unsettling and wonderfully provocative work lies the unmissable opportunity to build the foundations upon which new histories can be written and shared—not by the historians whom we can no longer trust, or by the institutions that hang on for dear life to their effigies of past white glories, but by artists and curators (Vivian Crockett pulled off an impressive feat here) who are brave and determined enough to craft new languages, follow uncharted human–non-human trajectories, and make work that truly inspires radical change.