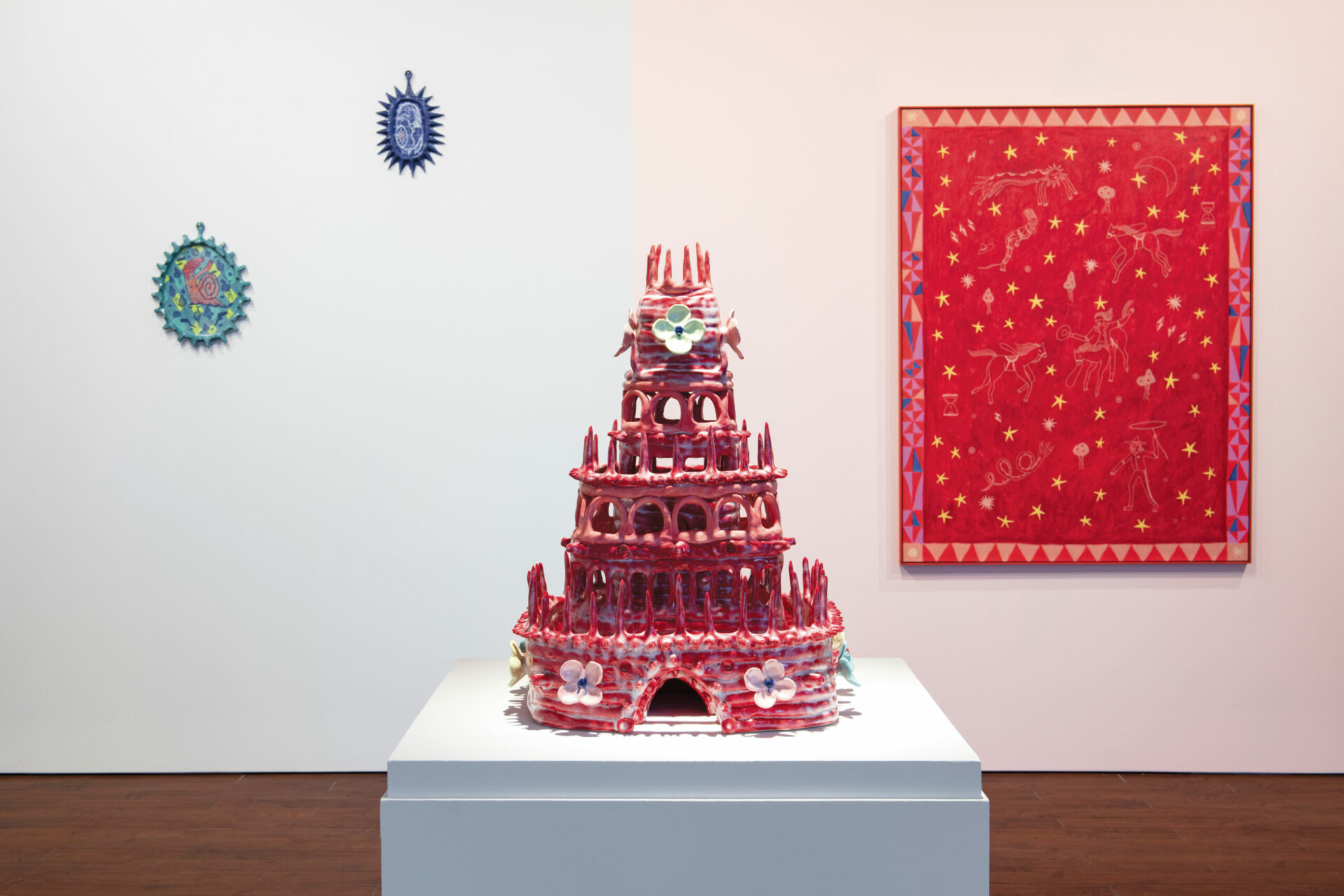 DRAC, Drummondville
March 19-May 15, 2022
For her solo exhibition titled Midnight Maps at DRAC, Montreal-based artist Rebecca Munce created a series of multicoloured vignettes portraying an imaginary kingdom dominated by fantastical creatures. In preparation for this exhibition, Munce gave herself quite the challenge: to produce an entirely new body of work using a material that she had not previously handled, ceramics. Over the course of an eight-week residency at the Rozynski Art Centre in the Eastern Townships, Munce experimented with clay. She relied on inklings as she fashioned the material into various forms, as she picked glazes and colours. When it came time to put the pieces in the kiln, she allowed the force of fire to determine the final expression of her work. Ultimately, this intense cycle of production yielded eleven ceramic pieces that coexist in the space of the gallery with the etched drawings for which she is better known. Placed in dialogue, the ceramic pieces and the drawings are brought together around a poem by Mary Oliver from her book Twelve Moons, "Sleeping in the Forest," displayed in the exhibition in vinyl letters on a blush wall.
The poem sets the tone by devising a chimeric world in which intuition reigns over reason. The title of the exhibition further suggests a nocturnal expedition at the most magical time of day. Midnight not only marks the transition of one day to the next but is widely known for the countless fables and myths that it has inspired throughout the ages. As we surrender our bodies to the night and engage our unconscious, we allow wondrous creatures to surface in our imagination. Munce invites viewers a glimpse of this surreal world and a chance to construct their own journey.