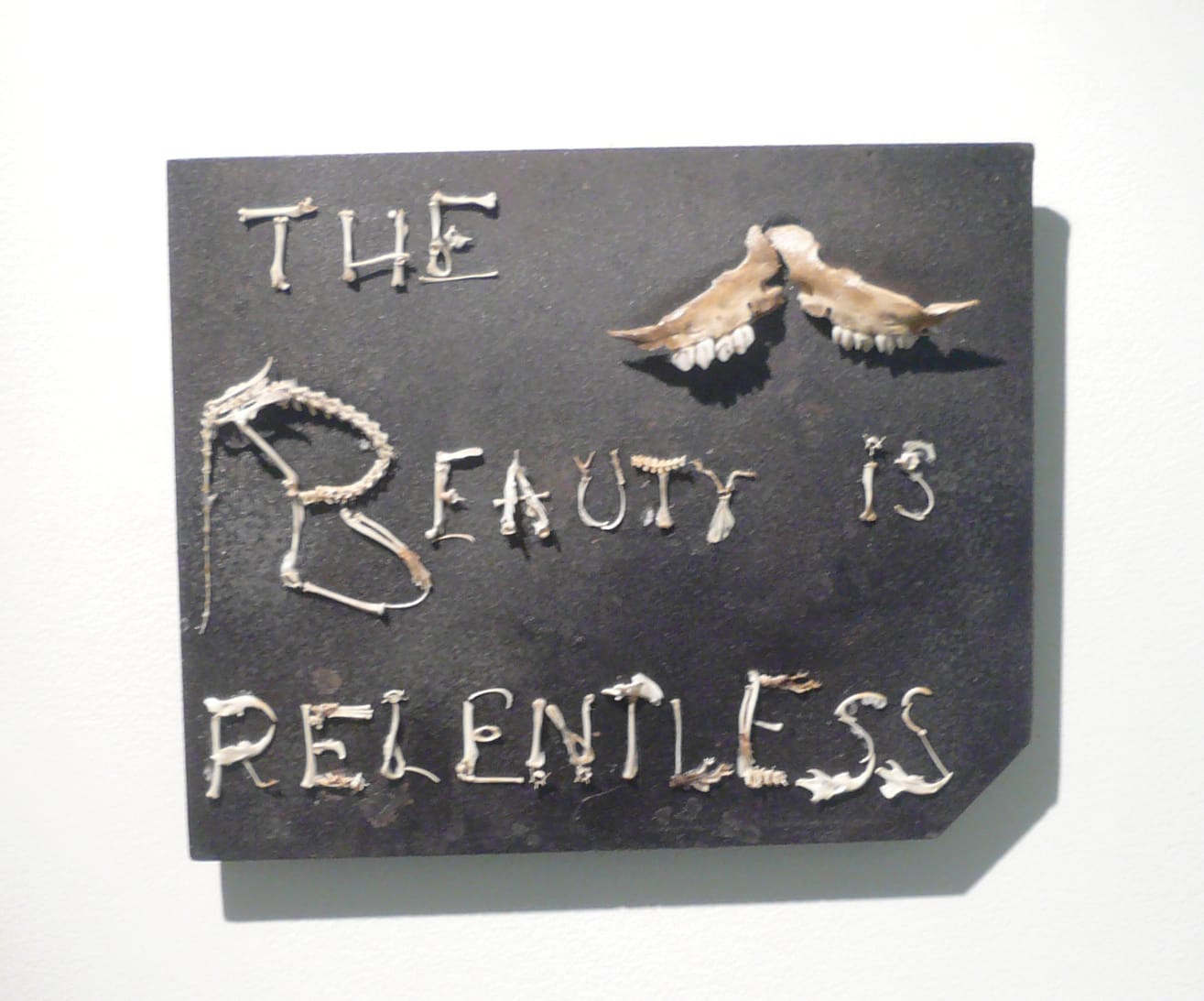 Jessica Bradley Art + Projects, Toronto,
October 16–November 13, 2010
In this sprawling, multi-media exhibition, the Syracuse-based couple and art duo Emily Vey Duke and Cooper Battersby continue their ongoing exploration of the strange emotional congruencies between the human and animal worlds through sculpture, photographs, graphic works and a new video. As with many of their past works, the fragility and violence of the natural world is used to mirror the messy connections in the human realm between love and death, sex and decay. In The Beauty is Relentless (2010), for instance, the piece's eponymous phrase is spelled out in impossibly small mouse and chipmunk bones on a cast iron background, a pair of jawbones delicately arranged to form wings in the top right corner. Another photograph nearby depicts a tableau of dead animals and dried flowers arranged in a ring around text (again spelled out in bones) that reads Pain Shall Be No More(2010). A sinister paradox underpins both works: for delicate beauty to thrive and for pain to be extinguished requires death and decomposition. While this cyclical nature of life and death are familiar to us, as a structuring force for both nature documentaries and some of our most clichéd human beliefs, Duke and Battersby make the idea strange and uncanny by materializing it through flesh-and-blood materials.
The graphic prints placed nearby — such as a set of six images inscribed with comical phrases and tongue-in-cheek poems, titled Unlimited Subjectivity (2009), and a photographic grid of close-up views of bleeding body parts and rural landscapes, The Beauty is Relentless (Fuck, Yes) #2 (2010) — are less successful in mining the eerie familiarities between human and animal existence. Perhaps this is because they too easily recall the way animals have increasingly been anthropomorphized through twee greeting cards and hipster interior décor. Two sculptural plinths, Lesser Apes (Turbine) and Lesser Apes (Stockade) (both 2010), which feature small, dense dioramas constructed from animal sculptures and found materials housed beneath protective glass covers, likewise toe the line between cuteness and violence: they seem to circle around Duke and Battersby's key concerns without zeroing in with the same affective power as their text-based tableaux.
Video has always been the medium through which the duo most eloquently unpack themes of shame, abjection and absurdity in human experience, and Lesser Apes (2010), the new video shown here, is no exception. Recounting a cross-species love affair between Farrah, a human woman, and Meema, a bonobo monkey, Lesser Apes combines live-action footage with animation and music to meditate on the ethics of interpersonal interactions and the limits of love and intimacy. Voiced entirely by Duke, who sings hauntingly at one point about mortality as time-lapsed images of a misty rural landscape zip by, the video transforms the modern-day fable into a sophisticated dystopian allegory about empathy, desire and what it means to be human.