Raqib Shaw : Palazzo della Memoria
Ca' Pesaro International Gallery of Modern Art, Dom Pérignon rooms, Venice, Italy
April 22 to September 25, 2022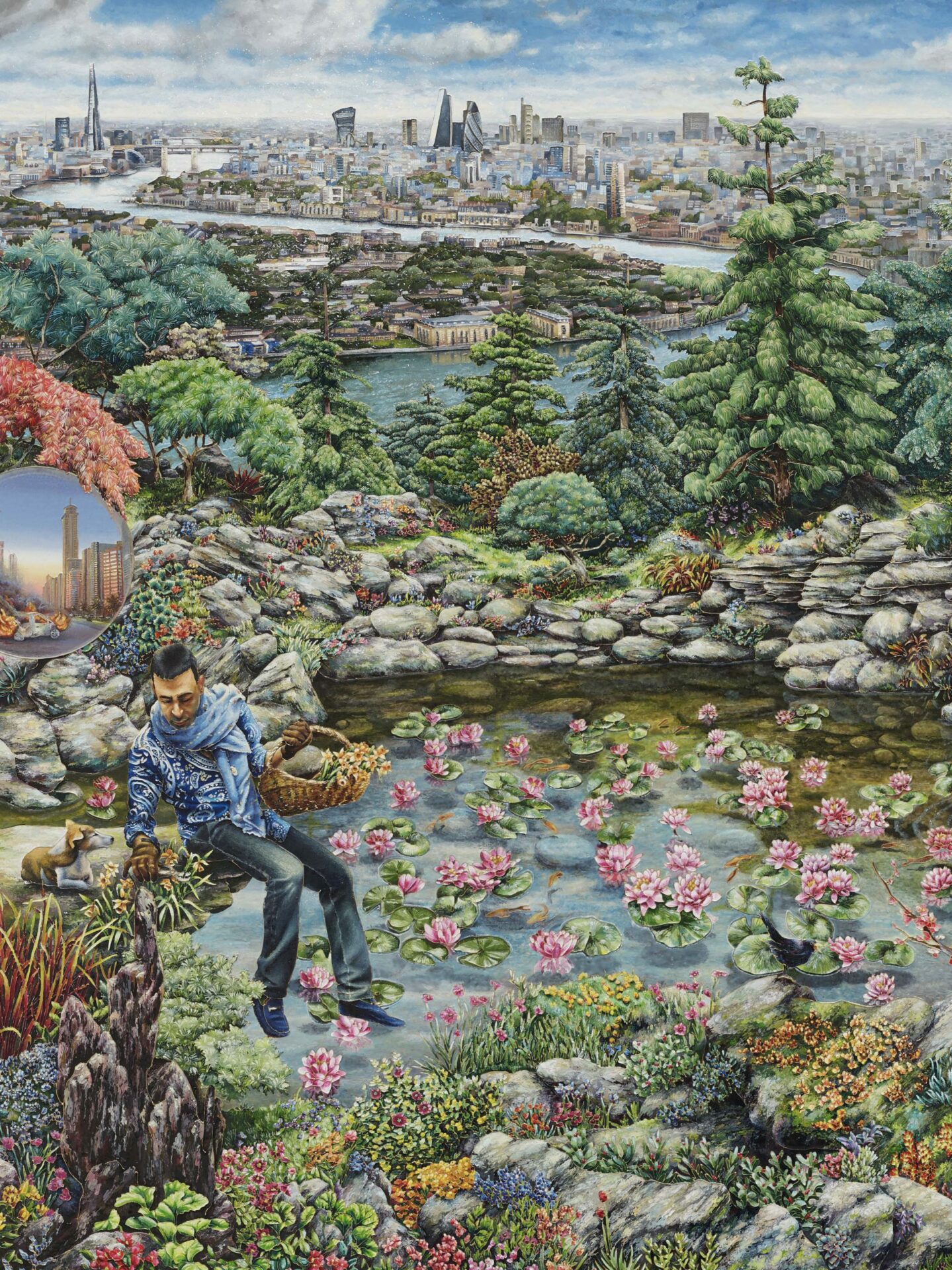 Ca' Pesaro International Gallery of Modern Art, Dom Pérignon rooms, Venice, Italy
April 22 to September 25, 2022
I went to Ca' Pesaro for the sole purpose of viewing Gustav Klimt's Judith II (1909), but in two small, out-of-the-way rooms, there was an unexpected exhibition of contemporary art, and I haven't been able to stop thinking about it since. It was a showing of twelve paintings by Calcutta-born, Kashmir-raised, South London-based artist Raqib Shaw, titled Palazzo della Memoria (Memory Palace), curated by Sir Norman Rosenthal. Most of the paintings are being shown for the first time. Walking into these rooms was akin to walking into a gem-like dream of Western art-historical references, apocalyptic fires, cute dogs, and queer coding. There is a murderous man-rabbit, wearing tall rubber boots and holding a bloody knife, who appears in more than one painting. It's unclear what this figure symbolizes, but he adds a darkly comic presence that suggests a possible threat, but also a thread of homoeroticism. The paintings are startlingly opulent, with intense colour that has resulted from Shaw's praxis, which is time-consuming and uniquely haptic in how he engages with his chosen materials. He begins with detailed drawings, subsequently using acrylic liner and enamel paint to create raised lines on an aluminum surface. His use of industrial paint is just one of many unexpected juxtapositions in his oeuvre. Once the paint pools in the spaces created by the raised tracery, Shaw blends it with porcupine quills, which Indigenous artists have long used to decorate clothing and other material culture. These works are painfully detailed and painfully striking. Truly, they are some of the most gorgeous paintings I have ever seen.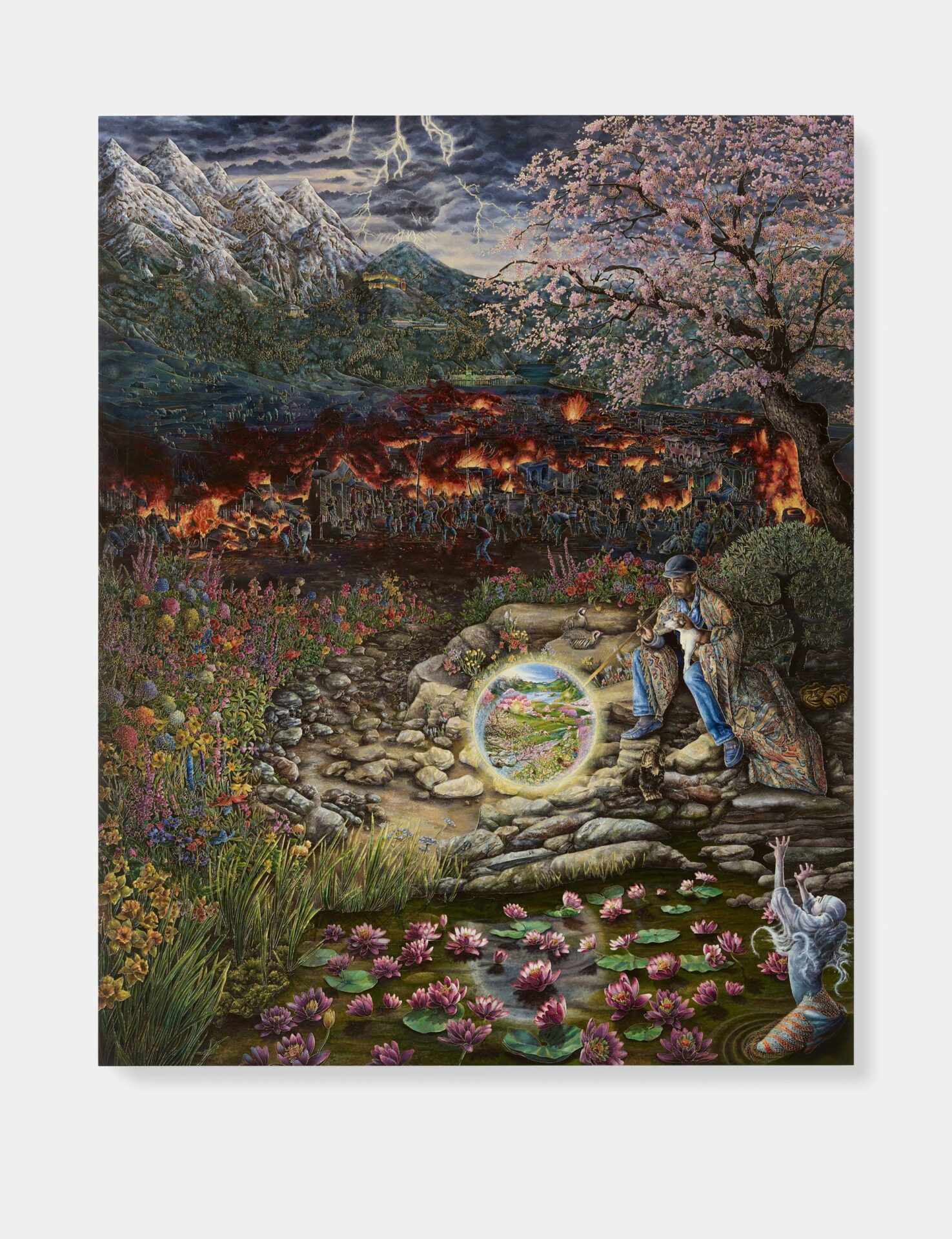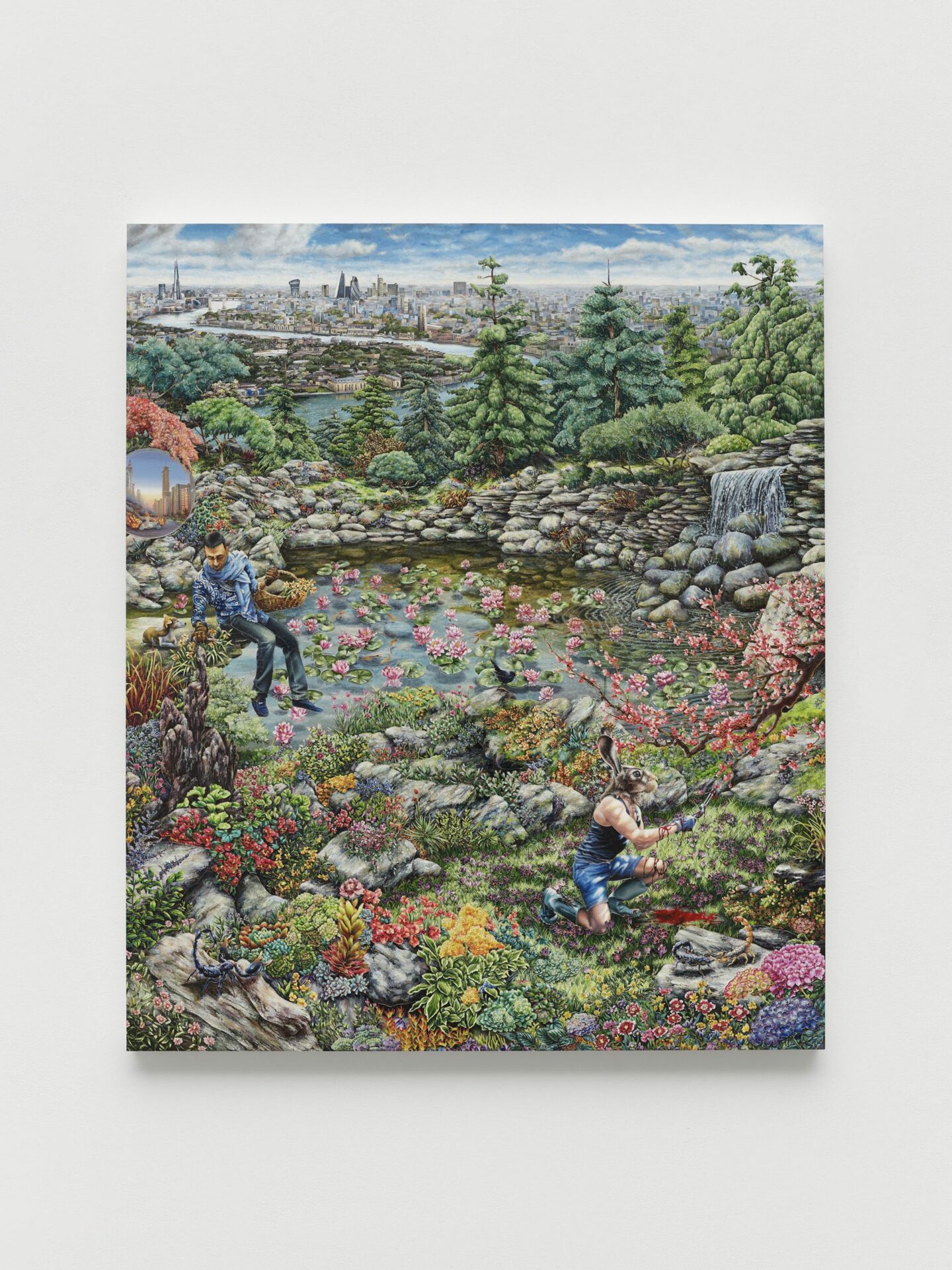 The twelve paintings were conceived specifically for Ca' Pesaro, and canonical paintings by Venetian artists, among others, were sources of inspiration for Shaw; examples include La Tempesta (2019–21), which alludes to Giorgione's enigmatic painting of the same title (1506–08) held by the Gallerie dell'Accademia in Venice, and Agony in the Garden II (2020–21), which references Tintoretto's The Prayer in the Garden (1578–81; Scuola Grande di San Rocco, Venice). The queering of works by white, heterosexual male "Old Masters" is not new, but Shaw's paintings add to this act of queering the perspective of a man of colour in exile, referring not only to the Western art-historical tradition but also to Persian and Mughal miniatures, Hindu mythologies, and personal grief. Agony in the Garden II depicts an Edenic garden in the foreground (Shaw's actual South London garden); a muscular man with a hare's head wearing a tank top, jean shorts, and rubber boots prunes an unseen hedge with bloody shears in the lower right corner. In the middle ground, the artist, sitting on a small rocky overhang, wearing a blue paisley top, luxurious blue-suede loafers, and a light-blue scarf expertly twisted around his neck, picks yellow flowers and places them in a basket. In the background is the London skyline. Despite the quiet atmosphere of the painting, the title suggests the affective pain that lies underneath Shaw's carefully fashioned exterior.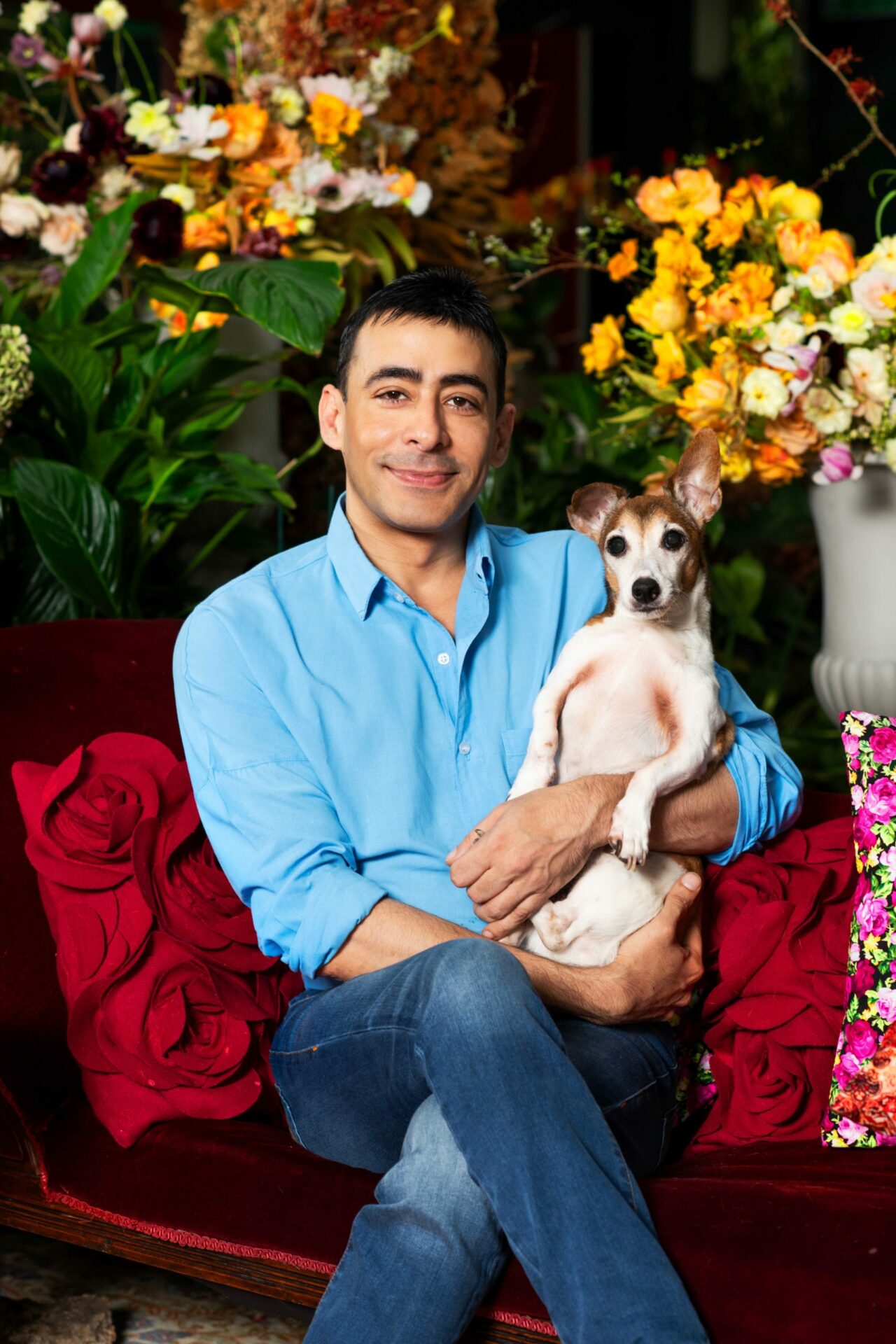 Shaw's self-portrait is included in all twelve paintings; he wears different outfits and is often accompanied by his two small dogs. It seems fairly obvious that he prefers the light-brown-and-white Jack Russell Terrier over the dark-brown dachshund, as the former is always in his arms or sitting closer to him – for example, in Exquisite Penance in Exile … after Cranach (2019–20), La Tempesta, and Ode to the Country without a Post Office (2019–20), which depicts Shaw on a decadent balcony in the foreground wearing a white kimono with a gold sash. In the distance, through columns, the city of Kashmir is on fire. Shaw, however, has his back turned to the encroaching disaster and is preoccupied with his meditative act of glass blowing (a reference to Murano glass-making, perhaps), creating firefly-like objects that float away into the air like unwanted thoughts. In this work, the thesis statement could be that to live aesthetically provides distraction, however temporary, from the tragedies and griefs of life. The paintings invite us to look closely, and for extended periods, thereby offering a respite in our own lives.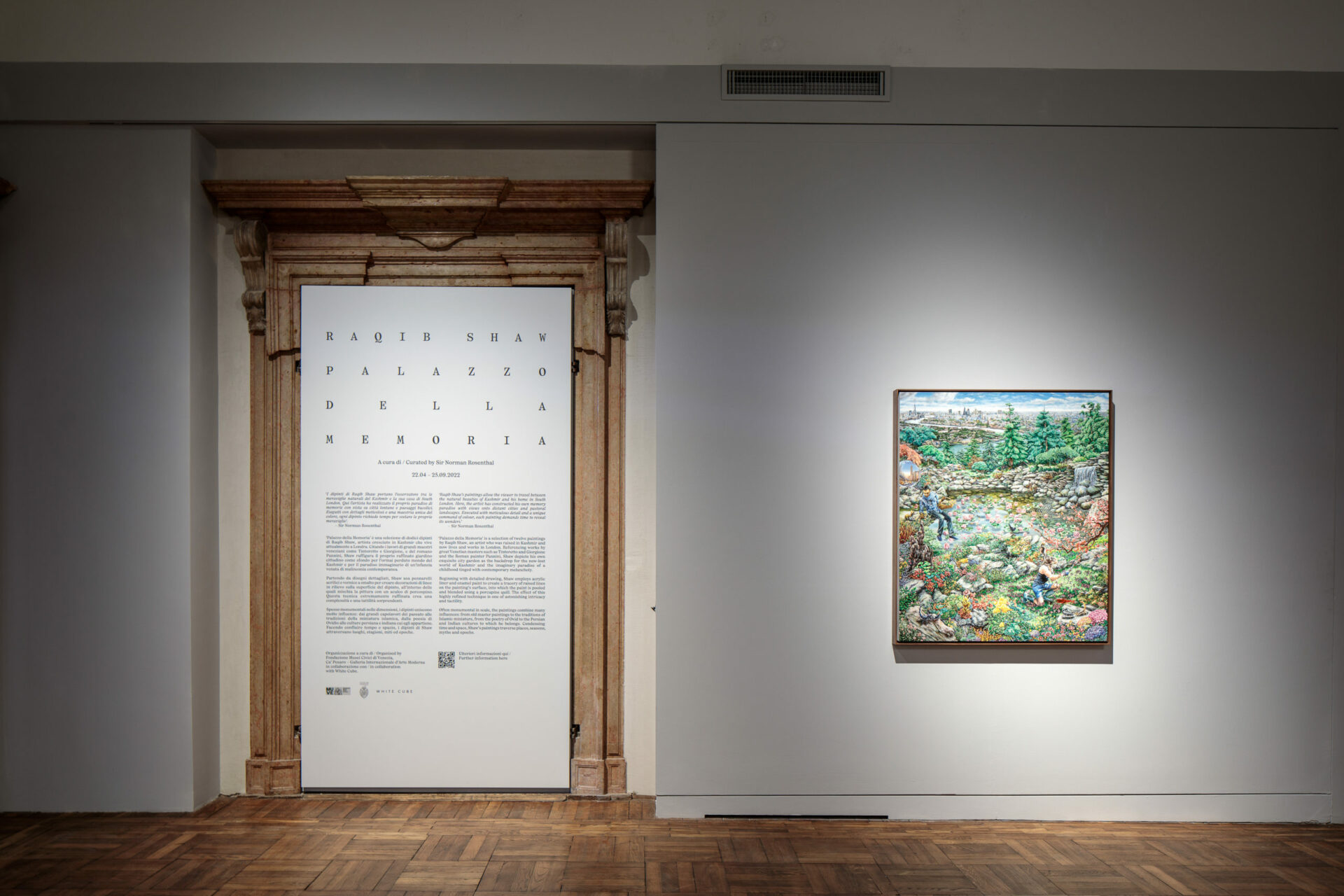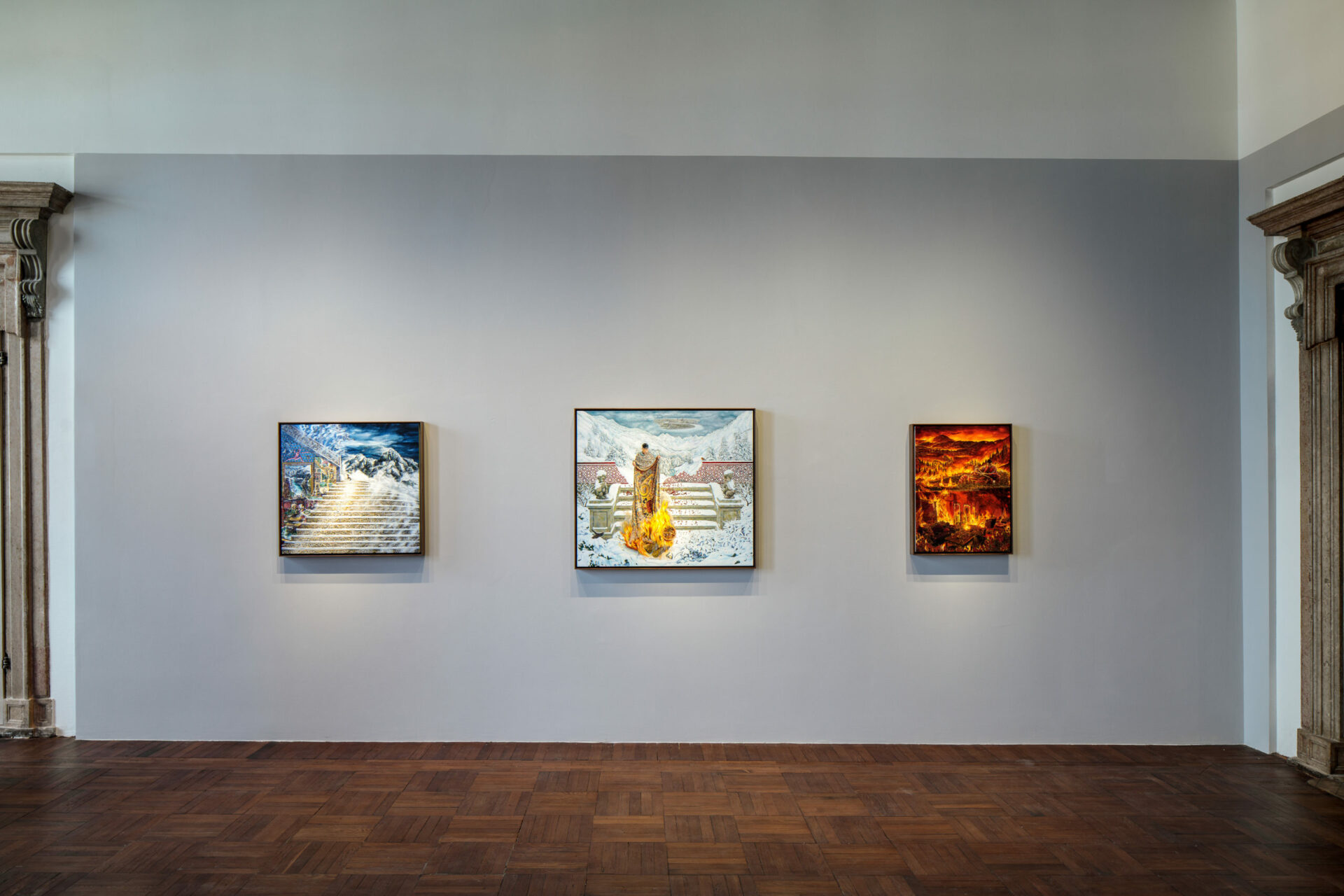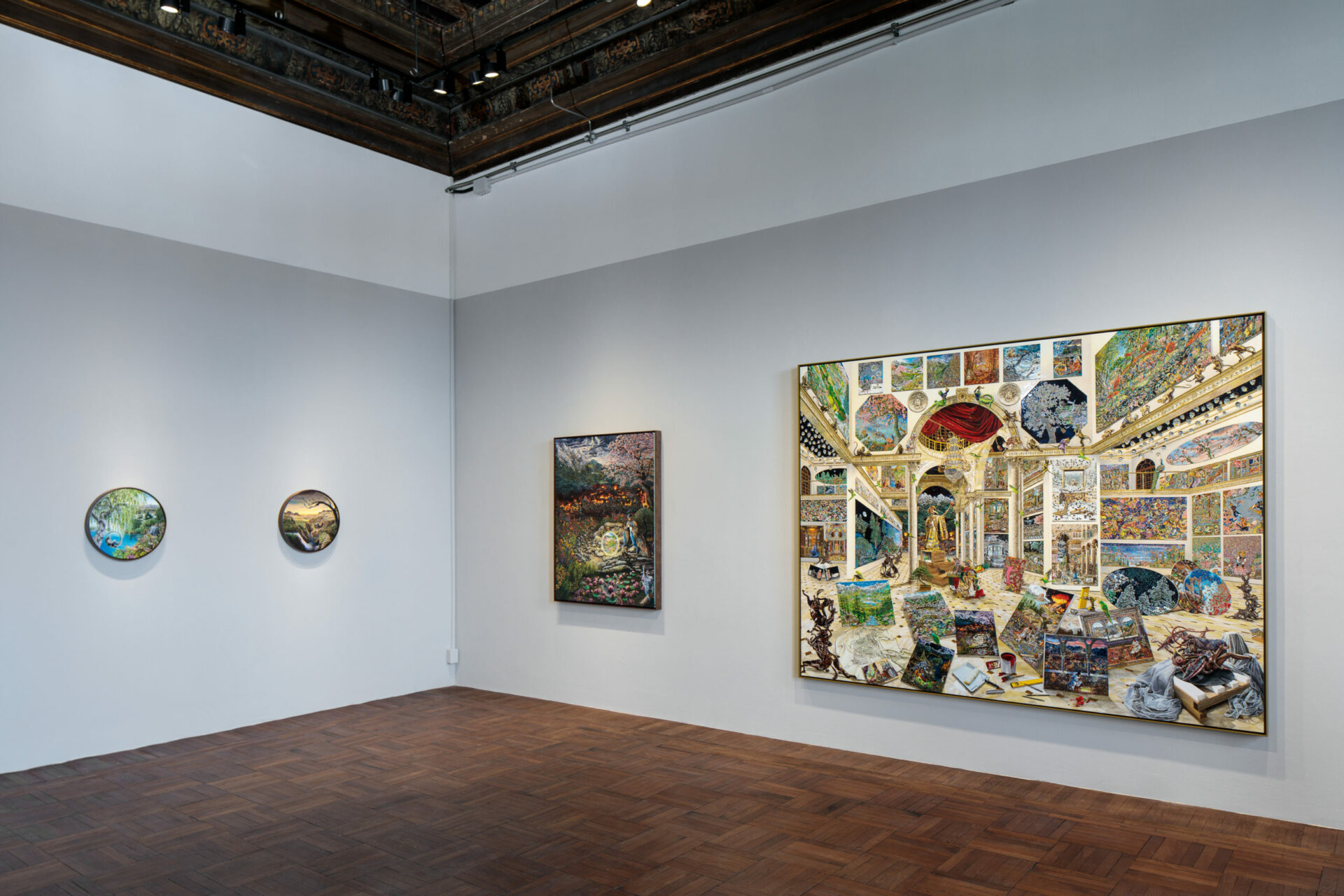 The most impressive painting in the show—and I must emphasize again how impressive all of the artworks are—is The Retrospective 2002-2022 (2015–22), which makes explicit visual reference to Giovanni Paolo Pannini's Picture Gallery with Views of Modern Rome (1757; Museum of Fine Arts, Boston). In Shaw's large painting, every inch of space is crammed with objects, details, animals, monsters, and ornamentation. Red rhinestones adorn the large crustacean in the bottom right-hand corner. Many of Shaw's past paintings are strewn and displayed throughout the space, meaning that he had to re-paint his artworks in even more minute detail than the originals had. Shaw stands in the centre of the painting atop three wooden shipping containers (stamped with the word "fragile" on the side) holding his light-brown-and-white Jack Russell Terrier. His brown dachshund sits forlornly on the bottom crate. The artist wears a luxurious embroidered kimono and a red-and-gold Venetian mask with a long beak; this regal costume is undercut by the toilet plunger that he raises in his left hand. Although a whole dissertation could be written on this one painting, parsing each detail and seeking out the many artistic references and iconographical meanings, I was most struck by the two stone Medusa faces that are positioned on either side of an archway in the upper half of the painting. They look remarkably like Shaw himself, and I was reminded of Caravaggio's famous Medusa in the Uffizi (1597), which some art historians have suggested is a self-portrait. It is now widely accepted that Caravaggio was a queer man, and it seems likely that in making the Gorgon's face his own in The Retrospective, Shaw is not only offering a sly wink to his viewer by using queer iconography but is also nodding to another queer artist's work. Medusa, of course, is a tragic figure who petrified men with her gaze, making her a poignant icon for a queer man.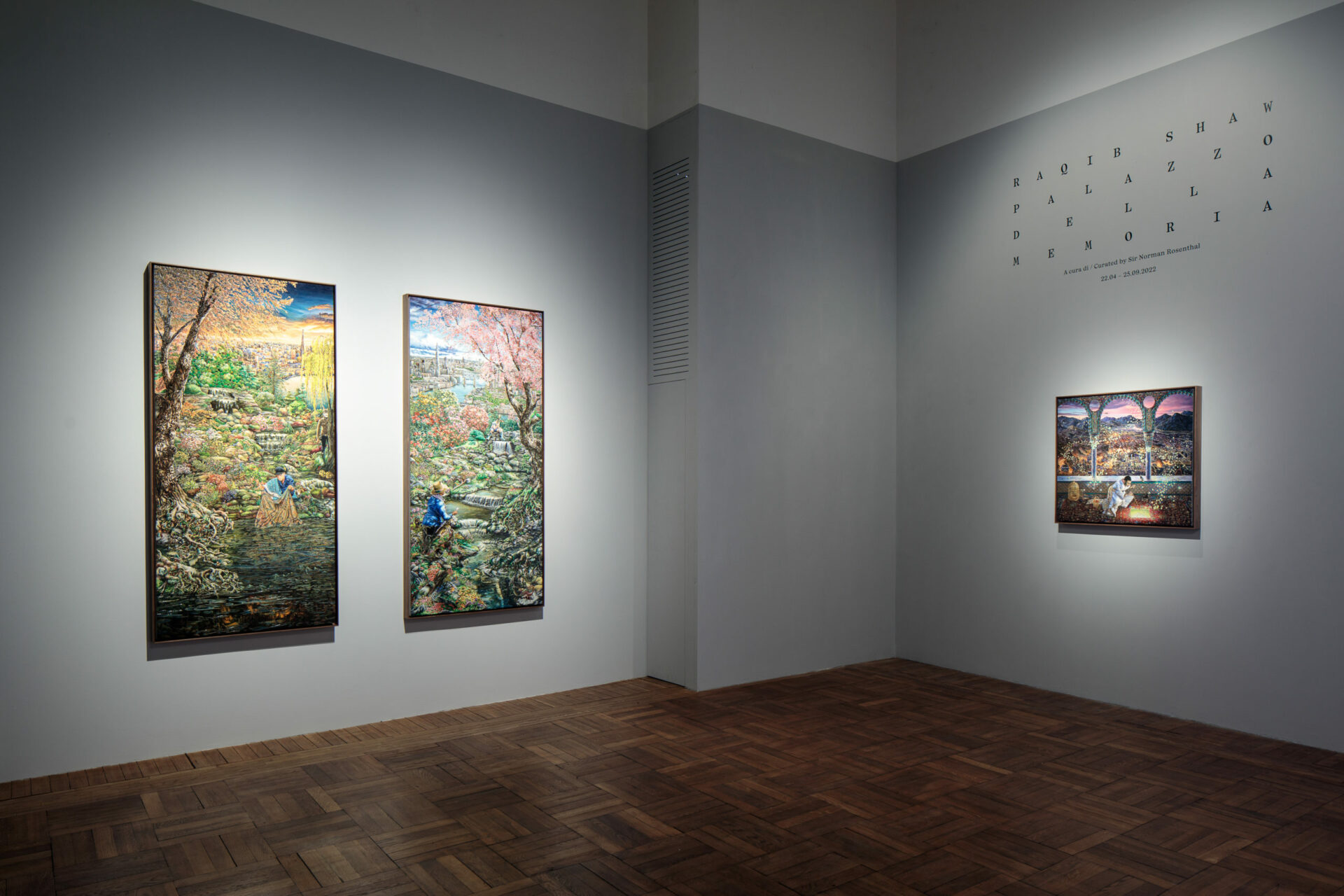 Raqib Shaw's small exhibition at Ca' Pesaro packs so much visual pleasure into the twelve paintings that the smallness of the show makes a kind of sense, though I would have loved to see many more. This is a master class in quality over quantity. Yet the sublime beauty of the paintings belies—or, better, co-exists with— the experiences of self-exile, melancholy, and diaspora that Shaw is living within each frame.